F&V's new soft light contains a number of really useful features that make it a versatile piece of kit, with heaps of functionality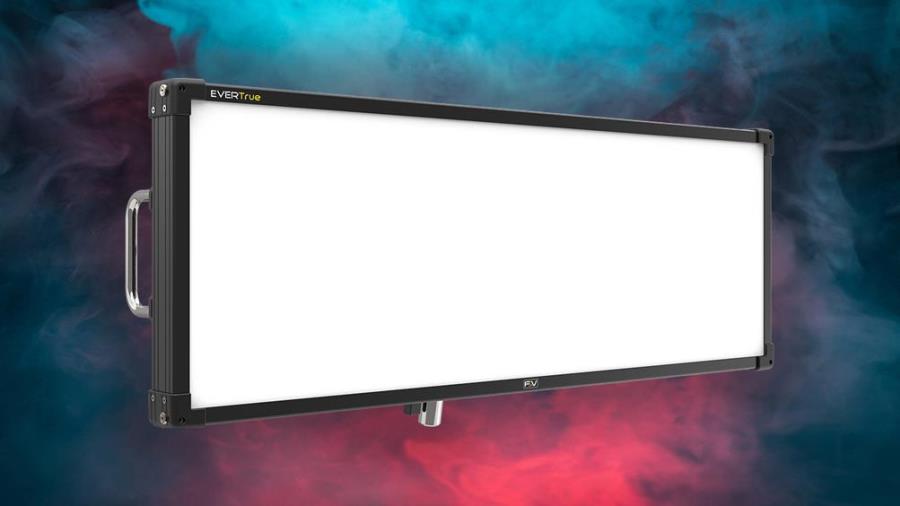 F&V's EverTrue Z1200VC CTD-Soft Vari-Color 3x1 LED panel light could be just the ticket for solo shooters. That's not to say it isn't a strong contender for other productions too, but that's the market where I think it will shine. For starters, it falls into a price range that makes it affordable to purchase or hire – without sacrificing too many of the benefits of its often pricier and perhaps more well-known competitors from the likes of Kino Flo and ARRI.
The EverTrue Z1200VC is available in three bundles: the Rental Kit, Studio Pack and Location Pack. For the purposes of this review, I've been working with the rental pack and as long as you have a C-stand in the back of your van, it comes with almost everything you need. The first thing you'll notice is just how heavy the whole kit is (including the hard case). Coming in at 5.2kg, it's not a super-easy setup to transport. But when you open up the case, what you actually find is a surprisingly lightweight system that's very simple to set up and start using.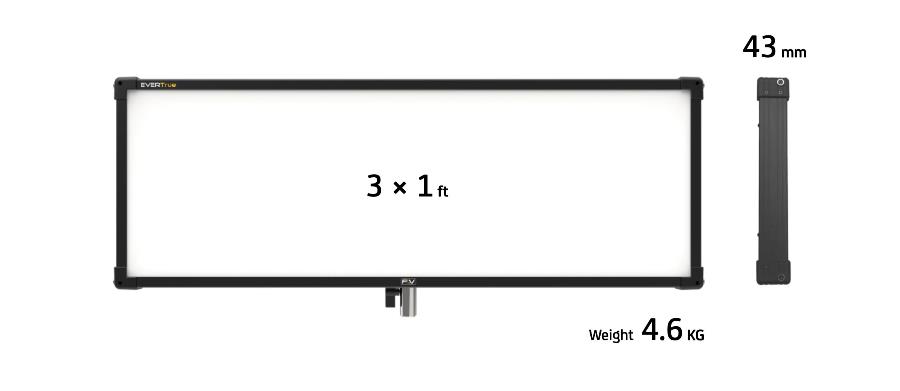 Setup and build quality
You can have this light out of the box and ready to go in about ten minutes, which could be vital depending on what you're using it for. Out of the case, the EverTrue Z1200VC comes in a 3x1 LED panel. This makes for a beautifully wide or tall light, depending on how you set it up. Being able to power such a large and versatile light from batteries immediately makes it an attractive proposition for me.
The power supply and control unit are both a bit of a beast in terms of size and weight, but you do have the option to attach them to the light fixture. If you want them loose, they attach together. There is a bit of faff involved in separating them – if you want to attach them to the fixture – but you can easily factor this into your prep time. Overall, this adds to the versatility of the light and I like anything that gives me options.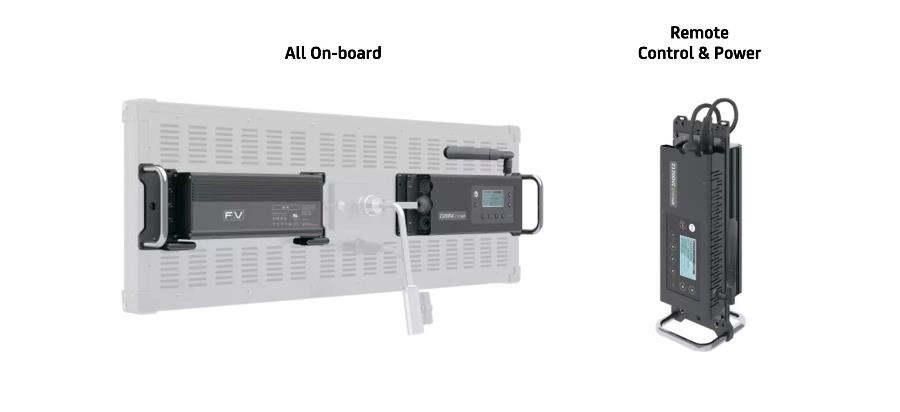 The EverTrue Z1200VC is lighter than its more expensive competitors, but I suppose that's to be expected. There's certainly nothing about the light that feels cheap, but I was surprised at just how light it is. Together, the control and power unit are almost as weighty as the entire fixture. Speaking of the control unit, I'm a big fan of the simple design and sturdy nature of all the physical switches and buttons. Call me old fashioned, but I like the feeling of physically interacting with my kit – my phone can only accommodate so many apps.
Menu and effects
The operation and menu system follows the same principle of simplicity, with only the essential information displayed in a straightforward and easy-to-navigate format. From turning on the unit, I was clear on how to use the RBGW system and access the range of preset effects and features that the unit can produce. These were a lot of fun to work with, and of course, everything can be dimmed, tweaked and manipulated with absolute precision, thanks to the quick adjustment and micro adjustment dials.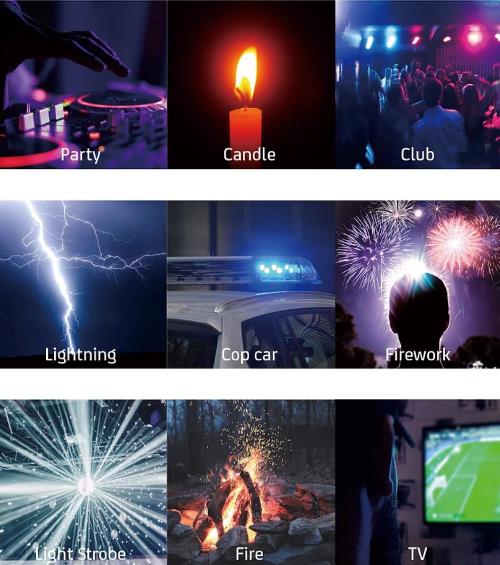 In terms of the preset effects the unit can offer, it's everything from candles, police cars and fireworks, through to a flickering TV or intense party. This makes it a really useful SFX tool too. I had a lot of fun playing around with and tweaking these effects, and can see the macro-budget indie filmmakers of the world going wild for it. The built-in digital filter library is equally impressive, with a plethora (over 300) of colour and colour-correction options that seem to match most of the common things shooters will be looking for. You can leave your bag of filters at home with this one.
How it works
It's time for the science bit. On its website, F&V states: "Vari-Color fixtures offer a true fit to the Planckian Locus … and with this true tintless white light at all correlated color [sic] temperatures throughout the adjustment range." The EverTrue Z1200VC's maximum colour reproduction in White-Light Mode is 2800 K to 6500 K, but the Kelvin Mode pushes the CCT range from 2400 K to 9900 K.
EverTrue fixtures boast F&V's UltraColor colour reproduction technology, so you can expect: "well balanced, full spectrum light for maximum color accuracy, with a TLCI up to 99." According to F&V, you can expect consistent calibration, "with virtually no tolerance from fixture to fixture," but you're still able to recalibrate the fixture manually, should you need to.
If that wasn't enough, you can select any colour in HSI Mode by controlling its hue, saturation and intensity. Also, if you've measured colours with a spectrometer, you can use the x and y coordinates to quickly recreate them, and finally we're told: "RGBDT Mode offers full control on a LED level."
Using it in the field
I found it really simple to match the fixture to the other lights I was using in my studio setup, and as far as the interplay with the skin tones of my subjects went, I was really happy with the results. I'd say there was a slight lean towards the magenta side of things, but this didn't offend my eye and actually played into my own tastes. I'll leave the final verdict on that one to the individual.
I was impressed with the brightness throughout the colour temperature range. It's got a beam angle of 130 degrees, so you get brightness with an even, uniform and soft quality that didn't blind my talent. I tested the EverTrue Z1200VC out during a studio shoot, and I have no complaints with the results at all. With that in mind – and despite the option to run the light using batteries – it does feel like a piece of kit I'd be most likely to use in my studio.
The EverTrue Z1200VC also runs completely silent, thanks to a sophisticated passive cooling system. It slipped into my setup perfectly, without causing any extra hassle. I can see this light being really useful for illuminating a whole room, thanks to its wide and soft beam. I know a lot of filmmakers will find this really useful, when having to quickly deal with a space that might otherwise be a huge challenge.
For example, this massively simplifies location shoots where you have multiple subjects to capture in one shot or if you're forced to light a dingy part of an office. Obviously I've got our corporate filmmaking brothers and sisters in mind with this particular assessment. Personally, I don't feel like the EverTrue Z1200VC has the sheer power to help balance out subjects outside. But as this isn't something I was able to test, I'll reserve any real judgment.
Final verdict…
In conclusion, I've got to say that I found the EverTrue Z1200VC really impressive and packed full of functionality that I was excited by. The effect presets won't be for everyone, but little features like that really highlight the versatility of the kit to me. The bundle's combined weight and size might seem a little off-putting for travelling solo shooters, but this still looks like the best option for those looking for lots of functionality in this price range. The light was extremely simple to set up and start using, and the colours it produced were accurate and beautifully soft. For me, the EverTrue Z1200VC's versatility is a real winner, and what's more, it's not going to break the bank.
About the Author
Brett Chapman is an award-winning filmmaker based in Sheffield, England. He originally trained as a journalist, but after graduating he developed a unique style of filmmaking that blends tactile frames and handmade aesthetics with emotionally compelling storytelling. Visit his online home: www.brettinthecity.com.
Related articles