It may look cosmetically identical and share a similar name to its older brother, but the GH5S sports a number of key differences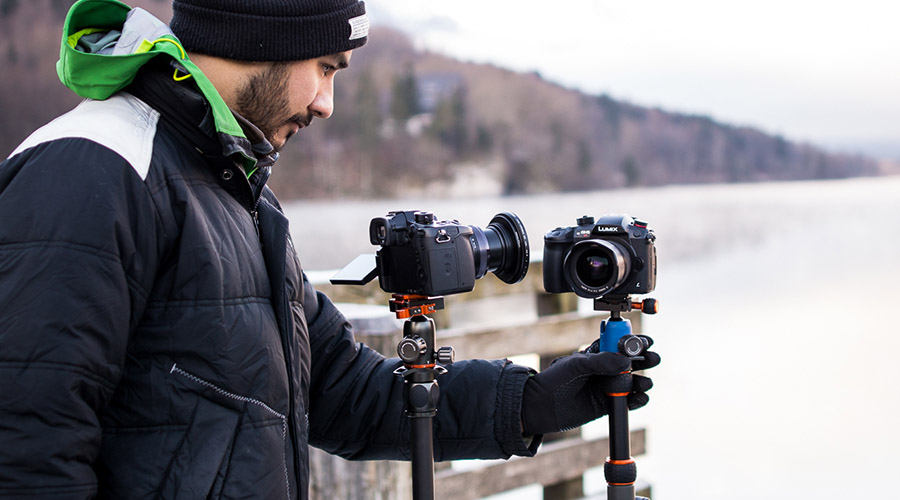 10.2MP sensor
The most notable difference between the GH5S and the GH5 is their Micro Four Thirds [MFT] Live MOS sensors. Both utilise Venus processing engines — like Panasonic's new flagship stills camera, the Panasonic LUMIX G9 — but that's where the similarities end. The GH5S' sensor is 10.2MP, almost half of the 20.3MP packed inside the GH5. And although that's a fairly considerable drop in resolution, it's for good reason.
The GH5S has much more room to house those megapixels, which means they can be made much larger than those within the GH5 (1.96x larger). Bigger megapixels take in more light, and more light means less gain is needed to bump up exposure. The result is the GH5S is 2.38x (7.5db) more sensitive than its GH5 counterpart. Additional benefits include 25% less noise and a signal to noise ratio that's improved by 1.5 stops (9.7db). You'll also find that the GH5S' decreased megapixel count causes a faster readout from the sensor — less data for the camera to process — causing a faster readout from the sensor, and in turn, suppressed rolling shutter distortion.
Dual native ISO
The GH5 has a native ISO of 400, with an ISO range of 200-12800. However, the GH5S contains two dedicated analogue circuits that sit behind the sensor, providing dual native ISOs of 400 and 2500; a feature that's present on Panasonic's flagship VariCam cinema cameras! If that wasn't enough, it now boasts an extended ISO range of 160-51200.
Multi aspect sensor
If you were a GH2 or 3 shooter, then you'll be pleased to hear that the GH5S has a multi-aspect sensor, something the GH4 and 5 lacked. So, whether you're shooting in 4:3 to capture anamorphic footage, 3:2 for stills, 16:9 for standard UHD 4K and full HD, or 17:9 for Cinema 4K, you'll always be utilising the full width of the GH5S' sensor. This means you will always retain the effective focal length whatever aspect ratio you use.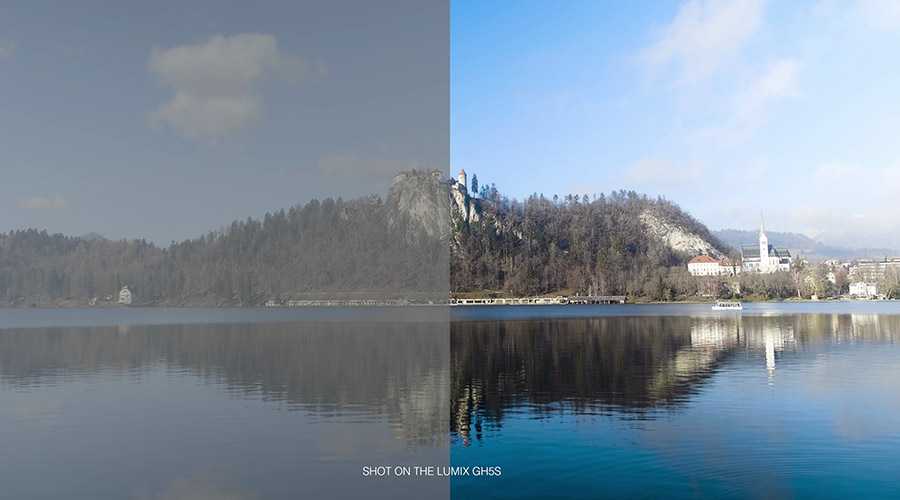 Cinema 4K at 60fps
At the time of writing, the GH5S and GH5 are the only compact mirrorless cameras with the ability to record 4K in 10-bit 422, internally. This market leading feat allows the GH5 to record cinema 4K (often referred to as DCI or true 4K, with a resolution of 4096 x 2160) at up to 24fps in 10-bit. Remarkably, the GH5S steps this up a notch and now offers cinema 4K at up to 30fps in 10-bit 422 or up to 60fps in 8-bit 420. This makes the GH5S a viable filmmaking solution when delivery in true 4K is required (often a requirement of popular video streaming services such as Netflix).
The GH5S also boasts improved HD slow-motion capabilities, bettering the GH5's ability to record 1080p at a maximum of 180fps, doing so at 240fps. It's worth noting, however, that from 200fps upwards there's a slight crop in; for the camera to cope with this amount of data, it clearly needs to sacrifice part of the sensor.
Inbuilt V-Log L
Panasonic's flat gamma profile, V-Log L, was only available on the GH4 and 5 via a firmware update. To be entirely honest, if I'm buying a camera that can capture up to 12-stops, then I want the shooting profile that's going to allow me to do so straight from the box. So, it's great to see that Panasonic has listened to its users as V-Log L is included with the GH5S.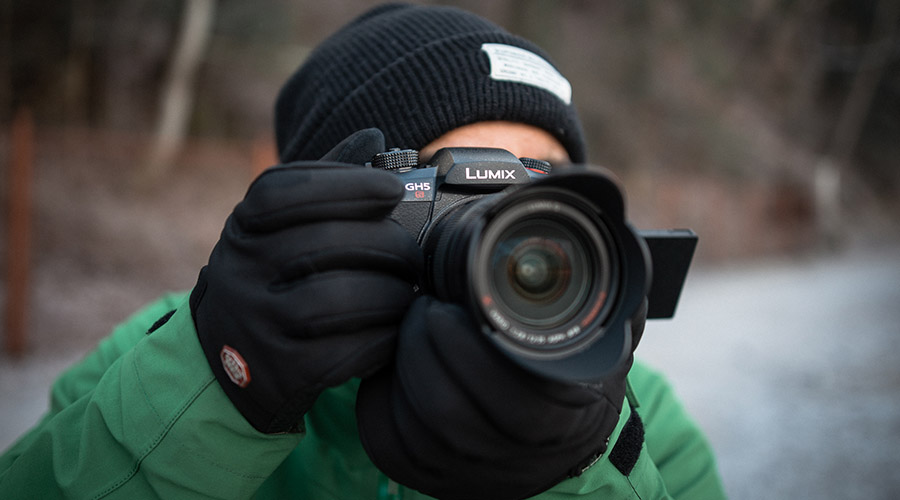 Extended battery life
One change to the GH5S that might surprise some users is the removal of in-body Image Stabilisation [IS], something that was well received on the GH5. However, this has resulted in an extended 440-shot battery life, as opposed to the GH5's 410. In addition, the 660g GH5S is nearly 10% lighter than the 725g GH5.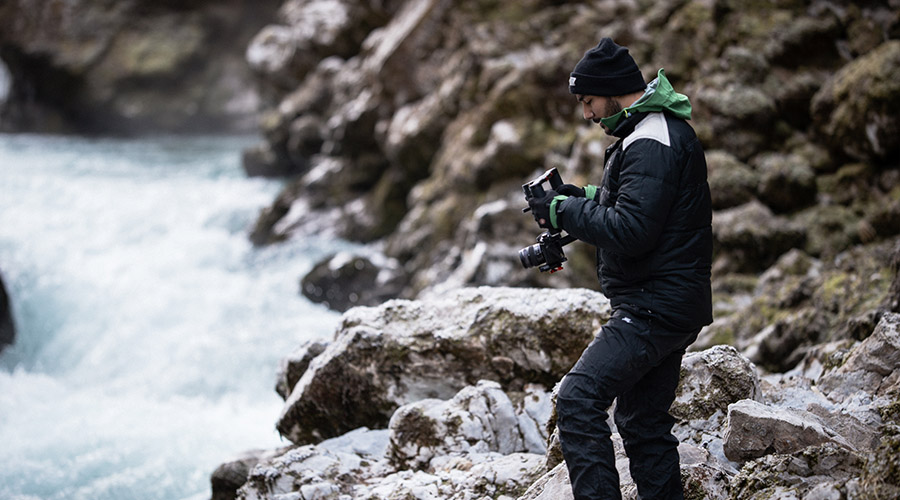 Appearance and build
Both the GH5S and the GH5 share the same magnesium alloy body, which is splash-, dust- and freeze-proof down to -10 degrees. This is good news for GH5 owners; all of your GH5 cages and accessories are going to be compatible.
Cosmetic changes include a splash of red around the shooting mode dial (akin to the recently released G9), and the record button is now red too — rather slick if you ask me! It's also worth noting that although the swivel screen and viewfinder on both models appear physically identical, the viewfinder on the GH5S will now display at up to 120fps.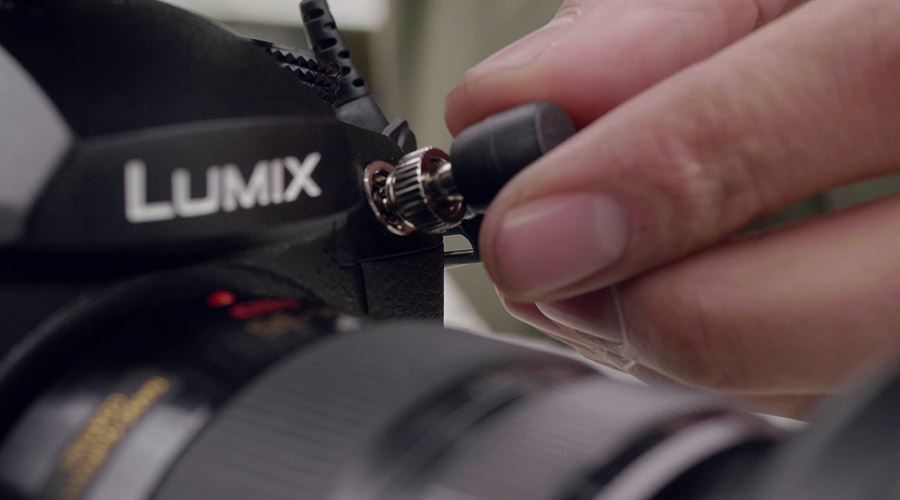 Time code support
The flash sync terminal on the GH5S now takes on a secondary function, with the help of the supplied BNC conversion cable. The camera supports time code in/out, a feature that's vital for professional multi-camera productions, but not a feature that's usually seen on cameras of this class. Traditionally, you'd need to purchase a third party accessory (remember the GH4's chunky YAGH unit?), so to have this built into the camera body is a big win for Panasonic.
The only other update to the physical connections of the GH5S is that the 3.5mm microphone input can now be set to receive a LINE level input. This is an extremely useful feature, especially if you're often working with pre-mixed and external audio. This is something we'd expect to see on a professional video camera and makes a fantastic addition to the GH5S.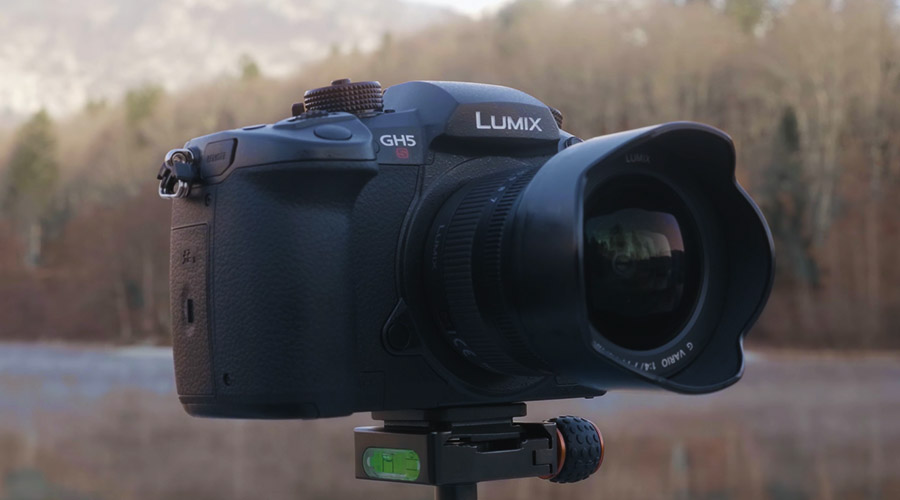 14-bit RAW stills
If you've been using the GH5 for photography, with its 20.3MP sensor, then the GH5S' 10.2MP sensor might concern you. However, the GH5S has the ability to take 14-bit RAW stills (Up to 60 images in 11fps in AFS and 7fps in AFC), which equates to 4.39 trillion possible colours. This is a huge difference when compared to the GH5's 12-bit RAW stills with 68 billion possible colours. With these figures in mind, the GH5S' 14-bit RAW images should really open up the amount of depth and flexibility possible, especially when creating time lapses.
-5 EV autofocus
Both cameras have a 225-point contrast-detect focus system using Depth from Defocus [DFD] technology. The focusing system on the GH5 can operate as low as -4 EV (virtually moonlight). However, thanks to its improved sensitivity and low light performance, the GH5S has now been extended to -5 EV. Both cameras feature all of the standard focus modes, along with more advanced options such as Eye Sensor AF. For night-time shooting, the GH5S also has a couple of additional tools to help with monitoring. There's a new Live View Boost mode, which increases the gain and reduces the framerate of the display to help when checking your composition. And when focussing manually, MF assist can now enlarge magnification up to 20x, helping you to really nail your focus.
Verdict
The GH5S is likely going to be one of the finest examples of a professional video camera packaged into a compact mirrorless body to date. Its sensor boasts huge improvements over the GH5, and the vastly increased ISO range and addition of dual native ISO technology should satisfy the concerns of most filmmakers when it comes to shooting with an MFT system. Sure, it isn't going to beat the low light capabilities of the A7S, but Sony's camera has a sensor that's 4x the size of the GH5S'! Make no mistake; this latest Panasonic offering redefines our understanding of what an MFT camera is capable of.
What's more, the GH5S and the GH5 really do compare to their competitors with larger sensors. Both compact mirrorless cameras are market leading when it comes to the real needs of the filmmaker — better recording formats, better monitoring tools and better battery life. With changes such as improved 4K recording formats, the inclusion of time code in/out and the ability to set audio input to LINE level (even the removal of in-body IS), it's clear to see who Panasonic are really targeting; this is a camera aimed towards the more professional filmmaker.
The big question is whether the GH5S will replace the GH5, but I think they both excel in different areas. If you want more megapixels for stills or require in-built image stabilisation, then you'll likely plump for the GH5. If you're mainly going to film in cinema 4k (sometimes with multiple cameras), use professional support and stabilisation gear, and require the higher sensitivity, then the GH5S is the better solution.
About the Author
Kristian Hampton is Wex Photo Video's Technical Editor for Pro Video. A video specialist who has worked in corporate studios for companies such as Vodafone Group and PwC, as well as working as a freelance grip on various TV productions and features. He also runs Krade Media, providing enterprises with production services. Follow Kristian on twitter @KrissHampton
Related articles