We sit down with director Charlie Watts to talk about making time for personal filmmaking projects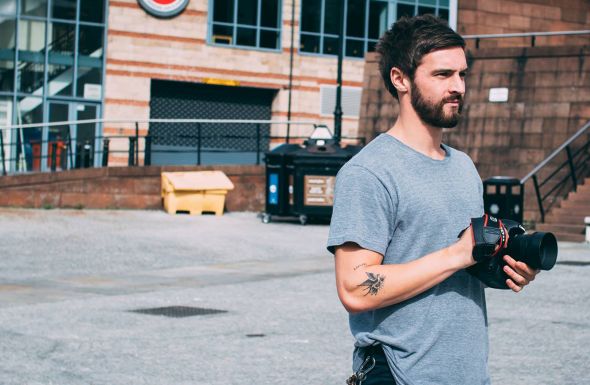 Director and camera operator Charlie Watts talks about how he pushes his own projects.
As filmmakers, we want to shoot and create great narrative content. We want to make something that's going to make the audience feel something. After all, that's what makes good storytelling.
"Just get out there and film," is the advice nearly every aspiring filmmaker has received at some time or another. While this advice is often met with excitement, it can also be met with questions. What do I shoot? How can I shoot something that has a narrative when I have no actors, and no budget?
Charlie Watts is a professional director and camera operator based in Manchester, and someone who has built a career on getting out there and shooting, no matter the difficulties. We wanted to find out more about the process Charlie goes through to produce his personal projects, so we sat down for a chat…
Wex Photographic: Thanks for taking the time to chat with us. So firstly, what drives you to produce projects outside of your full-time role?
Charlie Watts: I think the main reason is simply because I enjoy doing it. I am very lucky to have the opportunity to make a living from something that I take great pride in and great satisfaction from doing.
Charlie's latest short 'People', portrays the different opinions of the general public of Manchester.
WP: Looking at your latest short "People", what was the inspiration that made you go out and produce it?
CW: One of them was frustration, I've got a few other projects going on at the moment, but they are time-dependent and are relying on other people and other factors. I wanted to make something that would cost nothing and could be turned around in a couple of weeks.
I had drafted up this idea but never got round to doing it. My good friend Matt Jones had just gone freelance as a camera op and I asked him to jump on board. Thankfully, he said yes.
WP: How did you plan for this shoot?
CW: "Are you free tomorrow to shoot, Matt?" was basically the planning process. We treated each day like a working day, so we got into populated areas around 10am and just started out hunting for interesting people. Then I would usually sheepishly approach them – one of the most fun parts of shooting this was seeing people's reactions to being approached by a stranger who wanted to put a camera in their face. Some people would ask every question under the sun as to why, while others simply couldn't say yes quick enough.
WP: Does this differ to how you planned your other projects, such as "Akse" or "The Illustrator"?
CW: To an extent yes it did, but at the heart of it I was still trying to get stories out of people that I didn't know in my personal life. With "Akse" and "The Illustrator" I was a lot more considered, and I met with the guys a couple of times for a coffee to chat. It's important you get to know them as people first before you start filming, that way you can build up an element of trust.
With "People" I didn't have that luxury, so it was all about my approach to people – being smiley and looking as friendly as possible helped. We would always film the portraits first, which gave me a small amount of time to create a little bit of a relationship with that person. But, I mean it didn't always work, there were times where people did agree to be filmed but then shied away when it came to the questions. I guess I just got very lucky.
"Akse" gives a small glimpse into the life of the street artist.
WP: A lot of your shorts are people-centred and focus on an individual's story. Can you tell us about how you find these, and what process you go through in deciding on the narrative?
CW: I find a lot of my stories from just browsing social media, or just by being out and about. I bumped into Akse a couple of years ago when he was doing a piece in Manchester and I just got talking to him.
WP: Can you tell us more about the kit you use for these?
CW: The only kit I own is a Sony A7s II with two lenses: a Sigma f/1.4 30mm and a 24-105mm Canon L lens (which I never use). Kit is a funny one, because of course everyone wants to shoot on the biggest and most expensive cameras. But you can be less intimidating carrying a smaller camera, and the quality you get is brilliant.
WP: You've mentioned that you do these projects with no budget. Does this throw up any hurdles, and if so how do you get around them?
CW: Yes, it does in some ways, but I always plan them in mind knowing they are all self-funded. So I'm not going to write an idea where the intro of the film features a drone shot tracking a Mustang car down an old country road (although that would be sweet). I guess it's all about taking what you have and making the most of it.
Another of Charlie's narrative shorts, "The Illustrator" is a video portrait of artist David Gee.
WP: What about your editing process, what does that normally look like?
CW: I actually come from a post-production background – when I left university I managed to blag a job at an agency, where I ended up cutting TV ads for a well-known supermarket. The two senior guys I worked under were brilliant – I learnt so much from them, and they were really patient with me. I remember on my first day I had to tell the head of the department that I had never used Adobe Premiere. His face was a picture. Now I obviously am a lot better, and have picked up a lot of tricks along the way.
WP: What sort of reaction do you normally get with your shorts?
CW: I think people like them. "People" has had a combined number of more than 15,000 views between various channels. I mean, I would be lying if I said I didn't care what people thought. After all the reason you make a film is so someone will watch it.
WP: What advice would you give to other filmmakers on finding and producing their own narrative content?
CW: Get out there and go and do it. I know it's really clichéd advice, but it is no good sitting around watching brilliant short films or music videos online and being envious of them. Everyone, no matter what level they are, has made a rubbish film at least once. My first film was awful. It was about a bunch of skaters who couldn't even skate (it's private on my Vimeo now, before you ask). But the point is no one makes a great film first time round: the best way to learn is to make rubbish.
Lastly find the stories. I find just being around the city or looking online for interesting people in your area works for me.
Charlie Watts is a professional director. To see more more of his work visit his website: www.charliewatts32.com
About the Author
Kristian Hampton is Wex Photo Video's Technical Editor for Pro Video. A video specialist who has worked in corporate studios for companies such as Vodafone Group and PwC, as well as working as a freelance grip on various TV productions and features. He also runs Krade Media, providing enterprises with production services. Follow Kristian on twitter @KrissHampton
Related articles