Atomos has announced a new 19-inch HDR monitor: the Sumo, complete with 12bit 4K60p raw recording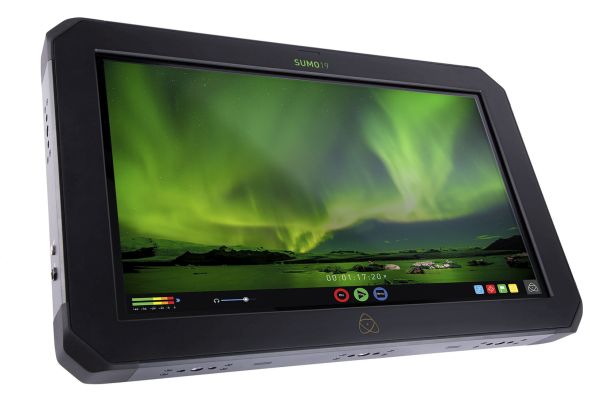 At a glance:
• 19-inch 1920x1200 monitor
• Recording capabilities of up of up to 4K 12-bit Raw
• XLR audio connections capable of supplying 48v
• Live switching
• Mixture of SDI and HDMI inputs/outputs
Atomos are well regarded in the industry when it comes to its popular range of compact external monitors/recorders. This year at NAB we're seeing Atomos bring a new addition to their line-up: the Atomos Sumo.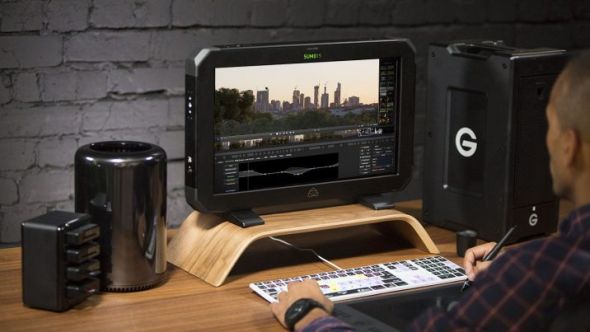 The Sumo features Atomos's largest screen to date: a 19-inch HDR 1200-nit 10+ stop panel. It uses the same AtomHDR engine found in several of other Atomos recorders, precisely mapping the Log/PQ/HLG from popular cameras such as Sony's FS7 and FS5, Canon's C300 Mark II and C500, and Panasonic's Varicam LT etc.
The Sumo packs in some impressive recording capabilities such as 4K 12bit raw, 10bit 422 ProRes/DNxHR, and HD recording of up to 240p, all to the widely available 2.5-inch SSD drive.
An interesting development in the Sumo is its live switcher function. This new function allows the operator to vision-mix up to four 1080p60 video inputs, with the ability to cue, cross fade, and hard cut. To build on top of this, all four camera ISOs can be recorded simultaneously, alongside the newly mixed programme out. This looks to be an ideal solution for a portable multi-camera set up.
Atomos have given the Sumo plenty of connectivity options, with HDMI 2.0 and 3G Quadlink/6G/12G SDI connections. Not just thinking about the images, we see balanced XLR connections, including 48v phantom power, and a 3.5mm headphone output built right into the body. There's no need for an external adapter, such as the Atomos Lemo cable used on the Shogun range.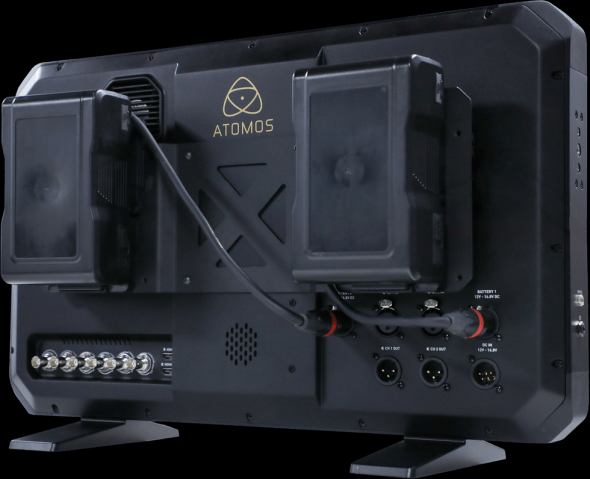 The aluminium chassis provides ten mounting points, alongside the standardised VESA mount on the rear, giving filmmakers plenty of options when it comes to rigging. There's also the optional V-Lock adapter, should you want to power the Sumo out on location. The monitor features a continuous power system, allowing for hot-swapping batteries without any down time.
The Sumo can be used with popular NLEs, opening up affordable HDR viewing when it comes to editing and grading. It looks ideally positioned for filmmakers who need a one-stop-shop solution for external recording and monitoring, whether they are on set or in the studio.
About the Author
Kristian Hampton is Wex Photo Video's Technical Editor for Pro Video. A video specialist who has worked in corporate studios for companies such as Vodafone Group and PwC, as well as working as a freelance grip on various TV productions and features. He also runs Krade Media, providing enterprises with production services. Follow Kristian on twitter @KrissHampton