Kriss tests the Sennheiser AVX-ME2 – an audio system that allows filmmakers to concentrate on capturing great pictures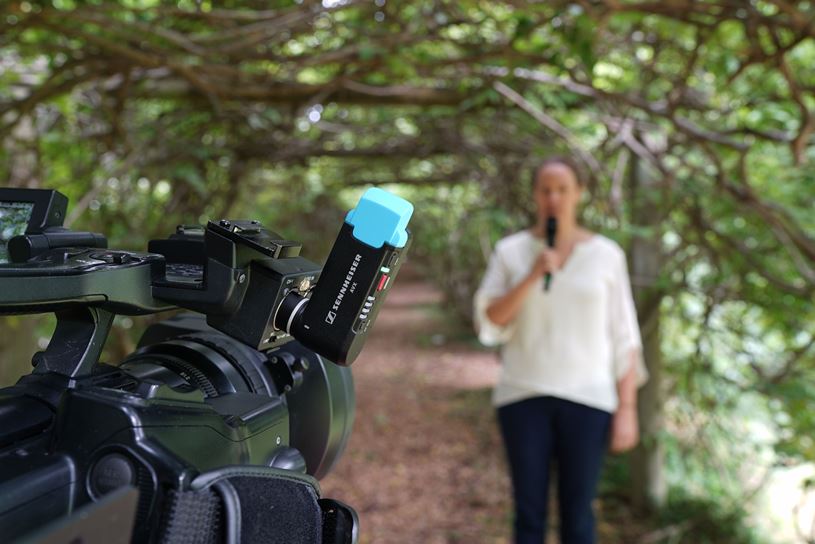 Whether we're filming a wedding, a documentary, or a corporate video, what do we filmmakers want from our audio setup? Excellent quality, reliability, and ease of use are what spring to my mind. Ideally we want our audio setup to be streamlined to the point where we can practically put it at the back of our mind, allowing more mental space for us to focus on getting those shots.
Solution? Cue the Sennheiser AVX-ME2 Lavalier set.
What sets this apart from all the other wireless kits out there then? Here are the key reasons I think this product makes for a rather lovely addition to your kit bag:
1. The receiver mounts directly into your XLR input – no taking up valuable shoe mounts
2. Automatic pairing – no fiddling around dialling in frequencies
3. Great quality audio that's reliable
4. Batteries charge via USB
Mounting
The receiver mounts directly into the XLR input, meaning that you save that valuable shoe mount for other gear that you may want to use. It rotates 320 degrees, allowing for easy adjustment, without getting in the way and impeding your camera operation. Should you not have an XLR input on your camera then you can use the kit's XRL to 3.5mm jack cable and shoe mount.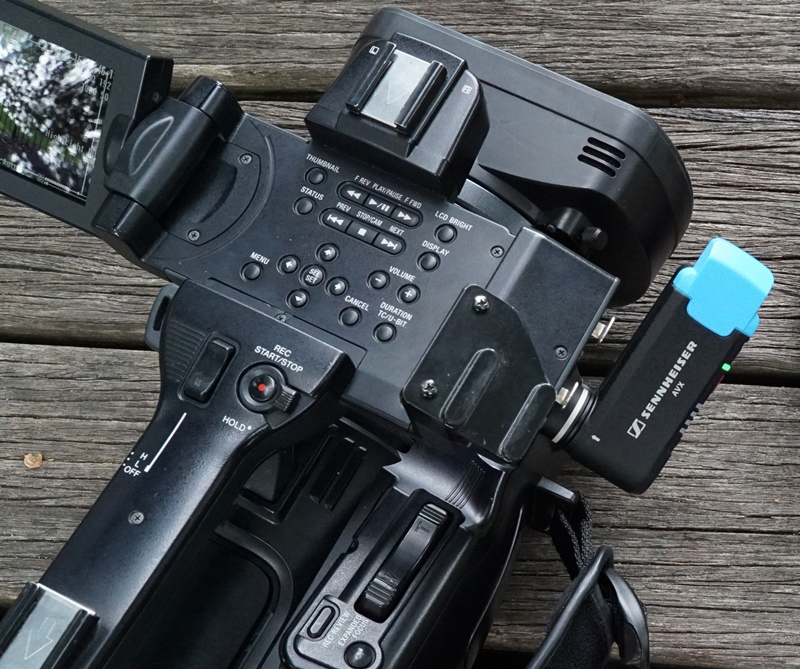 Pairing and ease of use
The pairing function on this system makes for a super-fast setup – something hugely appreciated in run-and-gun situations. To pair, you simply turn on both units and press the pair button. Within a few seconds the red light turns green, indicating that the link has been made, and when either of the units is powered on in future, it will automatically attempt to connect to the unit they were last paired with. Sennheiser have put the safe operating range at 30 meters, however in direct line of sight this can be greatly extended. I've seen users go near to 100m and still deliver crystal-clear audio.
On more traditional wireless systems, the body pack usually has a menu system containing different control parameters – operating frequencies, filters, microphone sensitivity and the like. There is no such menu on the ME2 system; it fully optimises its operation based on its environment, the microphone used, and the camera's audio input sensitivity.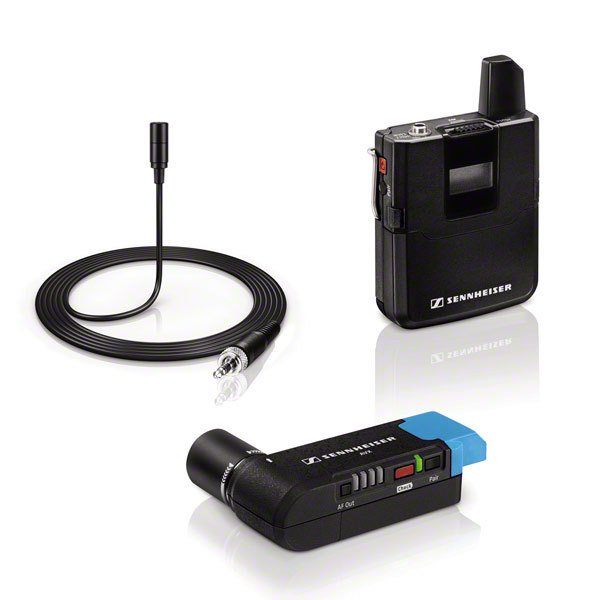 Audio quality and reliability
The ME2 professes itself to be a self-configuring transmission system, but how well does this work in reality? Is it reliable? Well, the answer in a nutshell is yes. This system uses a clever piece of technology, whereby it doesn't just automatically pick the strongest/clearest frequency in its environment to use, but instead picks two. From power-up, the system will find the best frequency to operate on, whilst also finding an alternative backup. Should the primary encounter any interference issue, an automatic switchover takes place, resulting in seamless audio.
The system operates using 1.9 GHz technology, whereas a lot of other wireless systems and, more importantly, most consumer technology (think smartphones, Wi-Fi, etc.) operate in the 2.4 GHz realm. This shift to a lower frequency banding means that the AVX system doesn't need to compete with the many devices on the common 2.4 GHz.
Utilising this lower frequency of 1.9 GHz also results in a stronger signal when operating in built-up environments, as it has a longer wavelength it can diffract much easily than the higher 2.4 GHz frequency. If you're not that techy then think of this example: if you stand outside of a nightclub, you hear the music coming from inside the club, but only the lower-end bass frequencies (normally the thud of the beat). This is due to the lower-end frequencies having a longer wavelength, giving them the ability to bend more around corners. The higher-end frequencies, with shorter wavelengths, are much more directional, and consequently don't make it to the outside of the club.
Batteries
Both Li-ion battery packs on the AVX units are charged via a micro USB connection, meaning there's no proprietary charger and therefore easy charging, wherever you are. A nice touch is that the AVX units can still function while charging – ideal if you're shooting with a camera rig that has an external power supply you can hook it up to.
The advertised run time for batteries is pretty impressive, with the body pack running up to 15 hours on a full charge, and the receiver up to 4. I suppose the substantial difference between the two is to be expected given that the receiver uses a much smaller battery, in aid of keeping the footprint of device to a minimum.
Although the AVX unit operates at line level, if your camera/recorder can supply 48v phantom power to the receiver, then leaving this turned on brings added benefits. When the receiver detects the phantom power from the camera (normally when you turn the camera on) the unit will automatically power up. Same goes for when the phantom power is turned off – the receiver turns off. This is a great feature for run-and-gun situations, where you're keeping your talent constantly mic'd up – no wasting power on your receiver when you're not shooting.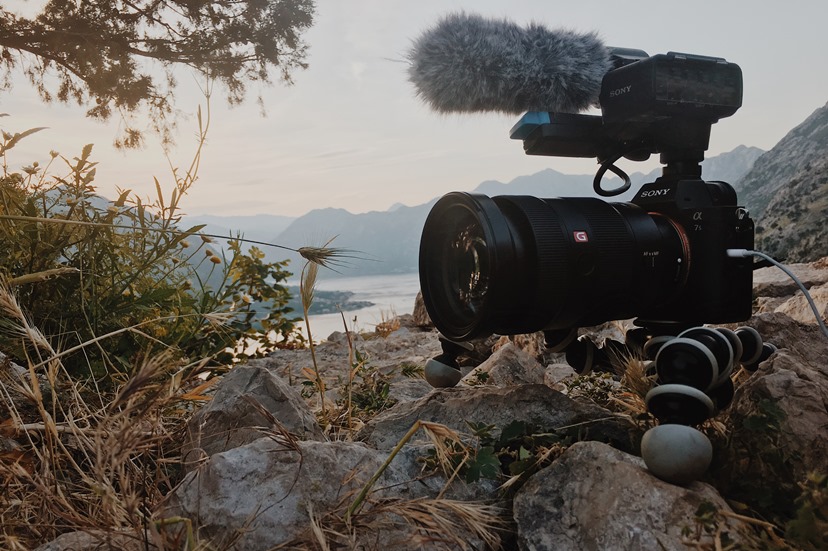 I used the AVX system as the main presenter microphone for a five-day travel documentary shoot. This was the camera setup throughout the full production – the audio worked perfectly.
Verdict
The AVX-ME2 system packs high quality audio capabilities into a package that makes for simple, straightforward operation. It's ideal for those shooters who can live without the ability to dial in specific operating frequencies, or don't need the further control parameters that are found in more traditional wireless systems.
If I think overall about my time using the ME2 system, in an odd way I would say I haven't really thought about it whilst using it. But, that's the beauty of it; it has performed so well that I've not had to think about the audio side of my filming while using it. It just worked.
So, if you're after a system that's going to take away the fuss when it comes to audio setup, that's going to actively optimise its own frequency operation, and deliver crisp, clear audio, then the ME2 system from Sennheiser should be right up your street.
About the Author
Kristian Hampton is Wex Photo Video's Technical Editor for Pro Video. A video specialist who has worked in corporate studios for companies such as Vodafone Group and PwC, as well as working as a freelance grip on various TV productions and features. He also runs Krade Media, providing enterprises with production services. Follow Kristian on twitter @KrissHampton