Looking for a compact and fully professional body for broadcast work? Here's our overview of Sony's recently announced PXW-Z190 and PXW-Z280

Sony's latest fixed lens, handheld professional camcorders, the PXW-Z190 (left) and PXW-Z280 (right).
In a world of large sensors cinema camcorders, it's easy to forget that the traditional fixed lens, handheld professional camcorders are still the bread and butter of newsgathering and event work. Designed to deliver broadcast quality images in a compact, but fully professional body (think Sony PD-150 and EX1), they are still ideal tools for those needing to document rather than create. Sony has always been at the forefront of this type of camera. But although they've had a few 1in sensor models kicking around that shot 4K XAVC, we hadn't really seen a true successor to the 1/3in and 1/2in HD recording models that are ubiquitous in broadcast. NAB 2018 changes that.
Sony has announced two new three-chip, handheld camcorders that bring both 4K and HDR-ready shooting to that familiar form factor. The new PXW-Z280 is the 1/2in sensor model and replaces the PXW-X200, with the PXW-Z190 being the 1/3in sensor model that replaces the PXW-X160 and PXW-X180.
The PXW-Z280 is a handheld fixed lens camcorder with a newly designed 4K 3CMOS back-illuminated 1/2-type sensor for high quality 4K HDR performance. Greens, reds and blues are captured on separate image sensors producing high quality, a high sensitivity of F12 (59.94p) and wide dynamic range. Intelligent noise reduction technology and distortion correction technology are built into a new front-end LSI, which works to create highly accurate 4:2:2 10-bit images. For those old enough to remember it, think of this camera as the EX1 for the 4K world.
XDCAM recording format is available for standard broadcast up to 59.94p in XAVC Intra and XAVC Long for 4K QFHD mode (3840 x 2160) and HD. Proxy shooting is available at up to 1920 x 1080 at 9Mbps. Shooting is available in two modes, S-Log2/3 for the best possible dynamic range and Hybrid Log Gamma (HLG) for a fast workflow while still retaining details in highlights and shadows. Built-in Dual Link Cellular connection doubles the reliability and performance of the uplink. You can also output your 4K video through the 12G-SDI port, which supports 12GB of data transfer using a standard SDI cable.
The lens itself is a 17x optical zoom professional HD lens, with a 35mm equivalent focal range of 30.3mm-515mm. It has three independent control rings for manual focus, zoom (with end-stop) and iris for aperture control. You can also rely on the precise new face detection autofocus mode. Just lock onto your subject and if they or you move, their face will stay in focus.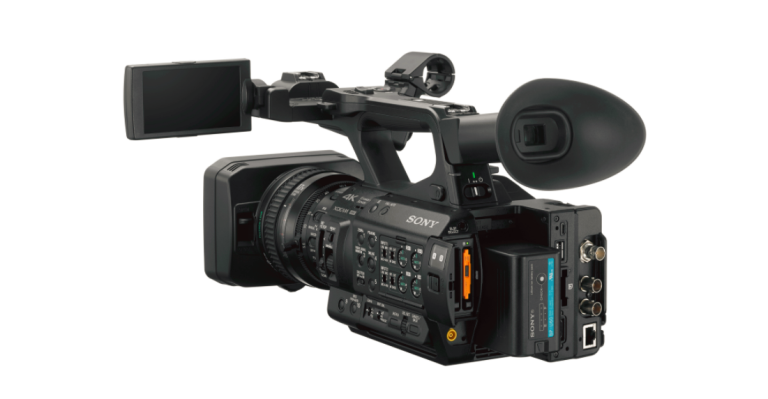 The Z280 (above) contains a slightly larger feature than the Z190.
Built-in ND filters allow users to control their exposure, not losing highlights, even in harsh environments. These can be adjusted manually or set to auto, for more efficient control of exposure in fast-paced environments. Below are the available settings…
OFF: Clear (no ND filter applied).
1: 1/4 ND
2: 1/16 ND
3: 1/64 ND
Linear Variable ND: 1/4 ND to 1/128 ND
Recording external audio won't be a problem with two XLR inputs and four-channel audio recording. A multi-interface hot shoe allows for the connection of external lights or microphones, which can be fed through one of your four audio channels. Dual SxS card slots can record in Simul, Relay or Back Up mode (you can use Back Up mode for archiving footage). All of this is made even easier, thanks to the presence of two separate record buttons — one assigned to each memory card slot.
The next release is the PXW-Z190. This is a similar camera to the Z280, albeit one with a slightly smaller feature set. Still built around a three-chip design (4K 1/3-type 3CMOS sensor), you can record up to 4K QFHD 3840x2160 at 60p in XAVC Long and HD 1920x1080 in 4:2:2 10-bit. However, the Z190 is limited to 3G-SDI output (compared to the Z280's 12G-SDI) and records to SD cards only.
The lens has a longer reach with 25x optical zoom (an equivalent 35mm focal range of 28.8mm-720mm) but still has three independent control rings for zoom, focus and iris control (for fast accurate adjustments). The Z190 sports the same ND filter options and premium face detection autofocus technology from the Z280 — making fast-paced situations far more manageable. The Z190 even allows for external control via the Content Browser Mobile app. You can zoom, focus, control the Iris, and even trim proxy and HD footage prior to sharing.
For more on the PXW-Z190 and PXW-Z280, visit Wex Photo Video, HERE.
Related articles