Access to a healthy supply of affordable stock video makes a world of difference when it comes to assembling your videos. Andrew McGovern looks at the best options


If you come across a situation during your edit where you think if only I had X or maybe during production you'll think it's too expensive to shoot Y, the solution could be a stock video. But, with so many options to choose from these days, I thought I'd take a look at a few of the options on offer…
Now, this isn't a definitive list, nor is it in order of preference. It's aimed to guide you through some of the options available, as well as highlighting the pros and cons for each platform.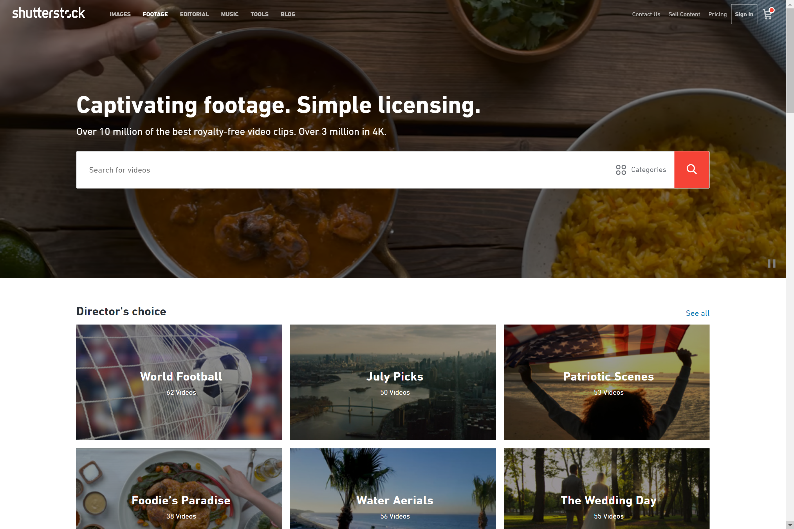 Cost: £49 per HD clip, £120 per 4K clip
- Bundles available
- Over 10 million video assets,
- Over 3 million in 4K
Like: Shutterstock has made looking for footage easy. Navigation and pricing are simple and the site offers good, cost-effective bundles (packs). You won't struggle to find content on this platform.
Dislike: There's no metadata information on the clips before download. The clip might specify that it's been shot on, say, a RED camera, but there's no indication if it's an R3D or ProRes .MOV file.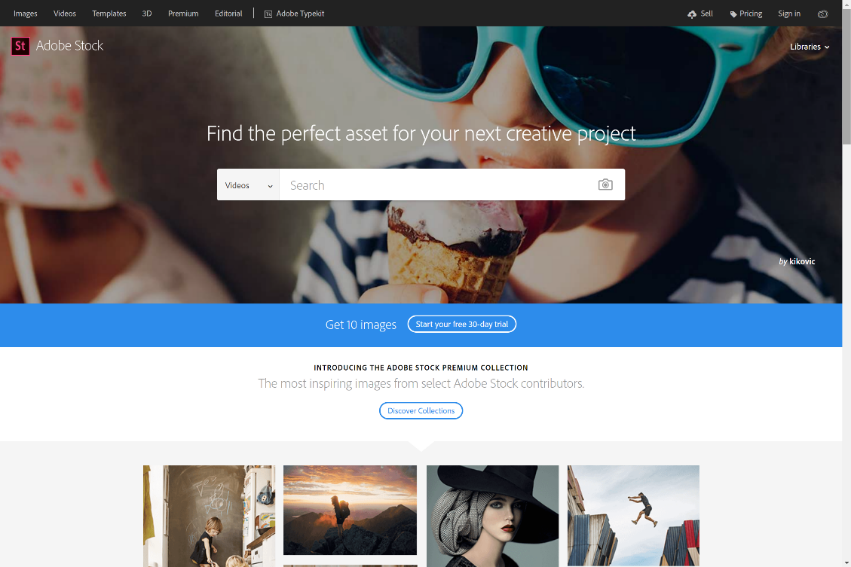 Cost: £47.99 per HD clip, £120 per 4K clip
- 6.5 million video assets,
- Over 2.5 million in 4K
Like: Clip dimensions, codec, bitrate and framerate are all listed on each video, which should give you a good indication of how effectively each clip can drop into your workflow. This option should be great if you're looking for more professionally shot video.
Dislike: Video content isn't available as part of the subscription service. It also uses a strange credits system for assets not included in the subscription.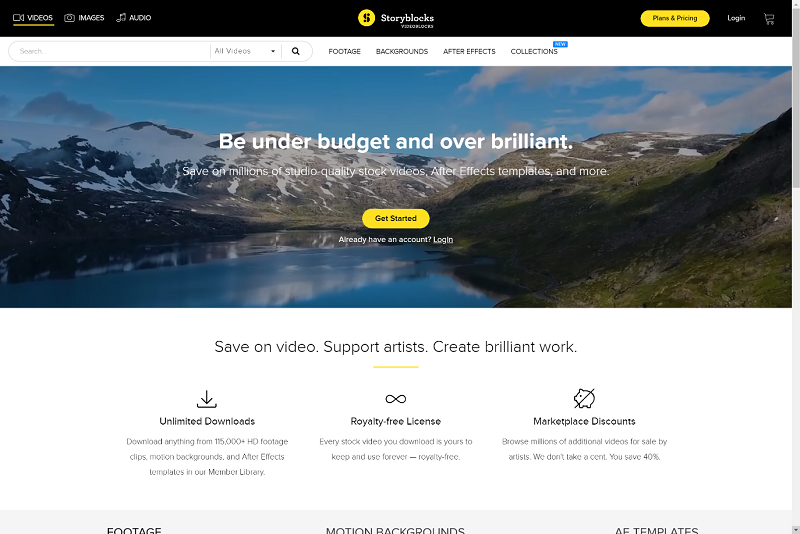 Cost (individual): $99 per year, $199 per year
- Over 115,000 HD available (4K video assets included)
- Adobe After Effects templates.
Likes: Perpetual licences even after subscription has expired. Subscriptions include 360 videos and even Adobe After Effects/Apple Motion templates. If you're working to a budget and require a sizeable amount of content, VideoBlocks' unlimited downloads with a $199 per year subscription could prove the ideal choice for you.
Dislikes: Even though VideoBlocks offers a very cost-effective subscription model, it currently only offers a few hundred thousand assets, as opposed to the millions available from its competitors.



4. VideoHive (Envato Market) (videohive.net)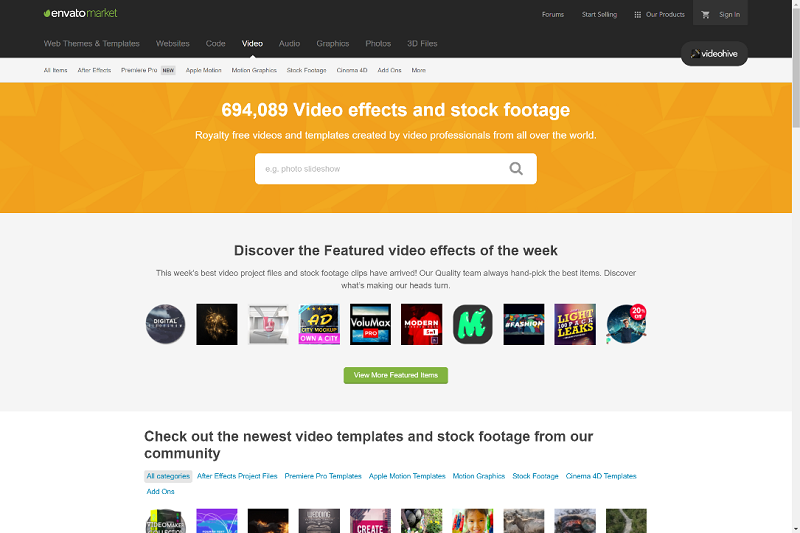 Cost (single license): Varying – 4K available from as little as $4
- 695,000+ video content assets
- 165,000+ available in 4K
Likes: Mentioned before in our article Find Music for Your Videos | The Best Royalty Free Websites, the Envato Market comes up again as one of the stronger forerunners for stock content. Envato also offers Adobe After Effects and Apple Motion templates, and Cinema 4D assets. It's also a great place to find easy and stylish transition packs for projects.
Dislikes: Although Envato has some great content available, it can take quite a bit of time to find it.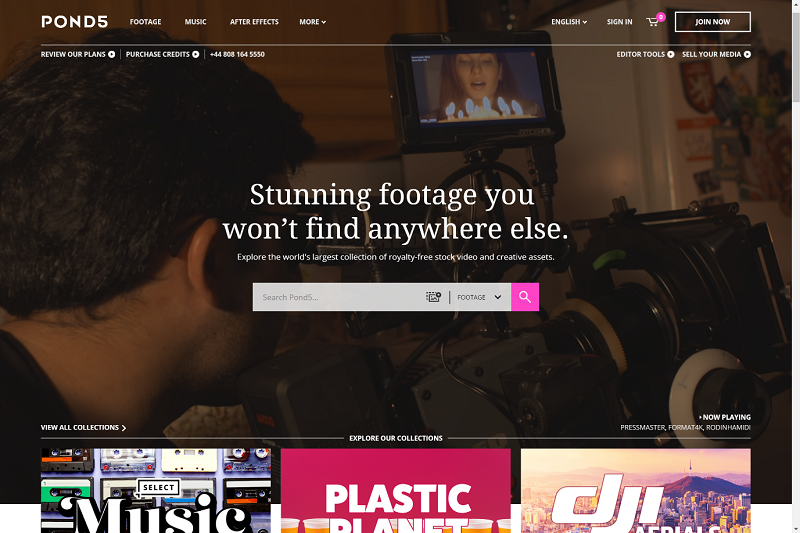 Cost: HD from around £20; 4K from around £40. Membership available from £155 per month
- Over 8 million video assets
- Over 1 million in 4k
Likes: Pond5 has an incredible amount of diverse, high-quality content that ranges from HD all the way up to resolutions pushing 5K and even videos for 360VR. It also has some great archive footage from historic events and also gives you the options of downloading R3D files as well as a .MOV. Some footage even gives you the sensor and camera the footage was shot on, which is a great asset for professionals.
Pond5 also has a membership tier which allows access to 500,000 videos, 30,000 audio assets and 700,000 images (limited to ten downloads a month). Finally, a great preview system means you don't have to click through for each video, which makes finding content faster.
Dislikes: Metadata isn't presented on all video clips, which is a shame because it's a welcome feature (where most don't include any at all). There's also no standard pricing, as there is with its competitors.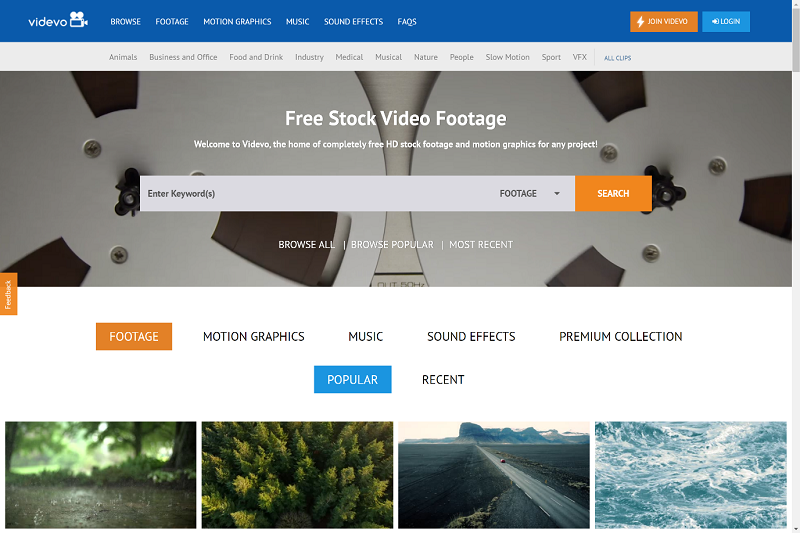 Cost: Free! Monthly at $15pm or premium for $25pm
Likes: Although you won't find an incredible amount of free videos on Videvo, the content does look quite good and you should be able to find one or two pieces that could benefit your production. The subscription offers more premium content for a price that doesn't break the bank.
Dislikes: Free footage is limited to HD and SD only, Premium subscription limits downloads to 25 per month – whilst not the worst, it's also not the best. Not all content on the website is free, as clips sometimes direct to paid videos on Shutterstock.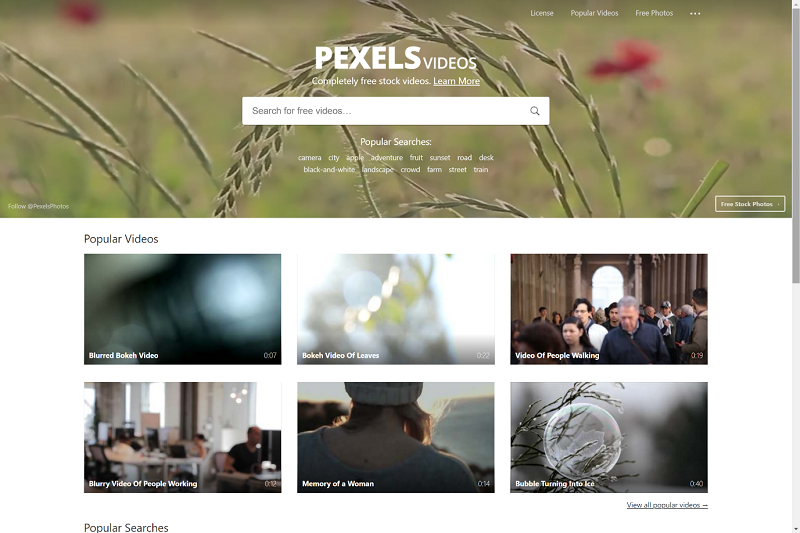 Price: free!
Likes: Pexels' pricing system is no-nonsense. Free content is offered across the whole website; there's no paywall for additional material here. All material is at least HD and most is Full HD.
Dislikes: The category search isn't great. There are categories, but no filters. What you search is what you get. The bitrate of some of the videos does drop in quality too.



About the Author
Andy McGovern works primarily as a freelance videographer but also likes to focus on photography. As a former rental-house guru, he's been involved with kit and crews ranging from large to small budget productions for a wealth of large clients and events. Head over to his online dwelling to see more of Andrew's work: www.AndrewMcGovern.co.uk