Roll on job envy! Filmmaker Dean Sherwood shares some insight into his life on the road producing content for the band The Vamps.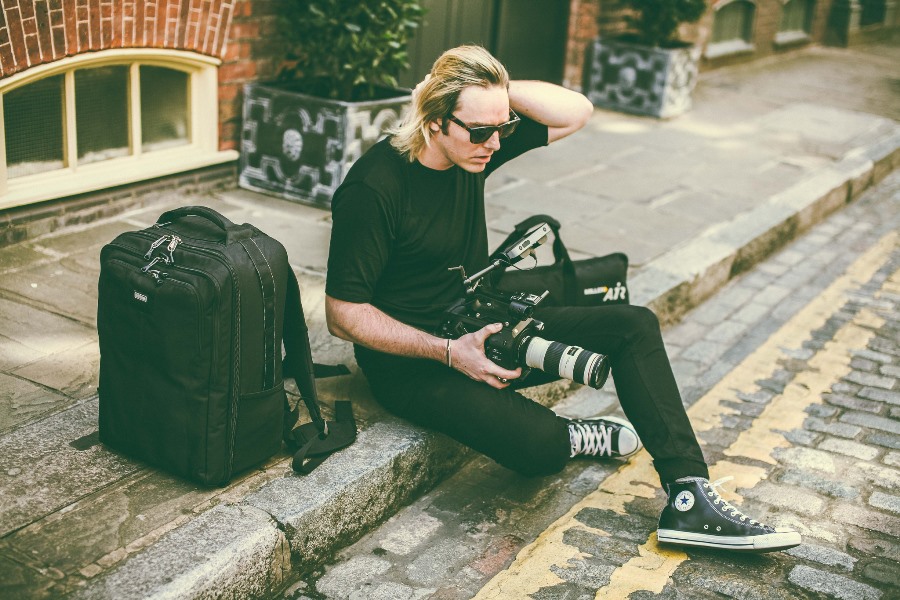 Wex Photographic: Okay, first things first. How did you end going on the road with the Vamps and shooting all of their video and photo content?
Dean Sherwood: I can probably go back further, but to keep this from looking like a historical document of my work life in film and photography I'll just give a more recent overview.
About four years ago I was working for UK artists Conor Maynard and You Me At Six, living in London with a friend who also managed bands. We were travelling up to Derby one day to shoot a video with one of Joe's bands, The Struts, and he played me a CD of this kid they had just signed. I knew there was something there, he sounded great, so agreed I'd head down to Devon to film this new band perform a cover for minimal money.
They performed a cover of a One Direction Song and I filmed it – that video went into the millions of views within days. Fast-forward six months and I was signing a record label deal to work full time for the band, documenting them on the road with stills and video. That's since developed into more of a creative director role, as I'm getting more involved with the whole visual look of the band and also help with stage design for tours and screen visualisations during the shows.
WP: You've got a lot going on. What's a typical day in the office like for you?
DS: A typical day is never typical! A good example is this coming Saturday: we have a show in Norway, so are flying early, and on arrival I'll need to get my camera ready to film as the band are usually greeted at the airport by fans waiting for them.
We then go to a radio station for a quick interview, and then on to a short acoustic show. All the time I'm looking for photo opportunities and grabbing the boys to update us (ready for a documentary-style edit) on what they're doing and where we are. My cameras are rarely put down. In between pieces to camera with the band, I'll get as much coverage as I can for my edits.
I usually have internal requests as well. These might be anything, from a separate documentary video for the label reps from the country we are in, to video idents for promotion of upcoming shows and song releases in various countries. I might also need to grab some stills for a magazine piece.
A lot of the work I do I never see once I've delivered it. Geo-targeted videos are most definitely a thing now, so I might shoot something with the band in a rehearsal studio in London that is delivered the next day to fans in Japan. It's quite strange!
After the show, I'll grab any links I need before we head to the airport to fly to another location ready for a second show of the day. I'll constantly be checking my to-do list, trying to grab the boys whenever I can to get some more ticks on the board. I have to be careful not to annoy them! Sometimes I'll need to prioritise requests so I don't interrupt their downtime – it's a juggling act that I try to always be conscious of. They need rest, especially the three that sing.
We'll arrive and hit the ground running going straight to the venue. As soon as I arrive I'll connect to the local Wi-Fi and start sending photos and edits. I'll have a walk around the venue, speak to security staff so they know who I am and what I'm doing, and then carry on shooting. An average day means I'm back at the hotel around 11pm. I'll offload and usually do some DIT [digital imaging technician] work on files – key-wording, favouriting and maybe some editing if my delivery schedule is tight.
Charge batteries, shower, jump into bed, fly through my emails and prep my to-do list for tomorrow. I'll usually get to sleep around 2am... sometimes I eat!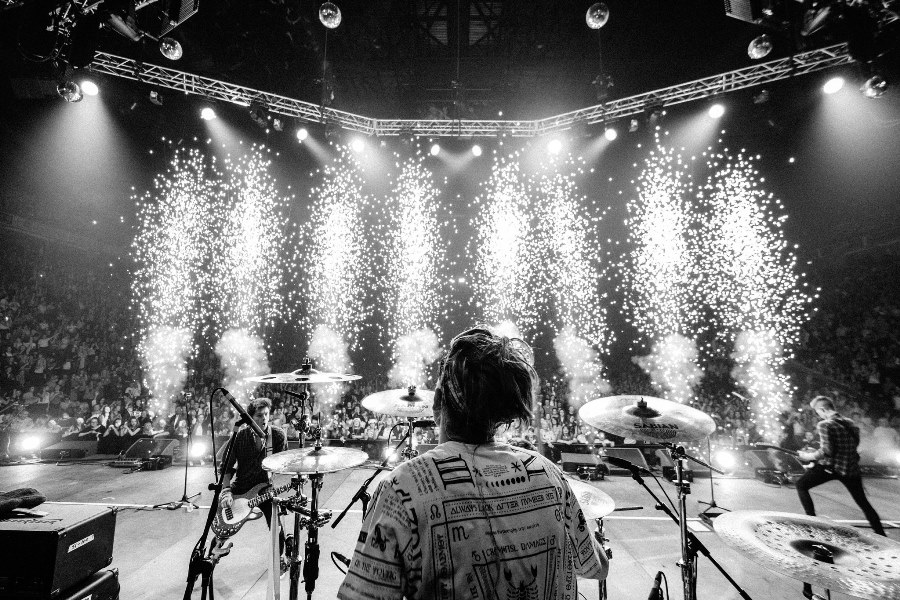 WP: Can you tell us more about the mixture of projects you do with the band?
DS: The Vamps are a worldwide band. That means I will be talking to record labels all over the world. If we are due to visit a country, I'll start getting requests for videos and photos to promote the visit about a month before we arrive. There's a real emphasis on maintaining engaging content; these videos or photos need to make an impact, so everything needs thought and prep. At any one time I'll be in pre-production for between 10 and 30 different "projects". Essentially I need to produce as well as direct, shoot and edit every day.
I document the band but I have also directed four live show multi-camera DVDs, directed and filmed two feature-length documentary films that went to DVD, and shot and edited videos that number in the hundreds for them. The band's YouTube channel has more than 300 videos on it, and some of these are long-dorm doc-style videos between 30 and 60 minutes in length!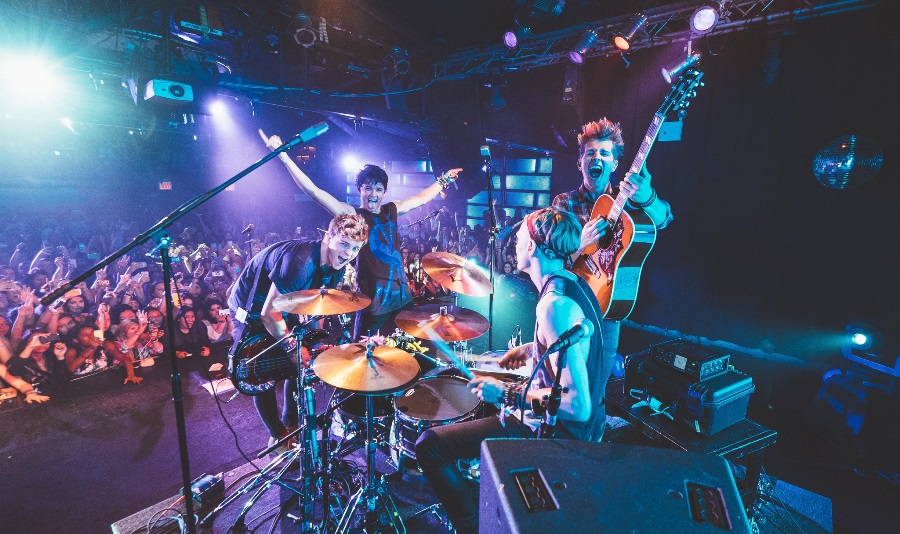 WP: Are you often shooting alone? It must be a bit of a handful managing all the different kit you have.
DS: Yep, 99% of the time I'm working alone and I always have to be realistic about what I can actually achieve as a one-man band. I've developed ways to pack everything I need into three bags. It's not just a matter of having to carry my own gear around – it's also about being able to move through airports and security fast with the band as well. This isn't the kind of job where you can fly with five bags. I'd get left behind! Sometimes we literally have to run to a car to avoid being pinned in by a sea of screaming girls, which is something I'm not sure many people in this field have to consider something when they pack!

WP: It's very impressive you're able to fit all the kit you need into just three bags. So, kit. What exactly are we talking here?
DS: My main camera is the Canon C300 Mark II. It gives me (almost) exactly what I need. The files are so nice to work with. I shoot C-Log3 most of the time, as it is better in low light than C-Log2, so I'll tend to go with that as I still end up with a lovely flat image to grade (I like to grade – yes, I'm making more work for myself!). I've taken the stock Canon handle off and put together my own quick-release style configuration for speedy setup and pack-down, using wooden camera pieces mainly.
I mostly use Sigma ART lenses. They are just gorgeous for the price and I love them for stills work as well. I shoot handheld most of the time; I'm always restricted by time so a tripod would slow me down, and I find monopods awkward and cumbersome to move around with.
One of my three bags is purely for my MōVI stabiliser. Even though I'm currently going through a stage of not using it as much and preferring handheld, given that I've got so many different videos to produce it's nice to have the option for a different look and feel altogether at times. My Canon EOS-1D X Mark II goes on that.
For audio I use the Sennheiser MKH 8060 short shotgun and RØDE Link wireless mics, while for formal pieces I have a boom rig that I can set up and leave alone while I'm behind the camera. The boom pole, stand and adaptor all pack down to less than 60cm in length. For lighting, I carry two Westcott Ice Lights around with me, and I have magic clamps so I can just grab anything in a room or venue and clamp them on to it so I don't have to carry more stands with me.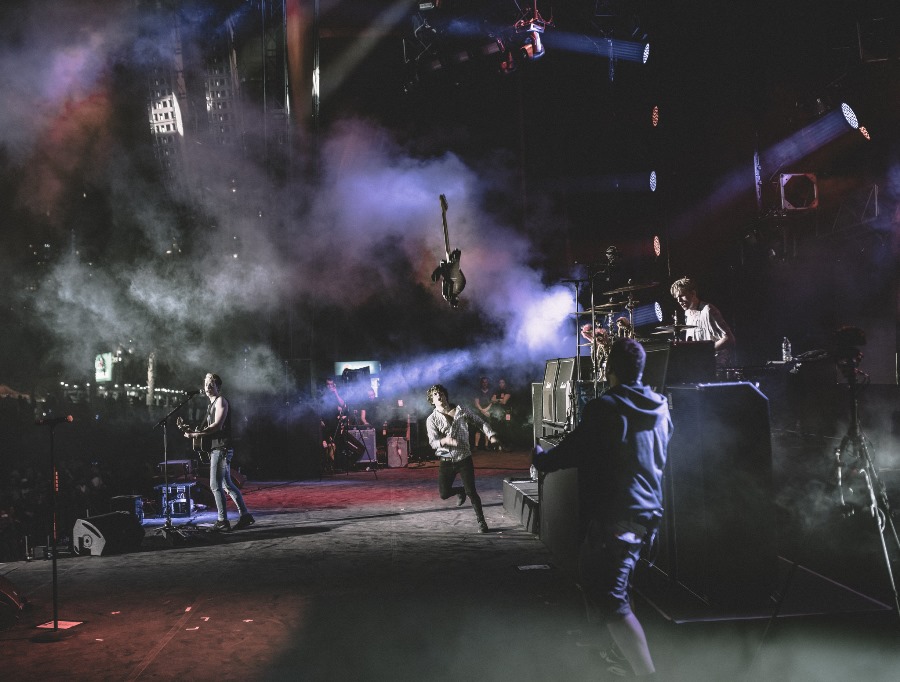 WP: You must be filming in plenty of low-light situations. Going back to the question about kit, can you expand more on how you ensure you capture the clean images that you do?
DS: A lot of planning. Backstage areas tend to be poorly lit as a matter of course. I find spots of good light for anything formal I might need, so it's sometimes staged in that respect. I still let the natural events unfold, but I'll try and light it if I can. That might mean there's a moment where the band are working on a new song in the dressing room and I'm walking around them quietly moving lamps!
I think it's also massively helpful to have the wide-aperture lenses I have from Sigma and a camera that really handles low light well. I often happily shoot at ISO 20,000 on my C300 Mark II, knowing if I've got the exposure right it'll look fine when I come to grade it. Yes, there's the Sony A7S II, and while it is amazing in low light, it doesn't offer the same audio quality unless I rig it up, and that takes time. I also love the spot-metering waveform on the C300's monitor – I experienced it when I tried the SmallHD UltraBright, and have wanted it ever since. I didn't know the C300 had it, but when I saw it I literally felt like jumping for joy!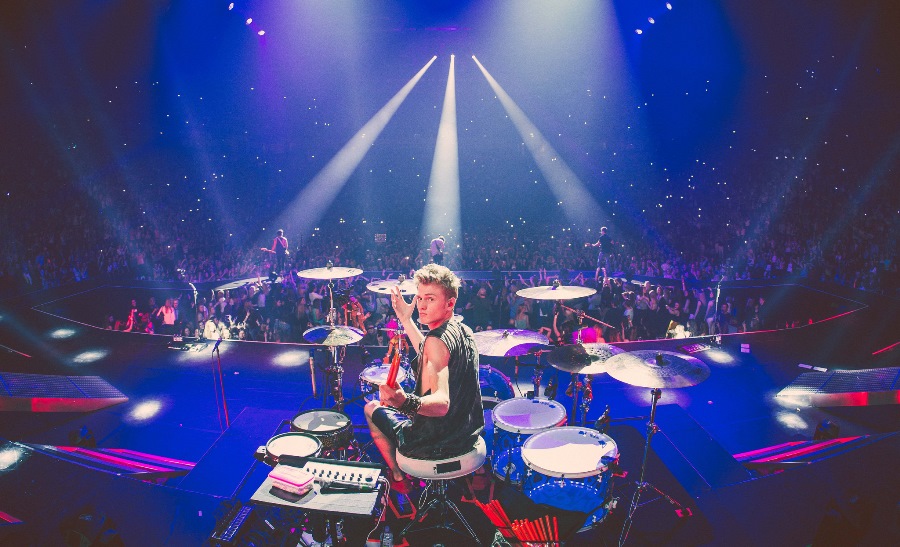 WP: Can you tell us more about the settings you normally use on the C300 Mark II?
DS: Yeah, like I said earlier I shoot mostly C-Log3 as it's a "best of both worlds" profile. I get asked a lot why don't I just shoot in a baked-in profile – the main reason is that some of this footage is used in DVDs, and for that I want to be able to grade.
I tend not to shoot much in 4K, even though I have the option. If it's a music video, yes, but not my documentary stuff. I prefer the 12-bit 4:4:4 HD option, so I can push and pull to my heart's content. It's lovely.
I ingest using Hedge for Mac, which makes a backup at the same time it imports to my edit drive (a Samsung 2TB SSD), and I edit in Final Cut Pro X. Depending on the project and time, I'll either grade in FCPX using Color Finale, or I'll use DaVinci Resolve. Resolve deals with highlights and shadows better so I always prefer to use it if I can.
WP: So you've just touched upon your editing setup – it must be pretty portable. Can you give us a bit more detail?
DS: I travel with a maxed out 15-inch MacBook Pro with a touch bar – which I don't like at all by the way! I always rest my fingers on it by accident and desperately need a way to disable it!
At home I have a Wacom tablet that I use at my standing desk, but on the road I use a mouse to save space. I also use an external keyboard sometimes and raise the MacBook using books or – and this has happened many times – an upturned bin! I like to have my screen at eye height if I can. As mentioned I edit in Final Cut Pro X; to me there's nothing quicker, the skimmer over clips is just essential and I love the magnetic timeline. A pretty compact setup, yes!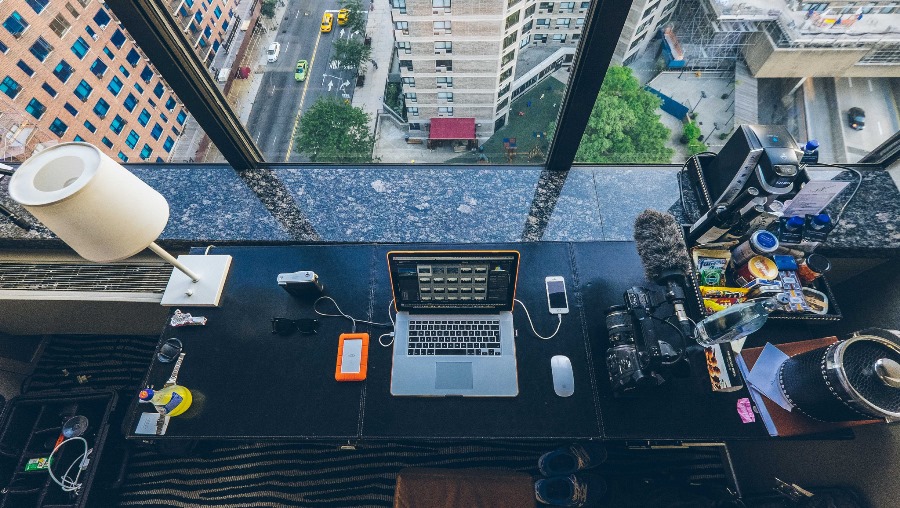 WP: When you sit down to edit, what's your workflow?
DS: First off I try to clear my space. If that's a hotel room I'll get everything off the desk except a lamp if I can. I make it my own; I like space around me when I edit, to clear my mind and help me focus. There will be coffee, and there should be water, though I'm rubbish at that!
I'll go through everything, rejecting clips or parts of clips I don't need. I'll keyword and make selects ready for my edit, then I'll go through my keywords and on my iPad with my Apple Pencil I'll scribble down a timeline using the keywords. That part takes longer than my actual cut, but it's so worth it. I travel with a music library that has all the band's original music, some live tracks, and instrumentals for my edits.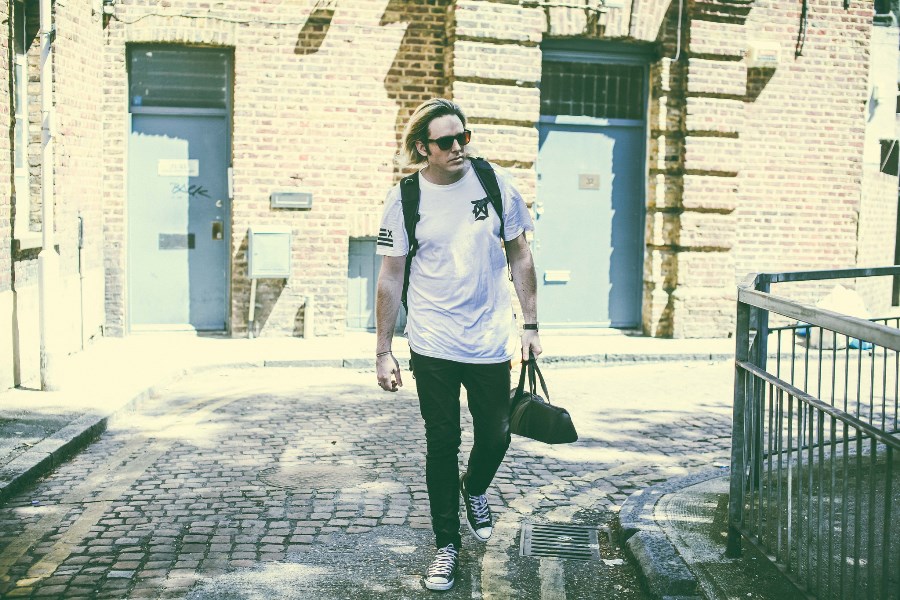 WP: What's on your kit wish-list?
DS: Not that much at the moment – I'd rather have an assistant on the road with me! Do you guys sell those? Can I fit one in my bag?
Seriously, though, I really need someone to design a tripod that can safely support my camera and fold down smaller than 80cm. They don't exist, it seems.
WP: Unfortunately selling assistants is something we don't currently do. We can look into it though…
So, finally, just to make us all feel worse about our own lives: where are you off to next?
DS: I'm currently in Oslo writing this up after a long day on a music video shoot. I'm home for a few days, then I actually have a holiday with my girlfriend. However, the day I land I'm back to the airport same day and flying to Brazil to start another leg of the world tour, stopping off at Argentina, New Zealand, Australia, the Philippines, Japan and Taiwan for just over six weeks. And there's a lot to do!
You can see more of Dean's work at deansherwood.com
About the Author
Kristian Hampton is Wex Photo Video's Technical Editor for Pro Video. A video specialist who has worked in corporate studios for companies such as Vodafone Group and PwC, as well as working as a freelance grip on various TV productions and features. He also runs Krade Media, providing enterprises with production services. Follow Kristian on twitter @KrissHampton
Related articles