Filmmaker Sam Thomson talks us through the production of his WexShorts runner-up entry The LitterPicker
"I arrived in the Morning
and bumped into Wayne outside a pub…
Luckily, he stands out a mile because of his
extraordinary-looking dog, Koda."
Wex Photo Video: Can you describe the filmmaking that you do?
Sam Thomson: I'm a freelance videographer who specialises in solo shooting documentary-style content. I both film and edit projects for charities and brands, but also enjoy filming personal projects, like The LitterPicker.
W: How did the The LitterPicker come about?
ST: A friend of mine shared the Wex competition page on Facebook and suggested I enter. I was keen as I've been aware of Wex Photo Video for some time now and often go to events held at your flagship London store.
I'm interested in environmental issues and reading the brief, I was immediately reminded of a man I knew of in the town I grew up. He worked for the local council, collecting litter, but chose to carry on working the same route after he retired from the job. Sadly, I couldn't track him down, but the idea of someone going out and doing anything they could to help the environment – rather than rely on large institutions to do it on their behalf – stuck with me.
I discovered Wayne on Twitter, a man with a similar drive to clean the streets of Britain. I reached out and he gave me his phone number and told me to call him, so we could discuss how he could help make the film.
W: How did you plan the shoot?
ST: Wayne owns an old phone and is constantly on the road, so he doesn't have access to the Internet very often. I rang him a few times, asking him questions to find out why he spends his time travelling the coast of Britain and clearing the litter away. Once I had a good idea of his motivations, I wrote down some interview questions and looked at the weather forecast in Cornwall for the next week.
It looked like it was going to be warm sunshine on one of my days off, so I called Wayne and asked him where he was going to be on that morning. He happened to be near a pretty coastal village, which is seen in the beginning of the film.
I live in London, but there's a cheap overnight bus and rail service to the tip of Cornwall, so I slept overnight and woke up near the location. I arrived in the Morning and bumped into Wayne outside a pub. I was very lucky, as there was no phone signal for miles around. Luckily, he stands out a mile because of his extraordinary looking dog, Koda. Wayne had to get to a campsite that day, and it was a few miles away, so I tagged along on his journey. When Wayne wanted to talk, we filmed an interview. He was very much determining the schedule that day! He needed to get somewhere to have a place to stay and when we arrived at the campsite, I went to catch my overnight train home.
W: What were the main challenges on this project?
ST: I knew I had to be mobile, so I couldn't take all the things I would instinctively bring along to a shoot. I was walking for miles that day, over rough terrain, so a tripod (and even a monopod) was out of the question. In an ideal world, I would've loved to have stabilisation equipment, but it wasn't practical this time. I always light sit-down interviews, but I couldn't do that either. It was also a bit windy, so getting clean dialogue was challenging too.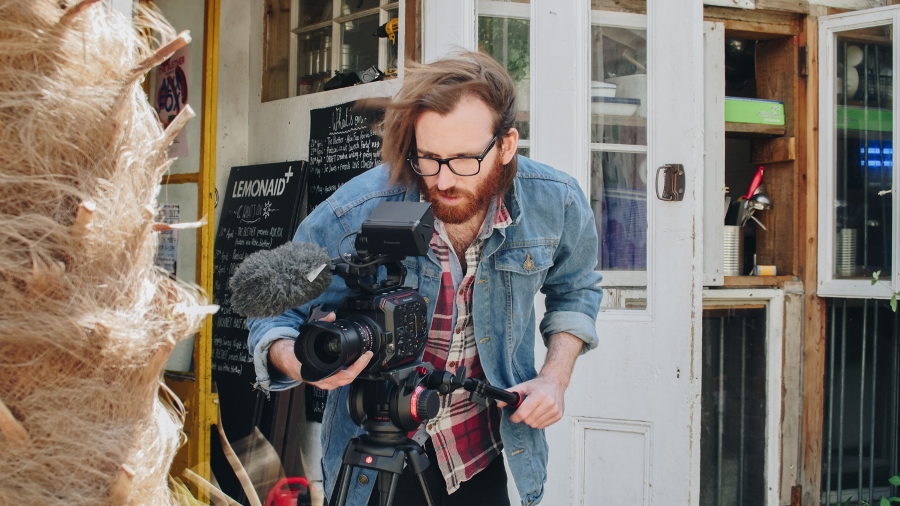 W: What equipment did you use?
ST: I used my workhorse camera, the Panasonic AU-EVA-1. I like to film as much as possible and tease out the most natural moments captured with a subject, in the edit. The EVA-1 is great for that as it's a lightweight, professional camera with long-lasting batteries and a long GOP capture codec with 10-bit 4:2:2 – which doesn't take up too much memory space, so I could film high-quality footage all day.
For the sound, I wanted Wayne to talk whenever he felt like it and didn't want him waiting for me to get close enough with a shotgun microphone. I hid a Sennheiser G3 Portable Wireless Microphone under his jumper, with a receiver straight into the XLR input on the camera.
W: Can you explain your approach to editing?
ST: I use Adobe Premiere Pro CC. My first step is to grab all of the dialogue and put it into a sequence. I'll then spend the time putting together a narrative from beginning to middle to end. Filming constantly gives you a lot of B-roll, so I then pick the wide shots, close shots and mid shots for cutaways, to make the film visually appealing. I colour corrected and lightly graded the footage using the Lumetri Color [sic] panel within Premiere. I always shoot in Vlog as, coupled with the 10-bit internal recording formats, it gives me the most flexibility in post-production.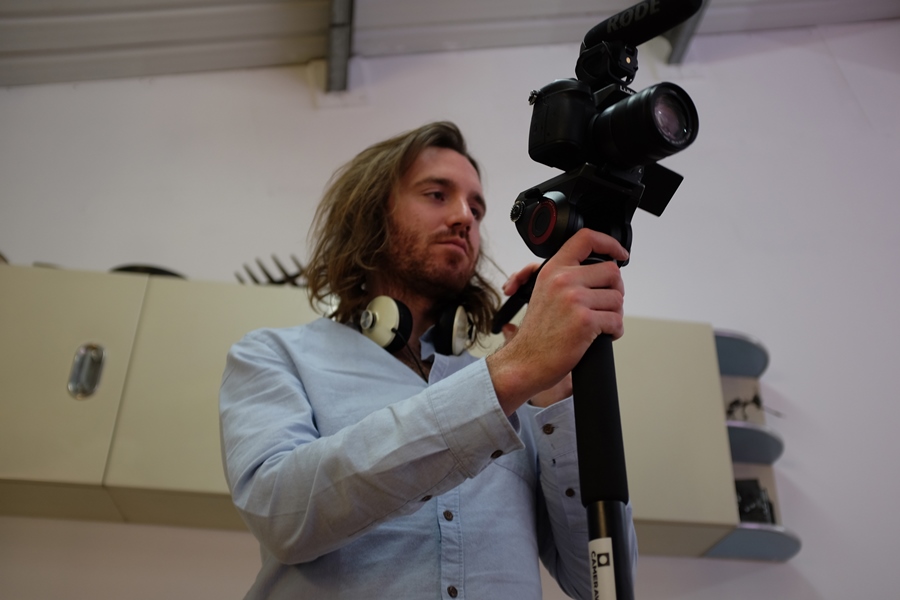 W: Any advice for anyone wanting to create a mini documentary like yours?
ST: The LitterPicker wouldn't have worked if Wayne wasn't willing to be candid and share so many of his thoughts with me. It's important to get to know someone first, to find out if they are genuinely prepared to express themselves on camera.
If you have a strong idea, don't hesitate to reach out. There are a lot of people who will be flattered and more than willing to share their story, whether you have hundreds of credits to your name or none at all.
[Note: If you've arranged to meet with somebody you don't know, always meet in a public place and ensure that a friend or family member knows where you're going.]
W: What's next for you, what projects have you got lined up?
ST: I spend a lot of time shooting projects for commercial clients, but I'm always on the lookout for interesting and personal documentary work. Having met Wayne, I want to do more work with environmental groups, and in particular, people who are trying to clear plastic waste from the coastline.
Want to see more of Sam's work? Head to his website, HERE.
About the Author
Kristian Hampton is Wex Photo Video's Technical Editor for Pro Video. A video specialist who has worked in corporate studios for companies such as Vodafone Group and PwC, as well as working as a freelance grip on various TV productions and features. He also runs Krade Media, providing enterprises with production services. Follow Kristian on twitter @KrissHampton
Related articles