Jake Bentley tells us that 'The Hidden Man' was inspired by a painting and why Canon's C100 is still his camera of choice
Wex Photo Video: Can you tell us about yourself and the type of films you've been making?
Jake Bentley: I'm 20 years old and have been making films for the past eight years, alongside Michael Harrison. In that time, we've worked on many freelance projects and our own films. We've shot documentaries, music videos and even debate shows. However, our main love and focus is fictional narrative.
We've shot many genres ranging from horror, sci-fi, action and many others. Personally, I love trying new genres and mixing them together, which is something we wanted to do with The Hidden Man, the neo-noir short film created by myself, Ben Smith, Sam Bird, Corey Michael Adams and our producer Nicola Brown.
WPV: Can you tell us where the idea for The Hidden Man came from?
JB: The idea was inspired by the painting Nighthawks by Edward Hopper. We wanted to replicate the colour palette of the painting and incorporate it into a live-action film. Every time we looked at the painting we could see the potential for a noir piece.
That's really where the idea came from, the film is more of an experiment in light, tone and colour – we really built the story around the painting and the tones it portrays. We looked at other films in the style of the painting like Paris, Texas and even Blade Runner to some extent for inspiration on tone, but really it all came from our love of noir films and the painting.
WPV: How did you plan the shoot?
JB: Once we had a script locked down, we set out planning the production phase. Our producer Nicola went about finding local bars, venues and other places that suited what we were after. We narrowed it down and then contacted each location – lucky for us St Albans' Suckerpunch bar allowed us to film for free. It was the perfect location and a really nice venue to film in, so if you're ever in the area check it out.
Once we had the locations sorted – both the carpark and bar – we made a shooting schedule and contacted our actors to see if they were available on the desired days (luckily, they were). We had two shooting days planned, a night-time shoot at the car park and a daytime shoot at the bar. We had planned a third day as backup, but in the end we didn't need it.
The most difficult stage of planning was transporting the gear, crew and cast. Some members used public transport while the rest, including myself, went in our friend Nathan Rawlings' car – we were all packed up and squeezed against the windows with the gear keeping us more secure than the seatbelts! I think it's important to always collaborate and return favours for people when they're providing their services for free, whether that's providing showreels for actors or promo videos for companies.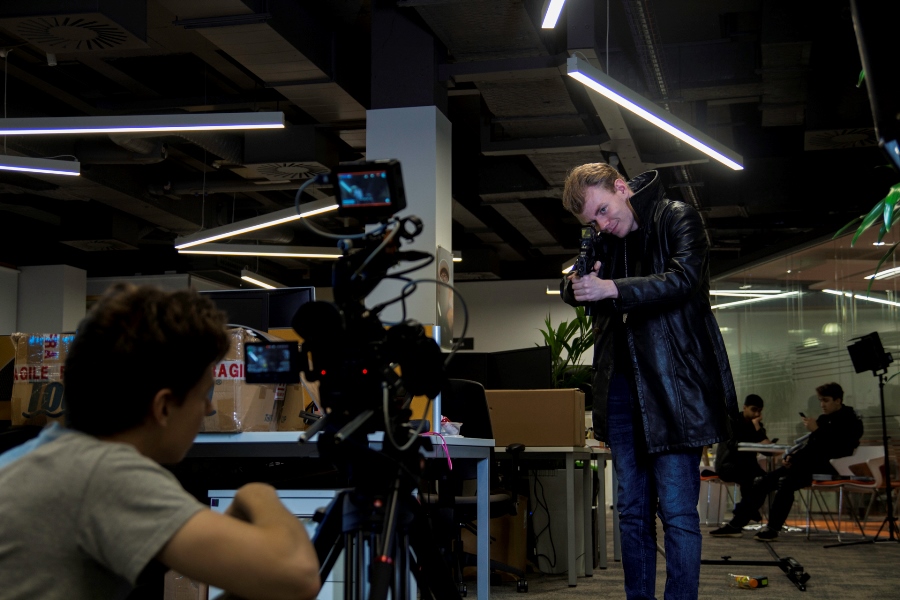 Jake Bentley on set with his Canon EOS C100 and Atomos Ninja while filming another one of this young filmmaking teams' productions Replica Revolution.
WPV: What gear did you use?
JB: We shot on the Canon EOS C100 Mark II, my personal favourite camera. Since late 2017, it's been our production tool of choice for all of our freelance projects and short films. We could have shot on the LUMIX GH5 or Blackmagic Design URSA Mini, but I choose the C100 as in my opinion it provides the perfect balance for our needs.
It has great image quality, the 4K Super 35mm sensor is the ideal size for us and it has good internal audio preamps so we can plug a mic directly into the camera, which saves time syncing audio from other sources when we get into post. It's closer to the size of a DSLR than your average cinema camera – the URSA Mini is a great camera but it isn't so mini. Finally, when you pair the C100 with an external recorder then you really do have a powerful tool.
We recorded in HD to both SD cards in camera at 24Mbps – that way there was a backup in camera of the footage – and then to an Atomos Ninja Blade in ProRes 4:2:2 HQ (the highest codec the Ninja Blade allows). This meant as soon as we got into post, our footage was transcoded and ready to edit in a short turnaround. The camera tops out at 1080p, but that really isn't a problem. The sensor, paired with the ProRes from the Ninja Blade, provided a sharp image, perfect for the lens we used.
We borrowed all the gear from our university to film. However, I used my own set of vintage lens along with a couple modern pieces of glass. The Helios 44-2 58mm f/2, Vivitar 75-205mm f/3.8, Tamron 17-50mm f/2.8 and Samyang 35mm T1.5 were used throughout the short.
I used them as I love the look vintage lenses produce: the bokeh, the texture and the way they flare. For lighting we had a Kino Flo Diva-Lite and two LEDGO light panels. We added gels to the lights to achieve the blue/green hue throughout the carpark scenes, and used LEDS when we needed portable lighting and for outdoor shots or those in a small space. The Diva-Lite on the other hand acted as a top light for the bar scenes and filled the room. We combined all this with reflectors to fill faces and add catch lights, as well as a dolly for all the tracking shots.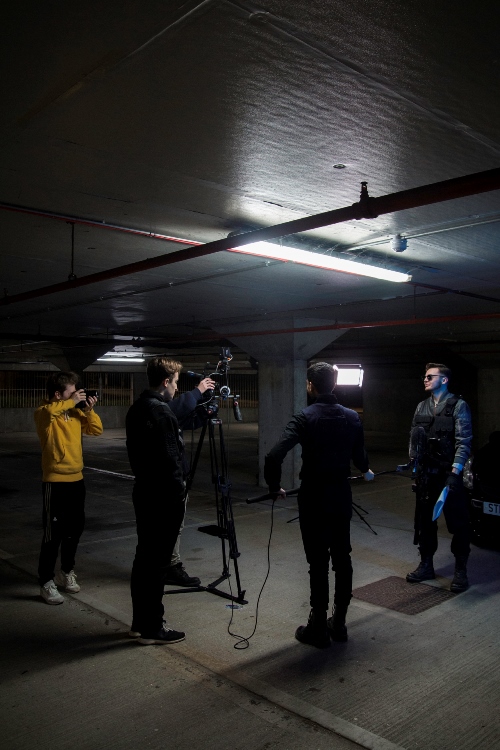 WPV: Your lighting looks great – can you tell us about your approach?
JB: Thank you! A lot of the light actually came from the ambient locations, [good locations] add so much production value to your films and can hide the fact you have little or no money for production design. All the locations we used for free, which was very nice of everyone involved.
The carpark already had nice built-in florescent bulbs, which lit the location enough to keep it out of complete shadow. All we needed to do then was add our key and edge to light the lead actor, Kristian. Along with using gels in the carpark, we also made sure to balance the bi-coloured lights to daylight and balance the camera to 4,800K – this is the setting I've found gives me the best-looking night shots in my opinion.
Inside the bar we used the Diva-Lite to add top light to the actors, then we filled them with the reflectors to soften the light. We finally edge lit with an LED at daylight just to keep them off the background. The toilet scene was almost completely lit by the ambient lights; we just used a reflector to help bounce some extra light.
WPV: Did you encounter any issues when filming?
JB: Sound was an issue when recording in the bar due to being so close to a main road. However, that's a problem you would find on most shoots. One unique problem, caused by rushing around, was during the bar shoot we had actually forgotten the tripod plate.
The fix for sound was simple; we waited for moments when the road was quiet before recording. We also made sure to get a track of the room's ambient audio so we could get around any problems in post. The tripod fix was as janky as it comes… We taped the C100 to the tripod to get the wide establishing shots and the clean plates, and then swapped over to the shoulder rig for the rest.
We didn't have a budget, so we had to do everything for as little cost as possible or basically for free. I don't think we actually spent a single penny on the shoot. In fact, almost all our films are done this way. With the amount of films we make and as regularly as we do, we couldn't really afford to pay for everything. The way we got around this was through our established list of contacts and friends in the area – we know a lot of the local actors and they always help us out.
So, a big thank you to Kristian Burnett and Taylor Jubb who acted for free! The locations were all free, we simply asked nicely via email or phone. All props and costumes we owned through previous films – we always keep everything in a massive collection of tubs and containers. The missing boyfriend in the boot of the car was Corey Michael Adams, who was a crew member that stepped in for the role. Luckily for us, most of our crew actually come from acting-based backgrounds.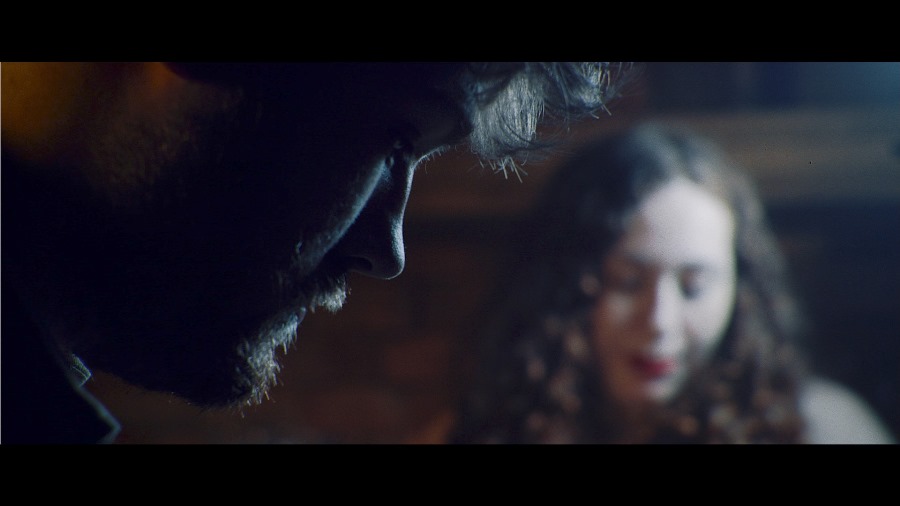 WPV: Can you explain your post-production workflow?
JB: We've used the same post-production workflow for nearly all our films now – this is partly the reason we're able to release so much, so fast. As soon as I arrive back from a shoot, the gear is put away into storage, the hard drives, SD cards and any other forms of media storage are then taken to be digested. I use Post Haste to create a folder structure for the rushes, Final Cut Pro library, sound, etc.
This keeps every project super organised and labelled well for archiving. We keep these files on what we call an edit drive – a faster hard drive than our archives that we can edit from. We always make sure to backup that structure to the archive drive, that way we have two copies. For post we use Final Cut Pro X. It can import media fast and we use ProRes footage, which really helps with this process.
Then, the footage is organised into events (bins if you're used to Avid or Adobe Premiere). Our editor Sam Bird then takes a copy on his work drive. He does all the cutting with the rest of the crew, giving feedback until we are happy and then locks the edit. After that we use Final Cut Pro XML files to get the cut back onto my machine where I edit the audio, do VFX, create titles and mix the sound. I then do the colour corrections and grade the footage as we shoot everything in C-Log.
Finally, it's exported for final quality control checks and spelling checks (our biggest enemy). All this happens within a couple weeks, it's an extremely fast turnaround. For anyone who's wondering, we use Adobe After Effects and Cinema 4D for VFX, and Final Cut Pro X for editing sound and colour, along with plugins such as FilmConvert for grading to get the look of it being shot on film stock.
WPV: Any advice for others creating their own shorts?
JB: My advice for others is to just go and make a film. No matter how much or how little money, or how few crew members or items of gear you have, you can do it. We make almost all our films with no money and never use it to excuse our mistakes or problems. In some ways we see it as an advantage – we have no strings attached and are free to tell any story we want how we want, without anyone telling us it has to be changed.
This won't be the case forever, so make as much content as you can while you have no clients to make happy. If you don't have a camera the Canon EOS 550D or any Rebel-series camera is a great start. You can basically learn everything you need regarding cinematography and photography with it, from exposure to composition and interchangeable lenses.
It's super cheap now and still provides a great image, we've even intercut footage from it with the C100 and no one's noticed. Just don't get caught up with gear, story matters most. Last year we shot an entire feature-length film Dear Air with the Canon EOS 700D. Finally, please don't place your talent against a magnolia-coloured wall. I've seen it in so many low-budget shorts and it just doesn't look all that great.
WPV: Do you have any interesting projects lined up for the future?
JB: We always have a lot lined up. We just released our Christmas special A Blue Christmas – inspired by Breaking Bad – and currently we have Replica: Revolution in post-production, a sci-fi action film written and directed by my good friend Michael Harrison.
Coming up, however, is a massive project from us titled The Man Who Sold The World a noir crime piece following detective Williams as he attempts to catch the world's deadliest criminal mastermind, the Langdale Killer.
The film has been written by our friend Nathan Rawlings who has directed many of the films on TheThreeLancers' channel such as Blood Pack. We are currently crowdfunding the film on Indiegogo, something we don't do often. However, we want to really make this one special.
Want to see more of Jake's work? Visit his Instagram and portfolio. For more on TheThreeLancers, visit their Facebook page.
About the Author
Kristian Hampton is Wex Photo Video's Technical Editor for Pro Video. A video specialist who has worked in corporate studios for companies such as Vodafone Group and PwC, as well as working as a freelance grip on various TV productions and features. He also runs Krade Media, providing enterprises with production services. Follow Kristian on twitter @KrissHampton
Related articles