The best of X-Series just got better with the announcement of the new Fujifilm X-T2. Jon Devo runs through its key features and shares his thoughts
Fujifilm has struck a chord with its X-series cameras, first introduced back in 2010 with the announcement of the Fuji X100, after which the X-Pro1 upped the ante in 2012 by offering pro-level image quality in a classic range-finder style camera. But the flagship release of the Fuji X-T1 was an undoubted peak for the legacy photo brand, with that camera winning many awards following its release in 2014.
But technology has moved on since the introduction of the X-T1 so it's time for an update. Enter the new Fuji XT2, a camera cut from the same fine cloth as the massively popular X-T1. I was a big fan of the first XT camera and the new one has thankfully stuck to the winning script.
Design and feel
The X-T2 carries a 24.3-megapixel APS-C sensor, the same one featured in the X-Pro2 and it has a tough weather-sealed frame, just like its predecessor. However, this time its lockable dials are taller, making them more tactile. Fuji has also added an extra couple of steps to the exposure compensation dial via the "C" function. But with little else changed, the X-T2 will feel familiar to users of the X-T1. The newer model is a fraction bigger over all, giving it a reassuring heft without being too heavy.
Some other notable improvements include a new 4-way focus lever, that makes it easy to adjust the focus zone while framing an image. Fuji has also ditched the awkward record button on the top plate, shifting movie record to the drive dial on its left shoulder. The thinking being that people shooting video on this camera, will be doing so deliberately and will want access to functions such as film simulation modes and full manual control during filming.
Finally, this camera has two high-speed SD card slots, a larger eyecup and a unique 3-way tillable LCD screen, making it more comfortable to use when exploring creative angles.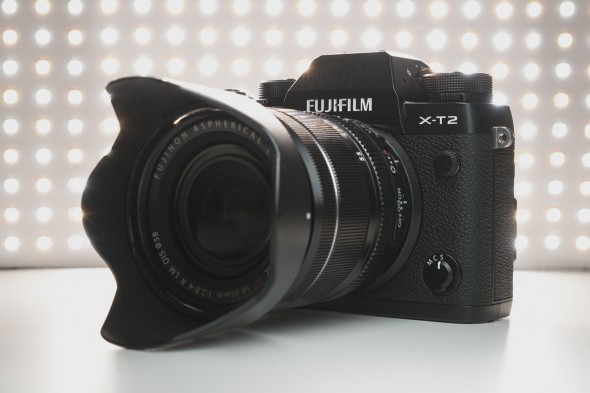 Technology
4K-video capabilities have been added to the X-T2, and brings the X-T2 in line with many of the other mirrorless flagships cameras of Fuji's main rivals. The X-T2 actually shoots closer to 6K in resolution (5120 x 2880) and down-sampling to create a 4K-res video stream at 100Mbps. Video producers will appreciate the inclusion of a clean HDMI out, a 3.5mm stereo mic input in the camera and a headphone output via the boost grip. Other advanced features also made it into the X-T2, such as live audio monitoring and a flat filming profile (F-Log) to make the most of the sensor's full dynamic range.
When it comes to performance the Fuji X-T2 is faster than its predecessor on every noticeable measure and has much improved auto-focusing capabilities. The camera's hybrid phase-detection AF zone now covers more of the sensor, which helps to improve tracking performance. But Fuji has also included some adjustable presets that give the camera a hand with tracking subjects in a range of shooting scenarios.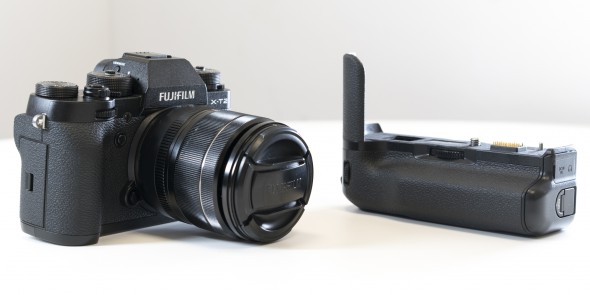 Key to the camera's speed enhancements is the new Vertical Power Boost grip accessory, which takes the camera's performance capabilities to another level. As well as providing extra power via two additional batteries (giving you three in total), the additional grip increases burst-mode shooting to 11fps and reduces shooting time intervals and release lag. It also improves AF speed and will allow users to shoot half an hour of 4K video as opposed to the limit of 10 minutes without the grip.
The resolution of the EVF remains unchanged, but the 2.36m dot OLED unit has been tweaked to deliver more accurate colours, less lag (0.005sec), a higher frame rate 60fps (100fps available in boost mode), and it's as much as two times brighter compared to the viewfinder used in the previous model.
Impression
The new smarter algorithms, along with the extent to which AF sensitivities can be tweaked, represent the sort of performance and features you typically only see in DSLRs geared towards action, like the Canon EOS 7D Mark II and speed monsters like the Nikon D5.
Of course this camera isn't directly comparable to those DSLRs, but with form, functionality and AF performance that is undeniably capable of tackling action, this camera is definitely going to appeal to people who may have previously doubted mirrorless cameras' suitability for tackling fast-moving subjects.
This is a camera that many people have been waiting on and having had my hands on it, I dare say the wait definitely appears to be worth it. Fuji has made measured and sensible enhancements to a successful formula making the X-T2 an ideal camera for advanced travel and reportage-style photography.
Related articles