A paradigm shift was upon us following the release of the Hasselblad X1D. Jon Devo was present at its intial launch in Sweden.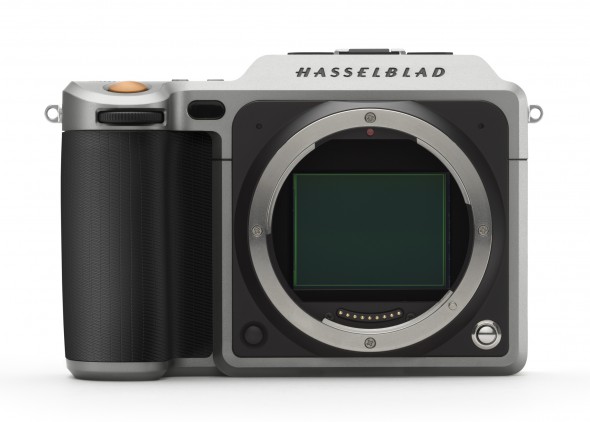 Featuring a 50MP sensor, a high-quality build and a raft of modern features, the Hasselblad X1D offers astounding image quality in a surprisingly compact package...
Key specs:
50MP CMOS medium-format (43.8 x 32.9mm) sensor (8272 x 6200 pixels). Pixel well of 5.3 x 5.3 μm
16-bit colour with up to 14 stops of dynamic range
ISO 100-25,600
3-inch 920K-dot touchscreen display
2.36MP XGA EVF
Dual SD slots, USB 3.0 Type-C, mini-HDMI, Audio In/Out
Wi-Fi and GPS
3200mAh battery
Hasselblad X1D body weight is 725g (including battery)
Design
Medium-format cameras have traditionally been the reserve of specialist photographers, largely because of their high price tag, but also because of their physical size and the file size of the images they produce. But this mirrorless offering cuts a svelte figure compared to its stablemates, the H6D-50c and H6D-100c, and, unlike those beauties, it won't cost you the deposit on a house (or studio-apartment in London).
In typical Hasselblad fashion, the X1D is stunningly handcrafted from premium materials but it weighs only half as much as a conventional MF camera. This camera takes design cues from the beloved Hasselblad V-system, a range of portable and versatile film MF cameras pioneered by Victor Hasselblad in the middle of the 20th century. The V-system was retired some years ago, but the X1D carries its heritage into the 21st century. The camera represents a romantic but contemporary take on Hasselblad's legacy but it is a forward-thinking device in every sense. Featuring weather and dust sealing, alongside a quiet central lens shutter, the Hasselblad X1D is the most portable and versatile MF camera made to date.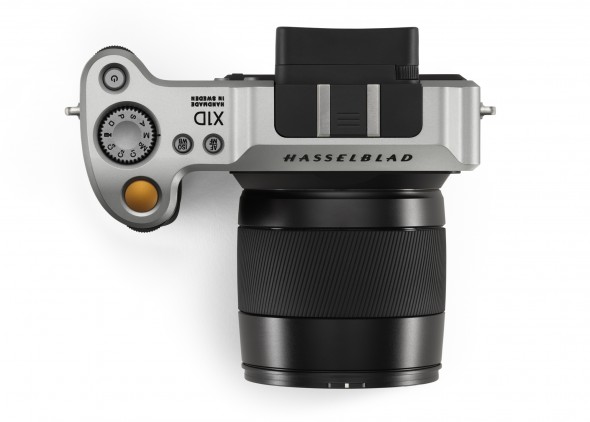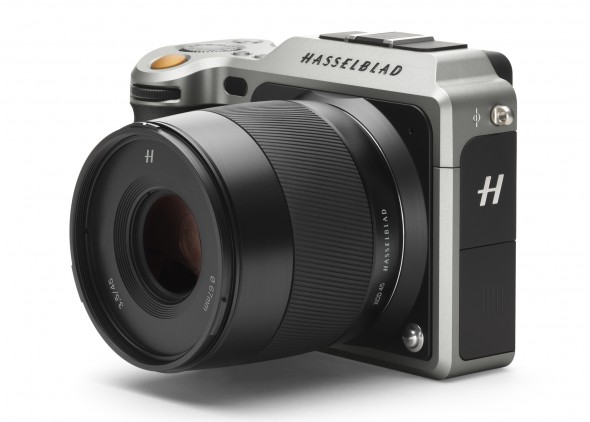 Physically, the Hasselblad X1D is a touch larger than the Fujifilm X-Pro cameras, and smaller than the GFX 50S, putting it firmly in the size range of a high-end DSLR. For people who understand the image quality differences between MF and smaller format sensors, having MF in a camera of this size is a huge breakthrough. There was a time when most people didn't need or want such high-resolution sensors, but that's no longer the case, as people are now accustomed to high-res images thanks to smartphones and boundary-pushing cameras like the Nikon D810, Canon 5DS R and Sony A7-series. Hasselblad has timed the release of this camera perfectly, now that sensors upward of 36MP are becoming the norm.
Carrying a Sony-developed 50-megapixel CMOS sensor, the Hasselblad X1D chip is 44x33mm in physical size, a touch smaller than some other MF sensors. However, it's larger than a typical full-frame sensor found in cameras like the Nikon D810 and the Canon 5DS R, which are approximately 36x24mm; and it's significantly larger than APS-C-sized sensors.
The X1D's larger sensor size allows for larger pixel wells, which means it is better at capturing light than FF cameras with similarly high resolutions. In theory, this will translate into greater image detail and depth and less unattractive image noise. However, the large files mean it can only capture images at 1.7-2.3 frames per second, so it's a good thing the X1D is not aimed at action shooters.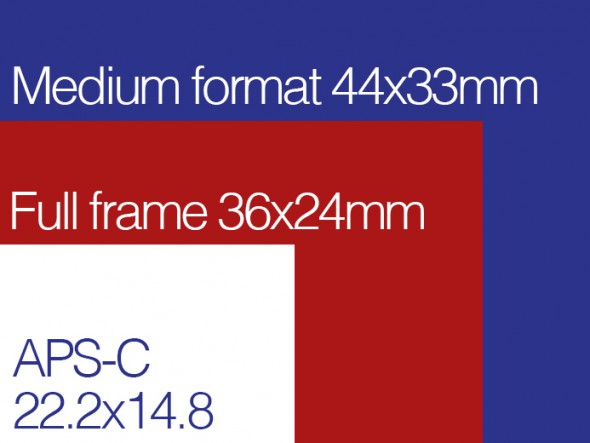 This is for illustrative purposes only: sizes may vary
Features
The Hasselblad X1D has dual SD slots, a feature that is becoming increasingly common in advanced and pro-level cameras. The dual slot configuration can be used to save media to each card consecutively and with firmware updates it's possible to write to both simultaneously or save RAW to card 1 and JPEG to card 2. This level of flexibility will appeal especially to people working in the field who either need the security of seamless backup or who need to be able to send JPEGs to clients quickly, while retaining their quality RAW files for later editing.
Further versatility is added by the inclusion of Wi-Fi in b/g/n and ac standards at both 2.4Ghz and 5Ghz speeds, where permitted. This makes it possible to view captured images and control the camera remotely with a 30fps liveview feed. At launch, this is only available via an iOS (Apple) application. GPS is also included, allowing images to be geotagged as they're captured.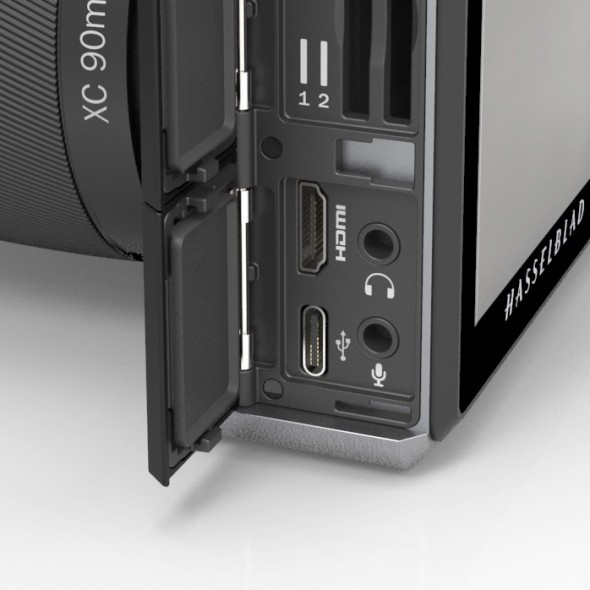 Data transfer speeds are key with such a high-res camera, and for that reason the Hasselblad X1D uses the USB 3.0 Type-C connector, a cable that's becoming an industry standard due to its durability and speed capabilities. USB 3.0 Type-C is up to five times faster than firewire and is engineered to deliver optimal tethered-capturing performance. Mini HDMI and audio input/output ports are also included, making this camera a great choice for those who need professional film-making capabilities as well as quality stills. It is still possible to use an external monitor for video recording too.
We love the responsiveness and clarity of the touchscreen used in the Hasselblad H6D cameras and the X1D benefits from similar functionality. The camera uses a 3-inch 920K-dot resolution touch-sensitive display screen that can be used to control the X1D with smartphone-like ease, thanks to an intuitive icon-based user interface. The shooting display is customisable so that up to nine favourite functions can be assigned to the screen at all times, which makes the camera fast and easy to use.
Viewfinder
The viewfinder is perhaps the only area where Hasselblad may have scrimped a little. The X1D uses a 2.36MP electronic viewfinder, similarly specced to the Canon's dedicated (and pricey) EVF-DC1. It's a highly capable unit, but it's not exactly the latest technology and is dwarfed somewhat by the EVF of the Leica SL. Then again, the EVF in the Leica SL adds some unattractive bulk to the camera, so perhaps the smaller unit was the better choice for the Hasselblad.
In use, the refresh rate of the EVF is good, with only a little noticeable lag. It also has a 24-bit colour output along with a wide contrast rate of 230:1, meaning the image through the EVF is very clear. Few will miss the extra dots, but I would have expected the latest technology across the board for such an ambitious camera. However, to keep the unit price down, it's clear that some savings have to be made, less this become unattainable for most.
All of the key information you could hope to see is visible – as shown in the image below – but the EVF will also adapt to suit the newly added capture modes, which include a 39MP square format, as well as the popular XPan panoramic format (available following a firmware update).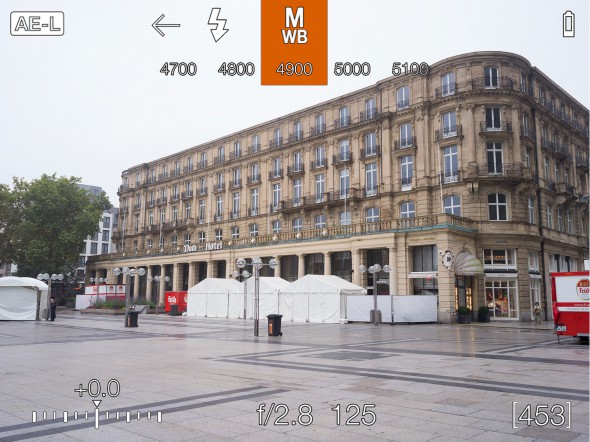 Handling
As soon as I laid eyes on the X1D I knew I wanted to get my hands on it; as soon as I got my hands on it, I knew I'd be willing to dual a gladiator to maintain my grip. It is sublime. Its cool metal frame and soft-touch textured matte rubber grip make for a supremely comfortable hold. Ergonomically crafted to emulate the lines of a luxury sports car, the Hasselblad X1D design is in another league to the DSLR cameras to which it will naturally be compared.
The smart pop-up mode dial helps to keep the camera's shape sleek, and on it you'll find three custom settings for assigning specific shooting set-ups for commonly encountered scenarios, Mq (quiet mode), as well as PASM and movie modes.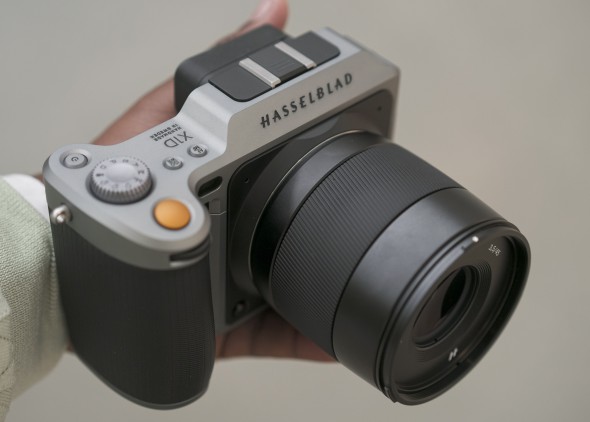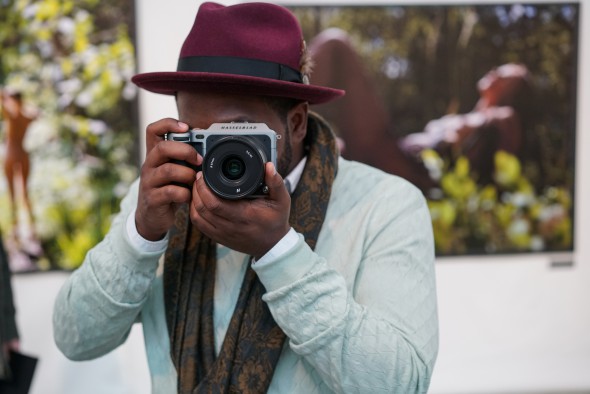 New lenses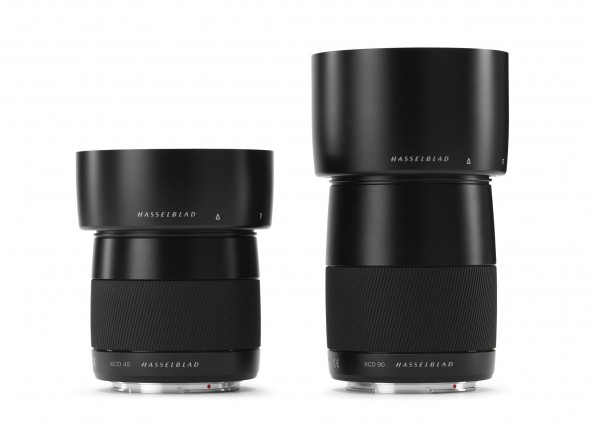 A new lens range was also announced alongside the Hasselblad X1D camera. The X system lens range was created to accommodate the relatively compact size of the X1D. The mirrorless system allows for a much smaller flange depth, the distance between the lens mount and the sensor, which is what helps to make mirrorless system cameras compact. Currently, there are three XCD prime lenses, a 30mm f/3.5, a 45mm f/3.5 and 90mm f/3.2. However, all 12 H-series lenses are compatible with the new camera via an adapter, so there's a decent number of lenses available for this new system.
Initial Verdict
This camera makes an incredible first impression. It's a mirrorless medium-format camera with a 50MP sensor, offering 14-stops of dynamic range, all in a body that you can comfortably wear around your neck and travel with. That in itself is an impressive feet. But the X1D also comes with a great range of modern features to take the work out of using the camera. Once familiar with the X1D's set-up and handling, photographers will be able to focus on capturing ultra-high-quality imagery, be it in stills or up to 2K video at 25 fps.
Hasselblad X1D questions answered by Hasselblad CEO Perry Oosting:
Q. Is this camera designed by or in collaboration with Fuji?
A. We have a fantastic relationship with Fuji, but this product has been completely designed, conceptualised and manufactured here in Sweden and assembled in Japan by Nittoh. Fuji has absolutely nothing to do with it
Q. Why is the price so low compared to many other medium-format bodies?
A. The H camera is a modular concept, an established system that is for users that want to continually upgrade. Being mirrorless there is a price difference but we haven't cut costs. We would like to reach more people
Q. Who is this camera aimed at?
A. It's aimed at existing customers. But at the same time, we see the advanced amateurs as well as professionals who may want to upgrade to medium format coming to this camera
Q. How good are the new lenses?
A. These new XCD lenses have the same performance level as all of the H lenses, they are spectacular
Related posts