Versatile and tough, the Lowepro Whistler BP 450 AW backpack is a top option for active photographers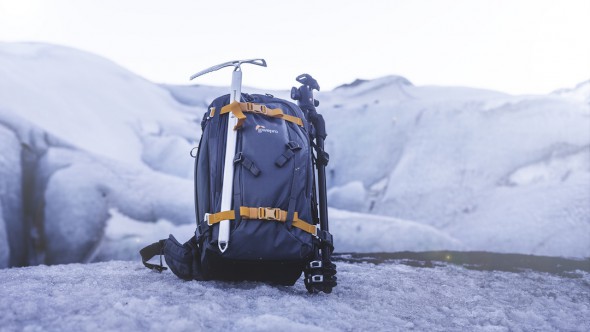 The largest of the Lowepro Whistler bags, the 450 has a lot of space to pack your kit, although it doesn't look much bigger than the 350 model reviewed comprehensively here.
Size comparison 450 vs 350:
| | |
| --- | --- |
| External size | 310 x 302 x 572 mm / 295 x 300 x 530 mm |
| Internal size | 242 x 166 x 400 mm / 232 x 160 x 353 mm |
| Weight | 3300g / 3000g |
An example selection of gear that the 450 can hold includes a Pro DSLR with mid-telephoto zoom attached, 4-6 additional lenses of varying sizes, flashguns and other accessories. However, if you're economic with your packing, you can use removable dividers to configure the Whistler BP 450 to suit a wide range of shooting/travelling requirements, thanks to its MaxFit interior.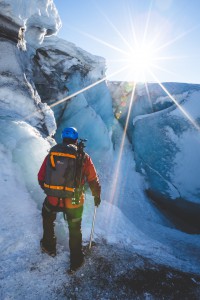 Aimed at outdoor/active photographers, the Whistler BP 450AW offers snow, rain and dust protection for your camera gear. And it has also been designed to accommodate technical equipment such as a laptop and tripod, along with outdoor essentials like axes, tent poles and skis. It has plenty of pockets, straps and sturdy loops for attaching kit too, just like you'd expect to see on a more traditional technical/outdoor pack.
If you're concerned about kit being crushed in transit or from your bag being dropped repeatedly as you collapse in a heap at camp, the rigid internal structure of this bag offers a reassuring level of protection. I stood on the backpack to test its toughness (without kit in it) and it held its shape under 14-stones of man, which is impressive considering it's not a hard case. [DISCLAIMER: Standing on your backpack is not recommended]
What Wex contributor, Sean Byrne (pictured), had to say about the Lowepro Whistler BP 450 AW:
"With a trip to Iceland coming up, I was scrambling looking for a new bag. I needed something Lowepro Whistler BP 450AW for a recent trip to Iceland. I could say so much about this backpack but I'll try and keep it brief. It's by far the best camera backpack I've ever had. I finally have a strong comfortable backpack that houses all my camera gear securely with still some space to go. The backpack still weighed quite a lot with all my gear inside, however I didn't notice the weight at all, even hiking and climbing Solheimajokull Glacier. If you enjoy taking pictures in the great outdoors, then this backpack is a must, you won't regret it."
If you need a bag that offers a great balance of toughness, comfort and versatility, this is one of the best bags currently available. Check out our video guides to bags, now live on our YouTube channel.
Related articles