Matt Higgs takes a look at Olympus's new rugged compact, the Tough TG-5.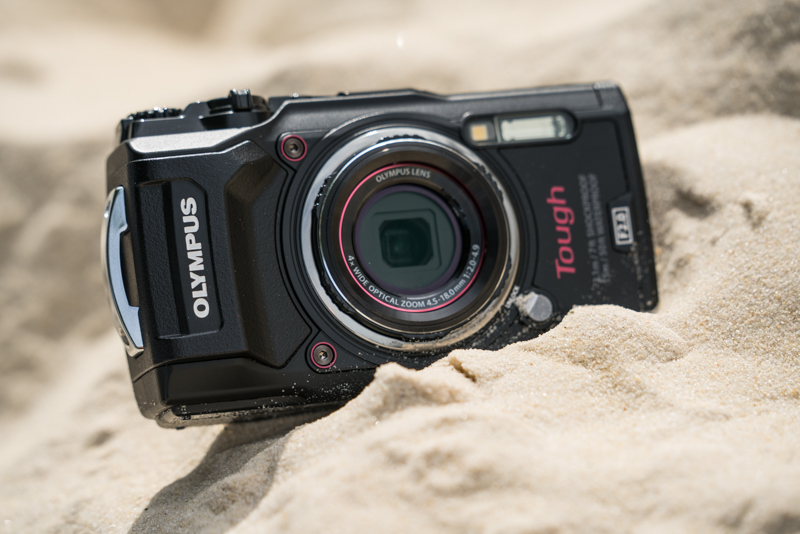 The Olympus Tough TG-5, able to weather the roughest conditions
Whether you're an avid adventurer looking for a device to capture your experiences, or a parent looking to document family holidays with something that can be dunked in sea and sand, the Olympus Tough TG-5 could be the ideal choice for this summer. This rugged compact is designed to be used in the places that other cameras simply can't venture, it's waterproof to depths of 15m, shockproof from heights of 2.1m, crushproof to 100kgf, freeze-proof to -10°C and dustproof to boot.
Unlike action cameras that boast similar durability, the Tough TG-5 maintains plenty of external buttons and dials for setting control and is tailored for stills rather than for video shooting (although it does that well too). It has a menu interface similar to that found in Olympus's CSCs: a simple zoom rocker switch; mode and setting dials; and lots of dedicated buttons that combine to keep all commonly used shooting settings close to hand.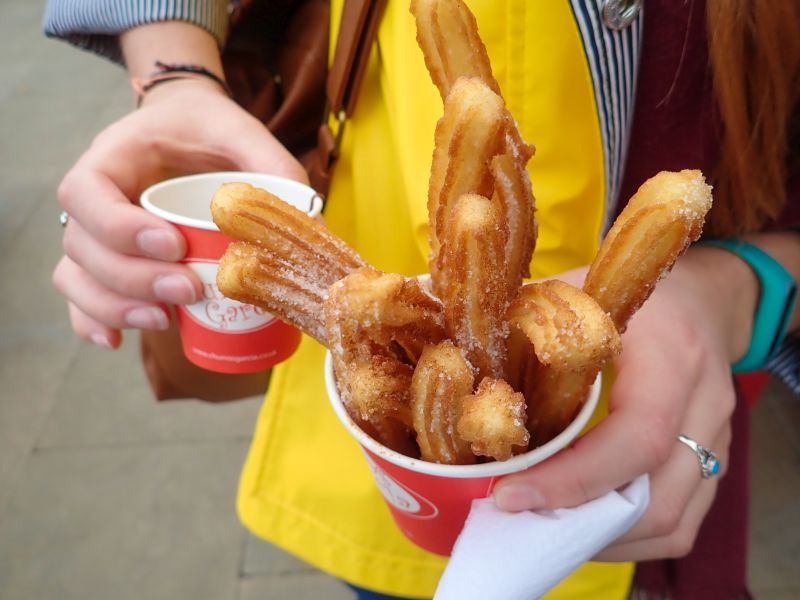 Sample image taken with the Olympus Tough TG-5
Like the TG-4 before it, the TG-5 is built around a 1/2.3 backside-illuminated CMOS sensor, but its resolution has been reduced to 12MP. While this reduction may seem a backwards step, the addition of the new TruePic VIII processor means that image quality has been improved compared to previous generations of the Tough, while still producing plenty of resolution for good size prints.
The TG-5's optical zoom lens offers a full-frame equivalent focal range of 25-100mm and a variable f/2-4.9 aperture, which should prove suitable for a wide range of everyday subjects and great for candid captures. In my testing, I was very impressed at just how good the files captured by this sensor and lens were – sharpness, contrast and noise-handling were all great for a compact device with this size of sensor. With the option to shoot RAW as well as Super Fine JPEG, there's also plenty of scope for post-processing images when you get home.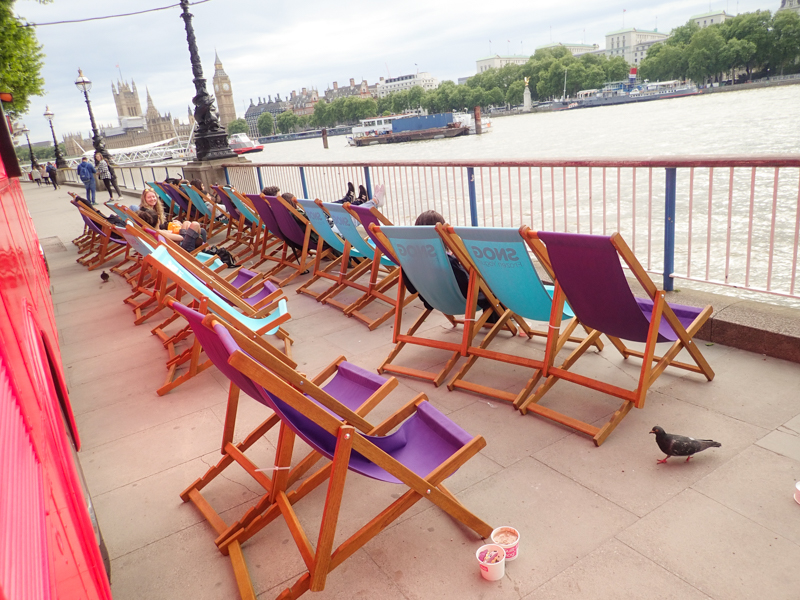 Alongside the more standard shooting modes, like aperture priority and fully automatic, the TG-5 has dedicated underwater modes for image capture below the waves, a variable macro mode for high magnification images, and a live composite option for photos of starry skies. While the TG-4 was able to capture Full HD video files at 30fps, the TG-5 now records high-quality 4K at 30fps and Full HD video at 60fps. There's also the option to shoot super slow motion clips at 120fps (Full HD) and 240fps (HD) – perfect for moments of high-speed action.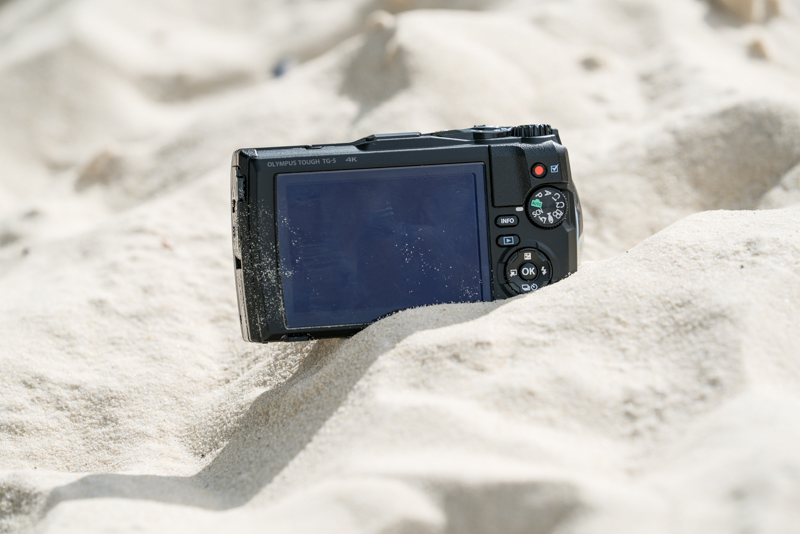 Like Olympus's TG-Tracker, which was launched last year, the TG-5 has a field sensor system that can monitor various types of environmental data and record them as part of your file's information. These sensors include GPS for location logging, a temperature gauge, a manometer for pressure monitoring and a compass. With this information, users can share with others not only what they saw, but exactly where they saw it, and under what conditions. The camera even has a separate power switch for its GPS unit, allowing you to record your routes while the camera is turned off.
Images and their accompanying logged information can be transferred easily to a smart device via the camera's Wi-Fi and the Olympus Image Track (OI. Track) and Olympus Image Share (OI. Share) applications, allowing you to quickly upload your captures to social media networks on the fly.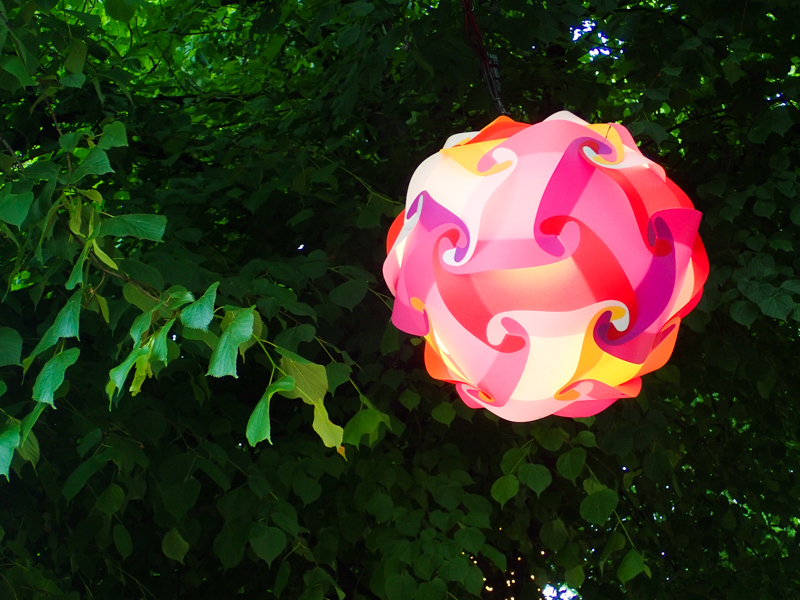 Weighing in at just 484g and measuring roughly 11cm in length by 3cm in width, the TG-5 is highly portable. Despite this small size, the camera needs no additional housing to protect it while it's submerged, thanks to its hermetic sealing and double-lock covers on both its battery and input doors. Underwater housing for cameras can cost thousands of pounds, making this a tempting alternative for those who want to photograph water sports but don't have the budget to protect their main camera.
A new dual glass construction minimises the risk of the lens fogging due to temperature change temperatures – a problem commonly faced by skiers and other winter sports fans. There are fisheye and telephoto converters available to purchase separately as well, further expanding the TG-5's usability.
Verdict
It's no great secret that compact cameras have dropped in popularity since the rise of smart phones. However, there are places that I wouldn't dream of getting my phone or workhorse camera out and taking a shot. It's in such wet, snowy, sandy and dusty situations that the TG-5 excels, making it an ideal companion on any adventure. This device can take a real battering, and still keep going with ease.
It's not just its tough build that's attractive about the TG-5 though; its image quality surpasses any action camera I've used before and it offers decent video recording too. Throw in the ability to accurately route-log your journeys and record other location information and you have a great all-round package for those who love spending time in the great outdoors.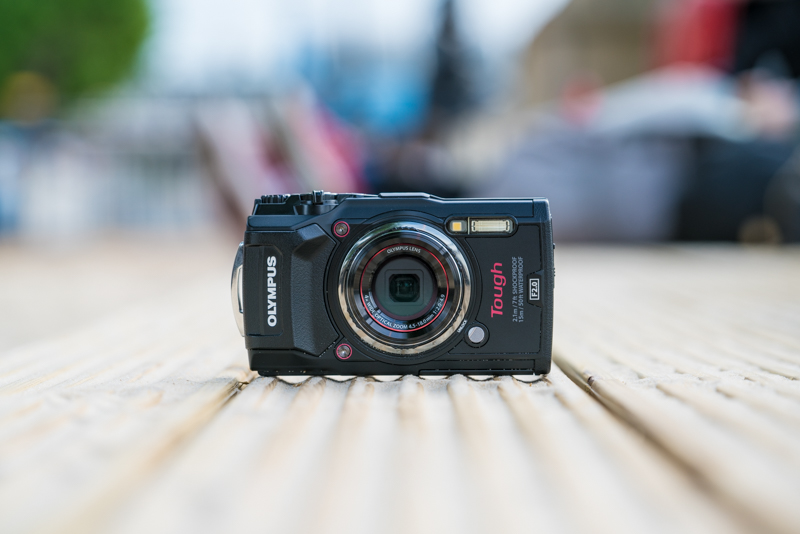 About the Author
Matt Higgs has worked for Practical Photography and Digital Photo magazines, and his live music images have been featured in numerous respected music publications including Rock Sound, Guitarist, Guitar Techniques and Akustik Gitarre. www.matthiggsphotography.co.uk.
Related articles