With a fuss-free, lightweight body at a low price, is this the ideal beginner's DSLR? Amy Davies finds out in her Canon EOS 1200D review.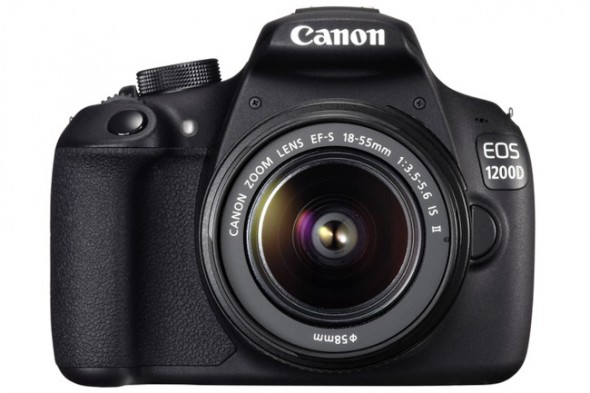 The Canon EOS 1200D is Canon's entry-level proposition, sitting at the bottom of its line-up, just below the small Canon EOS 100D.
This camera is regarded as more of a refresh of the entry-level range rather than a complete overhaul, with perhaps the biggest news about it being the new EOS Companion app. Designed for iOS and Android devices, this free app is intended as a convenient way of educating the beginner about their new camera's functionality.
As has proven very popular with the Guide mode found on the Nikon D3200 and D3300 DSLRs, Canon's app walks photographers through various settings to help them achieve the look they want want. There are also challenges and tutorials to inspire them to try new things with their camera.
Key Features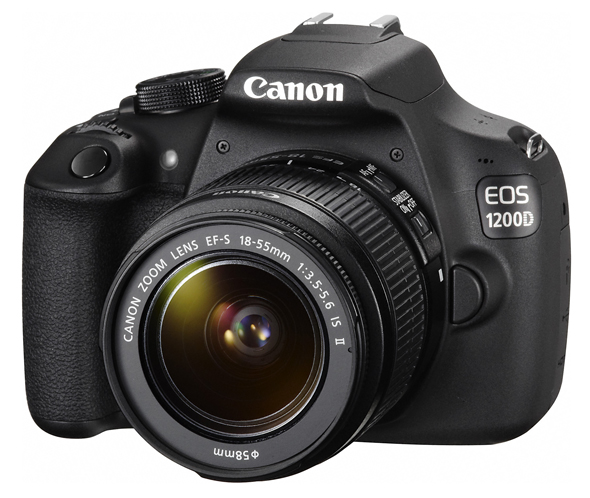 The EOS 1200D isn't a massive overhaul from its EOS 1100D predecessor, but it still features some impressive specifications for a beginner camera and represents excellent value for money.
An 18MP, APS-C sized sensor sits at the heart of the camera, with a DIGIC 4 processor. This is a couple of generations old, but it's still known to be a good performer in other cameras in which it features.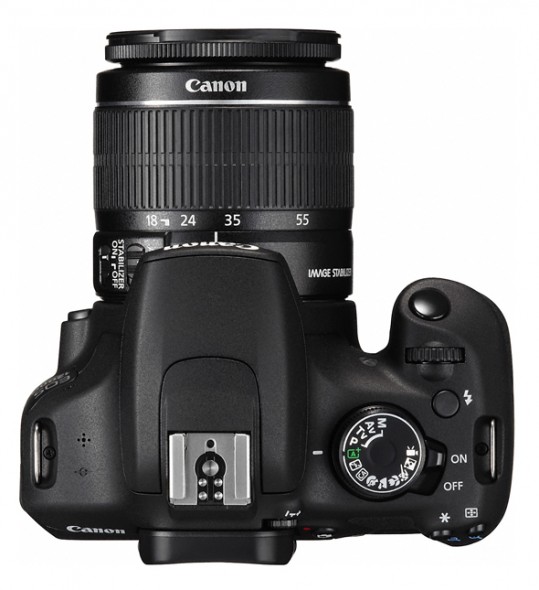 Full HD video recording is available and there's a range of exposure modes on hand, from fully automatic for first-time users right up to manual mode when you're ready to take full control. Manual control over exposure and focus is also available when recording videos.
For photographers that like to experiment, there are some Creative Modes on the EOS 1200D. There's a Creative Auto mode which allows you to shoot with preset looks and settings, while Creative Effects such as Miniature and Toy Camera can also be applied to images.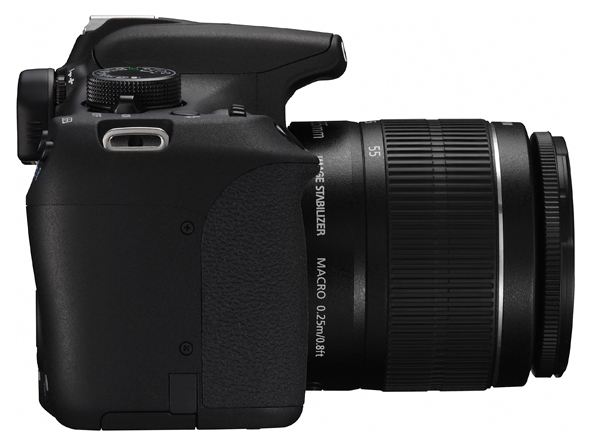 The EOS 1200D features the same 9-point AF system as the EOS 1100D it replaces, with a cross-type central AF point for enhanced sensitivity. The camera is capable of shooting at up to 3fps, which means it doesn't compete all that well with Nikon's D3300 which occupies the same slot in its line-up and is capable of shooting at 5fps.
ISO sensitivity ranges from ISO 100 up to ISO 6400, but this can be expanded up to a setting equivalent to ISO 12,800 that's useful when shooting in low-light conditions.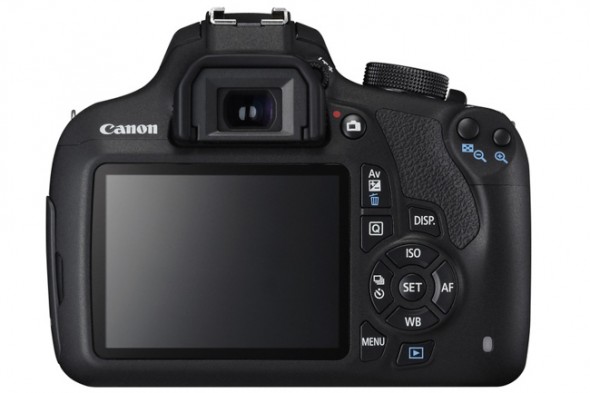 Canon has played it relatively safe with extras, and there's nothing hugely exciting on offer here. For instance, the screen offers a mid-range 460k-dot resolution, and it's not touch-sensitive either. There's also no inbuilt Wi-Fi, which is a shame when you consider it's designed to work with a dedicated smartphone app.
The optical viewfinder offers a 95% field of view, which may mean that something you didn't notice in composition appears in your final image, although this is fairly standard for a camera of the EOS 1200D's class.
You can buy the EOS 1200D in body-only and kit options, the latter including the Canon EF-S 18-55mm f3.5-5.6 IS II lens. Like all of Canon's other current DSLRs that feature an APS-C-sized sensor, the EOS 1200D has a crop factor of 1.6x; when the camera is used with the kit lens, this results in an effective focal length of around 29-88mm.
While the Nikon D3300's battery life is quoted at over 700 shots, the EOS 1200D doesn't do too badly, with a quoted 500 shots.
Design and Handling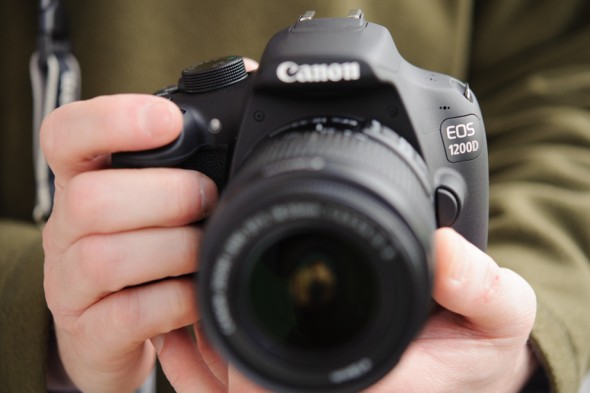 Taking its cue from the Canon EOS 700D, the 1200D feels nicer in the hand than the 1100D thanks to a textured coating and deeper grip. As there's no touchscreen (like the one found on the EOS 100D), you need to control the camera using the physical buttons and switches around the body.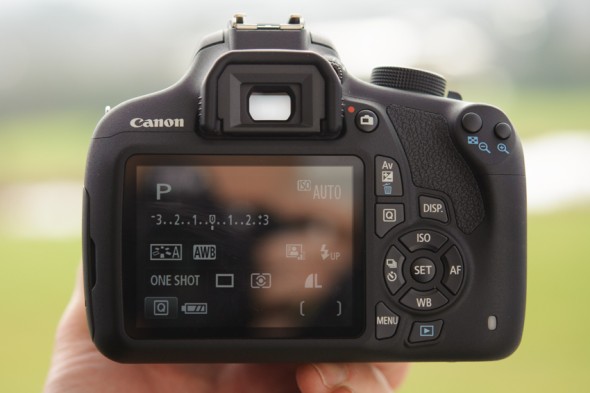 On the back of the camera there's a standard four-way navigational pad, with each of the directional buttons having a specific function. The down button gives you access to white balance settings, while the up button controls sensitivity (ISO). The right button, meanwhile, allows you to change the AF mode, while left accesses self-timer and drive modes.
The Q button is a helpful shortcut to an array of commonly used settings, allowing you to navigate around the back display using the directional keys and commend dial to make any changes. For instance, you could scroll to the metering icon, then use the command dial on the top of the camera to toggle between evaluative, partial, spot and center-weighted average metering modes. It's a shame, however, that there's no way to customise what appears on this screen, which you may wish to do if you find that you're rarely altering certain settings.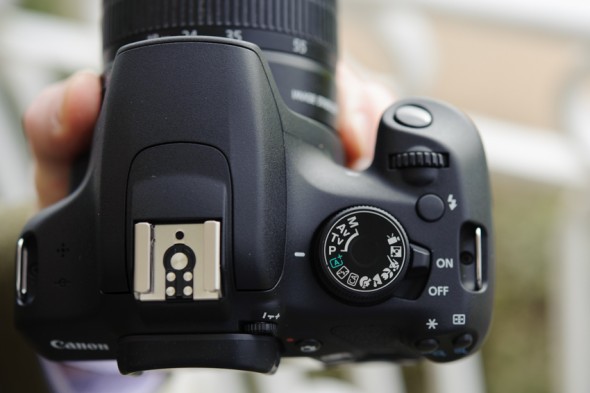 On the top of the camera is a mode dial for switching between the different exposure modes offered. In one section you'll find the manual and semi-automatic (such as aperture-priority) modes, while the rest of the dial contains scene modes, automatic modes and the Creative Auto mode. This mode allows you to shoot with certain looks, such as Vivid, Soft, Cool and Monochrome.
In order to change the autofocus point, you can use the dedicated button at the top right of the back plate, before using the directional keys to navigate to the point you need. As the central point is more sensitive than the others, you might find it helpful to use a focus-and-recompose technique, especially when working in low-light conditions. While nine is relatively low number of AF points by some camera's standards, it has the advantage of not taking a long time to scroll through to the point you need – and the points are reasonably spread out across the frame to give decent coverage.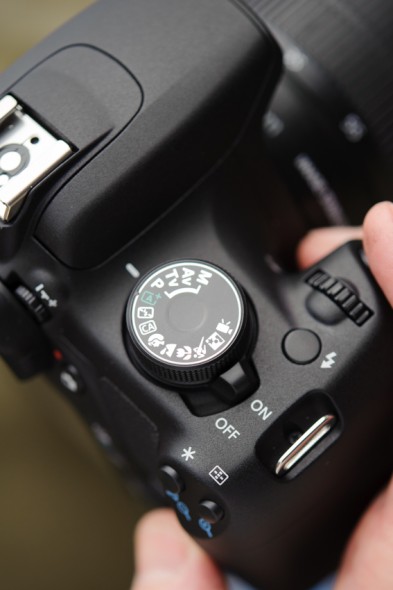 The command dial just behind the shutter-release button has a number of different functions; these vary with the shooting mode selected. For instance, when using the aperture-priority mode, turning it alters the aperture, while in the shutter-priority mode you can use it to change the shutter speed. It also alters exposure compensation if you hold down the dedicated button on the back of the camera and scroll the command dial at the same time. In the manual mode, meanwhile, you'll need to hold down the exposure compensation button to switch between altering shutter speed and aperture.
Using the 1200D's menu is straightforward, being divided into different colour-coded tabs for different types of setting. There's a tab for changing camera settings such as metering or white balance, but most of these can be accessed via the quick menu or direct access buttons, so you'll probably find you don't need to use this section all that often. The last tab, meanwhile, can be helpfully customised to add your own most commonly used settings.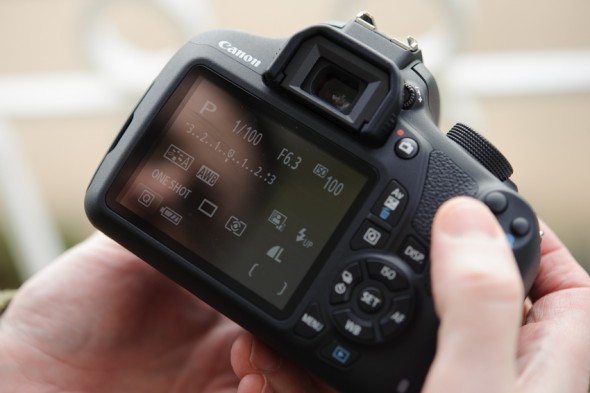 You can perform some basic edits from within the menu. For instance, you can rotate or crop an image, or if you want to get a little more creative you can add digital filters, such as Grainy B&W (monochrome) and Toy Camera. These filters can only be added to JPEG images, but you'll keep the original image on top of this edit.
Using the Companion app for the 1200D is fun, and although Nikon offers something similar within the body of the D3300 itself, it's nice to see Canon thinking of its beginner users. I particularly liked the Photo Challenges which you can set yourself from within the app, which helps when you're lacking in inspiration or want to try a spontaneous photo project.
Performance
Canon claims that the EOS 1200D is capable of shooting at 3fps for up to 6 images when shooting Raw and JPEG simulataneously, before the buffer fills and the camera needs to pause – and this is borne out in practice. It is claimed that switching to JPEG files on their own boosts the rate to to 69 frames, although using a Class 10 SDHC card allowed me to shoot continuously for over two minutes without the buffer slowing things down.
In good light, autofocusing speeds for the EOS 1200D are pretty good, locking onto a target quickly and accurately in the majority of instances. As light drops, you'll generally find this slows down a little, but not worryingly so. As the standard kit lens is not equipped with one of Canon's Ultrasonic motors, you may find it a little noisy when using it in particularly quiet situations, such as a church or museum. Focusing is also a little slower than with some prime lenses, although this is something that is to be expected from a lens of its kind.
Switching to Live View has the benefit of giving you 100% coverage of the scene in front of you, but it also results in the compromise of much slower focusing speeds, unlike with Compact System Cameras. Therefore, Live View is only really recommended for still subjects.
The LCD screen is vibrant and clear, and it doesn't suffer too badly from glare or reflections. The viewfinder may only offer a 95% coverage of the scene, which gives you some restrictions when it comes to composing an image, but you soon learn to account for that when framing. On the plus side, it's very clear and bright.
The camera is fairly responsive in use, but processing speeds can be a little slower than we'd like to see. This is perhaps down to the use of the older DIGIC 4 processor, and occasionally you might find yourself waiting a couple of seconds for an image to be previewed on the screen. That said, the same is also true of the Nikon D3300. The EOS 1200D's battery life is great, which gives it the edge over most Compact System Cameras, and while it's not quite as long as the Nikon D3300's, it's likely that you'll be able to use this camera for a full day without too much worry.
Image Quality
Straight from the camera image quality is fantastic, making this an ideal camera for beginners who might not necessarily want to spend a long time working with images in post-production.
Colours are vibrant and well-saturated, perhaps erring slightly towards slightly warm tones, but this has a generally pleasing effect and is pretty typical of Canon cameras. You can experiment with how colours look by altering Picture Styles in camera, with a few presets including Landscape, Faithful and Monochrome that can be customised in the main menu to get the look you want. You could, for instance, increase the contrast in the Monochrome setting for a more striking effect.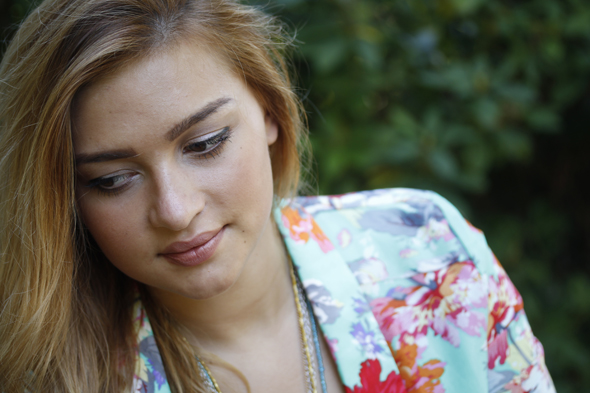 The camera's 18MP sensor may seem a little tame next to the camera's main rival, the Nikon D3300 (which boasts a 24MP sensor with no anti-aliasing filter). Nevertheless, the EOS 1200D is still great at resolving fine detail, favouring detail over noise reduction. It's only if you're intending to make huge prints, or severely crop into the image, that you'll notice much of a difference in detail between the EOS 1200D and the D3300.
If you want to take greater control over how noise reduction is applied to your images, you can shoot in the Raw format and alter this in post production using either the supplied Digital Photo Professional program or other software such as Adobe Photoshop or Lightroom.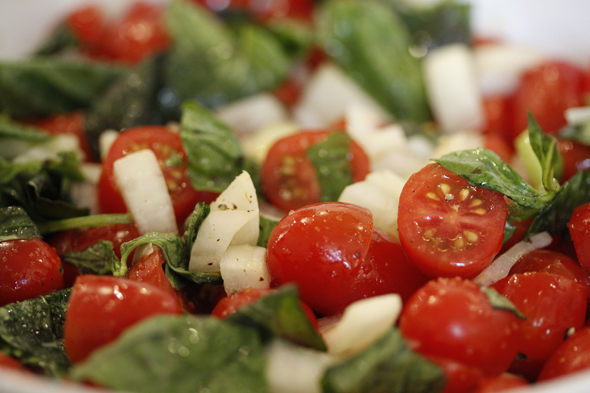 Despite the camera not using the latest image processor, it still copes very well in low light. Noise is controlled well throughout the entire sensitivity range, and although it starts to creep in noticeably from around ISO 800, images are acceptable right up to ISO 3200. The overall impression of detail and noise is excellent when printing at standard sizes, or sharing online. Push the sensitivity up to the very highest settings (ISO 6400 or the expanded setting equivalent to ISO 12,800) and you'll see a noticeable degradation in quality. Still, it's useful to have if you really need it, especially if you're sharing or printing at very small sizes.
The EOS 1200D uses Canon's iFCL metering system, which does a good job of producing balanced exposures. You can run into a little difficulty if shooting something reasonably high contrast, though. The system works by favouring the area targetted by the active autofocus point, so if that's particularly bright or particularly dark, you could find that your overall exposure is a little under or overexposed. If this is proving problematic, switching to spot metering can be beneficial.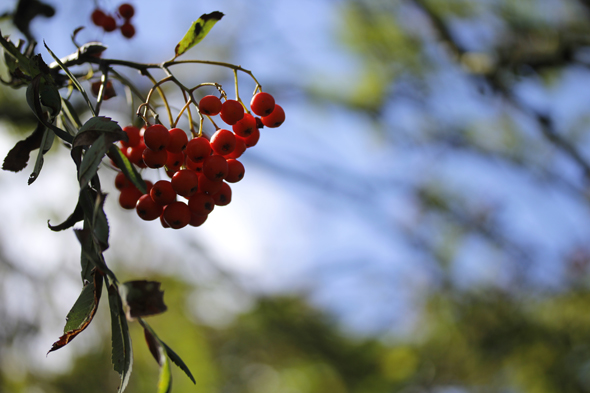 Using the camera in a range of different lighting conditions shouldn't be a problem as its automatic white balance system copes extremely well with both natural and artificial lighting. It perhaps errs ever so slightly towards warmer tones when shooting under artificial lighting, so again, if you're finding that to be particularly problematic, you can always assign a more appropriate white balance setting.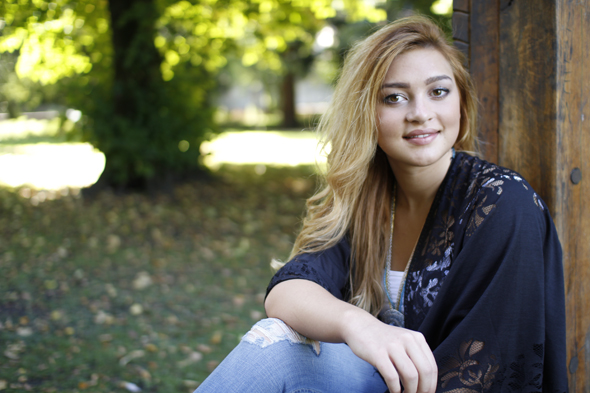 The supplied kit lens makes for an ideal starting point before you think about investing in other optics. The 29-88mm-equivalent zoom range should see you through most everyday scenarios, while it's capable of capturing some fine detail and helping you to get shallow depth-of-field effects. You might want to think about investing in a prime lens, such as the Canon EF 50mm f1.8 II, to help you get the most from your camera.
Verdict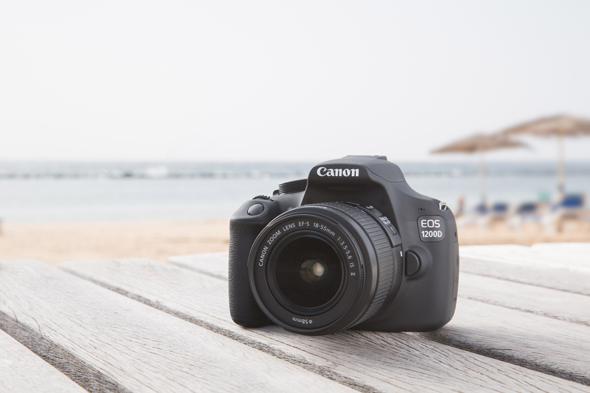 Although not a significant upgrade from the EOS 1100D, the 1200D is an excellent camera for first-time DSLR owners.
It's a shame not to see some exciting features here for the beginner audience, such as a touch-sensitive screen or inbuilt Wi-Fi, but it's likely that kind of technology would push up the price and take it into the mid-range territory. Still, with images, detail resolution is good and colours are nice and vibrant; users should be very pleased with the images it is capable of creating.
There's a good array of dedicated buttons on the 1200D, and you should find yourself quickly at home with the intuitive menu system. Many people prefer using optical viewfinders to electronic ones, and while the offering here is a nice and bright, bear in mind that it only offers 95% coverage of the scene which could lead to some problems in composition.
It's a tough call choosing between this camera and the Nikon D3300 when choosing your first DSLR camera. While the Nikon appears to have the edge in terms of specifications on paper, the 1200D is also a great performer and for the price represents fantastic value for money.
Pros:
Affordable, great value for money
EOS Companion app which gives you inspiration
Straightforward interface
Excellent lens range
Cons:
Optical viewfinder only offers 95% coverage
No inbuilt Wi-Fi
LCD screen isn't touch sensitive
Canon EOS 1200D: Key Specifications
18MP APS-C format (22.3 x 14.9mm) CMOS sensor
ISO 100-6400 (can be expanded to ISO 12,800 equivalent)
DIGIC 4 image processor
Full 1080p HD video recording at 30, 25 or 24fps
TTL full aperture metering with 63-zone SPC
Built-in flash with GN [email protected] 100
Pentamirror optical viewfinder with 95% coverage and 0.8x magnification
3in, 460,000-dot LCD screen
Continuous shooting for 3fps (up to 69 JPEGs or 6 Raw images)
480g (body only including memory card and battery)
129.6 x 99.7 x 77.9mm
About the Author
Amy Davies is a technical journalist and photographer who has been reviewing cameras and other photographic equipment for the past five years. Her work has appeared in Digital Camera and N-Photomagazines as well as on Techradar. You can find out more about Amy and her work on her website.
Related articles