Long-awaited, the Canon EOS 5D Mark IV is finally here. Jon Devo gets hands on with it
It's hard to think of a DSLR camera model more anticipated and speculated about than this, so let's begin with the facts.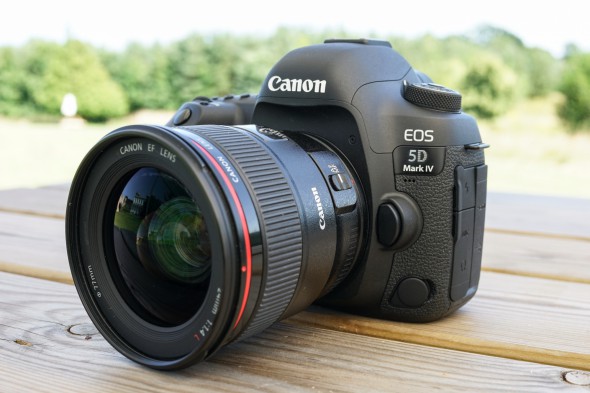 5D Mark IV – Headline specs
The 5D Mark IV uses the same generation CMOS sensor as the 80D with Dual Pixel AF, but at 30-megapixel resolution. That's enough room to create very large, high-quality prints. But the extra megapixels will also be great for cropping in and recomposing images in post. The native ISO sensitivity peaks at ISO 32,000, which should deliver relatively clean files captured in typical lowlight scenarios. Although it does have up to ISO 102,400 sensitivity via an extended H2 setting.
Capable of shooting continuously with full autofocus (61-point AF System) for 7 frames-per-second, or 4 fps in live view, the 5D Mark IV will be comfortable shooting and tracking a fair amount of fast-moving action. It also has f/8 lens compatibility with 21 AF points, and will focus down to EV -3, just like the 1D-X Mark II.
Many of the other technology advancements that were introduced in the 5DS-R and 1D-X Mark II have been delivered in the 5D Mark IV, including the new mirror vibration control system, which uses small motors instead of springs to move the mirror. This produces a beautifully unobtrusive shutter sound and reduces shutter vibrations. The new mirror box system will also help to deliver sharper images.
5D Mark IV – Body, video and connectivity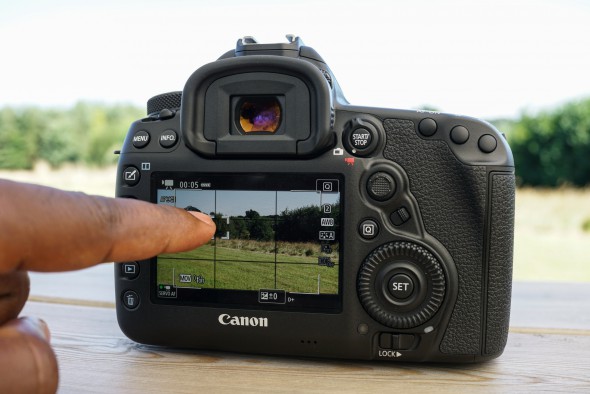 Canon is keen to stress that this model is primarily a stills camera, keeping in line with the qualities that made the 5D-series such a popular line in the first place. But with that said, the Canon 5D Mark IV is offering 4K-video recording with 4:2:2 colour sampling, at 30p, as well as Full HD in 60p and HD up to 120p. I believe this camera will be decent for photographers with video-reporting and film-making needs as it comes with 3.5mm microphone and headphone jacks, recording via HDMI-out (Full HD only) and movie capture over Wi-Fi, thanks to built-in wireless functionality.
I would have liked to have seen a CFast slot or dual high-speed SD slots, but instead, Canon opted for one SD and a Compact Flash slot. Previous 5D-series camera owners will be pleased with the continued support for the format though.
Looking at the 5D Mark IV side-by-side with the 5D Mark III, there are very few differences to spot between them. They use the same LP-E6N battery, the button layout is near identical, but it does have improved weather-sealing and the grip is a touch more pronounced. The ridge of the pentaprism housing is also larger, due to the inclusion of built-in Wi-Fi, GPS and NFC functionality. It also has FTP-transfer and USB-III connectivity, making it the most connected 5-series camera to date. Interestingly, the body of the 5D Mark IV is 50g lighter than its predecessor, despite the extra features.
5D Mark IV - LCD and Viewfinder
The 5D Mark IV uses the Intelligent Viewfinder II, the same unit we first saw in the 7D Mark II, that offers an electronic level, detailed shooting and focusing information such as the FLICKER! notification.
If you're not familiar with Canon's flicker detection tech, the camera's 150K RGB+IR metering sensor helps to deliver accurate exposures but it also produces more consistent exposures. It does this by detecting flickering from artificial light and only firing the camera when the metering reading is consistent with previous exposure. This is a very useful feature for anyone taking pictures at indoor sporting events for example.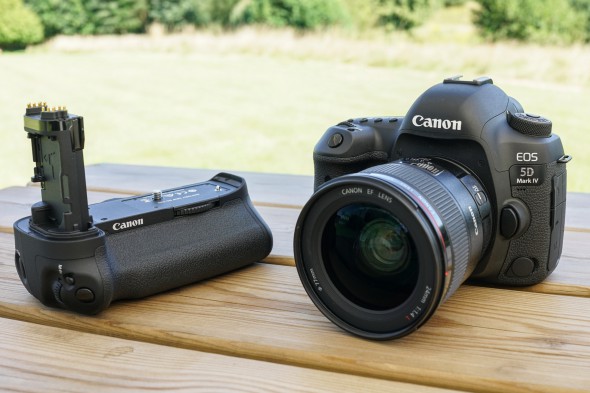 Alongside the new 5D Mark IV, Canon also introduces the new BG-E20 battery grip, offering improved ergonomics and an extra battery slot.
What am I most excited about with this camera? Dual Pixel RAW...it's an innovative new feature that gives this camera a potential edge over the competition. Being able to adjust focus slightly in post, will help to rescue countless moments - so it's a great development.
The 5D Mark IV is a solid, all-round full-frame DSLR camera that carries a lot of the latest technology we've seen from Canon in the past couple of years. It's the most refined, powerful and capable 5-series camera ever and will undoubtedly be a compelling choice for a wide-variety of people.
Related articles