The Domke F2 has been around for almost forty years and has proved to be a smash with photographers worldwide. Tom Mason takes a look at whether this praise is justified.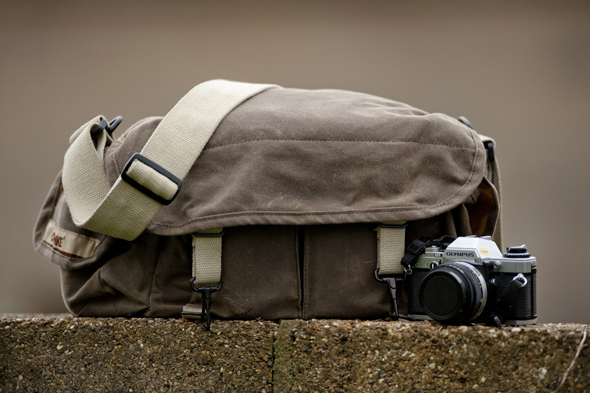 We photographers love bags. Backpacks, shoulder bags, pouches and rollers, each one designed to be used for a different assignment but all with the same purpose of protecting our valuable kit whilst out in the field. Those of you who use shoulder bags will have surely come across the Domke range before; this US-based brand is well known among photojournalists, providing solidly-built bags for heavy use in all conditions. The F2 was the original and since being first conceived in 1976 it's still the choice of many professional photographers today.
Key features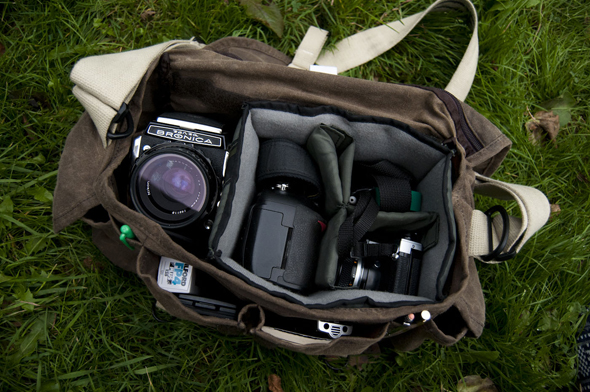 Capable of carrying one or two pro DSLRs with an additional four to six lenses
Constructed from durable and weatherproof waxed cotton canvas
Multiple pockets and a single multi-partition internal divider for easy organisation of cameras and accessories
Non-slip Gripper shoulder strap
Design and handling
My first reaction after pulling the bag from the box was its weight; the minimal design and stripped-down padding has resulted in a lightweight bag that can still hold and impressive amount of equipment. The loss of complete padding may seem to be a shame but for day-to-day use the amount of protection seems adequate. I certainly never felt my kit was vulnerable during this test.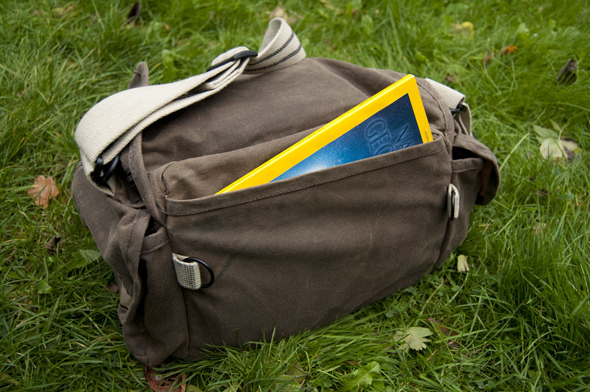 The design is simple: a large single flap opens to reveal a main section for cameras and lenses, along with multiple external pockets for accessories. The single multi-partition divider that is provided offers space for four lenses (possibly more if you stack smaller primes), although it does seem a little restrictive in the setting up of the bag for some combinations. In use, the bag can very easily accommodate two professional DSLR bodies along with a selection of lenses, plus a flashgun or two. If you use the large end pockets for equipment as well you can accommodate an extensive amount of gear.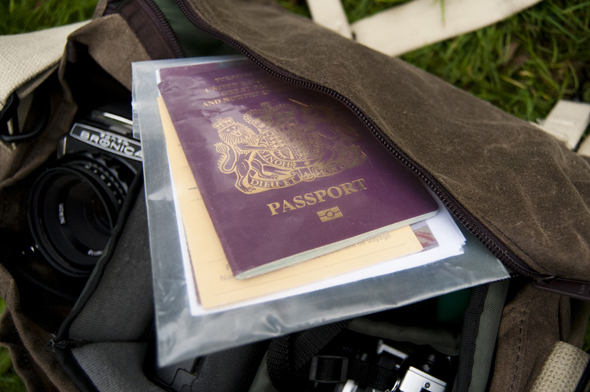 The two smaller front pockets are the perfect size for memory card wallets and batteries, while next to them there's a well positioned pen/pencil pocket for keeping writing implements close to hand (perfect for the photojournalist). The large side pockets are easily big enough to accommodate a large number of photographic accessories, a perfect size for a flashgun, notebook or drinks bottle.
On the rear of the bag there is a long document pocket - perfect for a tablet - and on the inside of the lid there's another zippable internal document pocket for keeping important items secure. The wax canvas material feels excellent and will surely last for many years to come. Even though the bag does not come complete with a rain cover, it's still weatherproof enough to keep your kit protected during a brief shower.
Performance
A good bag should simply provide the photographer with a means to carry and access their kit, with minimal fuss and intrusion so they can focus on creating images - and the Domke F2 comes close. It certainly looks the part, with a simple, practical and stylish outer design. It's design doesn't make it obvious that it's a camera bag, and so it helps the photographer to remain discreet while out on assignment.
Carrying the bag for a number of weeks made me appreciate the bag's lightweight construction. Even with a couple of heavy DSLR bodies and lenses it doesn't become a huge burden to haul around. One minor criticism is the shoulder strap, which has been designed with a rubber inlay that provides excellent traction on clothing, but as it it has no padding it does start to hurt your shoulder after a day or so; a small shoulder pad would be a very welcome addition here.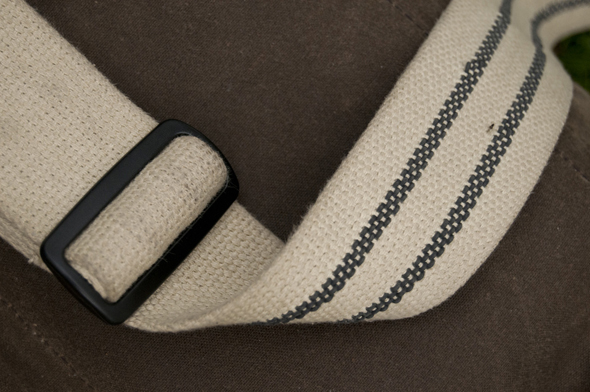 Shoulder bags are used by many photographers as they provide fast access to equipment on the move, and, when open, the F2 allows easy access to all of the compartments. The main issue, and something I did find to be consistently annoying, was the bag's closure system which features a Velcro strip and two metal clips. At first I found this to be fine but after a while it became frustrating. The metal clips are excellent for keeping the bag closed but trying to open them quickly and with one hand proved to be a nuisance. This was made more frustrating by the irritating (and hardly subtle) rip of Velcro on every opening of the bag. To get around this I found an additional strip of Velcro to attach to the lid (in order to stop the two parts connecting every time the bag was closed) which made for much quieter operation in the field.
Verdict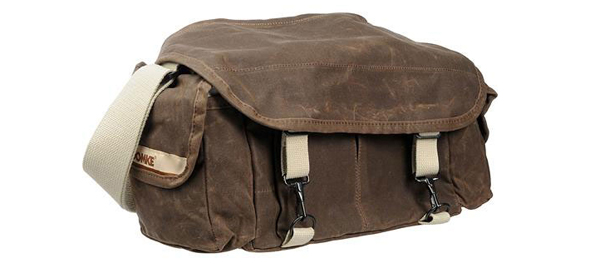 The Domke F2 is a very practical camera bag, one that's large enough to hold a good selection of kit and with plenty of compartments and pockets to keep everything organised and ready for shooting. The Velcro and metal buckles that close the bag can be a tad frustrating but they do provide a very secure closure, while the materials used in construction are all of great quality, with the waxed canvas providing weatherproofing and abrasion resistance. The quality webbing used for the straps is also excellent and it feels strong under heavy load. Overall, despite a couple of issues, I found the F2 to be a capable bag that will no doubt last for many years after purchase.
Pros:
Large bag that can hold huge anounts of kit
Lightweight
Understated look helps it to blend in (not an obvious camera bag)
Waxed cotton fabric is very durable and weatherproof
Cons:
About the Author
Tom Mason is an up-and-coming wildlife and nature photographer based in Hertfordshire where he frequently visits a number of local nature reserves including Rye Meads and Amwell. You can see more of his work on his blog.
Related Links