Need a comprehensive backup and storage solution? The Drobo 5N could be just what you're looking for
The unit itself measures 5.9" wide by 7.3" high and 10.3" deep. Weighing in at 3.9kg without hard drives – that's 8.5lbs – it's not exactly what you'd call portable.
But then, it's not meant to be. The 5N is designed to sit in one location, connected directly via its Gigabit Ethernet port to any switch or wireless router. From this position, it serves as a central location for easily backing up data in your home, home office or small office – regardless of whether you're Mac or Windows user.
Up to five 3.5" SATA I or II hard disk drives from any manufacturer can be inserted into the bays, accessed by removing the front panel. There's no fiddling about – you simply press a release catch to eject a drive.
So, when more storage is needed, you simply insert a new drive or replace the smaller-capacity ones with with larger versions. This offers not just great flexibility, but also the ability for future expansion as and when required.
In order to deliver the fastest performance, the 5N uses mSATA SSD – solid state drives – to allow allow Hot Data Caching through the Drobo Accelerator Bay. This therefore means that you get to make the most of those five 3.5" bays solely for your precious data.
A visual reference of what's going on appears on the front of the Drobo. So for example, if you are running low on space, the lights will automatically tell you what to do. If one of your drives should fail, the 5N will automatically re-layout your data to return to a protected state. As you might expect, the process is seamless there's no disruption here either.
The 5N also includes a self-charging battery backup system that protects all data stored in memory or cache. If the power suddenly stops, the unit stays on long enough for all data to be safely written to disk – offering great piece of mind.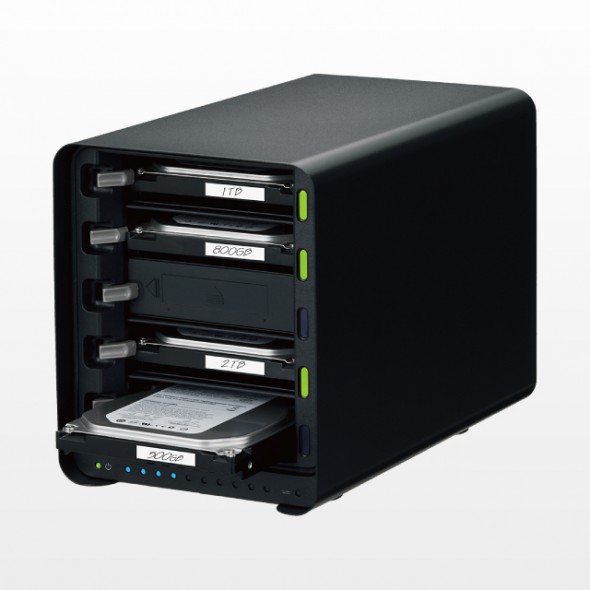 In the box you get the 5N, along with a 6ft ethernet cable, a 6ft power cord and power supply and a quick start guide to get you on your way. To further extend the 5N's capabilities, you can also take advantage of Drobo Apps, which are accessible directly from the dashboard. Built on award-winning BeyondRAID technology, the Drobo 5N is perfect for storing large media files. The system requires no configuration, offering a simple, safe way of backing up data over your network.

Related articles