The DxO One camera tethers to an iPhone, boasts a large sensor and supports Raw capture, but does it do enough? Matt Golowczynski finds out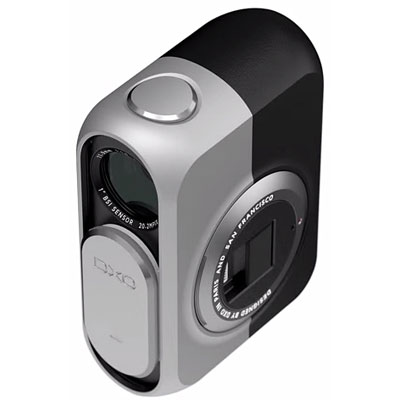 Although the quality of smartphone cameras has massively improved over the last few years, there remains a significant gulf between their performance and that offered by enthusiast compact cameras. While it's certainly true that the quality of smartphone sensors and lenses has gone some way to narrow the gap from an imaging perspective, when it comes to handling, operation and control, high-end compacts still very much have an edge.
With the exception of the PureView technology and larger-than-usual sensors found inside some of Nokia's – and now Microsoft's – phones, manufacturers have generally attempted to better many of these issues through apps promising increased resolution and a broader range of shooting options. The last few years, however, have seen a different solution: supplementary products that get around a smartphone's physical limitations. Sony's QX line of lens/sensor modules is perhaps the most obvious, followed closely by the Olympus's Air, and now software company DxO has decided to take a shot with its DxO One.
The company has built a reputation on its image-editing programs and, latterly, its equipment-grading website DxO Mark, but the DxO One represents its first steps into hardware. It has designed its One unit to be used with an iPhone or an iPad, physically connecting the two with a built-in Lighting adapter, and with a large sensor, Raw capture and DxO's image-processing expertise all on board, it sounds like a winning concept from the off. But is it?
Features
One of the main advantages of the DxO One over the smartphone to which it connects is the fact that it offers a considerably larger sensor. Instead of using the phone's chip to capture images, the DxO One uses a 1-inch 20.1MP backside illuminated (BSI) sensor, which is rumoured to be the same unit as is inside the much-acclaimed Sony RX100 III.
This is significantly larger than the 1/3in 12MP sensor inside the latest iPhone 6s and iPhone 6s Plus, and with its pixels being much larger too, images should have a wider dynamic range and less noise. Furthermore, as the unit can be plugged into an iPhone or iPad to face the user, you also have this same sensor at your disposal for self- or group-portraits, in contrast to the 5MP camera located on the front of the aforementioned iPhone models.
This sensor is fronted by a lens with a focal length equivalent to 32mm (in 35mm terms), one that offers a wide maximum aperture of f/1.8 and a six-bladed diaphragm. Not only does this wide aperture bode well for creating images with a shallow depth of field, but it also places less reliance on the higher end of the camera's sensitivity range in poor light. Yet, there will be some occasions where higher sensitivities are required, so it's welcome to find a standard sensitivity range of ISO 100-12,800 completed with two additional Hi1 and Hi2 settings equivalent to ISO 25,600 and 51,200 respectively.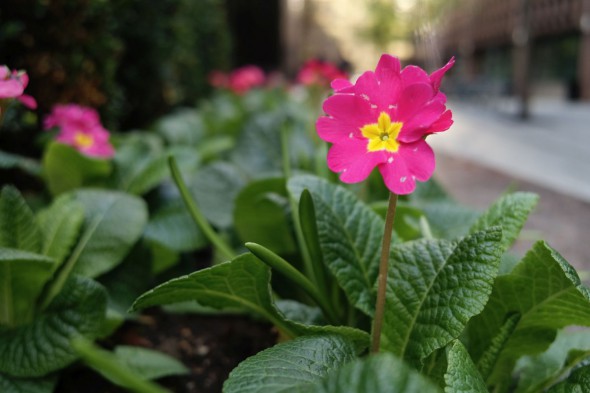 This image shows the kind of shallow depth of field achievable at f/2 with the camera focused closely to the subject
We'd expect a choice of Raw and JPEG modes on such a camera, and these feature alongside DxO's SuperRAW option. This captures four images at a rate of 22fps and blends them together to create one single image. DxO's logic behind this is that combining these four can yield a single image with less noise than one captured on its own.
The camera is also capable of full HD video recording at 30fps and standard (720p) HD video at 120fps, with a built-in mono microphone to handle sound. Shooting options are accessed through the free DxO One app, although it's also possible to use the camera on its own, in an all-Auto fashion, and simply go without a preview display, much like you would with an action camera without its own display.
Whereas Sony and Olympus have chosen to connect their respective QX and Air products to smartphones via a wireless connection, the DxO One sports a Lightning connector at its side to create an actual physical one. This bodes well for a seamless connection, although it does mean the unit isn't compatible with older Apple devices fitted with the previous 30-pin port (although potentially this might work with an adapter) nor is there currently an option compatible with Android devices.
The camera ships with the DxO Connect program for viewing and importing images, as well as converting SuperRAW files, as well as DxO's Filmpack and Optics Pro Elite programs. While the cost of the camera is similar to that of an enthusiast compact, the inclusion of these software packages makes the package as a whole appear as a bargain.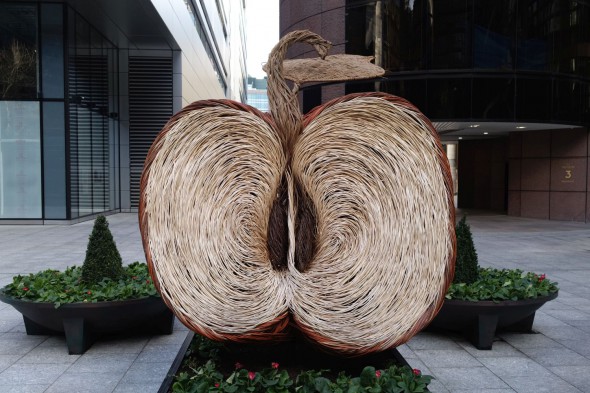 A 100% crop of the above image. At lower sensitivities the level of detail in images is excellent.
Design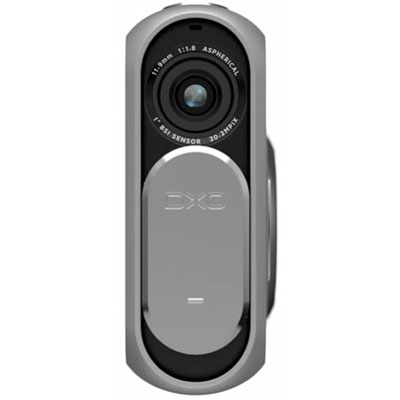 The DxO One is about half the size of a deck of playing cards and weighs just 108g. The body uses aluminum in its construction, with just the rear half covered in a plastic, but overall it feels very solid in the hand.
Its design makes excellent use of the space there is, with only the most basic physical controls on offer; rather than having a physical on/off control, for example, the unit powers up through sliding down the lens cover, an action that springs out the lightning connector at its side. Turning if off requires the opposite movement, although the connector needs to be physically pushed back in. This requires you to return the connector to its default position, which you need to remember before you unplug it from your phone.
The top of the unit sports nothing more than a shutter-release button, while the rear bears a small display which shows battery life, shooting mode and file type (and, if you're using a semi-manual exposure option, shutter speed and aperture too). Hidden behind a door underneath are microSD and micro USB ports, as well as a metal hook around which a strap can be tied.
In some respects the design is very clever, as it remains simple while still being functional. Given that much of the camera is controlled through the app, there appears to be little need for it to be adorned with any further physical controls. I have some gripes, however, mainly that powering the unit on and off in this way means your finger is very likely to run up against the lens' front elements, and this happens far too easily on account of the unit's small size.
Performance
To start shooting with the DxO, you simply turn it on and plug it into an unlocked iPhone or iPad, an action that prompts the DxO One app to spring to life. Should you plug it into a locked iPhone – as you may instinctively do – you then need to manually find the app, something that's made awkward by the unit's proximity to the home button.
When shooting stills, the app offers PASM controls over exposure together with exposure compensation and four scene modes, as well as timer and flash options and the choice of SuperRaw, Raw and JPEG shooting options. There are also controls for white balance, focus mode and metering, although these are somewhat hidden.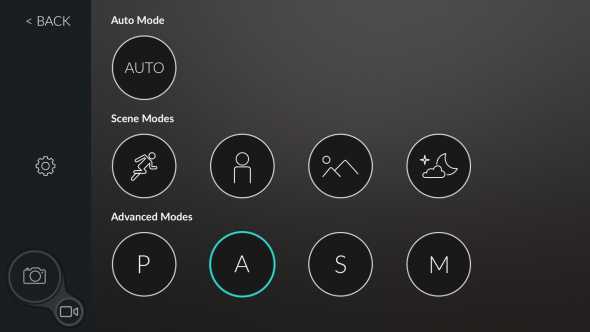 The DxO One app screen
You can touch the screen where you want the camera to focus in exactly the same way as you would if you were simply using your smartphone, and through a sub menu it's possible to overlay a grid, set maximum shutter speed and ISO values and choose whether to store images on the microSD card or on both the card and phone. Following a recent firmware update there is also now an exposure indicator scale and another method of quickly bringing up a grid by swiping downwards.
Options are marked with icons and most make good use of the space available, and the app's simple design means that anyone can get to grips with it quite quickly. The app responds promptly to touch, and the user of sliders make adjustments to parameters such as shutter speed and aperture quick and painless, while a small thumbnail in the top left-hand corner provides quick access to captured images and videos.
The simplicity of the app is, however, also something of a drawback; with such a simple physical unit it's a shame DxO has not sought to extend the camera's functionality through the app, perhaps to offer colour options or noise reduction. In this respect, it's decidedly more basic than a compact camera pitched at a similar level, although all that would be required to address this issue would be an update to the app.
As with many more conventional cameras, the DxO One focuses automatically on key subjects, which speeds up intentional focusing through the shutter release button. If it has pre focused on the intended subject it tends to confirm focus almost instantaneously once the shutter-release button is half pressed, otherwise it appears to be marginally faster than the iPhone's own camera but a little slower than an equivalent compact camera.
Cleverly, the camera automatically places the app into its self-timer mode once the unit it plugged in the other way round (ie to face the user). While you still have control over triggering the exposure, this shortcut is much appreciated. Once the countdown starts, an orange background with a notification to look at the lens and smiles appears, the former ostensibly to provide a more flatteringly warm light on the subject. This works well and is a nice touch.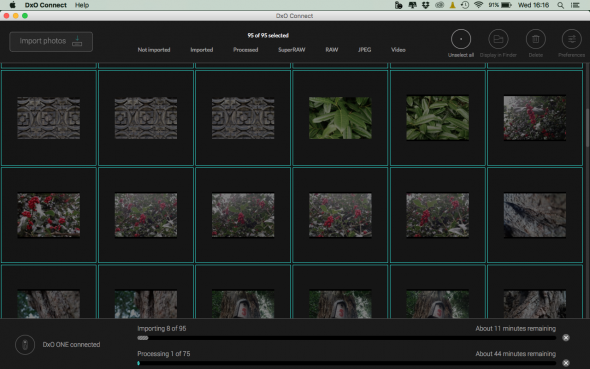 The DxO Connect software in action
The desktop-based DxO Connect companion software handles image processing and opens with a pleasing simple interface, allowing you to quickly sort through SuperRaw, Raw, JPEG and video files, with the further option to quickly view which files have been imported and which have been processed already. Converting a single SuperRAW file to a JPEG is done automatically by the software and takes around two-and-a-half minutes per file, with no user intervention possible. Some may have expected some additional functionality here such as noise reduction options, though sadly these are absent. You can, however, use the bundled DxO Optics Pro Elite software for this, which goes on to offer a full range of other Raw-processing functions.
Image Quality
With a relatively large sensor we expect good things from the DxO One and it's certainly capable of producing high-quality images, even at its widest aperture of f/1.8. The high level of detail captured at lower sensitivities strongly suggests the camera lacks an anti-aliasing filter, although the use of a prime lens no doubt helps with sharpness too. This is impressive when scrutinising images containing natural subjects such as flowers, although jaggies – a name given to a type of aliasing artefact that renders some edges and lines as jagged – can be seen in manmade subjects, such as in cityscapes and general architectural images.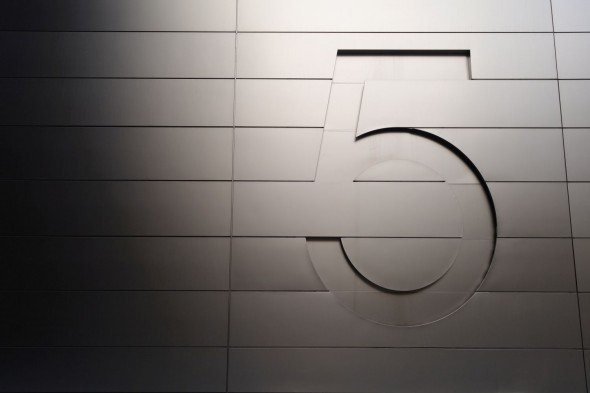 While detail is high, aliasing artefacts known as jaggies can be seen over some diagonal details
JPEG processing shows the DxO Connect software does a very good job of straightening out the minor distortion from the lens, although this is only really visible when shooting subjects with linear details such as walls or a set of railings. Noise is also well controlled in general, with DxO's processing doing well to remove this at higher sensitivities when handling SuperRAW files. While some may have preferred a little texture to remain here, there is a good amount of detail retained after processing, and you can view this through a neat before-and-after comparison, sliding across this image to see each area change.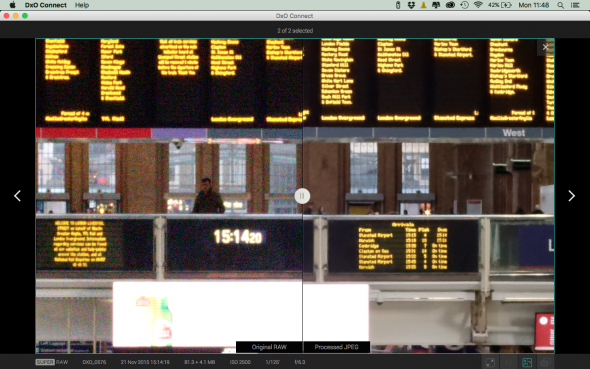 The before/after processing comparison is handy to see exactly what's happening to your images at a glance
JPEG after SuperRAW processing. Noise reduction is very apparent, although JPEGs captured at sensitivities as high as ISO 3200 retain very good of detail.
The camera's default metering system does well to balance most scenes; a comparison with the iPhone 6 used as part of this review showed the DxO One to be less prone to underexposing scenes with large, bright areas such as skies. It also did well in situations with a narrow dynamic range, where many other cameras may overexpose the scene as a whole.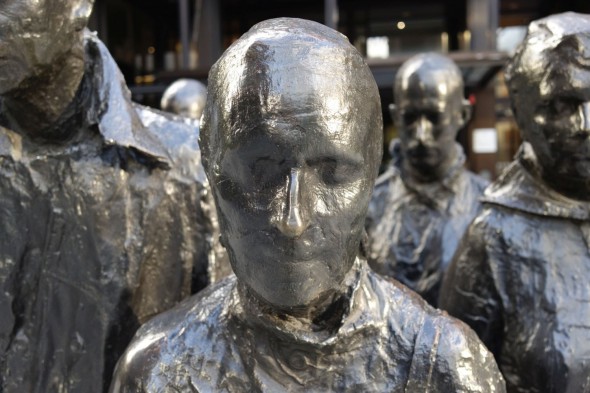 The default metering pattern does a good job to keep exposures pleasing, even when the scene is dominated by darker or lighter details
The main issue encountered when shooting outside was the camera's high sensitivity to flare, which leads to images showing streaks and a drop in contrast far more often than expected. This is particularly problematic outside in even moderate lighting conditions, although this also occurs indoors with artificial lighting sources.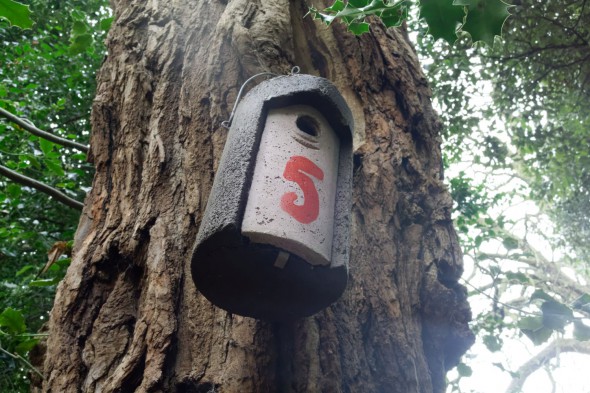 Flare is poorly controlled in images, which can make shooting outdoors problematic
Verdict
The DxO feels like the first-generation model that it is, with a handful of kinks that could do with being ironed out and a price that is likely to make many consider whether it's genuinely superior alternative to a small enthusiast compact camera. It would be good to see both the app fleshed out with a greater range of shooting and processing options so that you can get the shot you want without having to always resort to the DxO Optics pro Elite program, although the fact that its Raw files output as .DNG files as standard does at least ensure instant compatibility with a range of programs.
Although more limited in control than most compacts it offers the advantage of being much smaller, and its clever design ensures that not only can it be easily slipped into a pocket but without a case too. Perhaps most importantly, it does indeed deliver on its promise of capturing images to a much higher standard than those from an iPhone. Furthermore, the ability to output Raw images only means that this can be bettered even further. For those wanting to travel light it makes sense but those using their camera with some frequency may find a decent compact to be a more suitable option.
Pros
Lightweight and very compact
Capable of high image quality
Simple operation and (largely) clear user interface
Pleasingly circular bokeh at wider apertures
Very good value for money when bundled software is considered
Cons
Poor battery life and inconsistent battery life indicator
Lens poorly protected from flare and too easy to touch during operation
Can be awkward to use
App far more basic than equivalent compact camera
Buggy app and occasional unit freezing
DxO One: Key Specifications
1in, 20.2MP BSI CMOS sensor
19.1mm f/1.8 lens (equivalent to 32mm in 35mm terms)
f/1.8-11 aperture range
Full HD video at 30fps, 720p video at 120fps
6-bladed diaphragm
200-shot battery life
67.5 x 48.85 x 26.25 mm
108g (inc. battery)
Wex Blog
Explore our regularly updated articles covering news, reviews, advice, interviews, features, competitions and buying guides. To stay up to date with the latest in the photo and video industry, be sure to follow us on Facebook and subscribe to our YouTube channel.
Editor's Suggestions
-

Best Cameras For Vlogging
- Best Digital Cameras.... ever
- Best Mirrorless Cameras
- Best Compact Cameras
- Best Instant Cameras


-
Best Lenses for Canon Users
-
Best Underwater Cameras
You can explore our most
popular cameras

here
, including the
Canon EOS 5D IV
, the
EOS RP
and
the 6D Mark II
, the
Sony A7R IV
,
A7 III
and
A9 II
, the
Nikon D850
,
Z6
,
Z7
and
Z50
, the
Panasonic Lumix G9
,
GH5
and
S1
, and the
Fujifilm X-T3
and
X-T30
.
Related articles