DxO Optics Pro 9 aims to get the best out of your images with a multitude of camera- and lens-specific corrections. Vincent Oliver puts it to the test.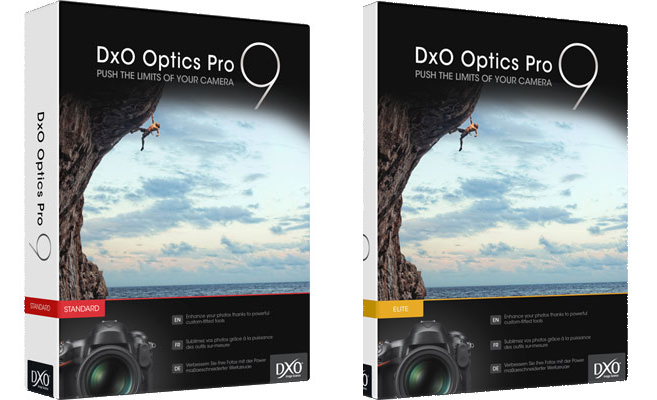 DxO Optics Pro 9 is the latest version of DxO's popular image processing application, which helps you to quickly process and enhance your digital photos. The program has several tools for automatically processing both Raw and JPEG images, including optical and geometric corrections and intelligent optimisation of exposure and contrast, as well as noise reduction and preservation of details. To get the best results from any digital camera you should be shooting in the Raw file format, and while processing Raw files can be time consuming and slow, this new version of DxO Optics Pro 9 promises a smooth and quick workflow.
New Features
DxO Optics Pro 9 includes a number of new and upgraded features. PRIME (Probabilistic Raw Image Enhancement) noise reduction is one of the new features in the Essential Tools palette. This analyses the structure of Raw images and differentiates between noise and fine details, helping to maintain image quality. PRIME basically offers the image quality equivalent up to an extra full EV stop, which means you can shoot at a higher ISO and get the same results that are obtained by shooting at a lower one.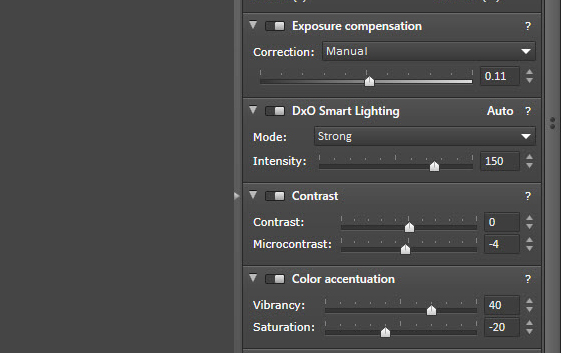 The previously seen DxO Smart Lighting option is also said to have been improved for this version. The Smart Lighting palette has five settings; Slight, Medium, Strong, Custom and DxO Optics Pro 7. There is a slider that allows you to vary the intensity from 0 to 200, which is available on all the settings – you just move this util you obtain the desired result. This recovers highlights and unblocks shadow details which may have been previously thought of as lost, and although it works best with Raw files it'll also work with JPEGs.
DxO Optics Pro 9 offers a completely redesigned library of 30 presets which includes Portrait, Landscape, Black & White and Single Shot HDR, as well as a new set of creative renderings called Atmospheres. Presets appear as large thumbnails in a new visual presets window, displaying the effects applied to the image that's being worked on. You just click on a preset that works for you to apply it, although you can go on to make further adjustments and save the settings as a new preset which will be added to the library for future use. Any image corrections or enhancement adjustments that you make can be saved as a custom preset by right-clicking on the image and selecting "Create preset from current settings". All adjustments and corrections can also be instantly removed by clicking on the "No correction" preset.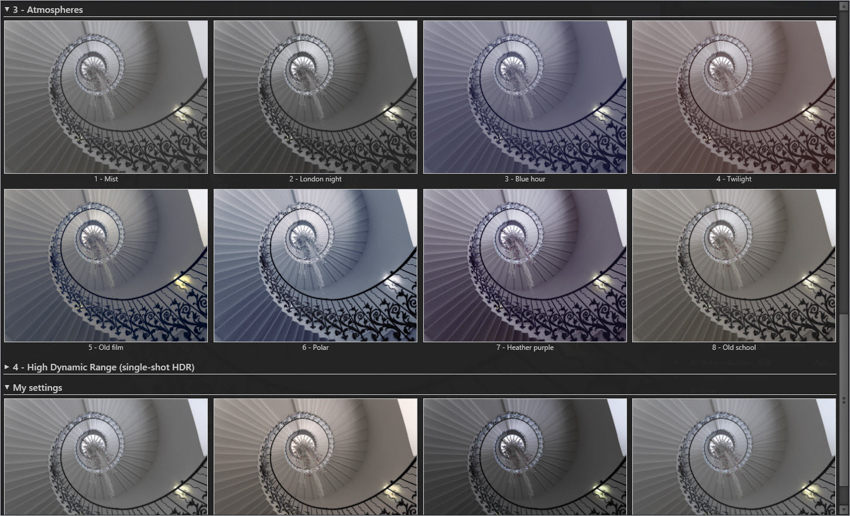 When you have finished processing images you can choose the Export to Disk option – this generates JPEG, TIFF and DNG files to a folder of your choice. You can export the same file in different file formats or image dimensions to separate folders or drives with a single click (a convenient way to backup images). The Export to Application option, meanwhile, sends the processed photo directly to your selected image-editing application as a JPEG, TIFF or DNG file. The last two are the fairly self-explanatory Export to Facebook and Export to Flickr options, with the facility to add tags and privacy options. DxO will be adding other social network sites in future updates or editions.
The last feature is Print. You can send the file directly to an installed printer, and there are plenty of options available including ICC profile selection for colour-managed printing. One notable missing feature is the ability to centre the image on a page, although by carefully altering the margins and image size you can manually reposition the image.
Design and Operation
DxO Optics Pro 9 has a redesigned interface to help you make corrections efficiently. Palettes are displayed on the right-hand side by default but these can be dragged out to float and the display order changed. The default options are Histogram, Essential Tools, Light and Colour, Detail and Geometry and Optical Corrections. Each one of these palettes can be expanded to reveal an extensive collection of adjustment tools. The toolbars are arranged in a logical order, which at first glance seem overwhelming due to the sheer amount of palettes and controls available, although those not in use can be collapsed or hidden. You can also create your own custom palette incorporating frequently-used or favourite correction tools, and most palettes include a context sensitive help button that gives a brief overview of what the tool does.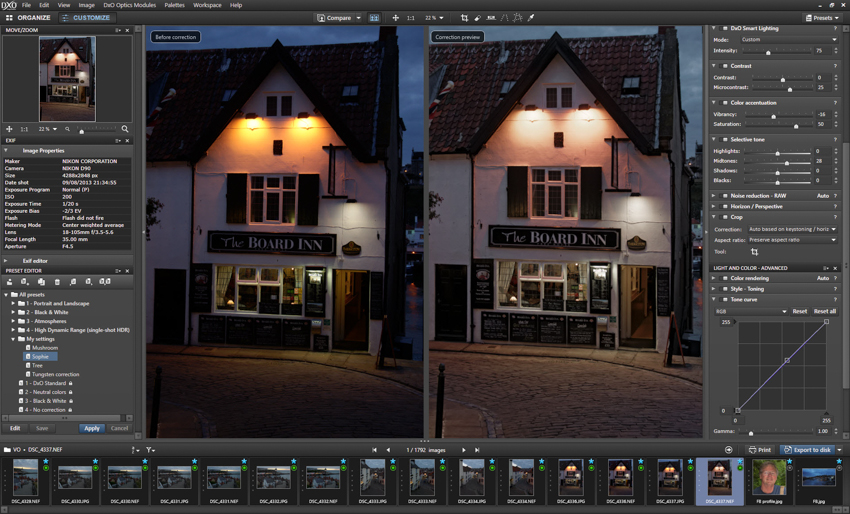 On launching DxO Optics Pro 9 the interface opens in the Organize mode; this displays a hierarchy of your computer's folders. Once you select a folder containing images, the photos appear in the Navigation panel which by default is located at the bottom of the screen (this can be un-docked and repositioned anywhere on the screen – or viewed on a second monitor – if desired). JPEG, Raw, TIFF and DNG (8+16 bit) file formats are supported, although Photoshop PSD and other application-native formats are sadly not.
DxO has over 15,000 camera and lens combinations in its database and optimises your image based on the EXIF information for the camera/lens combination used. If the software detects your camera/lens combination isn't available on your system it will connect to the DxO database and download the module (an internet connection required). Most current cameras and lenses are supported and new cameras are added to the database on a regular basis.

Once you click on a thumbnail the image is displayed in the main preview window, and clicking on the Customize button allows you to work on the image in the editing workspace. The software analyses the image to ascertain which corrections are necessary and automatically applies the appropriate corrections, including lens corrections to correct optical distortions such as barrel and pincushion distortions, as well as vignetting and both lateral and longitudinal chromatic aberrations.
The main preview window is where selected corrections are applied, and the image can be displayed either in full or as a before-and-after view. The Move Zoom palette enables you to magnify the photo from 1% through to 1600%, in addition to a fit-to-screen option, although zooming can also be accomplished via the scroll wheel on a mouse. Below this is the Image Properties window, which provides all EXIF data of the selected image. The Preset Editor palette enables you to apply a built-in preset, import or export presets or create your own custom preset from the settings that have been applied to the current image. And, for batch processing, you can select a range of images in the navigation palette and click on a preset to apply the settings to all of them in one go.
Results
PRIME noise reduction removed all the visible noise on our test image, although some fine detail such as hair did look a bit softer than the original. I found it worked best on larger areas of solid colours. PRIME is only available for use with Raw image files; for JPEG files you can still obtain excellent results by using the High Quality setting. Processing time on a 34MB Raw file using the High Noise Reduction settings was four seconds, and when using PRIME the processing time increased to just over a minute. Still, compared to other dedicated noise-reduction software, DxO PRIME produces excellent noise reduction; it manages to preserve colour saturation particularly in shadow areas and maintains a high level of texture detail.
I wasn't overly impressed by the DxO Smart Lighting Option, however. Although it did work up to a point, it lacked any fine control beyond the slider (although the user manual suggests that the Smart Lighting filter can be fine-tuned when used in conjunction with the Selective Tone palette or Light and Colour – Advanced palette). Using the combined filters produced a much better result, although I would have liked the controls to be available within the Smart Lighting palette rather than having to jump to another palette. The last option, DxO Optics Pro 7, expands the options available to include three corrections: Auto slight, Medium, and Strong, as well as offering an intensity slider, Black and White points sliders and Brightness and Contrast sliders.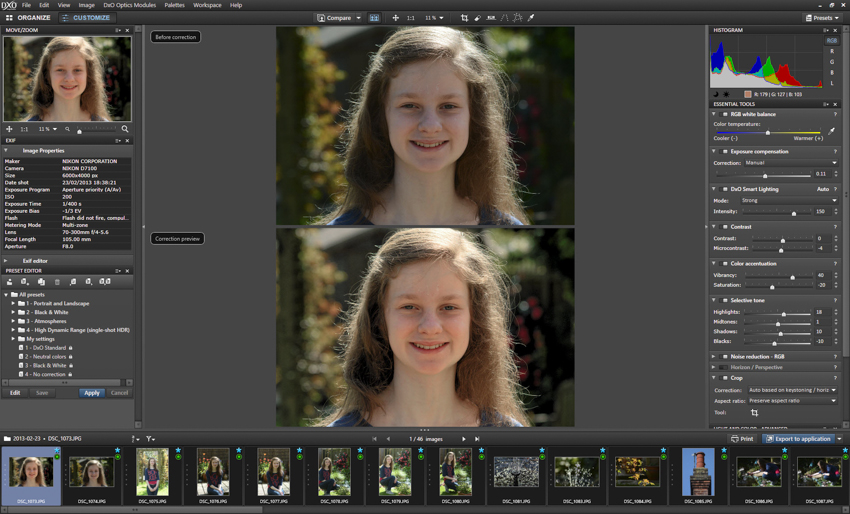 Using the new Portrait preset the girls skin tones have been dramatically improved, and the skin colouring has been lightened without sacrificing any detail.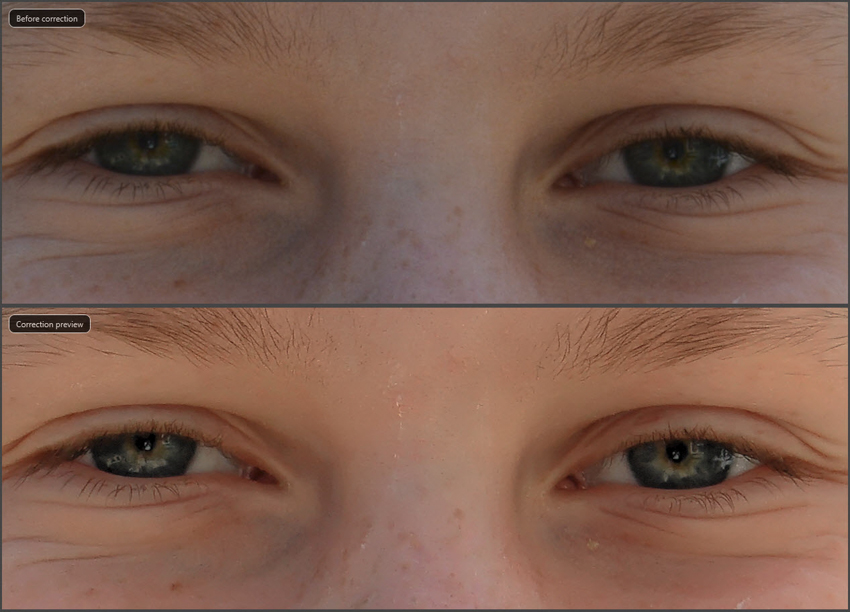 Notice also how her hair detail has been brought out as well as the dark background. A small amount of Unsharp masking and micro contrast has been manually applied to bring out the hair fine detail, and a new preset was created for future use on other images.
The night shot below has had an Atmosphere preset applied (Old School), which has lightened up some of the darker areas such as the roof and menu boards. A small amount of vertical corrections has also been applied to remove the leaning effect.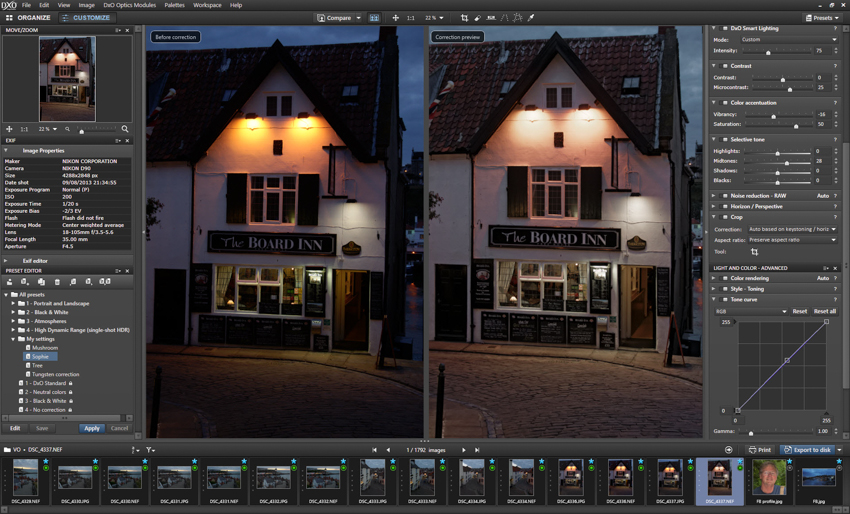 The Whitby Abbey shot has been converted to black and white using the presets, although there are plenty of options for creating sepia effects when used in conjunction with the Tone Curve. This can be found under the Light and Colour panel, with red, green and blue curves to make adjustments to taste.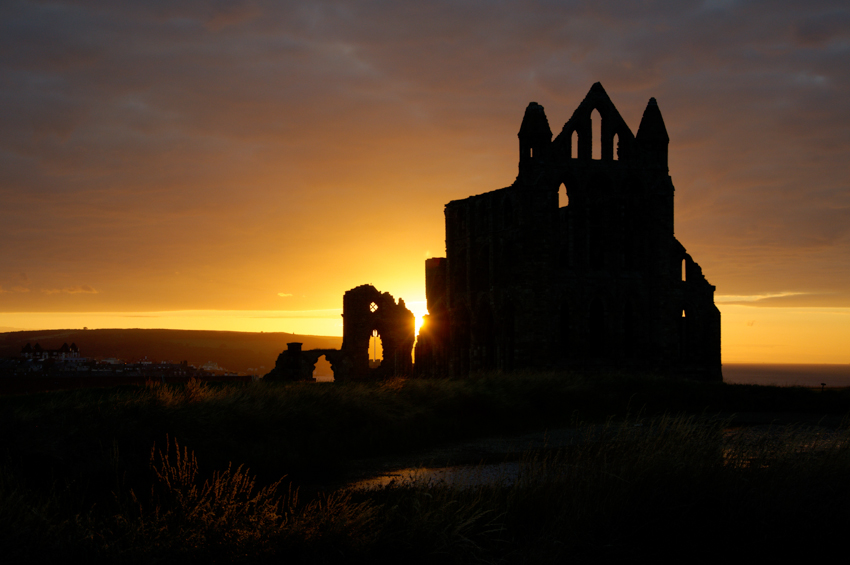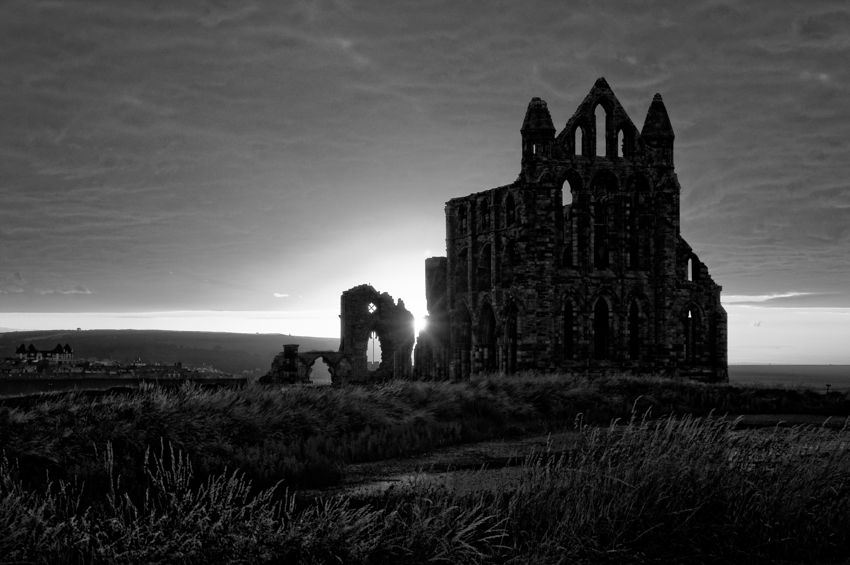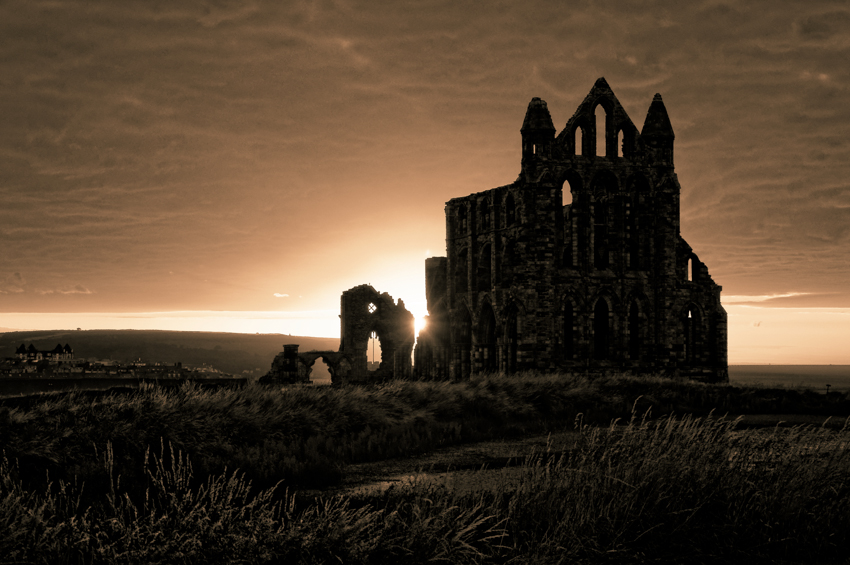 The harbour village scene has had the Landscape (contrast) preset applied together with the horizon correction tool; this livens up an otherwise flat light photo.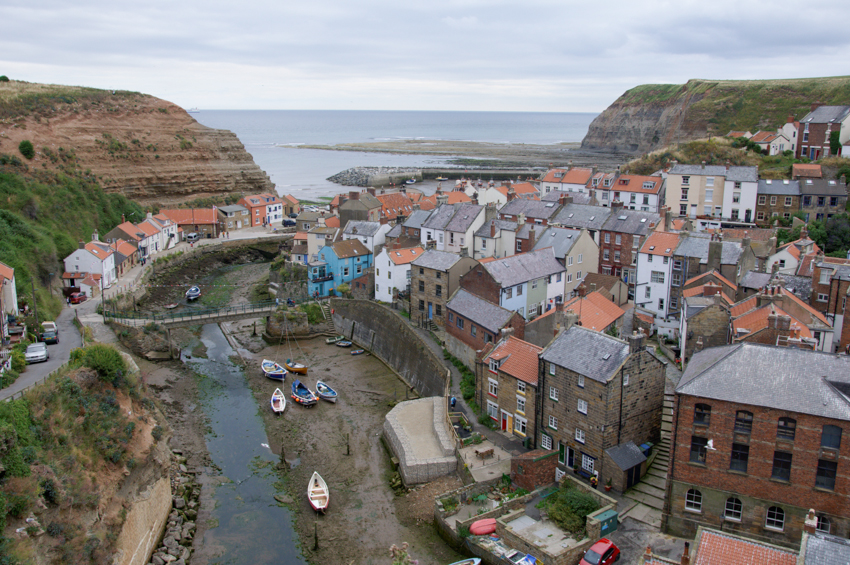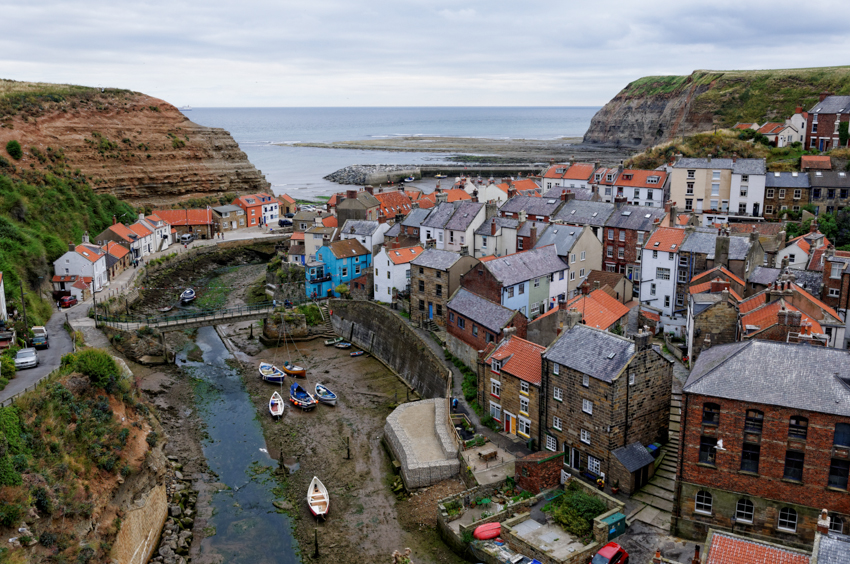 The Single Shot HDR preset produces a similar effect to that obtained by shooting multiple exposures which are then combined to make up an HDR (High Dynamic Range) photo. There are four options: HDR – slight, HDR- realistic, HDR – artistic and HDR – B/W (the latter used in the below image to achieve an almost sketch-like photo). The effects are perhaps not as pronounced as those obtained by shooting multiple exposures – nevertheless, each one adds something extra to the photo which can be useful as a starting point for further adjustments.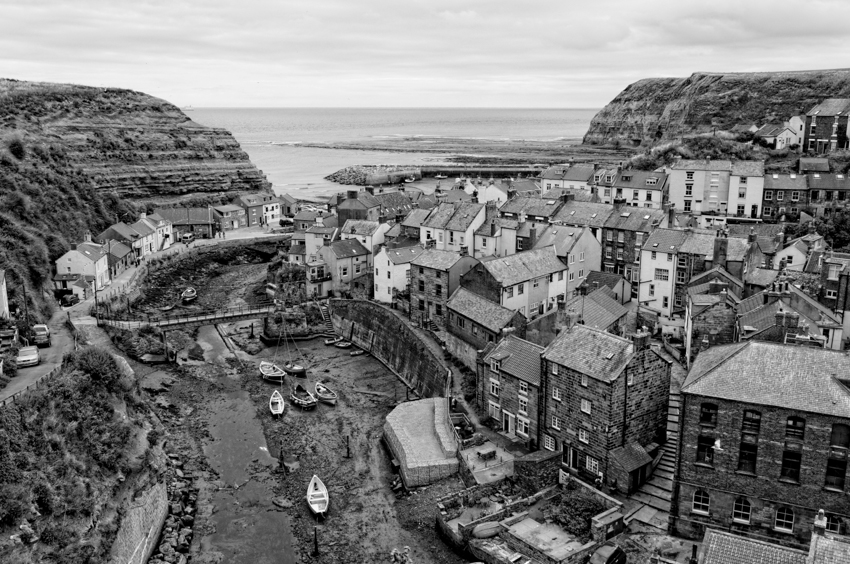 Conclusion
DxO Optics Pro 9 is a feature-rich image-processing application that produced excellent results on every image throughout our test. Although easy to use, it offers significantly more control than Adobe Camera Raw and the results speak for themselves. Once you have tried it you will not want to use anything else.
Pros:
Very fast processing
PRIME noise reduction
Ease of use
Large database of camera lens combinations
Cons:
No support for Fuji X-Trans
Multiple display of Palettes can be overwhelming
Only Flickr supported at the moment
DxO Optics Pro 9 comes in Standard and Elite versions, the latter supporting a wider variety of models. To see which is right for your your model click here.
About the Author
Vincent Oliver is a professional photographer and technical journalist, who's work has featured in a number of magazines and newspapers. You can see more of his work on his website.