We got to spend a few days with a pre-production sample of the new Fujifilm X-T10 – see what we think of it in our hands-on review.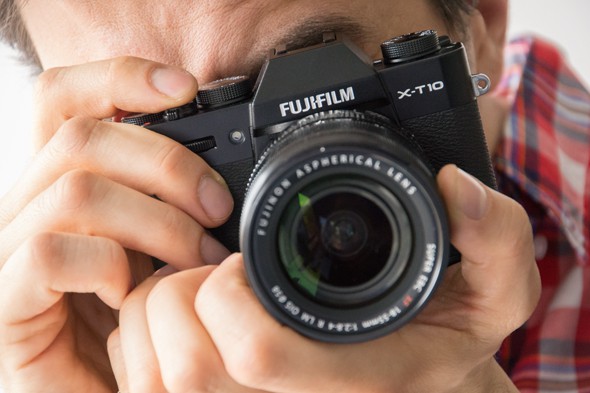 Fujifilm was kind enough to lend us a sample of the new X-T10 a few weeks ago, along with an 18-55mm f/2.8-4 OIS lens. As the following relates to a pre-production camera (running version 1.3 firmware) we have agreed not to publish any images taken with the camera, nor comment on their quality, as they may not accurately reflect the standard of those taken with full production samples.
It's fair to say we were all excited to first learn about the X-T10, and even more so when we finally got our hands on one. In just over a year, the Fuji X-T1 has become the Compact System Camera of choice among many enthusiasts and professional photographers stepping away from the DSLR, so the prospect of many of its features inside a smaller, cheaper and lighter body makes perfect sense.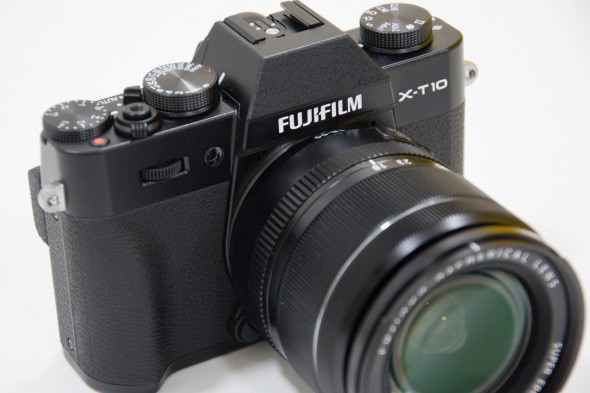 The body draws strong influence from its older sibling, but with a shorter length it appears somewhat boxier, like an amalgamation between the company's X-T1, X-M1 and X-30 models; those who found the X-T1 a little too large will be pleased with its more compact body. Thanks to its magnesium-alloy casing it's not the lightest camera of its kind, but this is well balanced with the XF 18-55mm f/3.5-5.6 lens (one of its kit options).
Both in the hand and to the eye, the camera's grip is noticeably less bulbous than the X-T1's, but it still manages to allow for enough purchase for those with average-sized hands. Likewise, while the smaller body has left less room on the back for the thumb to rest, there is still enough to do so without inadvertently keying any buttons. Larger-handed users may feel a little cramped, however, but the well-rubbered grip and redesigned thumb rest do go some way to provide most users with a comfortable and secure hold.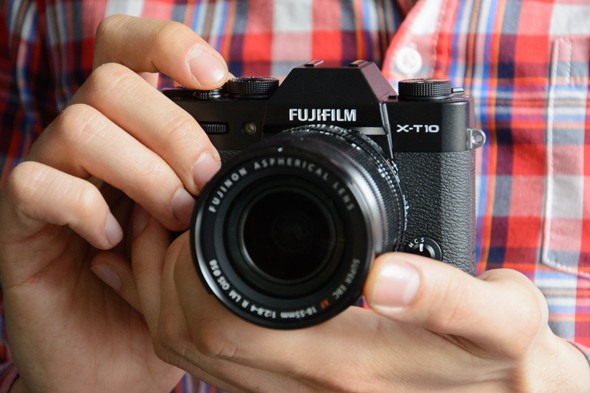 One complaint of the X-T1 was the flushness of the camera's rear controls with the body, which made them somewhat more awkward to press than necessary, but Fujifilm appears to have amended this for the new model. The controls seem more defined and, as such, are easier to operate. The front command dial could perhaps do with standing out further from the front plate, but it moves easily enough to be operated quickly.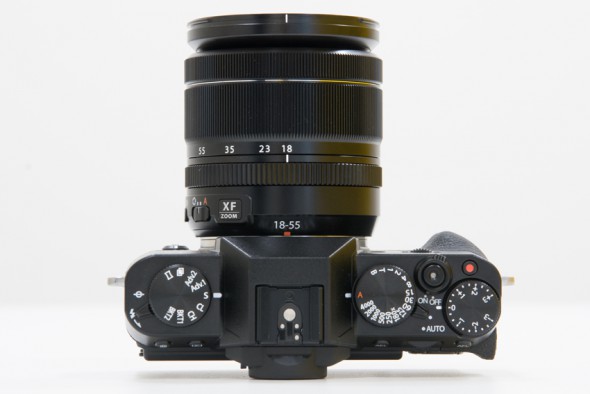 The exposure compensation dial on the top plate is easy enough to turn but stiff enough to withstand any of the usual knocks and scrapes that could knock it out of position (a common problem with models whose exposure compensation dials are positioned close to their top plate's edge). As we may expect, the shutter speed dial moves more freely, and it now lacks the X-T1's locking button in its centre.
It's welcome to find this thoughtfulness with the camera's LCD too, being easily pulled out but staying put once set to the desired position. The fact that the screen lifts slightly away from the body also means that the eyecup does not obstruct it when held down low, even when angled. Again this can be an issue on other cameras with tiltable screens, so it's great to find it not being one here.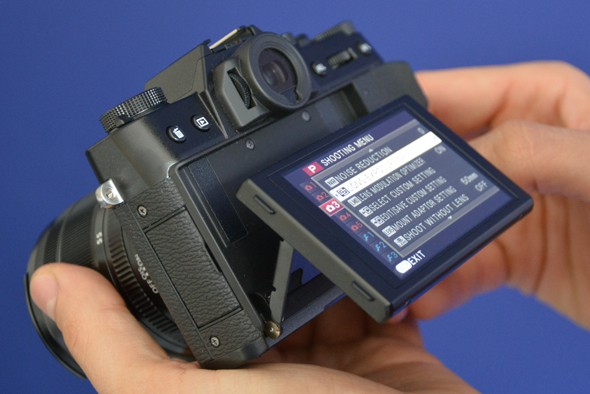 The screen itself appears to befit a model of the X-T10's billing, with a faithful representation of the scene. Despite the fact that its stated resolution is 920k dots (and not 1,037k dots, as on the X-T1) there appears to be no discernible difference in quality. As with many cameras, in brighter conditions its visibility is marred slightly by reflections, but this is less of a concern on such bodies where the screen is able to be tilted.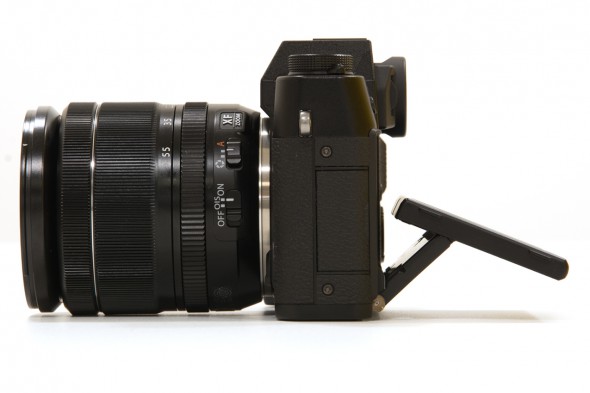 One of the most enjoyed features of the X-T1 is its Real Time Viewfinder, so it's great to see a similar version here. Despite the smaller magnification and narrower angle of view, the finder is still large, bright and great to use. So long as the dioptre is set to an appropriate level, it's very easy to scrutinise details and check subjects are in focus, while noise and artefacts ate both low. Its high contrast, however, can make it harder to appreciate fine shadow and highlight details.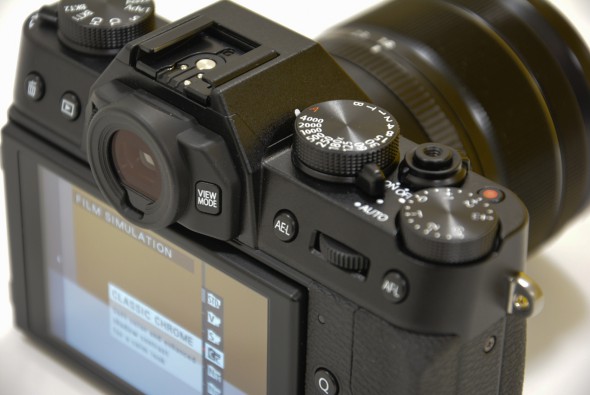 One slight difficulty we did find came when changing menu options while using the electronic viewfinder; here, using the four-way menu pad to change menu options is somewhat awkward as your nose is very likely to be in the way, at least partly. Of course, if you tend to change options by alternating between the rear display and the viewfinder, there shouldn't be an issue.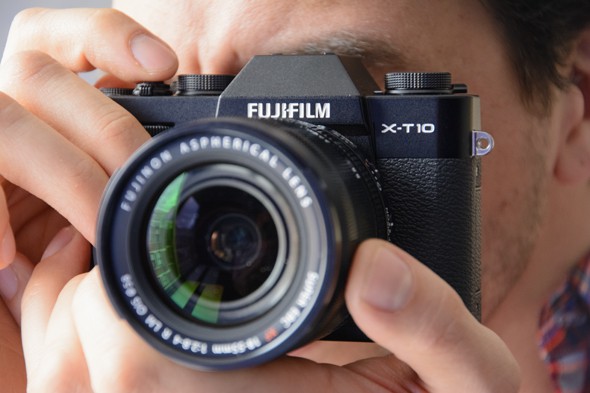 The X-T10 menu system will be familiar to X-series users. It may not be the easiest on the eye, but it can't be faulted for its clarity and logical order of options. Digging around reveals that a total of seven buttons can be customised around the body, in addition to other adjustments to fine-tune the camera more to the user's preferences. This level of control is excellent and should more than satisfy most users.
One thing we did notice, however, was that when in the shooting screen, the exposure scale at the bottom and corresponding values are very much on the small side; while readable, it's difficult to imagine this being any smaller and may not suit those with less than perfect vision.
Conclusion
Although we are yet to see any sample images from full-production models of the X-T10, our first impressions are positive. You certainly get the feeling that Fujifilm has packed an awful lot of technology into its diminutive body, and the handful of concessions it has made from the X-T1 to make it more a mass-market model are not exactly critical to its overall performance.
The wide-ranging feature set does make it appear as though Fujifilm intends the X-T10 for a particularly broad audience, from novices who may frequently call upon its Auto settings to enthusiasts willing to extensively customise the camera and perhaps use it as a backup body to another camera. It's perhaps most exciting for those looking to upgrade to an X-T1, who now have a cheaper alternative.
What do you think of the Fuji X-T10? Tell us below
Related articles