The Giottos Silk Road range of tripods represents the latest in technical development for the company. The concept slims down the profile of its tripods, while still providing a solid performance and premium features. At the heart of these newly introduced tripods is a Y-shaped centre column, which helps to save weight and, according to Giottos, reduce the size by 30% when folded when compared with a similar tripod.
I received both the Carbon Fibre YTL 8384 and the Aluminum YTL 9353 models along with the MH 1311-652 medium ball head and set to work putting them through their paces. I'll first talk about the key features found on both tripods before looking at them individually in more detail.
Key Features
Removable centre column - A common feature on many modern tripods. The central Y-shaped column can be taken out and replaced with a short version (included). This allows the user to get much lower to the ground for a different photographic viewpoint and also makes the tripod lighter.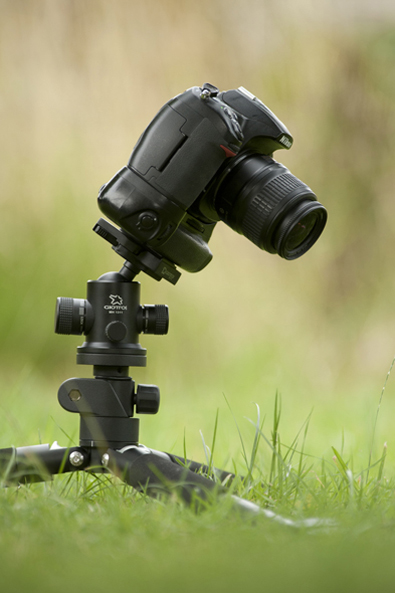 Removing the centre column is very simple. First, you loosen the height-adjusting knob then pull the column upwards out of the main casting. Then, using the provided Allen key, you unscrew the top plate and attach it to the short column before re-tightening. Finally, push the safety lock to the side and slot the whole thing back into the main casting. You can now use the tripod fully splayed out for an ultra-low viewpoint.
Pivotting column - Both the Giottos YTL 8384 and YTL 9353 feature a 3D pivoting central bracket that allows the central column to be rotated horizontally over 180 degrees. This allows the tripod to be used in a number of awkward situations - perfect for those who love to shoot macro and close-up images.
Lever locks - Both tripods feature sturdy leg locks. They are tight enough to lock the legs firmly but are still easy to operate, even with gloves on (yes I am writing this in July, in the middle of a heatwave and I really did get my winter gloves out to test them).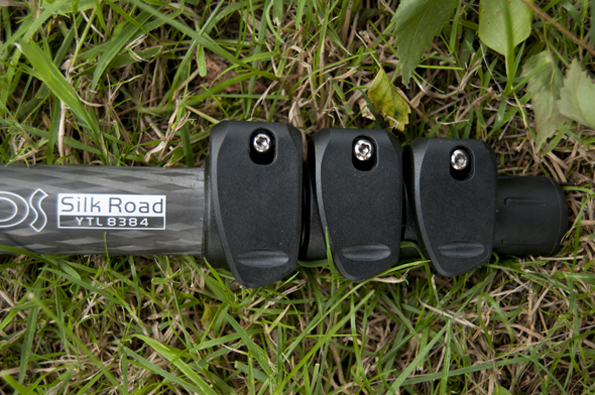 Multi-angle leg settings - Both tripods feature variable angle legs which allows them to be used on uneven terrain and for lowering your photographic viewpoint. The tripods can be set to three positions: low, medium and high. The leg angle adjusters feel precise and are simple to operate in the field - you simply push down the catch and move the leg to the required setting.
Height markings - The bottom leg sections on both tripods feature height indicator markings. This allows the user to quickly set all of the legs to the same height when out on location.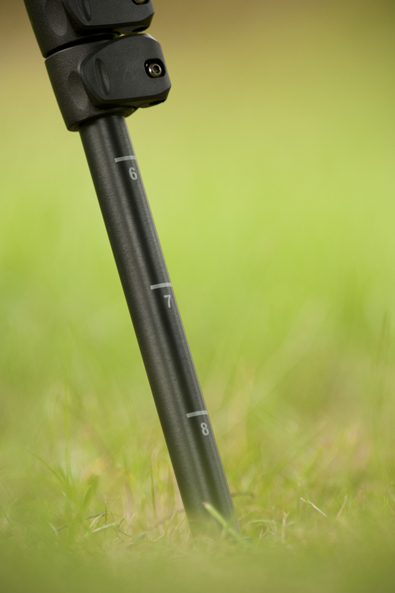 Leg grips - Each of the upper leg sections feature foam hand grips for a comfortable firm hold even in cold conditions.
Giottos Silk Road YTL 9353 3D Column Aluminium
I was very impressed with the YTL 9353. Even thought it's made of aluminum it's very lightweight, especially with the central column removed. When fully extended, and with a ball head attached, it's roughly at shoulder height (I'm 5ft 10") and it feels sturdy under load. The legs have a slight amount of flex but nothing to be worried about if you're using it within the rated 5kg limit.
One problem with aluminum tripods is that in cold weather they become unbearable to touch - luckily the YTL 9353 has foam grips on each leg to reduce this problem. Having only three leg sections, the tripod is fast to set up and put away but this does result in it being a little larger when folded down, something to consider if you're travelling with limited space.
The YTL 9353 will be a brilliant tripod for those with small- to medium-sized cameras looking for a lightweight, adaptable support. It's ideal for those who want to use long exposures or work at awkward angles for macro and close-up images, but who don't want to be burdened with a large and cumbersome set of legs.
Giottos Silk Road YTL 8384 3D Column Carbon Fibre
The major benefit of the YTL 8384 over the YTL 9353 is the use of carbon fibre rather than aluminum for its construction. Because of this, the YTL 8384 has an increased load capacity, although it remains lightweight and compact.
One thing that didn't impress me was the use of aluminum for the centre column in place of carbon fibre. At this price point I was expecting a fully carbon fibre construction like those seen from many of the leading tripod manufacturers. I removed the centre column to suit my style of working anyway, but if I was buying this tripod it would be a feature I would have wanted to see.
With four leg sections rather than three, the YTL 8384 retains a rather compact folded size that makes it beneficial for travel, although one problem that does come with the increased number of leg sections is flex. This is somewhat disconcerting, especially on a tripod that is rated higher in load capacity that the YTL 9353. The tripod will still take the weight of a large DSLR and lens but I felt a little apprehensive with it attached.
For enthusiast DSLR/lens combinations the tripod will still provide a stable support, and the use of carbon fibre means that it will dampen vibrations better than an aluminium model. This feature-rich, lightweight tripod would make an excellent companion for the travelling photographer who uses short to medium telephoto lenses, but those using longer telephoto lenses might want to look at a more substantial support for peace of mind (even though the YTL 8384 is rated to 8kg).
A note on the tripod head
For the entirety of the test I used both of the tripods with the Giottos MH 1311-652 ball head and I was highly impressed. At 490g it's not the lightest of tripod heads but the extra weight is well worth it in terms of quality. Its aluminium body feels well constructed and all of the components work smoothly and efficiently. I experienced no problems, even under heavy load.
The action of the ball is controlled by two knobs located on either side - one for friction and one to lock the head. The friction control sets the amount of drag on the ball. When set to low the ball is totally moveable once released and any weight will fall. If set it to high the friction provides support for the weight of the camera, which allows you to move it completely whilst still holding it firm when you let go.
The locking knob is large and easy to use and once tightened there is no droop in the camera's positioning. This is excellent as heads in this price bracket often display slight movement that can be an issue for close-up and macro work.
The quick release is easy to use and has a built-in safety catch for added piece of mind. On its side there's a spirit level which helps keep those horizons straight for the perfect landscape image.
If I had to nitpick, one downside to the head is that the pan mechanism is not released when the main locking knob is loosened; you also have to undo the separate pan lock. Still, this is not a deal breaker. Overall the MH 1311-652 is an excellent piece of engineering at a very reasonable price - I'm even thinking of investing in one myself!
Final Thoughts
Both the YTL 9353 and the YTL 8384 are feature-rich tripods which offer a vast number of adjustments for getting into awkward angles and positions. The variable-angle centre column will be a godsend to macro photographers while the compact and lightweight nature of these supports will appeal to many others.
After spending a few weeks using them I must admit that, out of the two, I would choose the YTL 9353. It offers all of the same features as the carbon fibre YTL 8354 and is also lighter in weight, and I'd happily forgo the extra 10cm in height for the reduced weight and cost. It's a good value, lightweight support that I can see being perfect for travel, landscape and macro photographers on a budget.
The 3kg difference in load capacity may tempt some to buy the YTL 8384, but if you need a true support for a heavy camera, save your funds for something more substantial. This isn't to say the carbon fibre YTL 8384 is a bad tripod - it isn't - it's just more difficult to recommend when some of its competitors are taken into account.
One item I will wholeheartedly recommend, however, is the MH 1311-652 ball head. It's a wonderfully constructed piece of photographic equipment that works effortlessly in use. You don't notice it's attached to your tripod and that's exactly how it should be! It's a solid performer in terms of features and feels like it will last a lifetime.
Giottos Silk Road YTL 9353 3D Column Aluminium tripod: Key Specifications
Primary material: Aluminium
Leg sections: 3
Maximum load: 5000g
Folded length: 63cm
Minimum height: 19cm
Maximum height (including column): 171cm
Maximum height (excluding column): 138.19cm
Weight: 1550g
Giottos Silk Road YTL 8384 3D Column Carbon Fibre tripod: Key Specifications
Primary material: Carbon Fibre
Leg sections: 4
Maximum load: 8000g
Folded length: 58cm
Minimum height: 18cm
Maximum height (including column): 182cm
Maximum height (excluding column): 150cm
Weight: 1660g
Giottos MH1311-652 Ball Head: Key Specifications
Type: Ball-and-socket head
Maximum load: 12000g
Quick-release plate: Yes
Spirit level: Yes
Mount thread: 1/4in and 3/8in male
Attachment thread: 1/4in and 3/8in female
Height: 10.5cm
Weight: 500g
About the Author
Tom Mason is an up-and-coming wildlife and nature photographer based in Hertfordshire where he frequently visits a number of local nature reserves including Rye Meads and Amwell. You can see more of his work on his blog.
Related Links