Billed as 'the first drone that makes the entire experience of flying and filming easy, fun and enjoyable for anyone', the 3DR Solo arrives with some grand promises. Wex's Daniel Burke got his hands on one to find out more.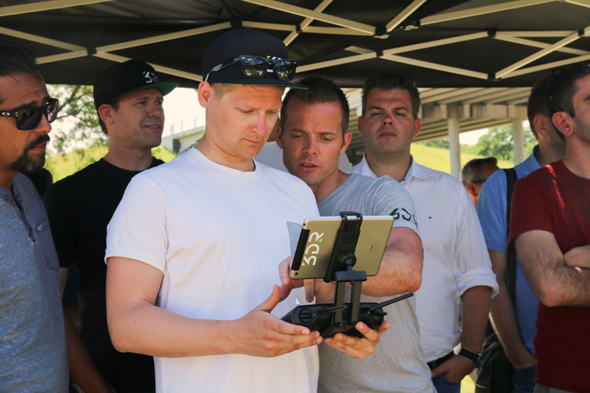 The chances are you've heard of remote-control quadcopters, or drones. These were initially designed with photography in mind and they give users the ability to catch some stunning shots from a unique perspective. For this reason, more and more photographers are seeing a personal drone as an essential bit of kit for real-world settings such as weddings, property, sports and even landscape photography.
Nowadays there is a small variety of drones available for consumer use and they all do the job fairly well, but each isn't without its shortcomings. They require a certain level of technical knowledge in the setup of the system and those with built-in cameras often fall short when it comes to image quality. The use of on-board GPS means that flying these drones is surprisingly easy but mastering the controls to create smooth, professional-looking video takes either extensive practice or an extra person to control the camera independently of the flight.
Perhaps the most alarming issue is that, on very rare occasions, such systems can get confused and simply fly away, taking your costly investment away with it. Sure, you can approach the manufacturer and explain the situation but you don't stand much chance of getting any compensation without proof of exactly what happened.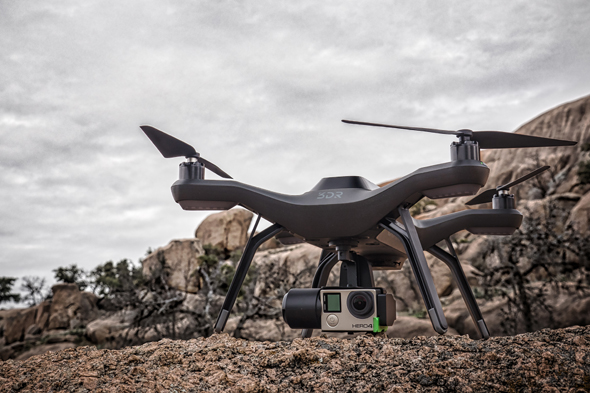 For these reasons, a drone is both an exciting and daunting purchase to make. 3D Robotics is aiming to change this with its new model, the 3DR Solo. I visited the company's headquarters in Austin, Texas to see whether it indeed stands out from the herd.
The people behind 3D Robotics were among the first to attach a camera to a remote-control helicopter some ten years ago. Its aim with Solo was not only to create the most technically advanced drone, allowing you to get perfect, professional-looking video on your very first flight, but also to provide the absolute best user experience possible.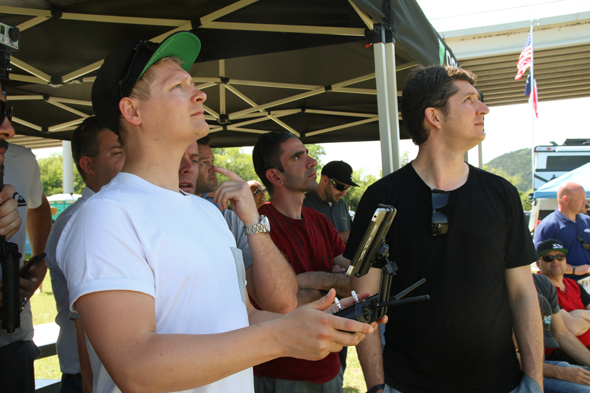 The Solo is billed as the world's first 'Smart Drone', with two built-in 1 GHz Linux processors, one inside the craft and the other in the remote control. Because of this, it's able to calculate and perform complex movements automatically. For example, the drone is not only able to return home in case of emergency but it also allows you to perform movements and capture video that would ordinarily require an additional user.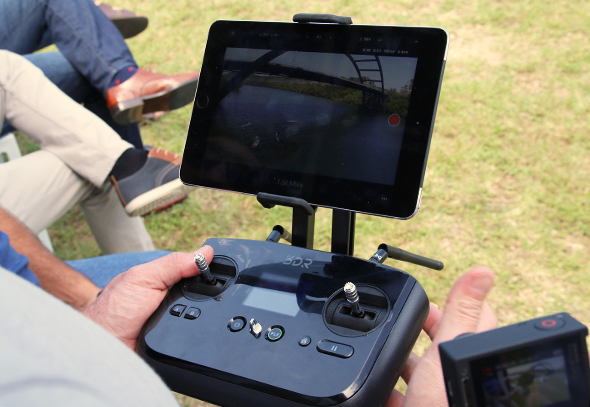 There are four Smart Shots that you can choose through the in-flight app on your phone or tablet: Selfie, Cable cam, Orbit and Follow. The Selfie shot will keep the camera focused on you while the Solo flies out backwards at a set speed to your choice of distance and height, resulting in shots/footage that reveal your surroundings. Cable cam flies the Solo on an invisible cable between two preset points, allowing you to forget about flying and focus on controlling the camera gimbal to get smooth panning shots. The Orbit mode, meanwhile, instructs the Solo to travel around a fixed point in space, keeping the camera trained on the central point, while the Follow option has the drone follow the remote wherever it travels, at a fixed height and distance – great for capturing video of yourself while on the move.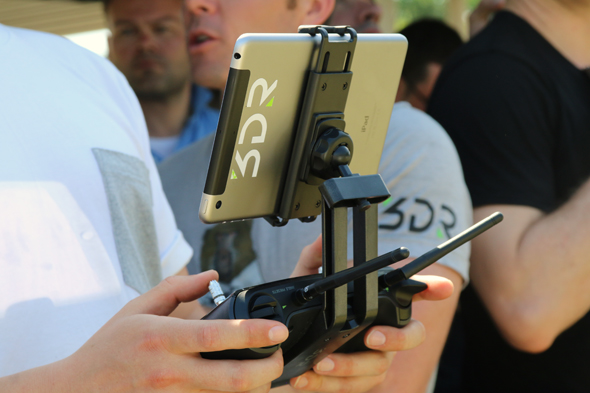 One of the most exciting aspects of the system is its seamless integration with GoPro. 3DR has worked closely with the action-camera manufacturer to allow complete control of the HERO 3+ or HERO 4 from the ground over vast distances. For the first time you will be able to start and stop recording or capture stills with the GoPro whenever you need to while in the air, along with options to adjust frame rate, white balance and more. By pairing your mobile device to the controller, you are able to live-stream images from your GoPro at 720p with negligible delay (180ms), allowing you to see exactly what you are shooting. An HDMI-out socket also allows you to live stream video to a whole host of monitors.
When I first picked up the controls I noticed how well they fit in my hands, their ergonomic design being based on a games-console pad. The Solo itself boasts a simple and sleek, all-black design, and only requires a push of a button to take off. At this point, it automatically climbs to a safe height and awaits your command.
Once in flight the Solo is intuitive and easy to control. You have control over all manners of settings to make the movements smoother and, if you're feeling confident, you can ramp up the agility to reach impressive speeds of 55mph. The below photo was taken when the Solo was 380m away from us (we are just to the left of the bridge). 3DR claims the live stream has been successfully tested at distances of 1200m, although this is not recommended.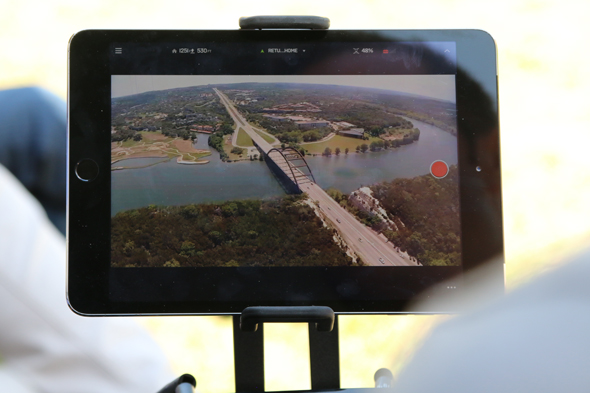 To give you peace of mind, the processor in the remote control logs 500 parameters of flight data ten times a second – including the drone's location, altitude, speed and battery level – meaning you essentially hold its black box in your hand. In the case of any problems in flight, an alert will automatically automatically pop up on your app screen, allowing you to send the complete flight log instantly and wirelessly to 3DR's support team. A 3DR representative will then contact you and walk with you through exactly what happened during your flight. If they determine that it was a hardware or software malfunction, not only will they replace your Solo but they will give you credit for a new GoPro too.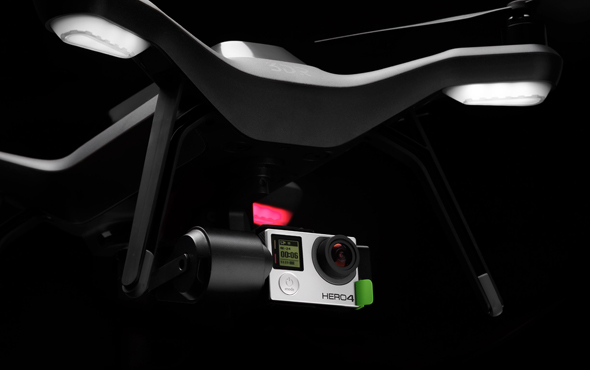 The Solo comes with an unstabilised mount for GoPro models as standard and you can buy the three-axis Solo Gimbal as an optional extra. Furthermore, the modular system on which Solo is based goes some way to making it future-proof, as all the components can be easily removed and replaced, allowing you to upgrade elements and software as they become available.
If you want a gimbal for a different type of camera, the gimbal bay allows integration of new gimbals that can take advantage of all of Solo's technology and flight features. And if you need some heavy-duty motors to lift that heavier camera, you just remove a couple of screws and swap out the standard motors. There is even an accessory bay where you can attach new technology as it is developed, such as downward-facing sensors that keep track of the ground, allowing you to fly safely indoors without the use of GPS. All hardware and software is also open-source, allowing for complete control for you and third-party developers.
Although the model I got to fly was a pre-production sample, I found its agility impressive and felt reassured by its build quality. I have flown many consumer drones on the market and have always encountered problems along the way, but 3DR appears to have thought of everything with Solo. Pairing the drone with a GoPro and the intelligence of the on-board computers means that, despite its small size, this quadcopter is able to compete with some large drones on the market without being intimidating to novices. Overall, it certainly has the potential to be a game changer.
Related articles