Need a flexible storage solution? Rob Spray finds out whether the LaCie 5big NAS Pro is the answer in his review.
There was a rush of fear as I opened the box; it was big and unusually heavy, and all of a sudden I wondered if the LaCie 5Big NAS Pro was actually filling the box! In fact, I'd simply forgotten how solid LaCie's gear is. Inside the packing there was a brutally cool, blue-eyed cyclops, less than half the size of the outer box and thus twice as dense – impressive! It's no bigger than other 5-bay NAS (Network-Attached Storage) systems, but they are pressed steel while the Lacie is clothed in thick, solid aluminium plate. It looks like an art installation or menacing alien intelligence, not simply a storage appliance.
That metal cladding manages to look amazing while managing heat – it would be a shame to hide it away. I only enjoyed a flying visit from the mighty cube so please forgive the superficial nature of this review. I was reviewing it with a keen interest as I am looking for a new chunk of fast storage and the 5Big was, and still is, on the list. The few days I had didn't really allow me to run a full battery of technical tests, and to be honest there are enough nerds benchmarking NAS systems.
Features
5 bays for SATA drives up to 5TB (so far)
Supplied pre-loaded in capacities up to 25TB
Hot swap, lockable caddies
Recovery USB key for emergency rebuilds
Free 100GB Cloud Trial with Wuala
Twin Ethernet connections for redundancy and/or load aggregation
2 x USB 3.0 for additional, tertiary storage
2 x USB 2.0 for printers etc
VGA display connector for direct configuration.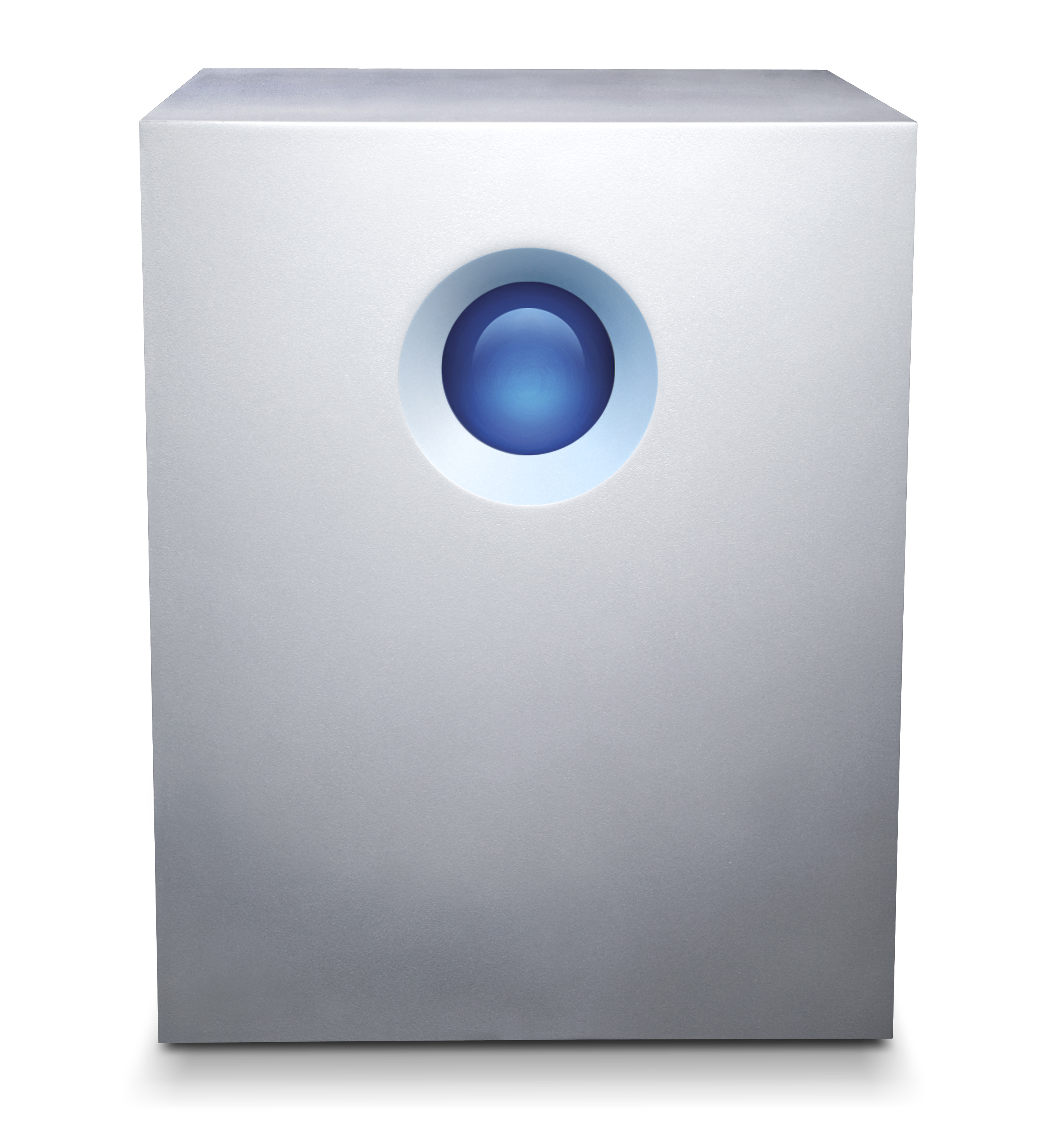 Design and operation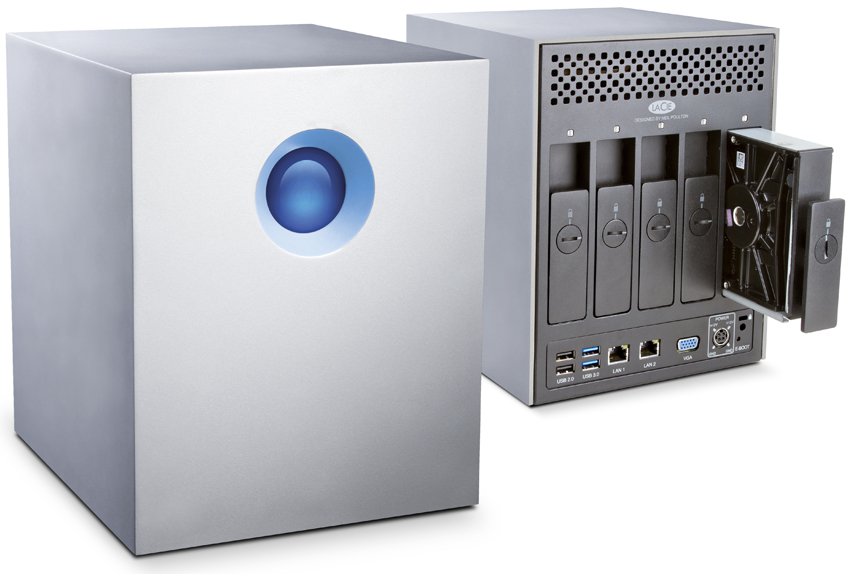 This heading distills the two reasons for choosing the 5Big NAS Pro: that unique LaCie combination of form and function. The rear of the unit is much more standard NAS than the front – a row of 5 bays greets nosy geeks – and although they are latched (there's a simple 'key' supplied) they are not truly locked since a coin or washer can also undo them. For me that's a plus since, if five years down the line you want to upgrade (or, heaven forbid, in the event of a drive failure), finding a piddly, anonymous key is just one more headache.
The demo unit arrived in a 'leftover' configuration but I simply plugged it in, left it to sort itself out and, by the time I'd found an Ethernet cable, Windows networking had just found it. So there I was with 8TB of RAID 5 protected space, the overhead of 2TB seeming reasonable for that protection. If a drive fails (it can happen) or you want to swap in a larger drive, that can be done on the fly. It does take time, however, to rebuild the protection.
In operation, the big, blue eye blinks to show system events, while individual rear LEDs over each bay do the same on a per-drive basis. The web interface is very simple and responsive, so working out where you stand is a breeze. With a laptop on my lap (obviously) I couldn't hear the NAS on the far side of the room. It's louder than a laptop but the quiet fan doesn't cut through other household noises, it just adds to them. In a hermit's living room it would intrude, but in a typical modern room with a television, fluorescent lights and so on it doesn't really figure as an irritant.
LaCie like Apple people (you'll also find a Thunderbolt NAS in the same form factor) and so the unit itself supports a suite of Apple protocols – most obviously Time Machine. It'll run as an iTunes and DLNA server too, but its list of other tricks is modest. A Synology or Zytel server will knock the roster into a cocked hat with extra stuff like support for CCTV systems. LaCie is sanguine about that and say it is concentrating on fundamental strengths rather than bells and whistles – it's designed to be a big, fast NAS, not a jack of all trades.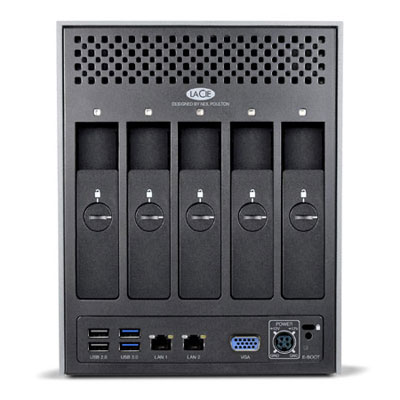 RAID – what options do you have?
For normal people the NAS market is confusing to say the least, so here's a quick primer. If you've looked into capacity you'll know a big NAS really needs multiple drives; a single drive is always in peril. You need more than one to protect your data and if you have more drives you also have more choices. For example, if you have two drives you could hold a complete copy (a mirror) of one of them, so a drive can fail without loss (at the cost of a whole redundant drive) and you can also get your data twice as fast. As you add more drives the choices increase; there is a balance to be struck between speed, security, capacity and cost.
The most common methods for managing disk arrays are known as RAID (Redundant Array of Independent Disks). RAID isn't a single choice, though, as there are a selection of 'levels'. The 5Big NAS can run in the classic RAID levels:
RAID 0: Just a bunch of disks (JBOD). This provides no extra security but maximum capacity and speed.
RAID 1: Mirrored pairs. Safe against one drive failure and useful speed but only 50% capacity.
RAID 5: One drive used for protection, capacity at 80% for a 5-drive array.
RAID 6: Extra drives used for more protection. Lower capacity and higher cost.
RAID 10 (or 1+0): Mirrored groups. Half the capacity and expensive but fast.
That's a savage simplification but you probably spotted that RAID 5 seems an attractive option when compared with lower levels (which eat up your space or don't protect you) and higher levels (which are more expensive and more secure). Like quite a few NAS vendors, LaCie also offers a proprietary version of RAID 5 which will automatically manage drives as they are added to balance security and storage. Normally one drive is used for protection and this is probably the way most NAS systems are used now. Lacie's version is called SimplyRAID.
Performance
One thing not to do is confuse the 5Big NAS Pro with the identical looking, cheaper 5Big Network 2 model; the Pro is much faster. A quick Google will find you tests that show the 5Big NAS can match the speed of directly attached USB 3.0 devices across a Gigabit wired Ethernet connection (wired being the way to get speed).
Most current NAS boxes contain small Intel processors, similar to those found in netbooks. The 5Big has more horsepower than most with a 2.13GHz Atom CPU (twice as fast as many rivals) and 4GB of RAM (4-8x as much on that count). It's a brute force solution just where you want it. While most small NAS units are fine at home this one is viable enterprise-level storage for an office (the marketing suggests it for offices with 50 concurrent users which is pretty swanky).
Its speed and network capacity also make it suitable for power users, such as data-hungry video editors. To labour an earlier point, you really want to hook up this beast over Gigabit Ethernet. My home wireless runs (nominally) at 144Mbit/s but that's but that's just pitiful compared to real wire. Wireless may be convenient but wired is the real deal. If the NAS joined my home network I'd probably plan to work mostly wireless but hook up for video editing and major backups.
One clear benefit of a wired connection is that coverage is predictable and precious bandwidth isn't stolen by passing iPhones, neighbour's tablets and sneaky Smart TVs. Predictably my Wi-Fi worked very much like Fast Ethernet (100Mbit/s). Some exploratory copying between drives reached about 8-9MB/s which sounds mild but equates to about 70Mbit/s which is somewhere approaching practical saturation for Fast Ethernet (you can't actually get 100Mbit/s across it).
A 20GB transfer took about 1 hour and 250GB around 10 – logical if not rapid. That's still not a bad connection and markedly better than the 1TB 2 disk NAS I bought a few years ago. Once fed delicious wired Gigabit Ethernet things changed rapidly: the 20GB transfer was down to 4 minutes and a 250GB down to an hour. In fact, Gigabit Ethernet is hefty enough that you could consider outsourcing your directly connected external storage to the back of the 5Big too.
Speeds for USB drives fall but aren't wrecked with them hosted by the NAS, and you escape from the hassle of trailing USB leads. This adds another bit of data security because NAS systems don't tend to flake out like computers do. Even if your drives are hosted by the NAS, the transfer speed will depend on your own network connection as your machine mediates the data flow.
Copy speeds from various sources to the networked 5Big NAS Pro
Source

Transfer speed MByte/s

Gigabit Ethernet

WiFi (144Mbit/s) or Fast Ethernet

System disk C:

75-85

8

USB3.0 connected local disk F:

70-80

8

NAS hosted (remote) USB 3.0

45-50

8

NAS hosted (remote) USB 2.0

25-30

5
I didn't achieve the top spec speed claims but those were real-world bulk transfers of mixed file size – big files copy fast and little ones slow. I also didn't attempt to optimise any part of my network, so this should reflect a fairly typical home set up. If I'd played for a little longer I may have tried using iSCSI to make the most of the NAS over a Gigabit connection.
Maximum capacity is, clearly, determined by the latest hard disk sizes. LaCie isn't backward in coming forward and already has 25TB versions available using the latest 5TB drives. That's comforting as a lot of my NAS reading has been into debates about units supporting later drives, so I'd want to tie my colours to a vendor who chases big numbers. At the moment the 10TB model, with well proven 2TB drives, looks like good value, but it's always great to know you have an upgrade path.
Verdict
The 5Big NAS Pro isn't built to hiding its big blue light under a bushel; it can sit almost anywhere and not make it feel like a server room. If you are a squirrelling nerd with a need to fiddle, configure and get your fridge online, the 5Big NAS Pro may not be for you. More features, apps and add-ons might arrive in updates to this still fresh operating system. However, it's not intended to be a mere home hobbyist unit, more a data dreadnought for home working creatives or small companies.
The speed of the unit makes it viable as online storage for most uses – many NAS units are best thought of as purely backup units. LaCie has made a sharp decision to go for five bays, which sets the 5Big above the many small and serious four-bay home systems by offering more storage for the same overhead; that's very useful head room. If, like me, you want a big, fast storage system, that doesn't say what it does in big letters on an ugly box but does all it promises without mucking about, the Big NAS will probably suit you very well.
Pros
Very fast
Good looks
Generous connectivity and 5-bay capacity
Cool running
Large capacities available.
Cons
Not as feature packed as some other models
Slow initial build (not tested)
Pre-loaded 25TB model just too tempting
Free cloud storage is only a trial.
Related articles