A wide-aperture portrait lens encased in a 19th-century brass body, the Lomography Petzval lens stands out in more ways than one. See what we think of it in our Lomography Petzval review.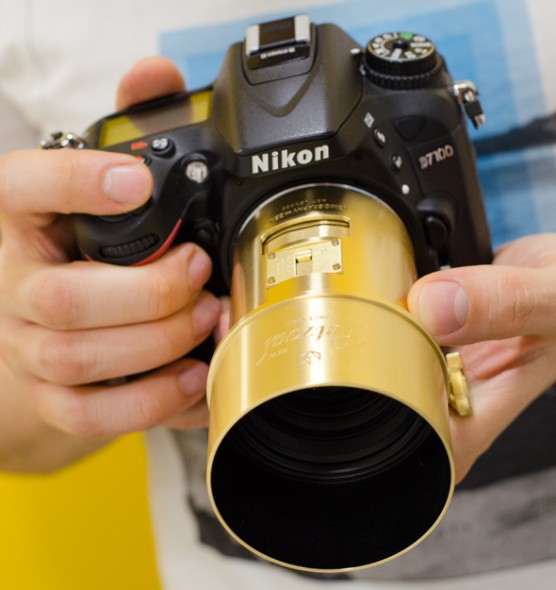 Simple in design and typically lacking in the features common to many other modern optics, portrait lenses keep to a fairly standard formula with successive generations. For many, the key considerations are maximum available aperture and focal length, together with the quality of results when used wide open, rather than the aesthetics of the lens itself.
Yet, the Lomography Petzval lens is very much a lens defined by its design. A brass lens modelled on the classic 19th-century Petzval construction, the lens arrived somewhat unconventionally after a Kickstarter campaign raised enough money to bring its manufacture to life.
Petzval lenses were originally created with portraiture in mind, designed to transmit more light than other optics available at the time, thus making them more suitable for capturing people who would otherwise have to sit very still for longer than would be practical. While modern portrait lenses have no issue offering the same, the appeal for retro-fashioned alternatives to the norm remains high – and the Petzval has already garnered much interest.
Features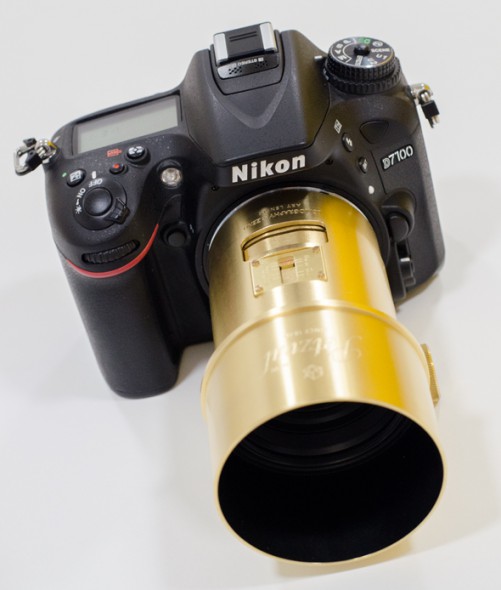 The Lomogrpahy Petzval lens offers a focal length of 85mm and a maximum aperture of f/2.2. The lens is available in both Canon EF and Nikon F mounts, making it compatible with both full-frame and cropped-sensor models in each manufacturer's range (as well as older EOS and F-mount film cameras). On a cropped-sensor camera such as Nikon's D5500 or Canon's EOS 750D, the effective focal length would be closer to 128mm-136mm (depending on the exact model used), although you would lose some of the lens's optical effect around the peripheries as it would effectively be cropped away by the smaller sensor.
The lens offers a minimum focusing distance of 1m and focuses all the way to infinity, with a focused-distance scale on its barrel. With no contacts at its rear, the lens does not communicate with the body on which it's mounted, which means all focusing must be performed manually by the user by turning a knob on the underside of the barrel.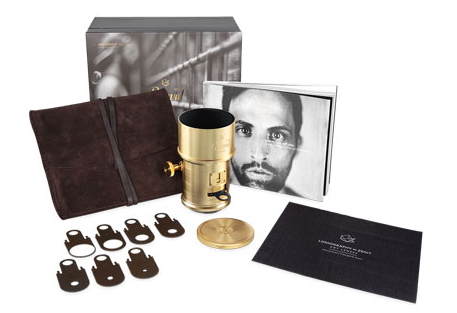 This lack of communication also means that aperture cannot be controlled via the camera; instead, Waterhouse stops are provided in a range of apertures up to f/16, and these need to be slotted into the barrel through a slot. In addition to the aperture stops, the lens is supplied with a leather pouch, a cleaning cloth and a smart, sturdy lens cap that matches the barrel, together with a book to inspire and educate the user as to best practice. It's also possible to buy coloured filters for the lens for black-and-white photography, as well as a selection of plates that bear shapes instead of standard apertures for more unusual bokeh.
Design
As may be suggested by its appearance, the lens feels very solid in the hand. Weighing 680g it's not exactly a lightweight optic, but it balances well on an average enthusiast DSLR such as the Nikon D7100 used in this review. Its appearance may be slightly misleading, as only two-thirds or so of the barrel contain elements – the remainder of the lens is hollow, ostensibly to act as a lens hood.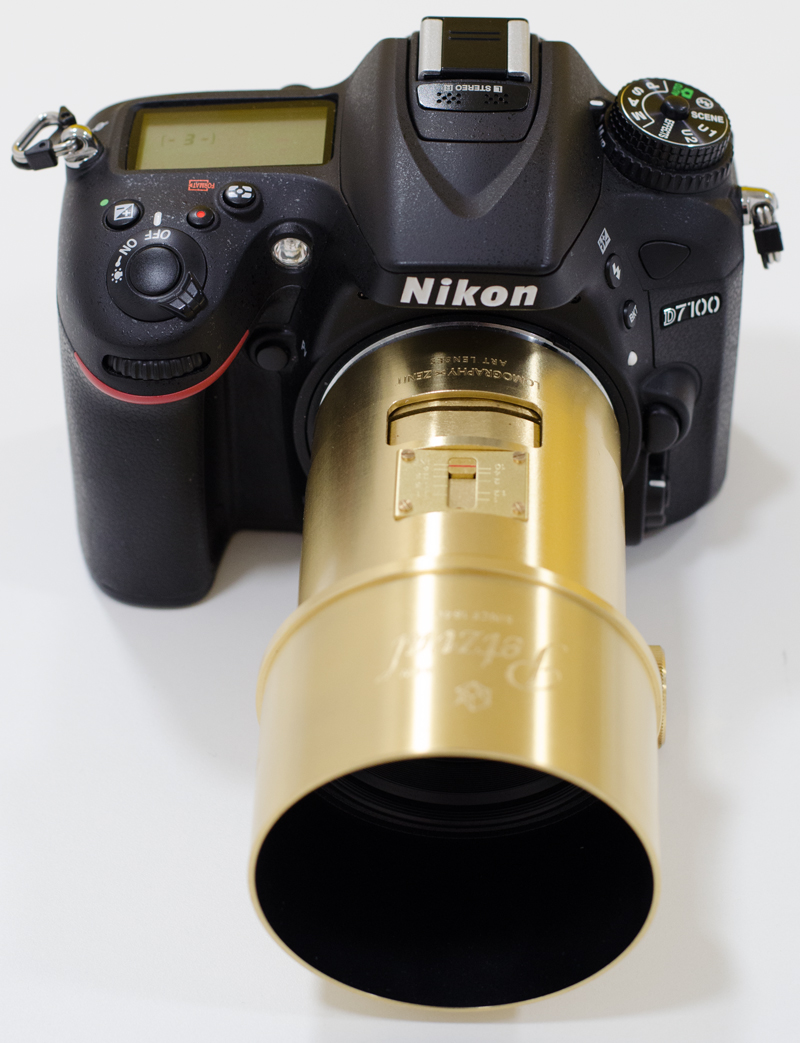 The focusing knob on the underside of the barrel is large and easily turned, and in just the right position for it to be easily reached by the left hand when the camera is held conventionally. Furthermore, as it only moves through a quarter of a revolution between its minimum and maximum focusing distances, focusing itself it quick and simple. Some would, perhaps, prefer for this knob to turn further for the benefit of more precise focusing.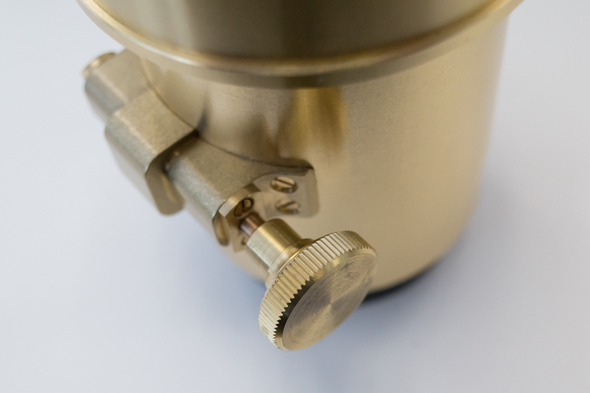 The Petzval's focusing wheel is large and sturdy.
One small issue is that the markings on each aperture stop are very faint and not particularly easy to read in sub-optimal conditions, although as there are only six of them, it's likely that users will be able to recognise which is which from the aperture itself after extended use.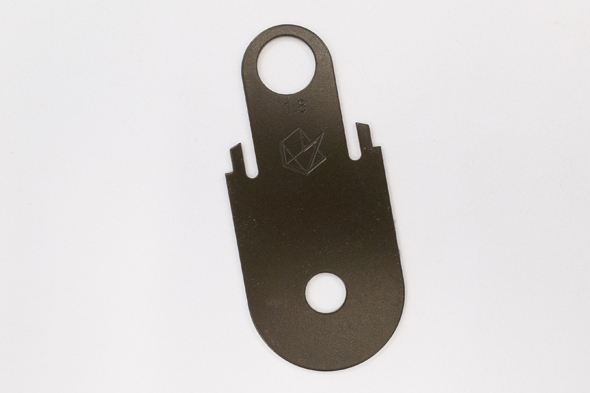 The apertures engraved on each stop can be hard to make out.
Performance
As is the case when using any manual-focus lens, the first thing to check is that the diopter on your viewfinder is set correctly, otherwise you won't know for sure that an image is in focus. Of course, instead of a viewfinder you may be using an LCD screen for composition, perhaps in conjunction with focus peaking if your camera has it, but as the Petzval lens is only currently available in Canon EF and Nikon F fits, it's likely users of this lens will be composing images through the viewfinder.
Although the lens is supplied with aperture stops from f/2.2-f/16, the former stop is not really required as the lens is already at an f/2.2 aperture in its stop-less state. The aperture stops drop easily enough into the slot on the barrel, although the overhang on some DSLRs slightly obstructs this slot, which makes slotting in and removing the stops a little awkward (although the lens's optical construction no doubt dictates where this point needs to be).
As the outer barrel does not rotate there's no reason to worry about these falling out while you're shooting but, on a couple of occasions during this test, the stops did fall out as the camera was being carried. Lomography's solution to this is to bend the two small protrusions at each side of the lens with a pair of pliers for a more secure fit. This is perhaps more of an issue for those who tend to carry their camera around in their hand, or with a hand strap, but those who keep their camera around their neck might also find this to be an issue as the camera moves around.
Image Quality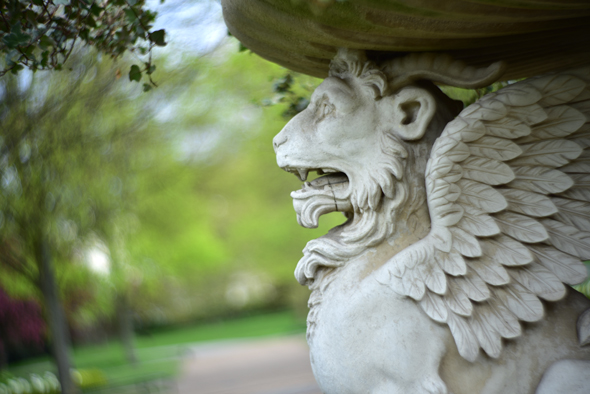 Lomography states that the Petzval works best with busy, high-contrast backgrounds that are some distance away from the subject, such as trees, foliage and water. This gives the lens plenty of details to blur and swirl, leading to a more pronounced effect. Should your scene not contain these, you'll likely end up with results that look very similar to a more conventional wide-aperture lens, such as the image below.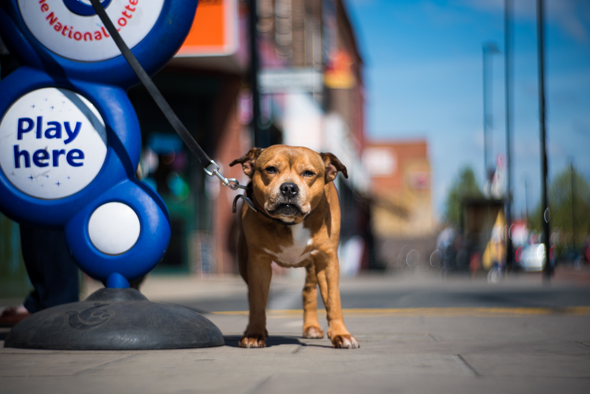 Vignetting is pronounced at wide apertures and tends to remain visible until you use apertures of around f/5.6 or smaller, although its visibility will depend partly on your scene. Clean, blue skies, for example, will show the gradation more easily than busier scenes. This is by no means a criticism; indeed, it is something Lomography openly states as a characteristic to be embraced, as many who use the lens to capture portraits no doubt will. Chromatic abberation, however, is pleasingly absent.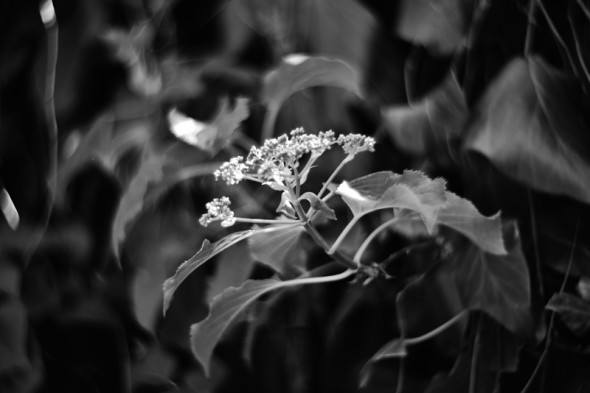 Spherical aberration is visible in images captured at wider apertures, which means images can be very soft at their focused point, so you'll need to use one of the smaller aperture discs if sharpness of focused areas is a priority. It is, however, only noticeable when images are zoomed in to their full size. At standard web viewing sizes this is not an issue.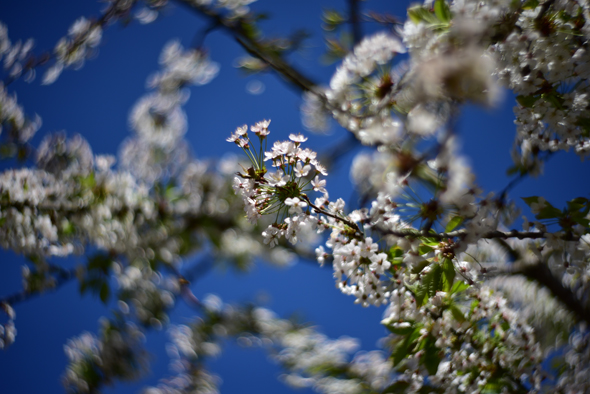 I found the effects created by the lens to be suitable as a starting point for the kind of post-production you would use if you wanted to replicate the effects of film-based Lomography images. For example, even greater vignetting, vibrant colours and cross-processed tones. Here is one before-and-after example: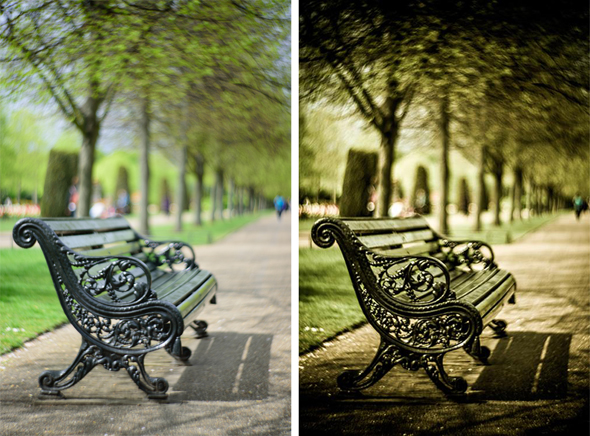 Conclusion
I enjoyed my time with the Petzval lens during this test and by the end of it I didn't particularly want it give it back. Its design and solid build make an immediate first impression and, in lieu of any serious shortcomings, it's just the slight awkwardness of the aperture discs that make using it less than ideal. This is outweighed by the fun you have using it, and once you start seeing what can be achieved it spurs you on to be creative. I often found myself approaching a subject differently to how I otherwise would, or choosing a less conventional subject to focus on – and a product that encourages this is exactly the kind of thing I want in my kit bag.
Pros
Unique effect
Excellent construction
Cons
Overhang on some DSLRs can make aperture-disc insertion and removal awkward
Closer focusing distance would allow for a more pronounced effect
Carry case for aperture discs would be welcome
Lomography Petzval Lens: Key Specifications
Focal length: 85mm
Maximum aperture: f/2.2 (f/2.2, f/4, f/5.6, f/8, f/11 and f/16 aperture discs provided)
Fittings: Canon EF and Nikon F fittings
Focusing distance: 1m-infinity
Filter thread: 58mm
Weight: 680g
Related articles