The Lowepro Pro Runner 450 AW II is a seriously deep bag for the photographer with no shortage of gear to carry, but is it any good in the field? We put it to the test in our full review.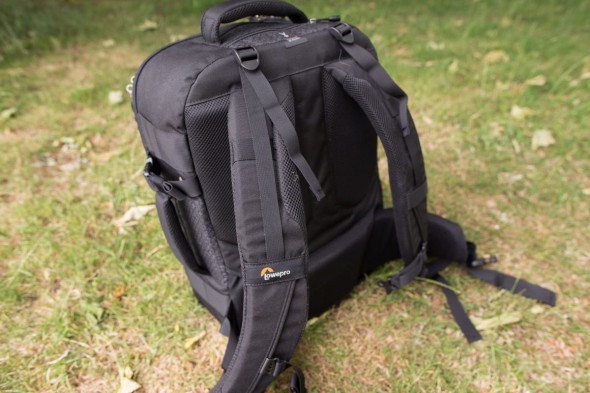 Being a travel photographer, I have to carry my equipment with me to some of the most remote places on Earth. That's why, for me, making the right choice of bag is essential.
I've used many dedicated camera packs during my photography assignments, and at first rummage the Lowepro Pro Runner 450 AW II seems to satisfy most of my requirements. On my initial examination, it appears that Lowepro has thought of everything a photographer on the move needs.
Ease of Camera Access
The number one factor for a camera backpack is ease of access. It can mean the difference between getting that shot and missing it.
In the past I used a normal day pack to carry my camera gear. However, as it wasn't a dedicated camera backpack the bag didn't offer enough protection for my DSLR, and so taking a shot became laboured.
Imagine having to take off your backpack, unzip the main compartment, rummage through the compartments to fish out the camera case, unzip the case to take out the camera, and then – finally – compose. By the time you'd taken the shot the sun would have already set on what would have been that dreamy shot you'd been visualising since three in the morning!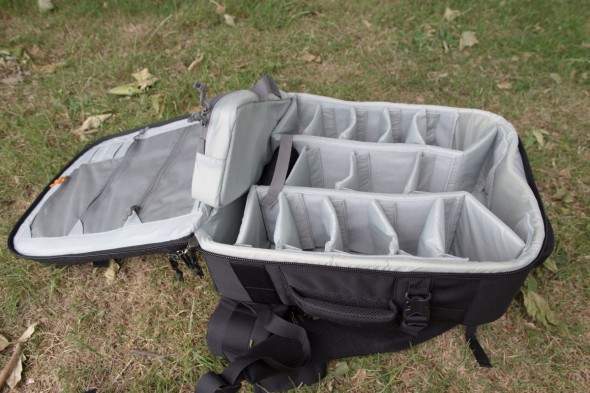 The Pro Runner 450 AW II has several compartments. The camera compartment flips open from the front, which means you'll have to take off the backpack first and lay it on a surface in order to take your shooter out safely.
These compartments are highly customisable, to the point that if you so desired, you could even keep your telephoto lens on the camera body and still be able to pack it away securely. This would be a great time-saver if you're frequently switching lenses.
Given that you have to take off the backpack to access the camera, which could potentially involve unbuckling the sternum and hip buckles, I would say ease of access is only adequate. There are other backpacks with side-access doors, which I prefer, because you don't even have to take off the backpack to reach your camera.
Capacity
My ideal camera bag would not just be able to carry my camera and accessories but also have the space for travel essentials like a guidebook, toiletries, travel documents, hydration pack and a rain jacket. And of course a roll of toilet paper!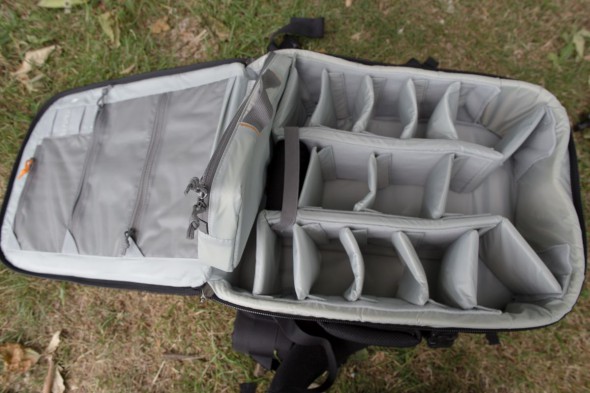 Lowepro has designed a bag that can carry everything in a photographer's arsenal, and when I say everything, I mean everything! The main compartment has room not only for a pro DSLR but also a second and maybe even a third DLSR body, as well as several lenses and flashguns. There's a removal pouch for portable hard disk drives and cables, and the interior slimline pockets have the capacity to hold smaller devices such as light meters and filters. The pockets are transparent so you can locate your equipment at first glance.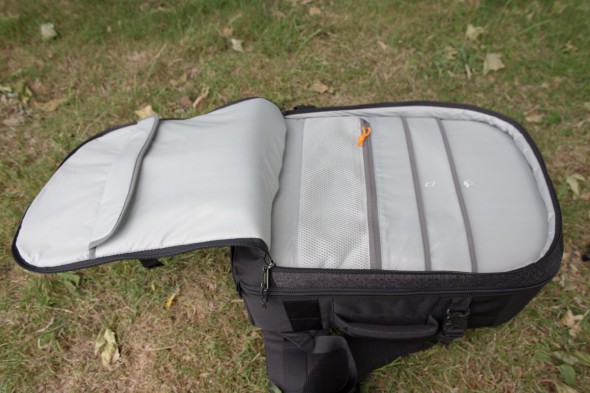 We're not finished yet – there's another compartment, specifically designed to hold slim devices such as laptops, tablet devices and graphics tablets. There's no trade-off though – you can actually pack all three! Finally, there's an exterior strap to securely fit a tripod, and two quick-access slash pockets at the front. No room for the kitchen sink though, it seems…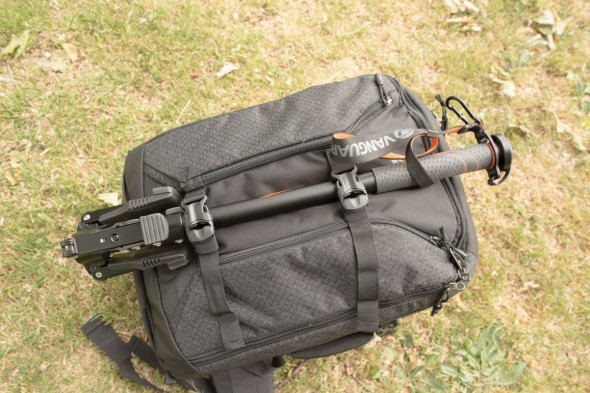 Although there isn't a dedicated space for travel essentials, it is possible to reconfigure the compartments to fit them in (though this would not work with a hydration pack).
Comfort
When you have to carry a backpack on a multi-day trek, and you're walking 8 hours a day, you need it to fit well. Any compromise in this regard can result in severe pain in the back or shoulders. I've been on a trek where I've had to rely on a steady dose of painkillers as a result of a poorly fitting backpack.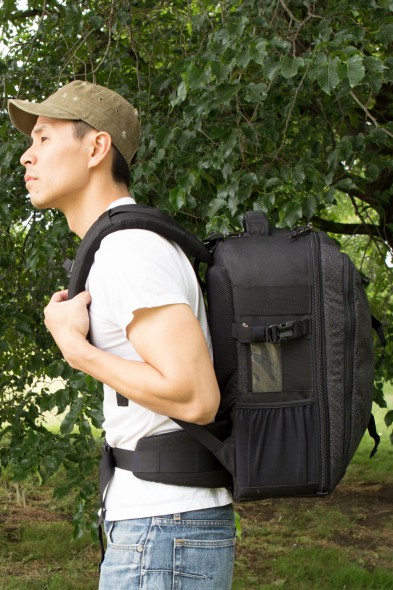 When I put on the Pro Runner 450 AW II for the first time, I felt as though I had just voluntarily strapped a spine splint to my back. There was enough padding between the load and my back, but it just felt overly restrictive to my torso movements. I could easily imagine this becoming tortuous with the bag loaded to full capacity.
Lowepro has added a removable padded waist belt and a sternum strap to help take the load off your hips and chest respectively, both of which are welcome features.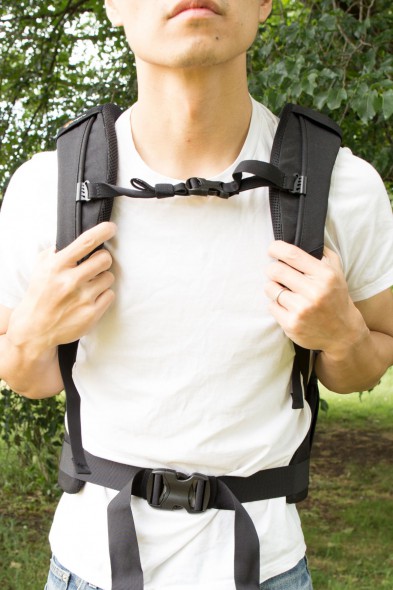 Security
A camera backpack will be carried through airports, bustling markets and aboard packed public transport, so it will be often susceptible to inquisitive hands.
For this reason, I applaud the Pro Runner 450 AW II's lockable zips. It's worth noting, however, that the contents of the front slash pockets would be easy pickings for even the most bungling pickpocket. These can be protected somewhat by using the included rain cover, which is tucked away in a discreet compartment at the bottom of the bag.
One of the most outstanding features about the Pro Runner 450 AW II is its durability. It does provide no small measure of peace of mind to think that if the bag were dropped, or even thrown, the gear inside would be protected. The compartments are solidly constructed and seem to withstand large amounts of pressure and impact.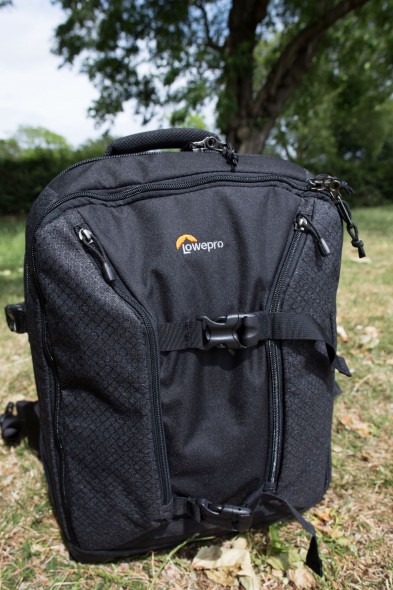 Size
I prefer camera backpacks that are lightweight, slim and compact but don't compromise on capacity. Is this asking too much?
Lowepro certainly did some homework when it came to deciding on the size of the Pro Runner 450 AW II. It is just smaller than the current size for flight cabin carry-on bags allowed by many airlines. This means if you can fit all your gear into this bag, you won't have to check in any of your equipment and risk damage or loss.
That being said, the size of the Pro Runner 450 AW II makes it simply too cumbersome for a multi-day travel bag. When I walk with it on, I feel like a bit of a hazard to other pedestrians. In my opinion it is just slightly too deep.
Conclusion
It is plain to see that Lowepro has designed the Pro Runner 450 AW II not as a travel bag but a convenient and comprehensive camera equipment bag for one-day studio shoots, or perhaps for wedding shoots in which gear has to be shifted to several locations.
The bag is well constructed and would certainly give you peace of mind that your gear would be well protected in most circumstances. However, if you are looking for a camera bag to take hiking or on holiday with you, I would look elsewhere.
Pros
Considerable carrying capacity
Well-sized for air travel
Secure, lockable zips
Tough and durable construction
Cons
Cumbersome, awkward to carry
Uncomfortable to wear for long periods
Front slash pockets vulnerable
Related articles