Is Aurora HDR Pro the all-in-one solution HDR photographers have been looking for? Jimmy Cheng digs deeper to find out…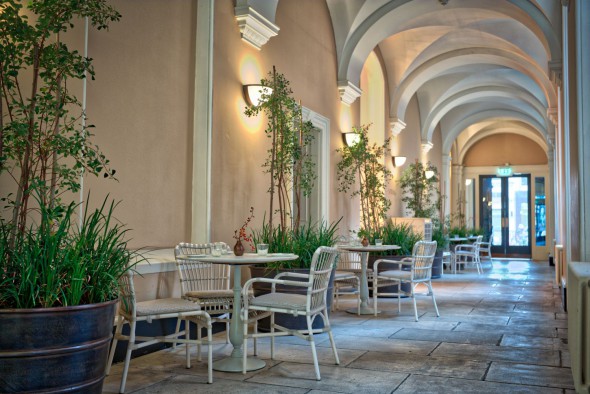 So, here it is. Aurora HDR Pro is a brand new HDR application by MacPhun, one of the leading image processing application developers on the market. Let's take a quick look at this brand new software, which is supposed to help any avid HDR photographers get the best from their images to produce stunning professional results.
Before we start, it's worth noting that there are many ways to create HDR photos. There's Adobe's HDR blending mode in Photoshop and Elements, and some third-party HDR apps like Nik Software's HDR Efex Pro. But Adobe's solution is rather primitive, and requires the user to put in a lot of work before the Raw file becomes something presentable. Nik, meanwhile, is perhaps a little too simple, a solution that can only really satisfy hobbyists. Potentially filling a niche, therefore, is Aurora HDR Pro.
For the purpose of this user review, I will not drill down to every single function in this program, but instead give an overview on its feature set, speed and the quality of results.
What is HDR photography?
Well, it's what the full name suggests: High Dynamic Range photography. It all started because of the limitations of dynamic range in early digital photography. Older sensors were not as sensitive as today's offerings, usually recording about 10 stops of lights if not fewer. It meant that the photos produced would not look very natural or pleasing to the eye, with blown highlights and totally blacked out shadows. The solution was to stack three or more of the same photo at different exposures on top of each other, in the hope of filling in the gaps left by lost data.
The result was promising, and with a little bit of work, the images looked super real. Those who liked things a little extreme were also able to push the images further to make them very surreal and artistic. This sort of HDR photography continues to be popular today, even with sensors able to record 12-13 stops of light.
Many simple smartphone apps now offer HDR-look images by exaggerating the details in highlights and shadows of a single image, giving it that surreal look without any extra data actually being recorded. For a proper HDR photographer, the minimum is three images at different exposures, and sometimes more.
So, to Aurora HDR Pro.
User Interface
MacPhun has done well when it comes to its user interface. Aurora HDR Pro scores very highly for when it comes to presentation of features. If you are a proficient photographer and are very capable of processing Raw photos in Lightroom or equivalent software, you will feel right at home. All the control panels are located at the usual spots and all the functions are self-explanatory, with easy sliders that control the strengths of the effects.
You probably won't need to read the manual to get started.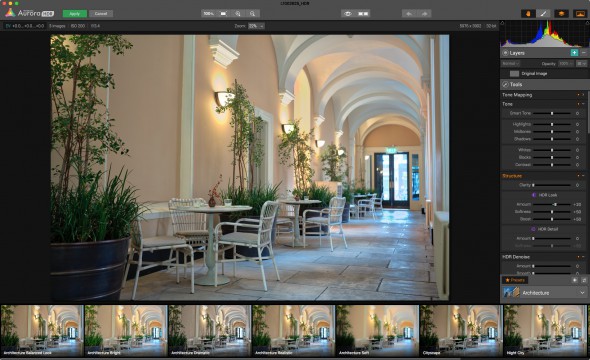 A screenshot of the Aurora interface
Just as a comparison, I've brought in my usual HDR program from Nik Software's HDR Efex Pro. In a similar setting, the layout almost looks identical, with the exception of the preset (preview) pane being on the left side rather than at the bottom as it is in Aurora HDR Pro.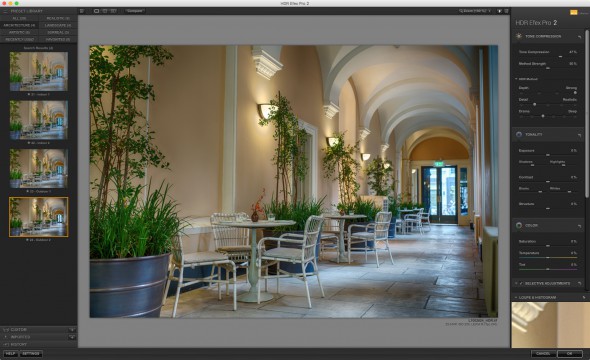 For comparison, a screenshot of the interface from Nik Software's HDR Efex Pro
Features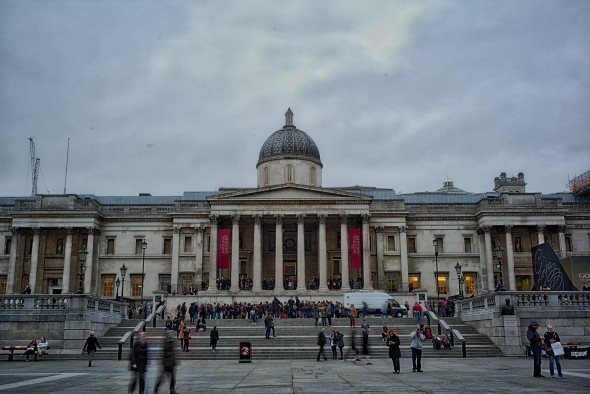 There are absolutely tons of things you can adjust, and the depth of it is actually quite stunning. The level of adjustments, as with Tonality Pro, is very comprehensive and is almost a replica of Adobe Lightroom. As opposed to my comments about Tonality Pro in my review, in the case of Aurora this extended feature list can be a major advantage to serious HDR photographers. However it can also easily scare off some beginners.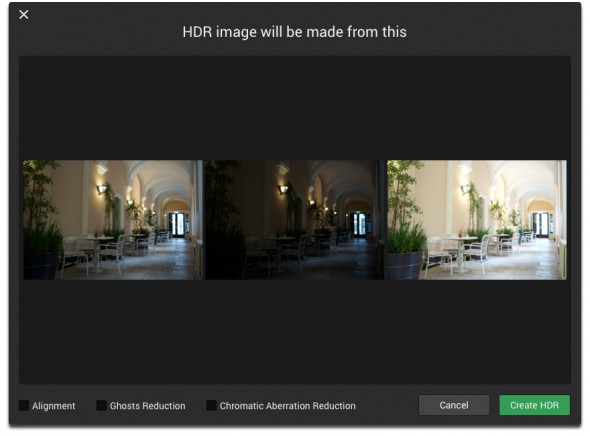 The simple, stripped down import screen
What's best about MacPhun's software is the ability to adjust an image in multiple different ways, and then being able to employ a combination of these methods in layers and make more precise adjustments with brushes. This means that you can adjust certain areas of an image and then stack the effects to create something rather unique. However, this is probably reserved for advanced and experimental users. Yet, if you have time to explore this feature, the outcome can be a welcome surprise!
But for hobbyists, there are a bunch of useful presets ready to go, and all you need is to click the desired effect.
Aurora can operate as a plugin for Adobe Photoshop, Elements and Lightroom but it can also function as a standalone application. A welcome feature is its ability to read Raw images, something that many other HDR programs lack. There are plenty of people who want to skip Lightroom and just use the image files directly for HDR photography, and Aurora allows you to do just that.
However, despite the long list of features, the image importing screen is rather simple. There are only three auto functions: align, reduce ghost and chromatic aberration. There's no option to select which 'frame' you want to be your primary, like many other HDR programs, which for me has resulted in some under- or over-exposed images after importing.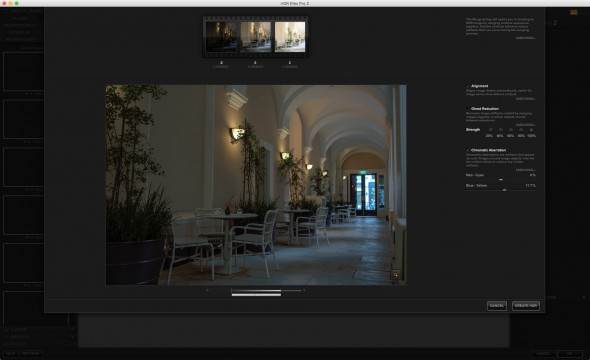 Nik's import screen offers greater depth and scope
By contrast, the generally simpler Nik HDR Efex Pro offers a much more comprehensive importing screen. I wish Aurora would offer this level of control during import too, since selecting the primary frame is rather important for the overall exposure of the combined image.
Speed
Aurora HDR Pro is fairly responsive, and importing three 24MP Raw images took around 10 seconds or so, with auto align and auto chromatic aberration reduction turned on. There are some delays in rendering after each adjustment, though perhaps I am just being picky as I always like a real time adjustment. It's also worth saying that this could be down to the specification of my computer rather than the software itself.
Exporting an image is fast enough and if you are using Raw files, you can export them in various popular formats and have a choice of colour space.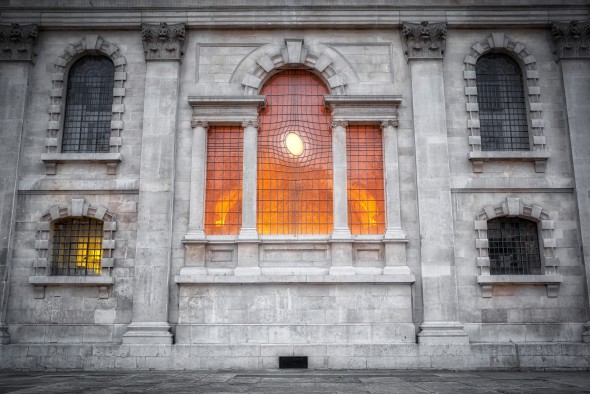 Quality
Here's the crunch. As with any photographic software, quality to me is top priority. As a professional photographer, I rely on 'end' quality produced by the software. We want end-to-end results – from the light entering the lens, then hitting the sensor, the data being recorded to memory card, and then the Raw translation by the image processing engine, and finally to the output, it's very important that everything matches up nicely.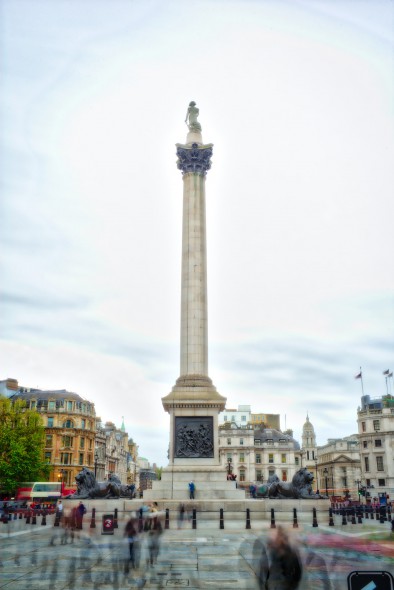 That said, in quality terms Aurora is… generally okay.
It may have the most extensive list of features, and the potential to be a true professional HDR photography tool, but somehow the whole software is just not quite there yet. When you inspect closely you'll see some artefacts if you push some of the adjustments to extreme levels. It does look as though the combined image may not be rendering perfectly, during import in particular. As a comparison, Nik's HDR Efex Pro does not have any issue with pushing things to limits, other than making the image look crazy.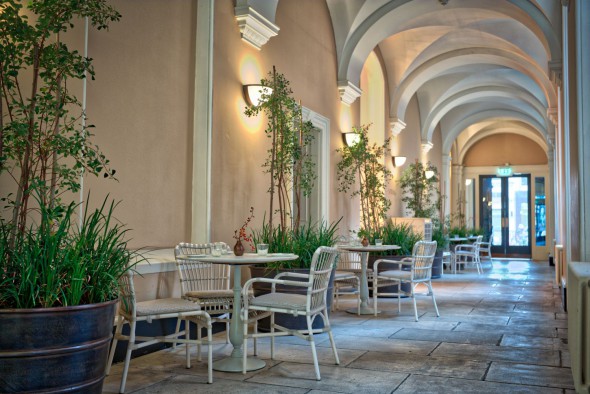 A dramatic reinterpretation of the top scene using Nik's HDR Efex Pro, wth no loss in quality
However, given that this is MacPhun's first attempt in HDR and currently on version 1.0, I have little doubt that this glitch will be fixed by future updates.
Conclusion
Aurora HDR Pro is interesting software, and definitely a brave attempt by MacPhun. It has huge potential and the design concept is definitely on the right track. Its extensive feature set also marks it out from competition, especially for those serious about HDR photography.
However, it seems that the current early version is not quite polished in the quality department, and those who rely on selling prints or digital images may need to be patient and wait for an update or two.
Pros:
Price
RAW capability
Super extensive feature list
Nice sets of presets
Easy import
Super precise adjustment tools, layers and brushes
Cons:
Lack of primary frame or 'ideal' exposure adjustment during import
Buggy image import resulting non recoverable artefacts combined image
Small delays in image rendering
Super extensive feature list for novice
About the Author
Jimmy Cheng is a devoted Leica M photographer who specialises in wedding and street photography, as well as dabbling in the odd bit of travel. Catch up with him at his website.
Related articles