Pentax adds a new APS-C flagship to its K-series lineup, the Pentax KP. Matt Higgs offers his first impressions of this new release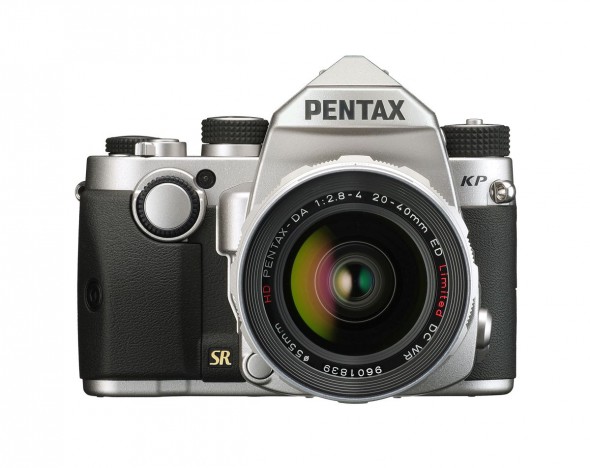 At a glance:
24.3MP APS-C-size CMOS sensor
Prime IV processor
ISO range of 100-819,200
27-point SAFOX 11 AF system
7fps burst shooting speed
Full HD video recording at 30fps
Mechanical and electronic shutters
5-axis image stabilisation system
Optical Pentaprism Viewfinder
3-inch 921k-dot tilt-screen display
67-point weather sealing
Dustproof and freezeproof
Interchangeable grip system
In-built Wi-Fi
Pentax has unveiled a new flagship APS-C model aimed at advanced-enthusiasts, the Pentax KP, sitting beneath the full-frame flagship Pentax K-1 and above the mid-level K-3 II.
This device occupies a similar section of the DSLR market to Canon's 80D and Nikon's D7200, and boasts a durable weather-resistant build, 5-axis image stabilisation and a unique grip-replacement system. We take our first-look at it…
Sensor, processor and shutter
The KP is built around a new-generation 24.3MP CMOS sensor, the same APS-C size as that found in the K-3 II, but carrying a fractionally smaller resolution. It eschews an anti-aliasing (AA) filter in order to capture the optimum level of detail possible, though moiré patterning can still be dealt with by using Pentax's AA filter simulator. This simulator utilises microscopic sensor vibrations at a sub-pixel level to achieve a similar effect to that of a physical filter, but can be turned off for increased detail clarity when not required.
The sensor is paired with a PRIME IV imaging engine taken from the K-1, a combination that provides a native ISO range going from a minimum of 100 to a simply massive maximum of 819,200. Though we've not yet been able to assess the quality of these high ISO settings, if the KP's files are usable towards the top end of that ISO range, it could be a game-changer for shooting in low light. Files can be recorded as 14-Bit DNGs or JPEGs, and captured at a reasonable burst rate of 7fps.
A mechanical shutter mechanism provides the KP with a top shooting speed of 1/6000sec, while an electronic shutter mode offers a super-high shutter speed of 1/24000sec with noise and vibration both reduced.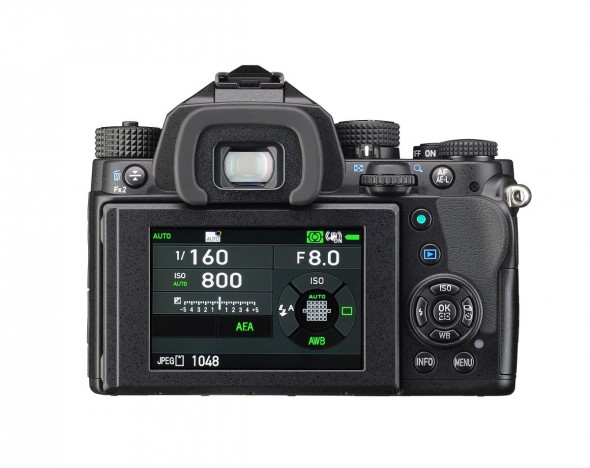 Stabilisation and Pixel Shift Resolution systems
A moving sensor provides other benefits alongside anti-aliasing simulation – a 5-axis image stabilisation system and increased resolution shooting mode are both present on the KP. Compensating for up to five stops of vibration for blur-free images (half a stop more than K-3 II) the SR II system reduces camera shake caused by pitch, yaw, roll, horizontal and vertical shifts. This allows users to achieve sharper shots when using telephoto lenses or shooting handheld in low light, something that could help to make a dramatic difference to image quality.
By capturing four photos of a scene shifted by a pixel each time, and then composting these into a single file, the KP's Pixel Shift Resolution System enables the creation of images higher in resolution and more accurate in colour than those produced by a fixed sensor. While this Pixel Shift system does require the camera to be mounted on a tripod for the best results, this mode does have an option for the motion correction of subjects.
Autofocus
The KP has the same SAFOX 11 phase-matching autofocus sensor that was used in the K-3 II, albeit with a new and improved algorithm that Pentax assures us means better accuracy and speed than on previous models. This system features 27 focus points, the central 25 of which are accurate cross-type points, and operates down to -3EV, promising reliable performance even when there is limited light.
Video
Recording at the same frame rates as the K-1 and K-3 II, the KP can shoot Full HD video at 60i or 30p in the H-264 recording format, for durations of up to 25mins. The camera has inbuilt stereo microphones for audio recording, but also sports an input port for an external microphone in case superior audio quality is needed. The KP also has a 4K Interval Movie mode, making it possible to capture and connect a series of images in a single 4K movie file.
Viewfinder & rear display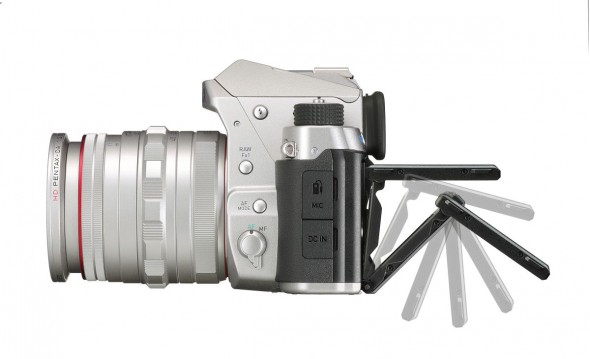 A glass pentaprism viewfinder provides the KP with an almost 100% angle of view; it features a dioptre for optical correction and a magnification of 0.95x. This is very similar to the viewfinder that was found in the K-3 II. To aid composition and for navigation of the camera's menus, this viewfinder is paired with a 3-inch 921K-dot LCD monitor with a tilt mechanism. This display has an Outdoor View Setting mode, which instantly sets the optimum brightness level for given lighting conditions, and a red-lighted display function for use during night-time photography.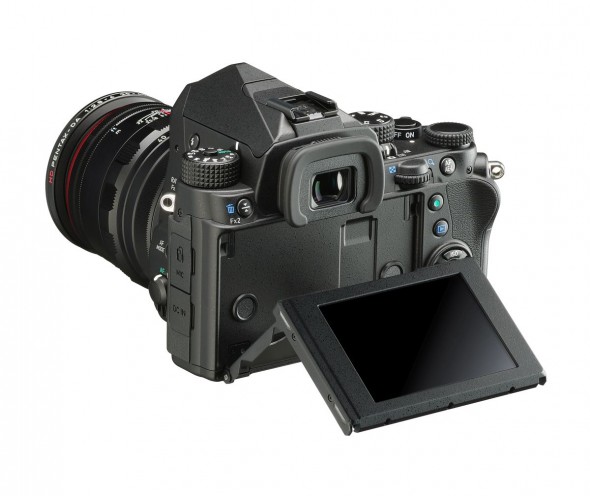 Build and handling
Pentax's robust approach to the manufacturing of its cameras has often been one of its most popular selling points, and the KP with its durable and lightweight magnesium alloy construction, won't disappoint. Smaller than both the K-1 and K-3 II at 132 x 101 x 76mm (W x H x D), its compact body has an entirely new design and weighs in at only 703g (including battery and memory card).
Available in both black and silver, the camera features a grip replacement system that allows users to quickly change from the standard S grip to one of two larger replacement options (Grip M and L) that come shipped with it. This enables photographers to alter the KP's ergonomics to suit their personal preference or the currently attached lens. All three grips come in the box with the camera.
Touting 67 seals across its body, the camera is weather-resistant, dustproof and freezeproof to -10°C. Whatever the elements you find yourself battling out on location, this level of sealing means that the KP should handle it all with ease.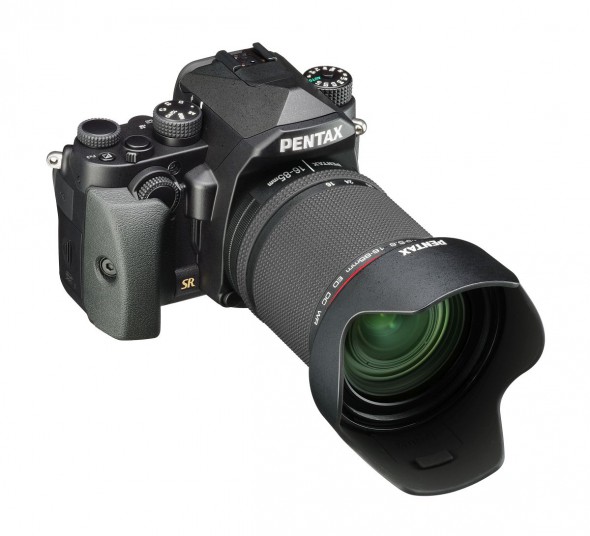 Other features
The KP has inbuilt Wi-Fi for image transfer and remote control from a smart device, a welcome gain on the K-3 II which only offered similar functions via the use of a Pentax FLU card.
However, this camera has no inbuilt GPS as found in its lower level brother, meaning that an O-GPS1 GPS Unit sold separately is required by users looking to add location information to their files at the time of shooting or to take advantage of Pentax's ASTROTRACER function.
A pop-up flash with a guide number of 6 (ISO100/m) can be found on the top of the camera, while battery life of the device is 420 shots from fully charged.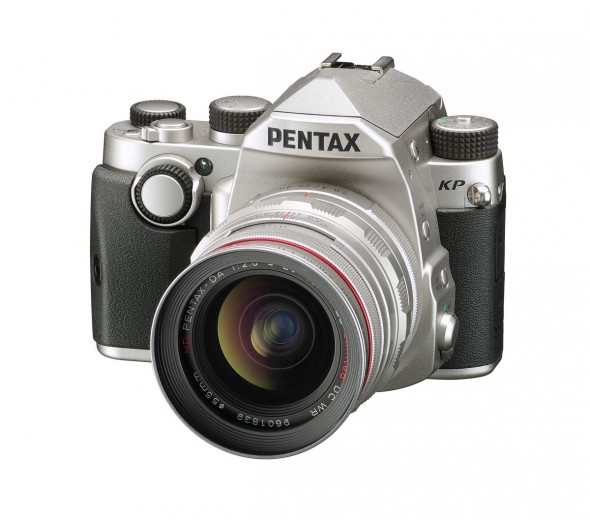 Verdict
If the KP's sensor performs as Pentax has promised, this camera will offer notable improvements in terms of both image quality and usable ISO range over the K-3 II, alongside the addition of Wi-Fi and a boosted AF system.
Granted, GPS has been removed and both sensor and rear display resolutions have taken a minor knock, but these are features that many users will be happy to sacrifice for the gains that have been made in the process. Event and wedding photographers in particular are likely to appreciate the improved performance of the KP in low light.
Throw in the ability to customise the physical handling of this device alongside customisation of its controls, and it may just be a perfect fit for many enthusiast photographers.
Click here to pre-order the Pentax KP
Related articles