The Rift Labs KICK brings the standard LED panel into the connected world with wireless app-based control. Vincent Oliver sees what else it offers the videographer.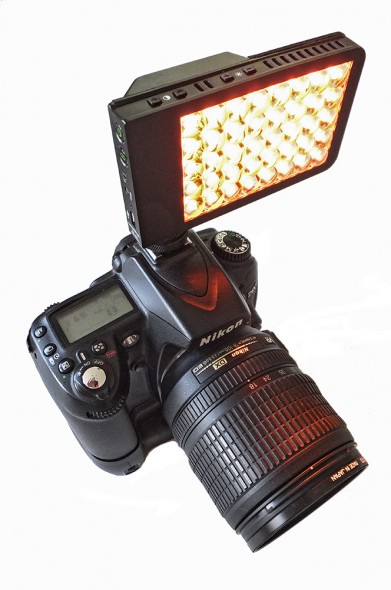 The most important element for any photographer is light; without it you can't capture an image. Many cameras include a pop-up flash which can be convenient as a fill-in light, or even as a main light source, for a quick-grab shot at a party or other event, but these often result in an unflattering harsh light. The alternative is to use flash units with diffusers or, if shooting video, bulky continuous light sources.
Rift Labs may have the perfect solution with the KICK, a pocket-sized, portable LED light which is suitable for use with DSLRs, CSCs, compact cameras, smartphones and camcorders. The KICK light can be used as a standalone, handheld device or on a tripod, while the unit's easy-to-use manual controls enable you to adjust brightness and colour temperature. Furthermore, through a separate smartphone app, it's possible to sample colours from images stored in your device and set these as the unit's output, or alternatively to use the device's camera to sample colours in a scene for the same purpose.
Features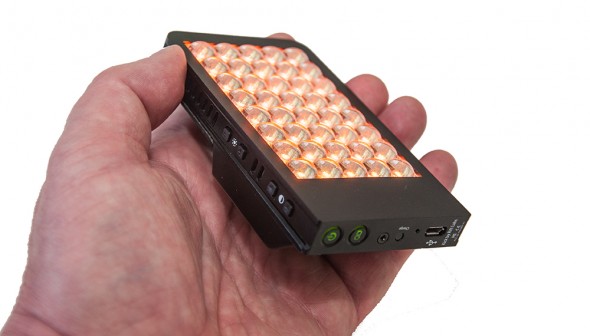 The KICK light is a pocket-sized unit measuring 110 x 61.5 x 25.6mm and weighing just 150g. The light uses a built-in rechargeable Li-Ion battery charged via a USB connection, with a USB lead included in the box.
The controls on the Kick light are fairly simple. There's an On/Off button and a Wi-Fi connection button located on the side, while directly below these is a mini-USB port which is used to charge the unit. An orange light indicates that the unit is charging and this turns to green when it is fully charged.
On the top side are two brightness control buttons. Pressing one activates the LEDs, with subsequent button pressing increasing light intensity and a press of the other button lowering it. The last two buttons control the colour temperature from warm to cool.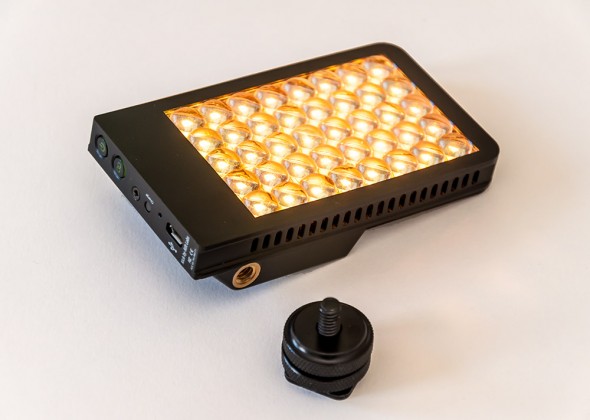 The onboard controls are simple and are sufficient to get you productive in a quick-shot scenario. A 1/4in tripod socket located on the base of the unit enables the KICK light to be mounted on a tripod, although a more useful option would have been to include a hot shoe-to-tripod mount. Having said that, a small hot shoe-to-tripod adapter can be inexpensively purchased from most online camera shops.
The real power with the unit comes from the KICK Light app which is available for both iOS and Android mobile devices. The KICK light has a dock at the rear which enables an iPhone 4, 4S or 5 to be mounted on the back. A soft foam protective inlay sheet is included to prevent scratching your device, although due to variation in Android phone sizes these can't be docked to the light.
The app gives full control for the many advanced features available with the light. These include fully adjustable colour from 2,500 to 10,000 Kelvin or selection of white balance using icons such as candle, tungsten, fluorescent, sunlight and shade. RGB sliders are also available for more precise colour values although the light colour can also be set by sampling a colour from photos stored on the mobile device or by using the mobile device's built in camera and pointing it at a colour in the scene.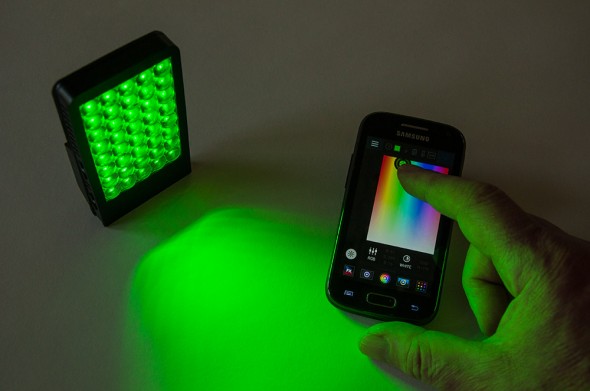 There's also a brightness slider for controlling light intensity, with a numeric percentage value displayed on the left; this is useful for repeat shots or if using multiple KICK lights. Multiple KICKs can also be connected and linked together via Wi-Fi to create more complex lighting arrangements.
Special adjustable effects (FX) such as Strobe, Rainbow, Lightning, Sine and Explosion are also available for adding visual impact to video capture. Each effect has its own set of adjustments such as delay, speed, colour rotation and duration, all of which can be set from the app.
Performance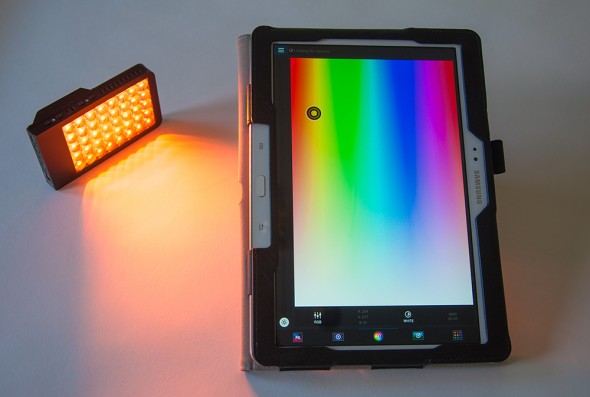 If you're using a mobile device with the KICK, you simply launch the app and then press the Wi-Fi connect button on the Kick light; a connection will be made and you can control all the KICK light's features from either the Android or iOS device (phone or tablet). This happens promptly; using a Samsung Galaxy smartphone and tablet, a connection was established after a few seconds.
KICK light colours can now be set via the colour picker screen by dragging the large cursor over a colour. You can use the app to choose from a library of built-in effects, or sample video effects from an existing video stored on your device. To do this, you simply open a video from within the app and move the cursor over the light effect you want to sample. This will stream that effect to your KICK, with all sampled light effects automatically stored in the app's Effects library.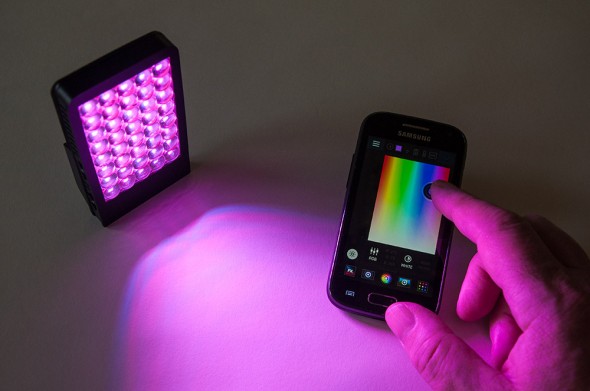 The app is responsive although the Android app is prone to losing the Wi-Fi connection, an issue Riff Labs will no doubt address in due course. The iOS app is far more stable and we didn't encounter any connection problems with iPhone, iPad or iTouch devices. It should be said that the KICK is perfectly usable without the app, although it is more limiting.
The light at full power is very bright (400 Lumen). It may be difficult for a person to look directly at it if using it on top of a camera for a video interview, although Riff Labs will be making a soft diffuser available in the near future which should make it more subject friendly. In the meantime, you can soften the light with something like a white handkerchief. The light spread itself is impressive and even, and there aren't any noticeable hotspots or light fall-off in the corners when using a Nikon 18-105mm DX lens on a cropped-sensor body.
Verdict
For the photographer who also shoots video, the Rift Labs KICK is a useful and versatile light accessory. For greater versatility you can use multiple KICK lights to illuminate an object or scene from a variety of angles, and several lights can be simultaneously controlled via Wi-Fi and the app. As mentioned earlier, a hotshoe-to-tripod adapter would have been a useful item to include with the kit, although once you've got one you shouldn't find any significant issues.
Pros
Powerful light with large coverage area
Adjustable colour Kelvin temperature
Connects with Apple iPhone, iPad and Android equipment via Wi-Fi
Adjustable brightness
Compact size
Free app
Cons
Light can be too bright for portraiture
Android app is unstable
Needs hot shoe-to-tripod adapter to mount on DSLR or camcorder
Basic controls on unit (more advanced options available with app)
Fixed internal battery
Rift Labs Kick Full Colour LED Light
1/4in-20 mounting thread
White light continuously adjustable from 2,500-10,000K
Full colour light continuously adjustable (via iOS or Android app)
Animated special effects light (via iOS or Android app)
Link Multiple KICKs via Wi-Fi
400 lumen output at 5400 Kelvin (40W equivalent Light)
Wide beam angle
Li-ion polymer rechargeable and replaceable battery
Dimensions: 110 x 61.5 x 25.6mm
Weight: 150g
Related articles