Jon Devo gets to grips with Sigma's new MC-21 lens adapter, testing a range of Sigma and Canon EF-mount lenses on the Panasonic LUMIX S1
The announcement of SIGMA's MC-21 mount converter is an exciting development that's arrived just after the release of Panasonic's L-mount full-frame mirrorless duo, the LUMIX S1 and S1R. Not only does it instantly bolster the number of L-mount compatible lenses available, but as SIGMA is part of Leica's L-Mount Alliance (alongside Panasonic), we're expecting a top-notch user experience to boot.
The converter is designed to accommodate both SIGMA's SA and Canon-EF lenses – that's an additional 29 SIGMA-manufactured lenses in total. In regards to compatibility, SIGMA is claiming: "High precision AF photography in AF-S mode". AF-C mode is not compatible, but perhaps that's something a firmware update can remedy in the future.
Speaking of firmware, lens data is rather cleverly pre-loaded and that applies to future releases, removing the need to manual update a new lens before using it. When the time does come to update a lens, however, the MC-21 will let you know via a handy built-in LED. That same LED will also signify whether a lens is compatible or not, before you start shooting.
Other features of note include the presence of a tripod socket, flocking to help prevent internal reflections and the ability to retain EXIF data. As it stands, the following SIGMA lenses are compatible with the MC-21 mount converter…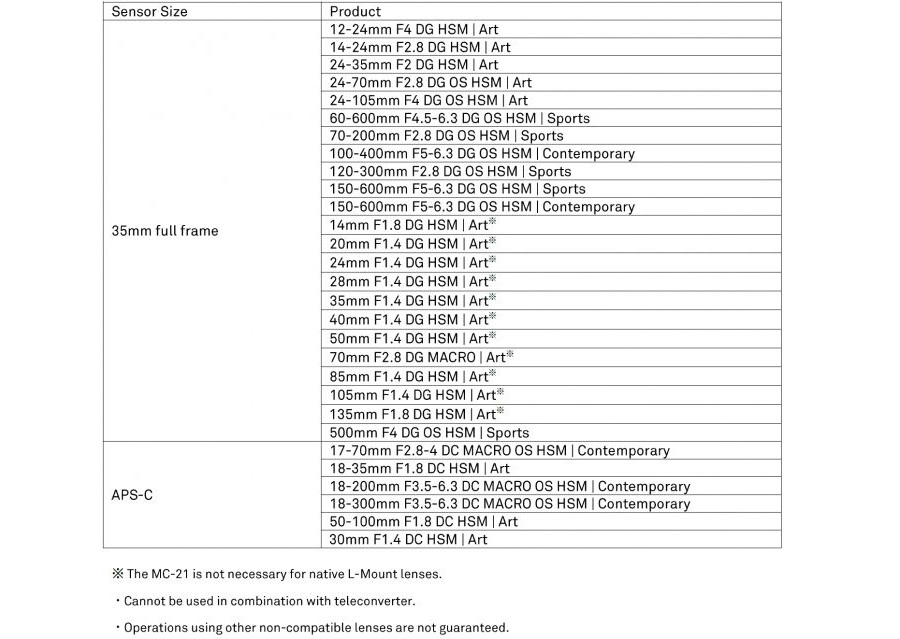 For more great content, visit our YouTube channel, Facebook, Twitter and of course, the Wex Blog.
Related articles