With Sony often at the forefront of camera technology, Amy Davies looks at the Sony Alpha A6000 to see whether it offers the photographer anything new.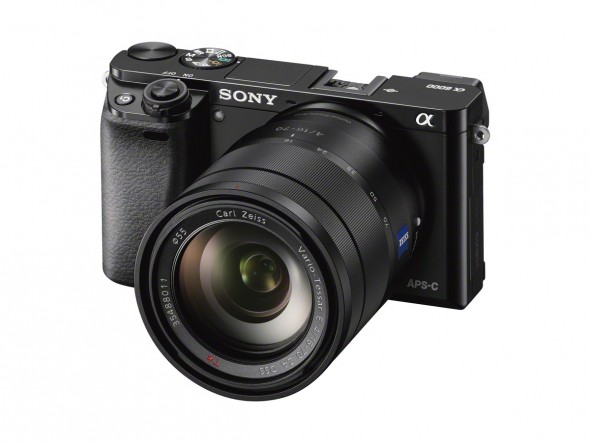 It's been some years since Sony launched its first Compact System Camera in the form of the NEX-5. Since then, the company has dropped the NEX brand, housing all of its interchangeable-lens cameras under its Alpha brand. That means that some of its cameras accept A mount lenses, while others, like theA6000, accept E mount ones.
The A6000 sits at the top of Sony's APS-C format CSCs and features a 24.3MP CMOS sensor. In terms of styling, it's fairly similar to the full-frame A7 range introduced at the end of 2013. Sony has now discontinued the NEX-7 and the NEX-6, expecting those who would have previously bought the NEX-7 to head for the A7 range, while NEX-6 users are catered for by the introduction of the A6000.
Key Features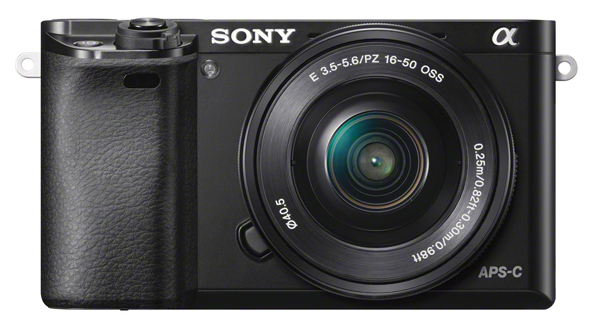 Along with that sensor, the A6000 features Sony's latest-generation BIONZ X processor, which comes with the promise of faster processing and autofocusing speeds, as well as enabling a top sensitivity speed of ISO 25,600 (equivalent).
At the time of launch, Sony claimed that the A6000 had the world's fastest autofocus – just 0.06 seconds – among cameras with an APS-C sized sensor, when used with the Sony E PZ 16-50mm F3.5-5.6 OSS lens. The sensor has 179 phase-detection autofocus points, with a further 25 contrast-detection points on board to create a hybrid autofocusing system.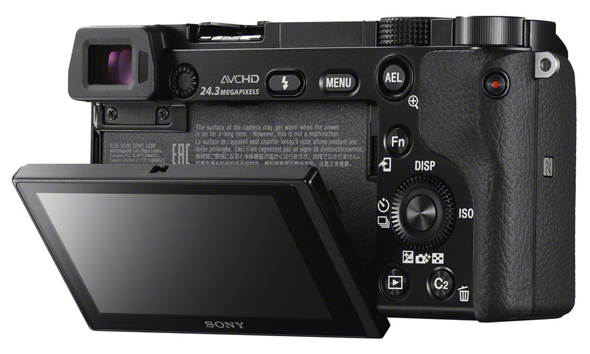 The three-inch, 921,600-dot screen on the back of the A6000 isn't touch sensitive, but it does tilt. This makes it useful when composing an image from an awkward angle. The A6000 also inherits the 0.39-inch, 1.4 million dot OLED TruFinder of the Sony RX10, the company's premium bridge camera.
Wi-Fi is also included on the camera, as is Near Field Communication (NFC) technology. This means that the camera can be remotely controlled using a smartphone or tablet and you can also transfer images and videos across for quick sharing on social networks. Like several other Sony cameras, the A6000 can be customised by downloading apps from the Sony PlayMemories store, some of which are free.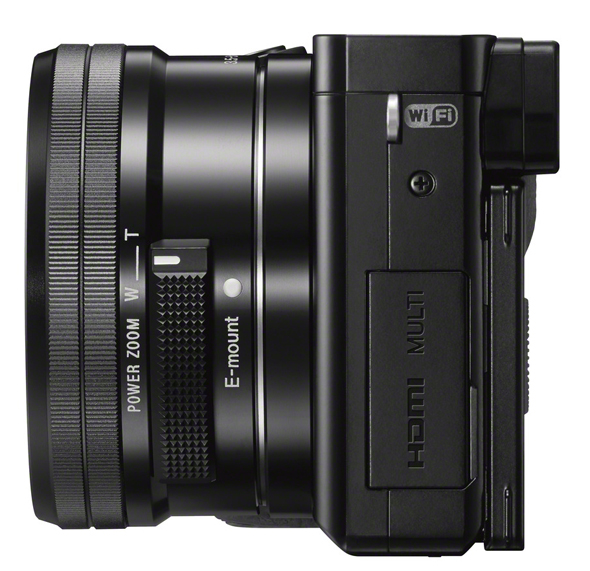 Sony quotes battery life for the A6000 at around 310 shots when using the viewfinder and 360 when using the read display. This doesn't compare particularly favourably with some DSLRs, so it will be interesting to see how well the A6000 copes when being used for long periods of time.
Burst shooting at 11fps is also available, which should make it great for capturing action shots. Different AF features, including Eye AF and Lock-on AF, should also make it very capable when it comes to photographing moving subjects. For those budding movie makers out there, the Sony A6000 comes equipped with Full HD video recording, which is available at either 60p or 24p.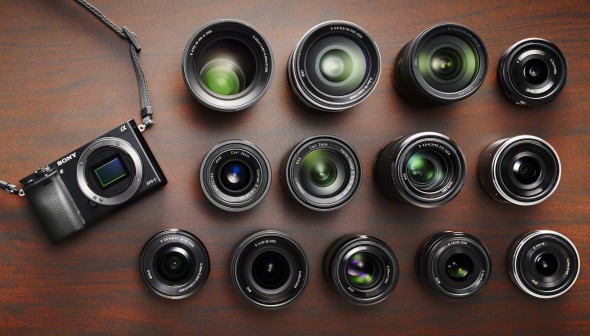 As standard, the Sony A6000 comes supplied with a Sony E PZ 16-50mm F3.5-5.6 OSS lens. As a Power Zoom lens, the zoom is controlled via a switch on the barrel and retracts for a sleeker overall package. The camera is also available body-only, with a wide range of E-mount optics now available – look out for those developed in collaboration with Zeiss for the highest quality.
Design and Handling
The look of the A6000 is somewhere between the NEX-6 and the Sony A7, and enthusiasts who enjoy using lots of dials and buttons will find plenty to appreciate here. There's a fairly chunky grip with a nicely textured coating to help the camera feel secure in the hand, which is especially useful when shooting one-handed. There's also a recess in the grip that allows the index finger to sit snugly.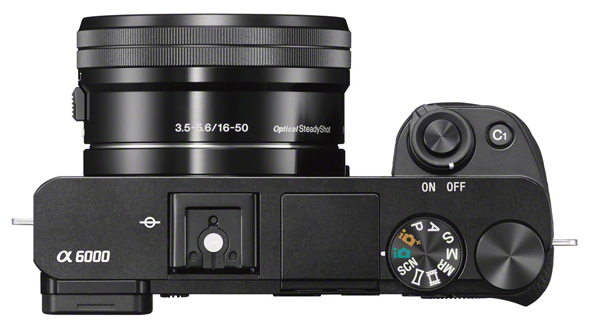 On the top of the camera you'll find two dials next to each other. One is used for altering the exposure mode of the camera; here, you'll find a full complement of automatic, semi-automatic and manual exposure modes, while scene and panoramic modes are also accessible. The second, smaller dial is conveniently placed for your thumb, and this controls different settings depending on the shooting mode you're using. For example, while in the Aperture-priority mode, you can use it to adjust the aperture.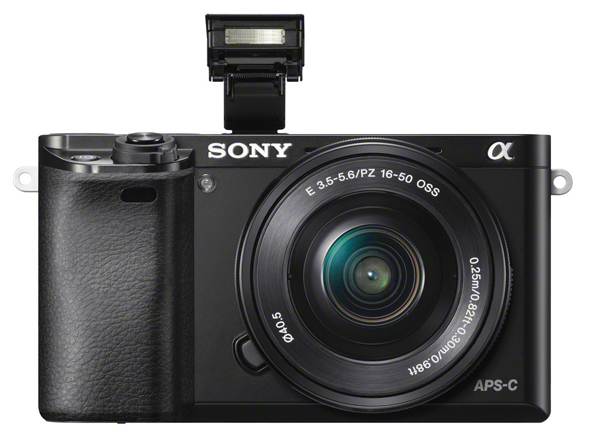 As with a lot of other Sony cameras, several of the buttons on the A6000 are customisable. This begins with the C1 button, which can be found on top of the camera near the shutter-release button. Also on the top plate of the camera you'll find the built-in flash, which is activated via a button on the rear, as well as a hotshoe for adding accessories such as an external flashgun or microphone.
Moving to the back of the camera, you'll find an array of controls that include a dial that doubles up as a four-way navigation pad, with each directional key acting in a different capacity. By default, the right key controls ISO (sensitivity) while the left button controls drive mode. The down button accesses exposure compensation and the up button alternates between different display options. All of these options, however, can be changed within the main menu if you find you want to work in a different way.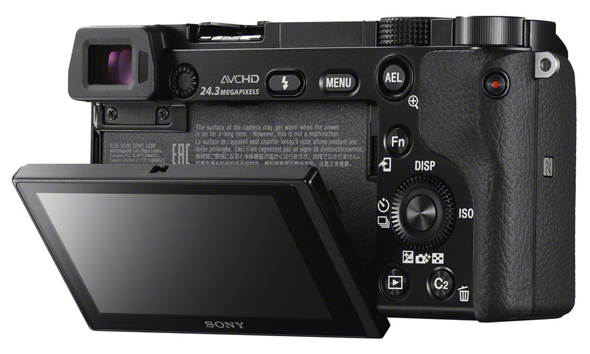 The dial is also used to control certain functions, such as aperture or shutter speed. If you're shooting in Manual mode, you'll need to use the dial on top of the camera to control aperture, while this rear dial alters shutter speed.
Pressing the function (Fn) button brings up a menu that offers access to the most commonly used settings. Again, a number of functions are assigned to this by default, but they can be completely customised within the main menu. So, for instance, if you find you're never using the Flash Mode option, you could swap this for something else you use more often.
There's also another C2 button on the back of the camera that can be assigned to any one of over 40 functions, again depending on which one you think you'll use most often.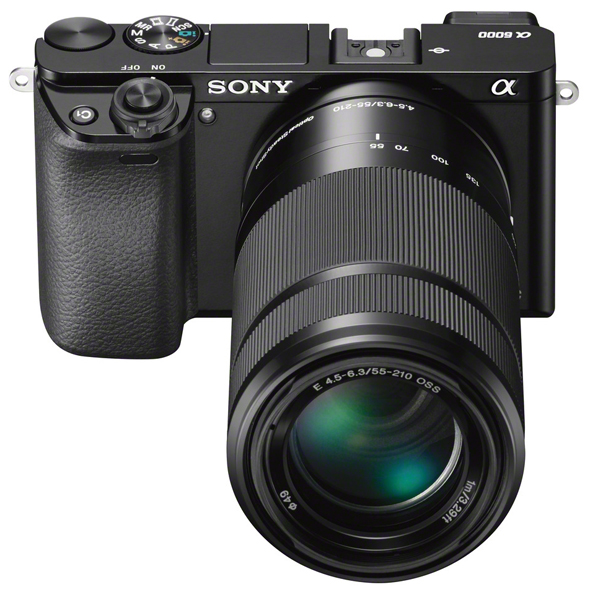 Sony seems a little reluctant to include touchscreen technology on its enthusiast and semi-pro cameras, seeming to believe that that kind of feature is more appreciated by beginners. It would have been useful here to have a touchscreen to help set the focus point but, as it is, it's not too much of a pain setting it via the buttons.
Once you have Focus Area set to the Flexible Spot mode, and assuming the centre button in the middle of the four-way navigational pad is set to its 'Standard' function, you simply use the directional keys to move to the AF point you wish to use. You may still find it quicker to leave the AF point in the middle of the screen and use a focus and recompose technique, depending on what it is you're shooting and your preferred way of working. Furthermore, if you want to set the centre button to access a different function, you may find it useful to set one of the other custom buttons to change the AF point.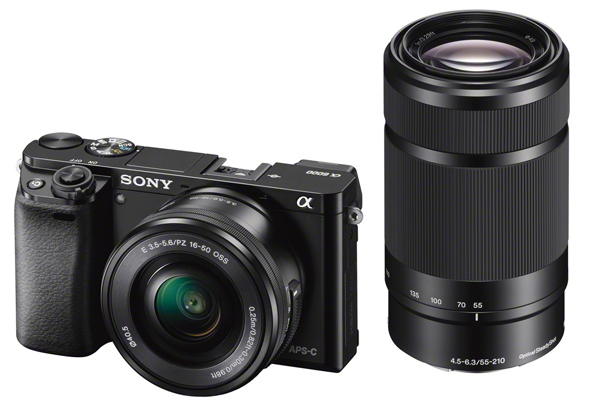 One of the biggest problems with previous NEX cameras was their difficult-to-navigate main menus, although since dropping that brand, Sony has simplified the menu systems to make them the same across its entire camera range. Now it's relatively sensibly arranged under different tabs, which include camera and playback settings.
Setting up the Wi-Fi functionality is quite easy. If you have an NFC-enabled device, all you need to do is tap the two together to form a connection – you should be presented with the opportunity to download the PlayMemories app if you don't already have it. Once that has been installed on your system, tapping the two devices together will automatically launch the app.
If you have a device without NFC, such as an iPhone or an iPad, you'll need to connect to the camera via Wi-Fi. The camera will display a password for you to enter to connect but after you've done it once, your device should remember it.
Once connected, you can use the app to remotely control the camera, or to transfer photos across from the camera for quick sharing to social networks. Sadly there's not much in the way of control from the app – all you can do is zoom the lens in and out, or turn on self-timer. It would have been nice to see more control here but it's nevertheless useful for group shots, self-portraits and so on.
You can also connect the camera directly to an existing Wi-Fi network which will allow you to download apps from the PlayMemories store.
Performance
Like the A7, A7R and A7s, the Sony A6000 has a BIONZ X processor. Among other things, Sony claims this enables the camera to shoot continuously at a rate of 11fps. While shooting Raw format and JPEG images together with a Class 10 SDHC memory card, the camera is able to shoot for approximately 2-3 seconds (around 22 images) before the buffer fills and you'll need to wait another few seconds for it to clear.
If you switch to JPEG-only shooting, you can expect it to take around six seconds (around 51 images) before the buffer reaches capacity. During the time it takes for the buffer to clear, full control of the camera isn't possible.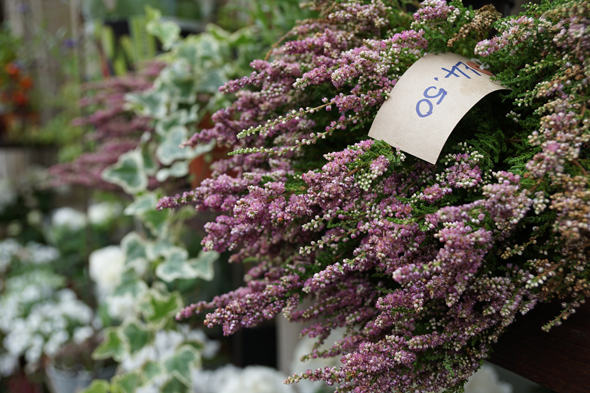 Sony claims that the A6000 camera has the world's fastest autofocus among similar mirrorless models with APS-C sized sensors. This puts it ahead of enthusiast-level DSLRs but cameras with a smaller sensor (Panasonic and Olympus Micro Four Thirds CSCs in particular) can still boast slightly quicker speeds.
Nonetheless, speeds here are incredibly fast, especially when the light is good. In low-light conditions, autofocus slows down a little, hunting slightly before locking onto the subject, but false-positive confirmation of focus is rare. General processing speeds are also good, with just a brief pause before you can take a photo once one has been shot.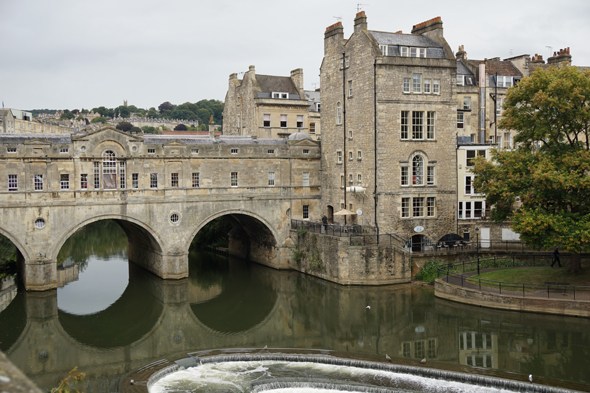 The 921,000-dot LCD screen is a good performer, not suffering too badly from glare or reflection in all but the brightest of sunlight. The fact that it tilts helps here as you can position it away from any bright lights. The electronic viewfinder is also excellent, with the automatic sensor on the eyepiece providing a seamless transition between using it and the screen. The image displayed within it is very clear and bright and doesn't suffer too badly from lag.
Battery life, while not comparing too favourably with some DSLRs such as the exceptionally long-lasting Nikon D3300, isn't too bad. If you're planning on taking the A6000 away where frequent charging isn't an option, it's worth investing in an additional battery as you may soon find you've worked your way through the quoted 300 or so shots.
Image Quality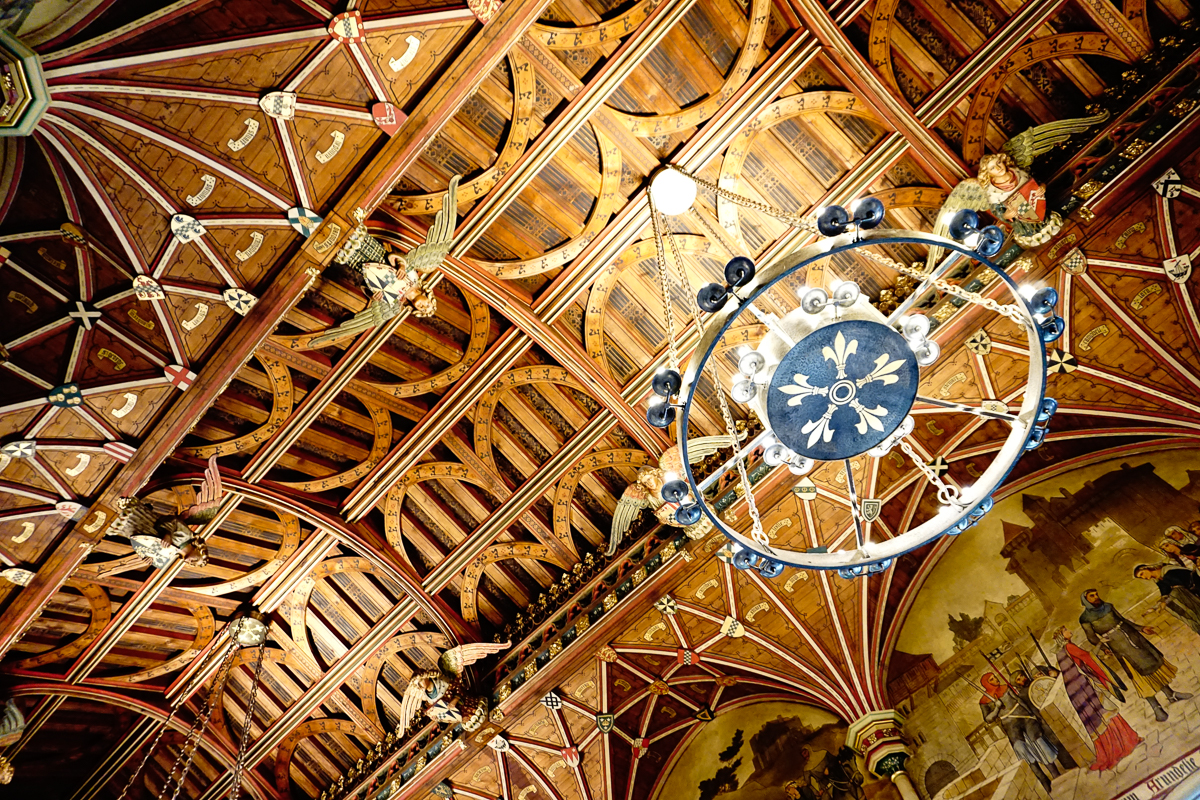 Sony has been producing consistently high-performing cameras for some time and the A6000 appears to continue this. Detail in images is rendered extremely well, especially at the very lowest sensitivities of ISO 100 and 200. From ISO 400 you'll start to see some examples of image smoothing when looking at an image at 100% on screen in some areas, although at standard printing and web sizes (A4 and below), the overall impression of detail is fantastic.
At higher sensitivities such as ISO 3200 and ISO 6400, the A6000 continues to impress. I would probably stick to ISO 3200 or below if I were printing fairly large images, but for web sharing or smaller print sizes, I'd be comfortable shooting at ISO 6400-12,800. The top sensitivity of ISO 25,600 is something I would only reserve if desperate; here you'll see extreme image smoothing, a high degree of noise and a general loss of detail. Shooting in Raw format gives you the scope to add your own noise reduction in processing software such as Adobe Photoshop.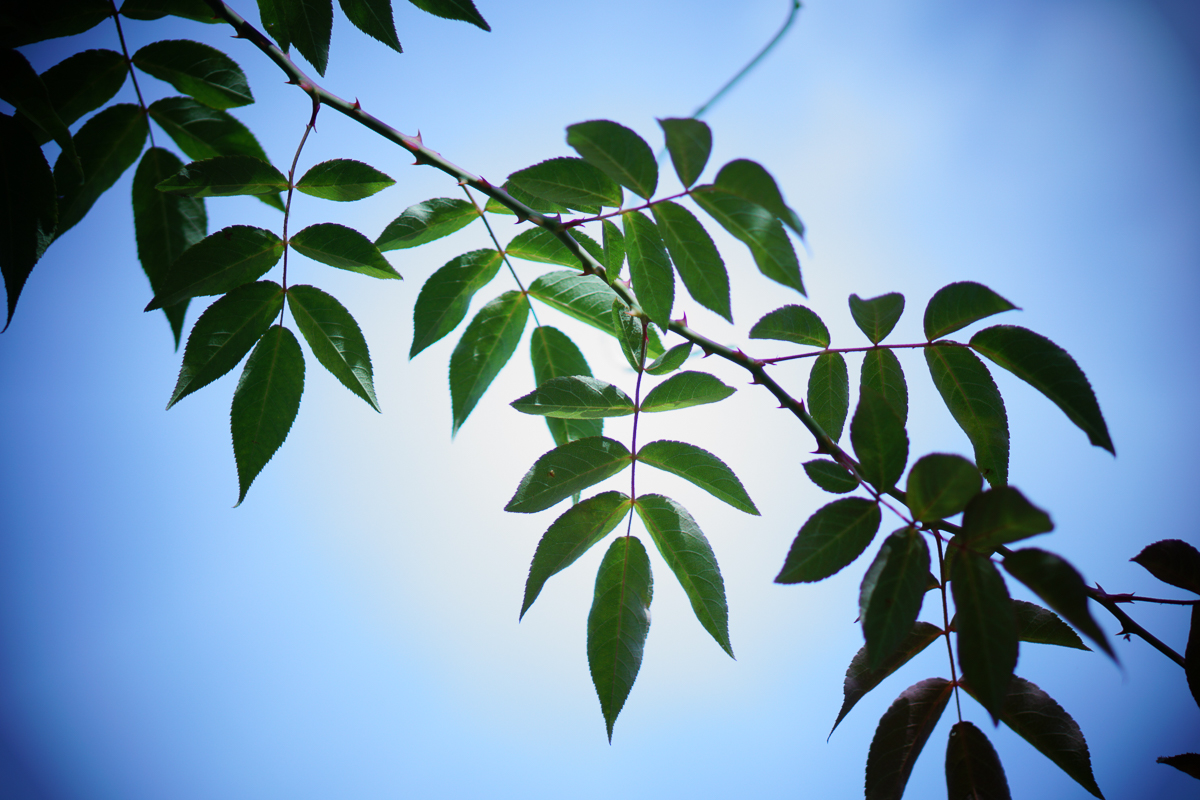 While the camera's metering system does a reasonably good job of producing accurate exposures, it is sometimes necessary to dial in some exposure compensation to get a more accurate balance, particularly in high-contrast conditions. It can also be beneficial to switch to spot metering in these circumstances.
Sometimes artificial lighting can confuse the camera's Auto White Balance system, causing it to err slightly towards warmer tones. In these scenarios it's helpful to switch to a more appropriate White Balance preset, or alternatively, to take a custom reading.
In general, colours directly from the camera are very pleasing, with vibrant tones. Occasionally, colours can be a little warm, but this has a pleasing effect. Still, if you're finding this to be an issue, switching the Creative Style to something like 'Neutral' can help to get a more accurate look.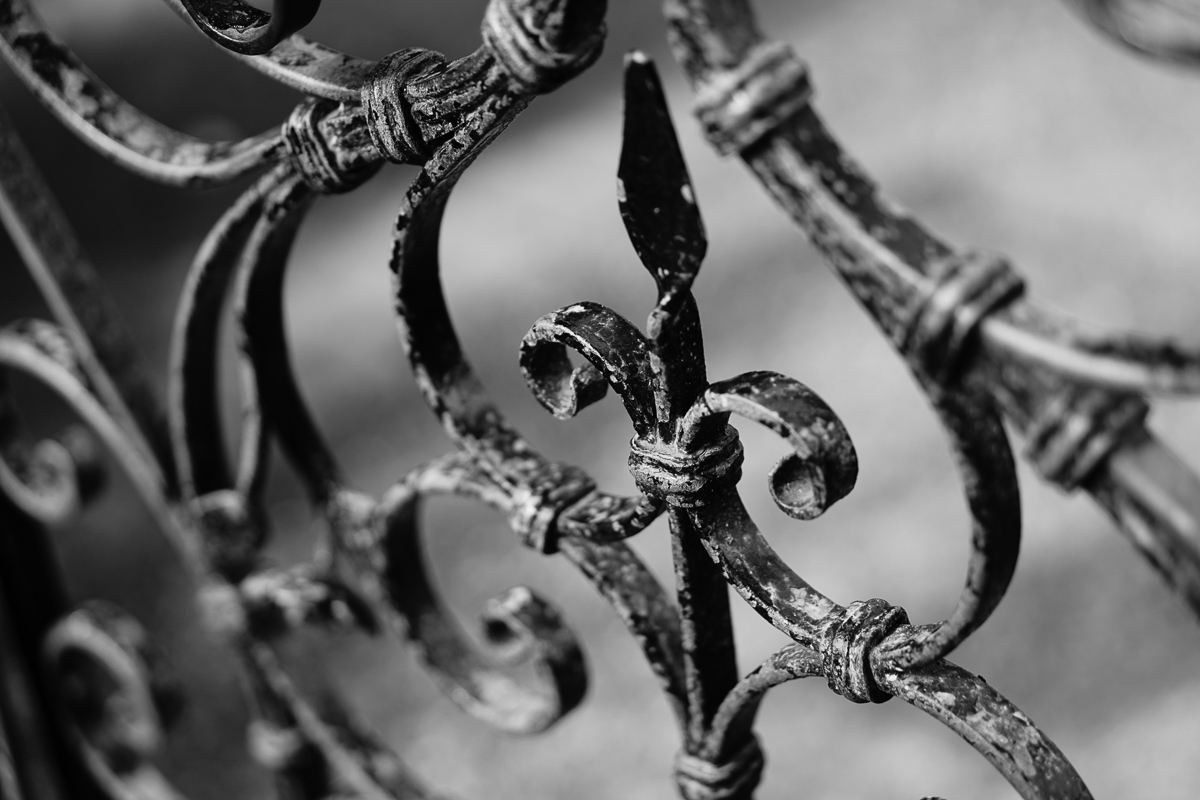 Speaking of Creative Styles, here you'll find a selection of different, customisable colour styles, such as Vivid or Monochrome. The good news is that you can shoot these in the Raw format, leaving you with the clean version of the image, should you wish to use that later down the line.
Those looking for something a little more creative can shoot with Picture Effects activated (these can't be shot in Raw format, though). You'll find effects such as Toy Camera, High Contrast Monochrome and Soft Focus among others.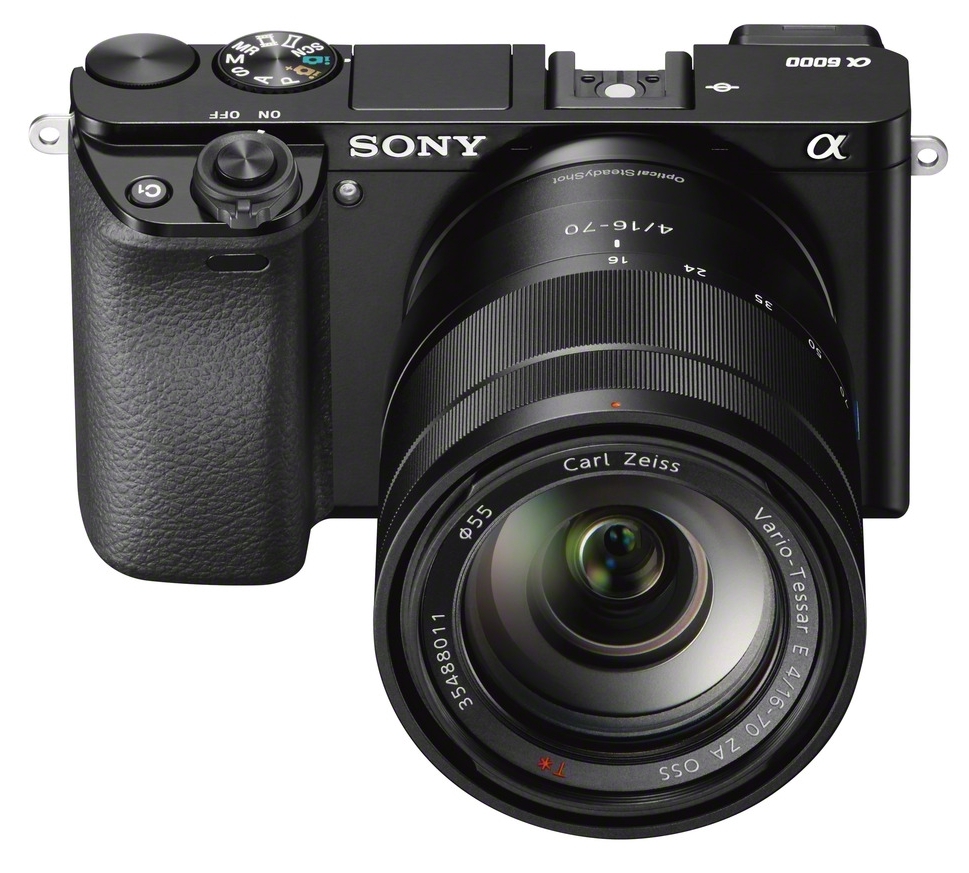 The supplied Sony E16-50mm f3.5-5.6 OSS lens is a good all-round performer and makes for a decent initial lens. If you can stretch to it, the Sony E16-70mm f4 ZA OSS is an even better purchase, producing very crisp images and giving you a little extra reach. Also recommended is the Sony E50mm f1.8 OSS lens, which is excellent for creating shallow depth of field type shots.
Verdict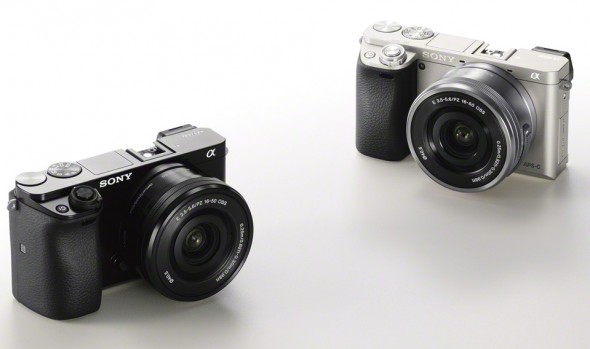 For those looking for something that produces excellent results but can't quite stretch to the high asking price of the full-frame Sony A7, the A6000 represents excellent value. The Sony E-mount system has come a long way in just a few short years and the A6000 is a culmination of some of Sony's best technologies; an excellent screen and viewfinder combination, high-performing sensor, integrated Wi-Fi and NFC and a range of creative functions. It's nice to see an easy-to-use menu system, while the option to customise different menus and buttons makes this a dream for enthusiasts who like to take control of how their camera operates.
Pros:
Tilting screen

Bright and clear viewfinder with automatic eye sensor

Inbuilt Wi-Fi/NFC

Good range of E mount lenses available

Lots of control/customisation available
Cons:
Screen is not touch sensitive

Screen not fully articulated (which would be more useful for shooting in portrait mode)

Not many options available when remote-controlling the camera from a smartphone or tablet
Key Specs
24.3MP APS-C (23.5 x 15.6mm) CMOS sensor

ISO 100-25,600 (Multi-Frame NR option available up to ISO 51,200-equivalent)

BIONZ X processor

Full 1080p HD video recording at 60p/50p, 60i/50i, or 24p/25p

179 phase detection AF points plus 25 contrast detection AF points

1200-zone evaluative metering sensor

Built-in pop-up flash with a guide number of 6m at ISO 100

0.39inch, 1,440,000-dot electronic viewfinder

3in, 921,600-dot tiltable LCD screen

Continuous shooting at 11fps

285g (body only), 344g (with battery and memory card)

120 x 66.9 x 45.1 mm
About the Author
Amy Davies is a technical journalist and photographer who has been reviewing cameras and other photographic equipment for the past five years. Her work has appeared in Digital Camera and N-Photo magazines as well as on Techradar. You can find out more about Amy and her work on her website.
Related articles