Travel photographer Shuo Huang, weighs up the pros and cons of using a monopod vs a tripod when out in the field. In this piece he compares the Manfrotto BeFree and the Vanguard VEO AM 264 TR.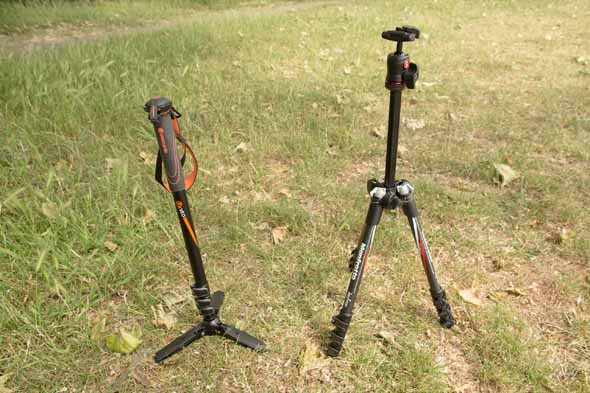 It's a no brainer that a tripod is an essential piece of kit for the landscape photographer for clear and crisp images not to mention astrophotography. Being a travel photographer, I have to carry my tripod with me everywhere I go. Sometimes the real burden on my shoulders is not actually getting the right shot but the weight of the tripod! It's not all about weight though. It's also about sturdiness and the ability to withstand the elements. And as a landscape photographer you will encounter the wrath of nature!
I'm deciding which camera support system to take with me to hike up a couple of volcanoes in the island of Java in Indonesia next week. So I will be testing and comparing the Vanguard VEO AM 264 TR Aluminium and Manfrotto BeFree Carbon Fibre thereby intentionally opening the monopod vs. tripod debate.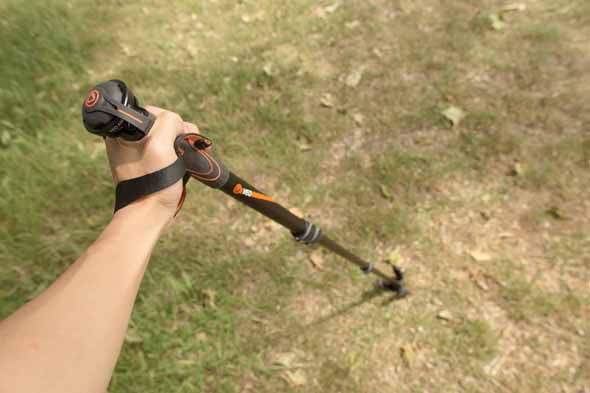 Weight
As I mentioned above the weight of a tripod is something I consider as a pivotal factor when I am weighing my options of a tripod (pun intended!). I once carried a tripod all the way up to the summit of Mount Kilimanjaro and by day two you bet I was glad it was made of carbon fibre! The Manfrotto BeFree only weighs 1,1 kg (2,4 lbs) thanks to its carbon fibre construction. It is one of the lightest tripods I have used. Although the Vanguard VEO AM 264 TR is made from aluminium as opposed to carbon fibre it only weights 900g so noticeably lighter than the BeFree. Vanguard has the edge over Manfrotto on this one.
Stability
I learnt the hard way about the importance of stability when choosing a support system. During a wait for the sunset on top of a temple in Bagan, I set up my tripod in order to take an obligatory selfie. I set the timer and darted into position, when a swift gust of wind caught me and the tripod by surprise. To my utter horror, I heard a dull thud as my DSLR toppled over crushing the lens as it hit the enduring temple brickwork. I held my breath fearing the worst (i.e. that I would have to shoot with a kit lens…!). Fortunately, I had accidentally left the polariser filter on the lens which took all the shock.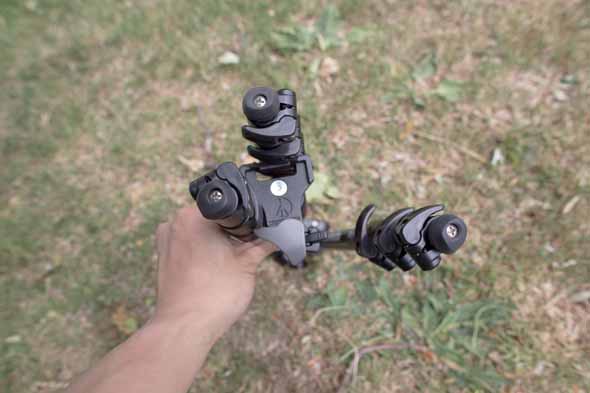 The only way I can describe the first moment I picked up the BeFree tripod is like when the Doc unveiled the Flux capacitor to Marty McFly! The BeFree looks and feels like a device which is way ahead of its time. Even when its fully extended the narrower sections feel stable and balanced with a pro DSLR mounted on top. However, on the massive downside Manfrotto neglected the weight-stabilising hook on the centre column, a feature I often use. The Vanguard's unconventional monopod has three foldable feet at the base with anti-slip rubber soles. This additional support would never make it a substitute for a tripod but that was never the intention of Vanguard. This is for tenacious fast-paced photographers who want to ensure clarity in their photos during the day. This one is not for selfies! The BeFree won by a mile but this wasn't a competition.
Speed of set-up
Setting up a support system for your camera can be a real annoyance to the extent that it can render photography a chore. An accessory to your camera should have the opposite effect and stoke creativity and provide you with a new perspective. With the Vanguard's monopod you can be ready to shoot in a matter of seconds. It's designed with a dual purpose as a walking pole so it's in hand already, although I wouldn't advise to use it as a walking pole for multi-day hikes as it's far too heavy. The monopod uses clip locks for a speedy extension and the three foldable feet snap out intuitively. However, you'll need to mount your own ball head in order to use a quick release system.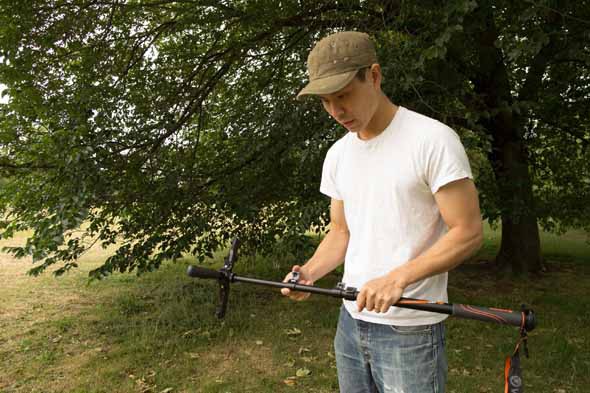 The BeFree comes with a ball head and a quick release adaptor included but as with all tripods it does take a couple of minutes to set up. The quick release system is intuitive and efficient. It insists on a pinching action in order to release the camera thereby preventing accidents.
The usual clip locks used by Manfrotto and the innovative leg selector toggles expedites the set up process. Despite a valiant attempt by Manfrotto, Vanguard's monopod is significantly quicker to set up.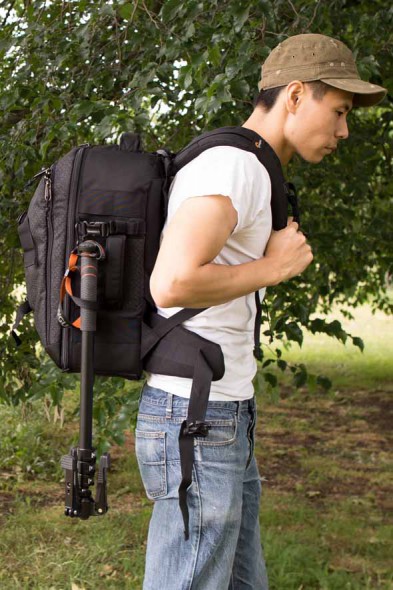 Packability
As a regular traveller, I have to be cautious in busy places as well as using by backpack as a carry on so I prefer to pack my tripod in my daypack. The BeFree has a folded length of just 40cm which means it will slot easily in a daypack or strapped to the exterior without being obtrusive. My favourite feature is the unique design of the ball head which allows the legs to nest around it. This was a particular grievance with my previous tripod. The monopods folded length is noticeably longer at 56.5cm. It could pack into a 35 litre backpack but it is discrete enough to strap to the side of your daypack. It even has a carabiner to hook onto a bag strap for extra security.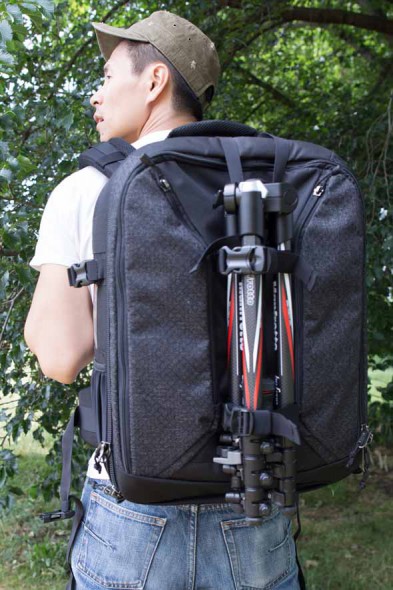 Conclusion
I'm taking the Manfrotto BeFree. It was an easy decision because of its versatility and the fact that it could slot neatly into my daypack. These two factors alone was worth the extra 200g load. I'll just take out the toilet roll!
Related articles