The Wacom Cintiq 27QHD is a high-res pen display, for people who want maximum control over their creations. Matt G explores its capabilities
The 27QHD is the largest creative pen display in Wacom's Cintiq range, and what makes the range so special is that you can edit directly onto your images, in contrast to the more standard graphics tablets such as the models as Wacom's Intuos range. This all happens on the 27in display, which not only boasts a high resolution of 2560 x 1440 pixels but also coverage to 97% of the AdobeRGB gamut.
If you've used any of Wacom's other Cintiq models, such as the 22HD and Companion models, you may notice something is different here. Unlike those, Wacom has done away with all the ExpressKeys from the body itself, with its minimal design allowing you to get on with your work without anything being in the way.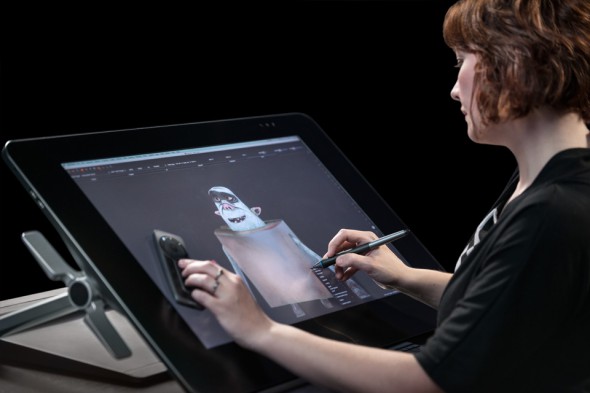 Instead, these controls have now been integrated into the ExpressKey Remote. This can be placed on and moved around the display, and if you position it at the edges, magnetism will keep it in place.
The remote's keys access seventeen different functions, sixteen of which can be customized to suit your way of working, while the Touch Ring allows you to quickly change brush sizes, rotate or zoom into images, simply by swiping your finger across its surface. The supplied Pen allows you to apply 2048 levels of pressure and the display responds to tilt movements, with custom buttons on the side to access functions quickly. The Pen also comes with a range of nibs so that you can adjust these to suit the task at hand, with an eraser on the opposite end, together with a stand so that the pen is always to hand.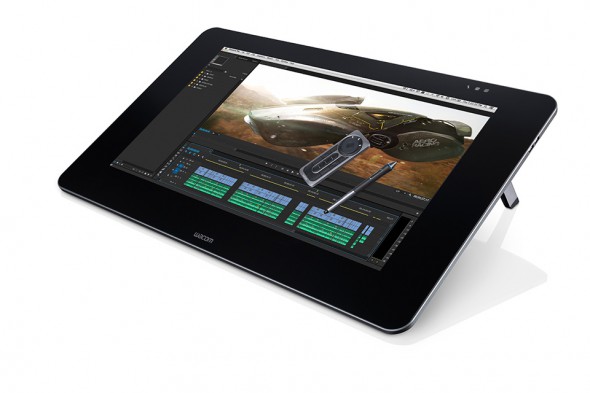 You can use the display flat or upright, or even with a separate stand for greater flexibility, although built-in legs around the back allow you to raise it for comfortable working. Five USB 3 ports around the casing, meanwhile, allow you to quickly hook up peripheral devices, should you wish to use these.
The combination of the ExpressKey Remote and the pen allows you to take control over your images in a different way from what you may be used to with a mouse or trackpad. Photographers are likely to find this setup works particularly well when using Spot healing or cloning tools in Photoshop, perhaps to deal with dust or any marks, or blemishes and other imperfections when editing portraits. Landscape photographers will also find it useful when dodging and burning skies or other large areas of an image.
Just as you would profile and calibrate a monitor used for editing, you can also calibrate the display with the Wacom Color Manager, which has been customised to work with Wacom's range of Cintiq displays. This process works in the same way as calibrating a standard computer display and takes just a few minutes, and ensures that images and graphics are accurately displayed so that you're creating and editing with precision.
Related articles