First things first, I have been spoiled rotten having the opportunity to use a Graphics Tablet as part of my workflow (my day job) since about 2006, starting with the Wacom Intuos 3 through to my current tablet of choice the Wacom Intuos 4 Wide – so my expectations are already high for this latest instalment, well it has been a 3 year wait. What could Wacom deliver that is more than I could wish for? Would the very small niggles that I have with the older models be eradicated? I was very impatient to find out.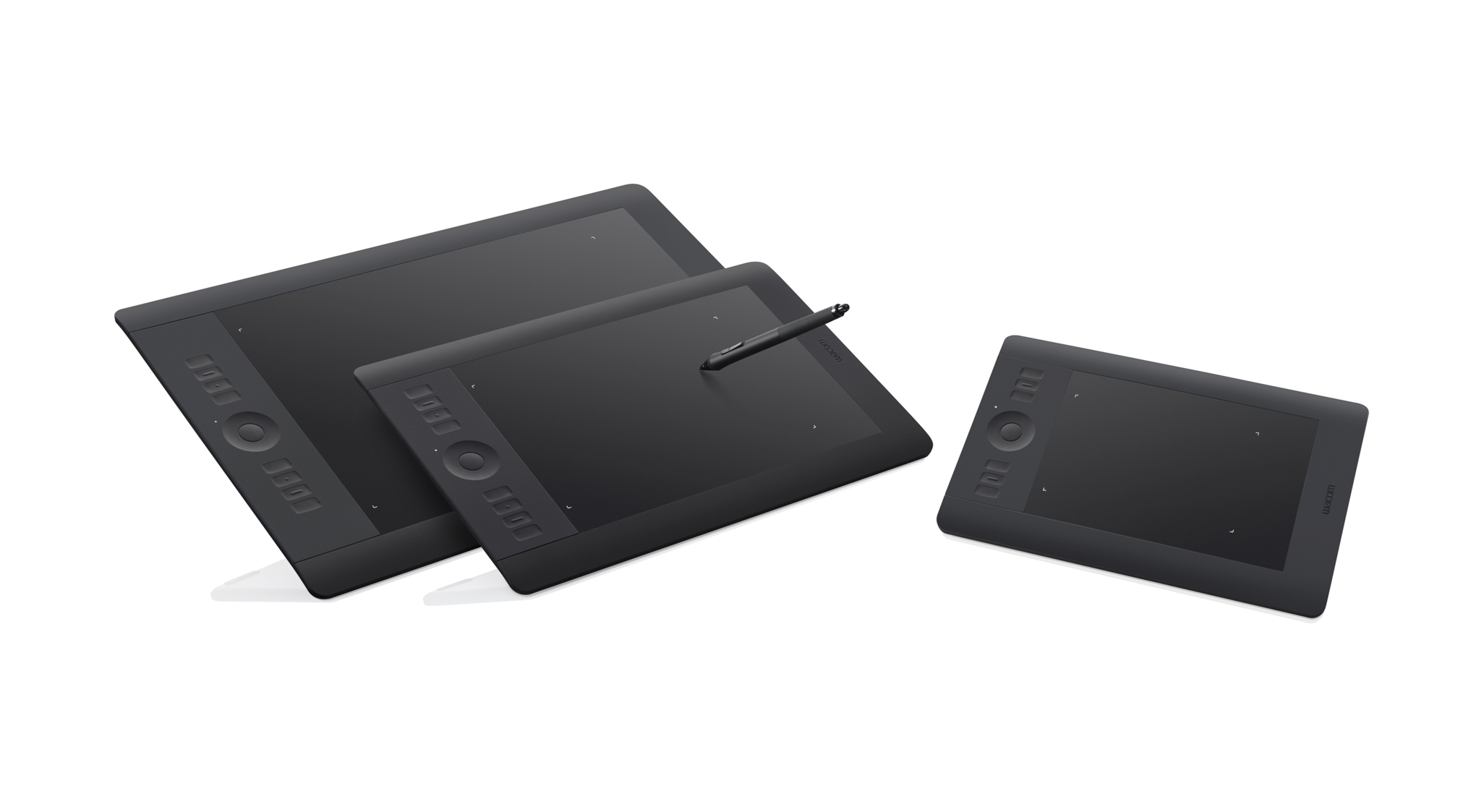 So back to the exciting bit...
I have been hiding away from any other reviews of the product out there as I wanted to compare the feel, use and spec of it for myself with the benchmark being the version 4 model. But it's hard not to notice buzzwords like multi-touch gestures and haptics. This is not a new invention by any stretch: the iPad, iPod Touch and the Wacom Bamboo Pen and Touch have been sporting this feature for some time but nevertheless I was intrigued what this could bring to the table, sorry, desk, in the higher-end Intuos model.
Friday 8th March and the press review sample; the Intuos 5 Pen and Touch Medium arrives…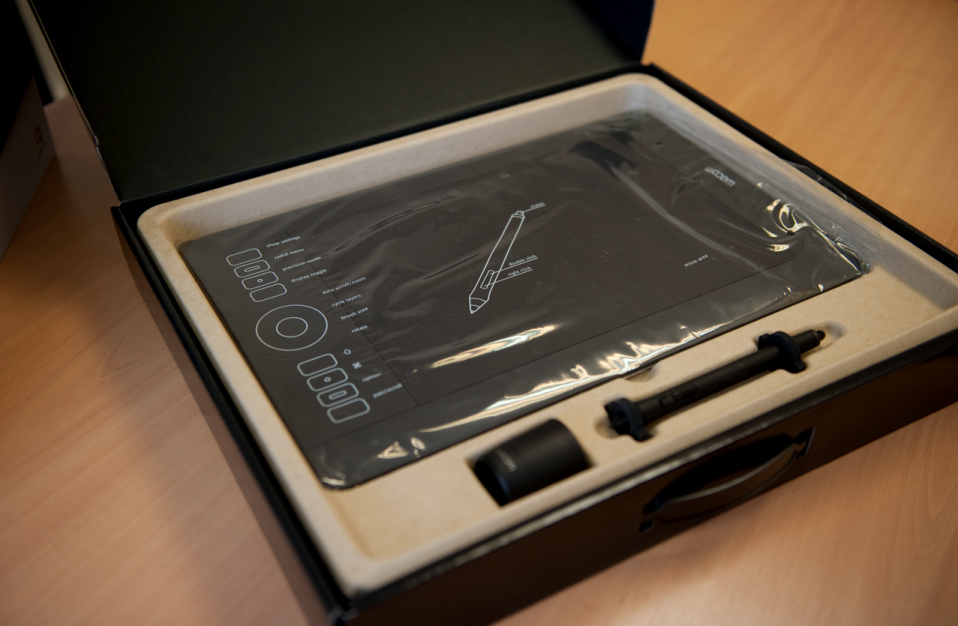 Living in a box, a cardboard box - First impressions
The first thing I notice is the packaging. There is a quite a satisfyingly modern and understated feel to the design – almost (dare I say) Apple-like. Everything is laid out simply, no blister packs or other shenanigans to cut with scissors just to get at the merchandise.
Lifting out the tablet the immediate comparative is size and feel, this is smaller than my last two models granted but the matte soft-touch finish is very tactile and feels nice against the hand. This is important to note as it aids the pen movements across the tablet. The 3 and 4 models had a tendency to acquire scratches to the active area more easily and this soft touch feel would (I'd imagine as I didn't dare try it out) be slightly more hard wearing. I wonder though will it go shiny over time? Anyway, right now it feels heavenly.
Looking the unit over, there are some big changes to the overall design. The Intuos 4 sported an LED screen to allow you to see the function applied to each of the 8 Express Keys. With the Intuos 5 these have disappeared! But fear not, they haven't quite, they have been relegated elsewhere (more on that later). The new tablet is solid and has a more moulded rubberised feel to the Express Key area. Gone are the wobbly buttons too and the active area is now highlighted by neat little tick marks that light up when the unit is powered. There is no over-hang on the far edges of the tablet either, the 4 model did have this and it caused problems when the user (ie. me) would wear a longer sleeved top that would constantly catch on this edge.
Looking back at the 3 and 4, and looking forward to the 5
The Intuos 3 was a gargantuan tome of a piece, that very much dominated the desk with it's almost colour correct grey but the touch ring was in fact two small landing strips (used like vertical sliders to scroll the screen and to zoom). The touch strips were a little jerky in comparison to the touch ring on the 4 and 5 model and the buttons felt wobbly too. But it was still an amazing piece of kit and I have much fondness for it as it was my first.
The Intuos 4 is very much loved and the only niggles I have are; the cable has become a little loose over the years and the corner over hang that caught my top. It still performs though and as yet there are no accidental disconnections. Sometimes a blip will happen where it will become obsessively jerky in response to an action, which I can quickly resolve with the old 'turn it on and off again' procedure (well it's actually unplug it and plug it back in again – hmmm, maybe Wacom should consider a reboot button?)
This Intuos 5 seems to sit much flatter to the desk even though there is no difference in the overall depth. The Express Keys are now moulded into the unit rather than being buttons as per it's two older siblings. This is a real advantage as there is no chance of your meal-deal lunch getting wedged in the spaces between the keys. You do have to exert a reasonable force to activate the keys though, which does stop a modicum of accidental use. If one or two do become activated regularly you can always disable them in the settings menu – so all is not lost. A big boon about this tablet is that anyone with the version 4 will be able to use their pens and nibs as they are all compatible, upgrading from the 3 however, isn't as joyful in this department.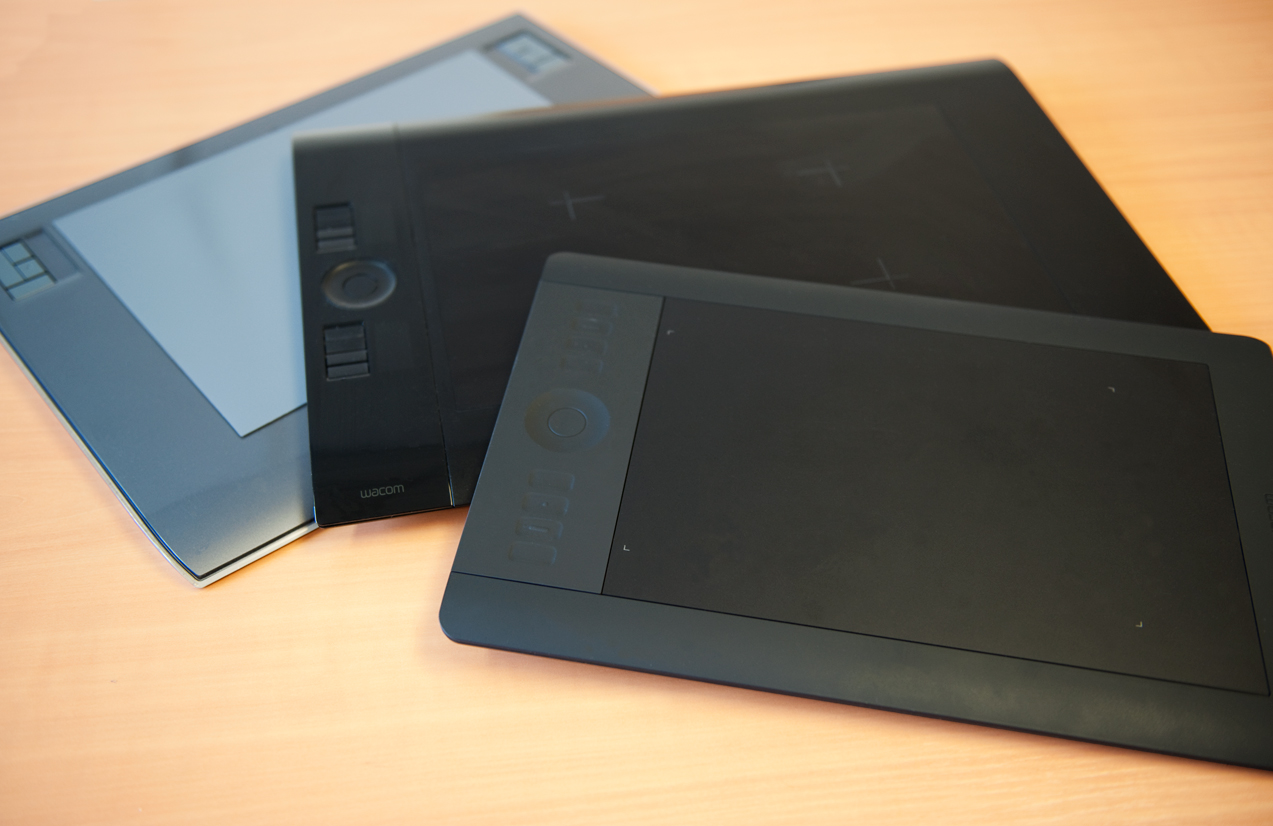 In Comparison: Intuos 3 vs 4 vs 5
| | | | |
| --- | --- | --- | --- |
| | Intuos 3† | Intuos 4 (Medium) | Intuos 5 (Medium)* |
| Tablet Dimension | 345 x 261 x 13mm | 370 x 254 x 12mm | 380 x 251 x 12mm |
| Active Area | 152 x 203mm | 223 x 140mm | 224 x 140mm |
| Express Keys | 8 | 8 | 8 |
| TouchRing | - | 1, with 4 custom settings | 1, with 4 custom settings |
| Touch Gesture Function | No | No | Yes |
| Spare Nibs | 3 | 10 | 10 |
| Pen Tilt Sensitivity | +/- 60 Degrees | +/- 60 Degrees | +/- 60 Degrees |
| Tablet Pressure Level | 1024 | 2048 | 2048 |
| Tablet Resolution | 5080 lpi | 5080 lpi | 5080 lpi |
| Bundled Software | Yes | Yes | Yes** |
| Power | USB (PC/Mac) | USB (PC/Mac) | USB (PC/Mac) |
| Price (RRP) | - | £299.99 | £329.99 |
Table source
†Closest model size to the Intuos 4 Medium.
*Pen & Touch
**Choose one free download: Adobe Photoshop Elements 10,Autodesk Sketchbook Express 2010 or Corel Painter
lpi = Lines per inch
Ready, set up and go
Set up is as I hoped, very straight forward: attach cable to tablet, attach other end of cable to computer and install the disk.
Note to self: always uninstall previous Tablet driver first before installing a new one. For some reason the unit thought I was operating this tablet upside down and wanted to correct me, not an easy task doing actions in the opposite direction to the way I wanted the cursor to go.
So I had to turn my brain upside down to operate it for about 5 minutes. I should have uninstalled the Intuos 4 and yes I should have walked across the room and found a mouse, but then I was playing with a new toy and I didn't want to waste valuable seconds doing that ;o)
I would have liked to be able to plug the USB cable in on the right-hand side of the tablet, saving trailing the cable around the back of the computer to the left of the monitor/screen. Then Wacom have thought of a mini solution to this; the additional cable tidy feature to help the desk look a little neater, or if you have the inclination to shell out a few more pounds there is the optional Wireless kit**.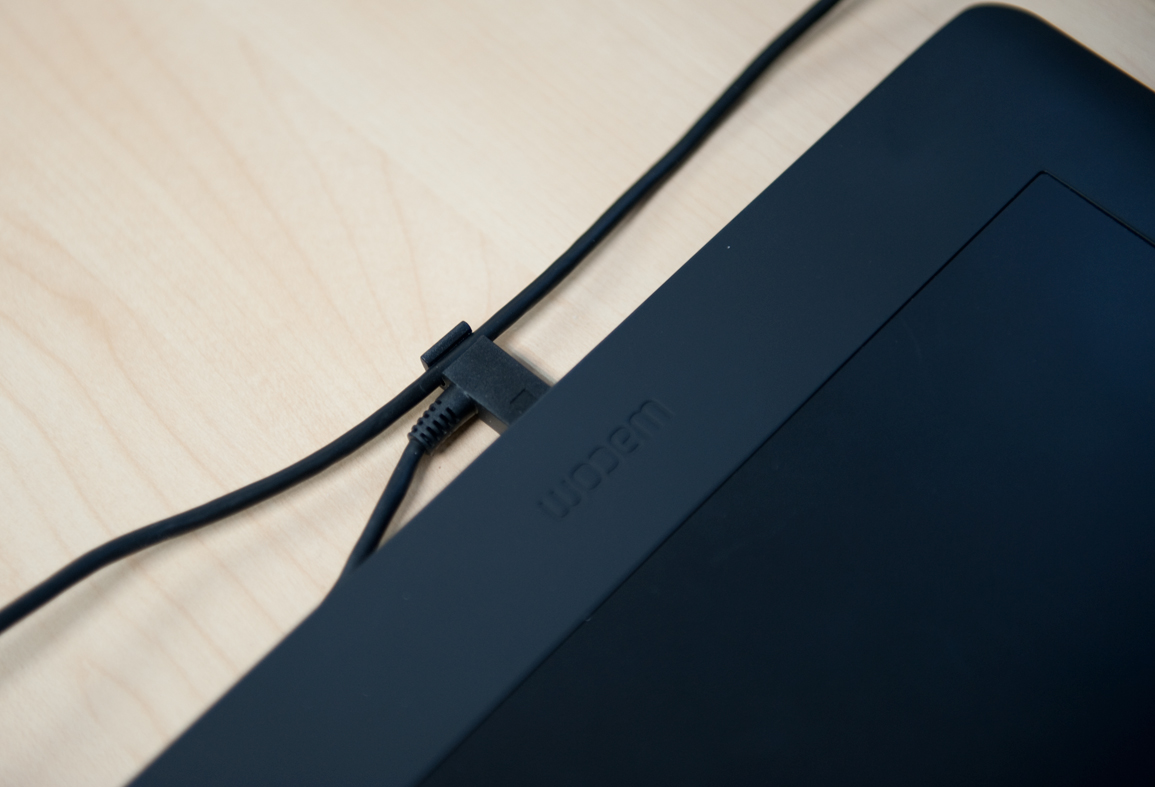 The Quick Start Guide is a very, very quick read but the software install part does take about 5 minutes (even on a Mac), so plenty of time to make a brew or decide what image or piece of work you'd like to tackle first. During the process the driver will be installed onto the computer along with a full manual and user utility. The user utility allows for instant removal of the device and the ability to set the same functions for Express Keys for all users. Handy if the tablet is attached to a computer that is shared in an office set up.
I set the Intuos 5 up using an Intel 27" iMac running OS 10.6.8. The tablet will run on Microsoft XP (SP2) or on Mac OSX 10.4.8 or later.
Express yourself!
As mentioned way back at the beginning of the review, the Intuos 5 Express Keys (although a welcome function of the tablet) are missing the LED display that was found in the Intuos 4. The LED display was like learning to drive and looking at your gear stick before making a gear change – ok an extreme analogy bit I think it best describes how much of a distraction it used to feel to me. Of course in time this would become more second nature and less distracting. This is now replaced with the 'Express View' on the Intuos 5 – no affiliation to us I'm afraid but this function is really cool and definitely a useful change. Express View pops up on screen as an overlay, showing a reminder of each key and the applied function that you've pre-set, negating the need to look back at your tablet.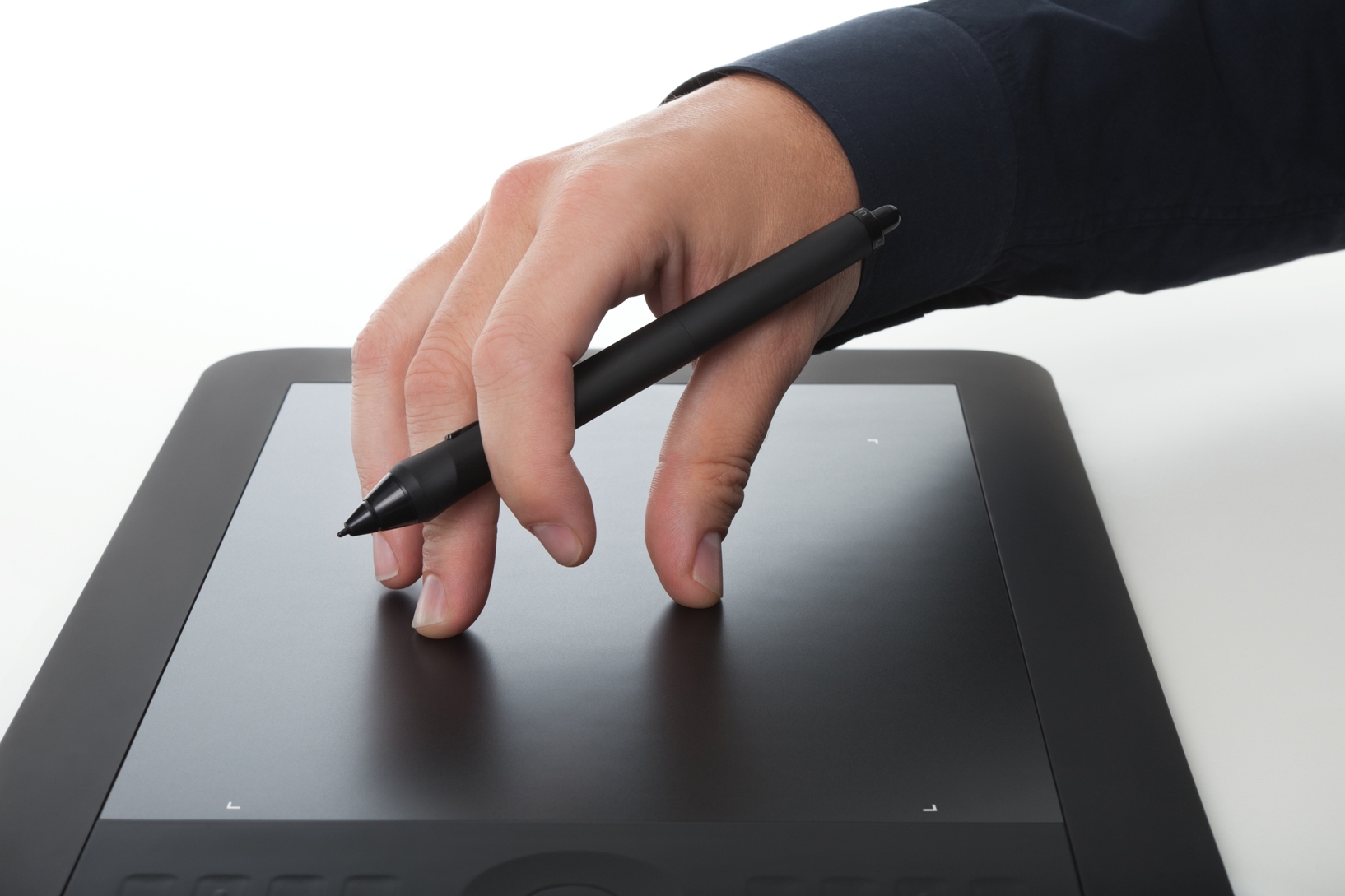 Soft touch
Time to hide the pen while I get to grips with Multi-Touch gestures. I do have a touch screen smartphone so this should be a natural progression. This tablet will distinguish between three fingers of my hand (and in some cases 4 and 5 fingers are used), so it's noted in the manual to keep them a comfortable distance apart to give the best chance at recognition.
I must say I am quite enjoying using Multi-Touch so far. A little odd at first but selecting one line of text is quite easy and it's quick to feel like the tablet is a very large trackpad. But it will take a while to get used to it, again much like the pen I would say a few hours and it will become second nature. The default speed settings of double clicking and pointer acceleration are set right in the middle, so I moved them to top speed. WARNING! Don't do it if you haven't used this function before. I inadvertently sent one blank email to a colleague and then sent the "oops sorry" email to myself instead of to the colleague. Reverted speeds to default and it is running OK and I am not making silly jerky mistakes. Also note I am writing this review and using the touch function to reposition text and cursors. So working with text is achievable but I'd imagine the biggest wins with this function come when working with illustrations and imagery.
Spinning around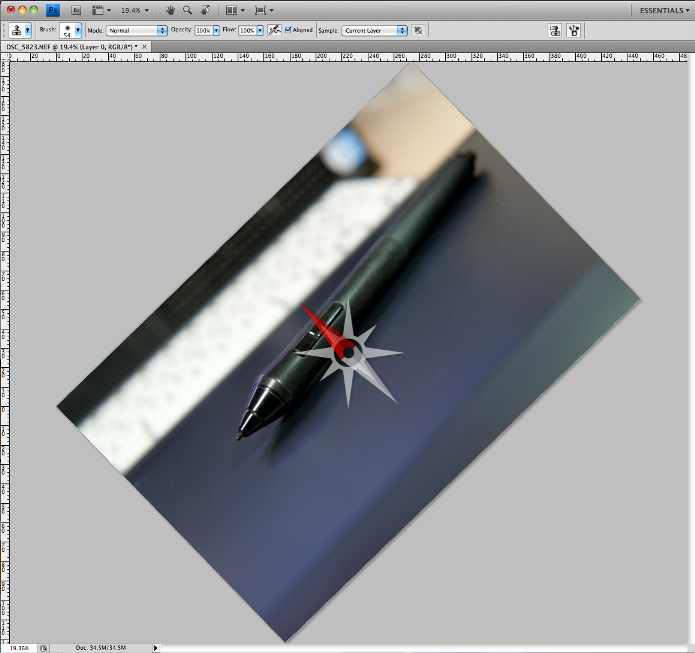 Some gestures are familiar to those found on the smartphone and graphics tablets, such as pinching to zoom in and reversing the action to zoom out, but there is a nifty rotate function that does have the added 'compass' bonus. Rotating both fingers or leaving one still and sweeping the next finger around will rotate an image or file as above. The overlay of a compass is a handy guide too. This operation does mean that (for me) I needed to readjust my positioning once mid turn to go a full 360 degrees.
Playing nicely with Photoshop
I opened some box shots that I took (using a colleagues gorgeous D700 + 24-70mm) in Photoshop and I commenced playing with the orientation and zoom. Please note I am not an expert photographer so apologies for any quality issues in these images.
I decided for the use of this tablet review I would start with simple tasks and adjustments.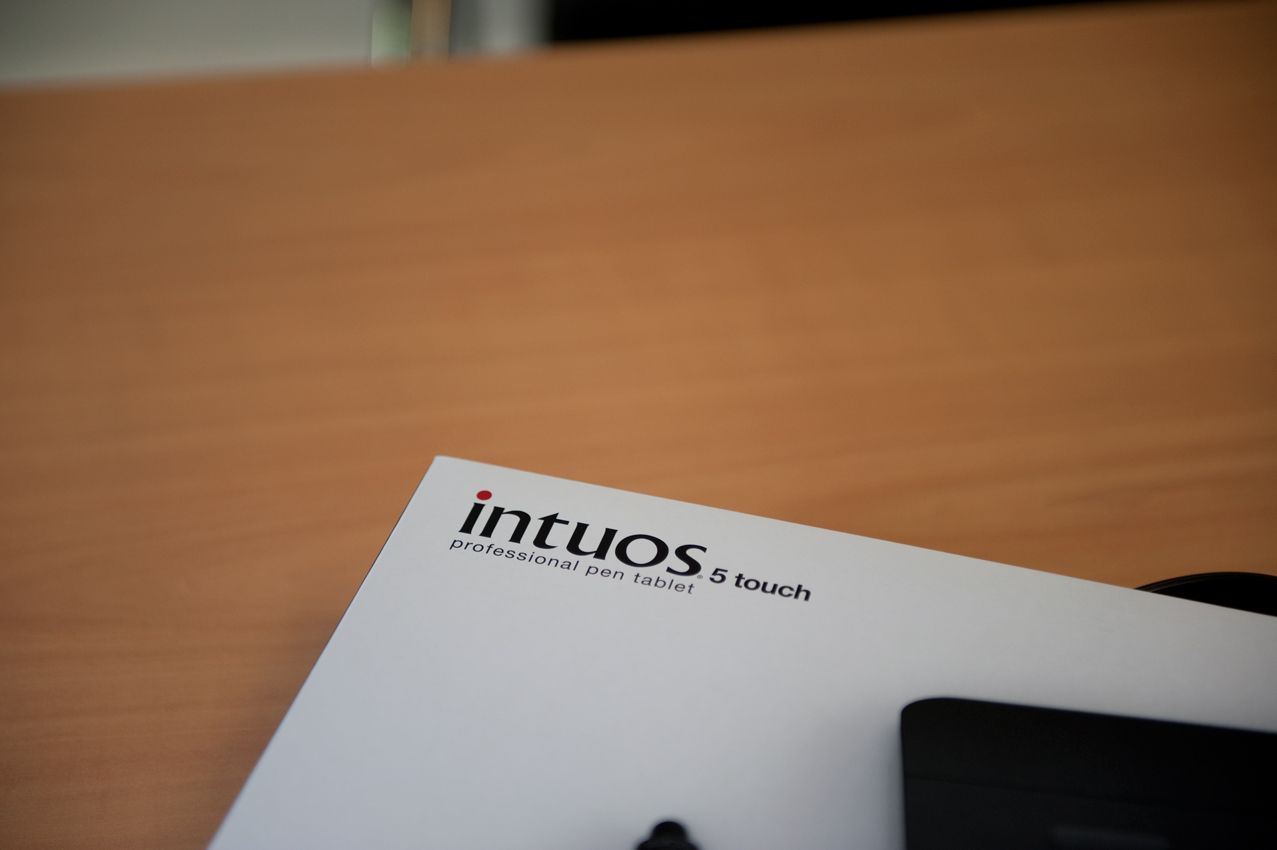 I tried to apply very subtle burn to the lower right corner of the image, responses to my movements were smooth but I had to remember to double tap and then drag in order to move the slider bar on the master diameter of the tool – as one tap and then drag wouldn't work. Once I got the hang of that I moved onto contrast/brightness to make the desk look less milky and to pack more punch. The crop tool helped to knock out the busy background top left and make the composition of the shot draw the eye more to the word Intuos. On the third attempt I decided to muck about with the desk colour, by doing a quick mask and picking our the pinky/red colour of the dot of the 'i' in the word Intuos. This was again playing with the slider bars in the hue and saturation window and really I was just using it for a bit of practice.
All of these gestures so far are using just one digit, but instinctively I found my thumb would interrupt the process and be used to double click to select an item – much like I would with a laptop track-pad and button(s).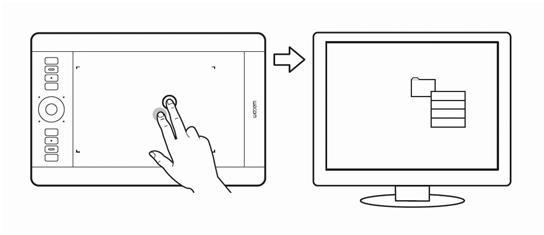 Two finger gestures (sorry not meaning to sound rude) are handy for 'right click' options that you would have with a standard two-button mouse. So any drop down context menus that can be used within a given software can be operated by: holding your pointer finger firm on the tablet and using the middle finger to do one click and hold. Any right click menus should now appear (see above). I am thankful the manual is very clear and the simple illustrations do aid the process. Alternatively you can disable this setting but for speed I guess this would have oodles of time-saving uses in normal workflow. I wonder how I'll be using the laptop later? I'll be trying all sorts of things that it won't like for sure.
Going through the manual there are many more gestures that will speed your workflow process even further and I must admit a lot are very cleverly designed around Computer OS with gestures for Exposé (Mac), Flip 3D (Windows) which allow you to see all open files or applications on one screen, giving you the ability to flick between them to select which you need to work on next.
Having Touch options for all of the major functions a mouse would perform is all well and good but the ability to turn shortcuts on a keyboard into one gesture movement is a master stroke in this system. For instance I have just set 'keystrokes' into a gesture using three fingers (you can select four and five fingers if the mood takes you). A simple keystroke would be a New Window opening in Photoshop (apple N in Mac terms) and is very simple to set up. In the Touch category within the tablet settings there is a menu called 'My Gestures' here you select the application you wish a keystroke to be set for (you can choose ALL applications too) and then in the window provided select the keystroke action you wish to apply. I can't tell you the joy I felt that this really works and how saddened I am that I have to give this tablet back at the end of the week.
Bye bye Intuos 5, it's been lovely!