Stop wasting money and start selling photos with our quick guide to Facebook ads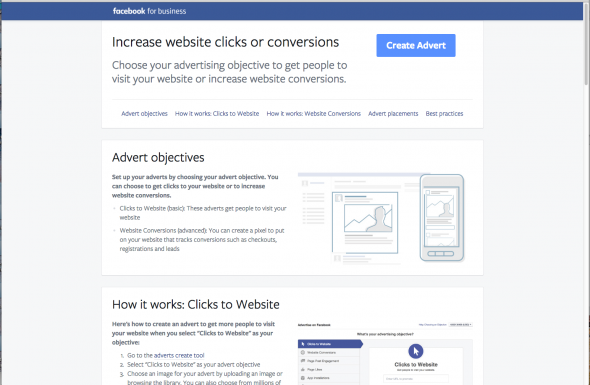 There comes a time in most photographers' lives when they think about trying to sell their images on Facebook, or trying to promote their photography business. It's not hard to see why. Facebook had 1.01 billion daily active users on average for September 2015, 894 million mobile daily active users and 1.55 billion monthly active users. That is one massive potential audience for photography.
Sadly, it's not quite as simple as that. After all, not everyone goes on social media to buy stuff, and selling photography and photography services has never been harder online, however big the potential audience.
That said, targeted Facebook ads are definitely worth a try, particularly for photographers offering a very specific service – wedding and/or family portrait photography, for example. Setting up a Facebook ad campaign gives you lots of options and enables you to drill down to a specific demographic or geographical area.
It's not free, however, so if you are going to pay for Facebook ads, here are some tips to give yourself every chance of success. In this example, we have used weddings, but the principles apply to other photographic genres, too…
1. Set your objectives
Once you click to create a new Facebook ad (under the drop down arrow on the top bar of your page), you are given a range of options.
Choose which one is most appropriate for you – you might want to get more likes for your wedding or portrait photography page, or get more people to visit your website. There are some powerful marketing tools on here and you can click 'Help: Choosing an Objective' if you are unsure.
For the purposes of this example, let's try to drive more Facebook users to our website.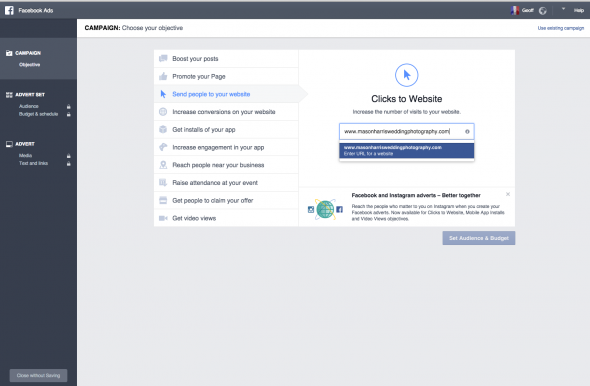 2. Set your region
The next job, and it's an important one, is to choose the geographical area you want to target. Unless you are happy driving a lot, be careful of choosing the whole country. If you are based in the North East, for example, it might not be cost effective to consider doing weddings on the south coast.
Don't go too far to the opposite extreme, though and restrict yourself too much. This geographical targeting tool also enables you to focus on affluent areas.
Next, set the age of your target market, and their gender.
3. Specify the demographics' interests
So as a wedding photographer, it's important I direct my Facebook ads towards the most appropriate audience for my services. On this section, make sure you use the links and services to drill down as much as possible; you can exclude people and narrow the audience as required.
Don't assume that a massive potential audience will automatically bring you lots of business – the goal is to make your ads and targeted and relevant as possible to the service you are offering.
As well as obvious choices like 'wedding photography', include options such as 'engagement,' 'bridesmaids,' etc. You want to be hitting as many bases as possible, within reason.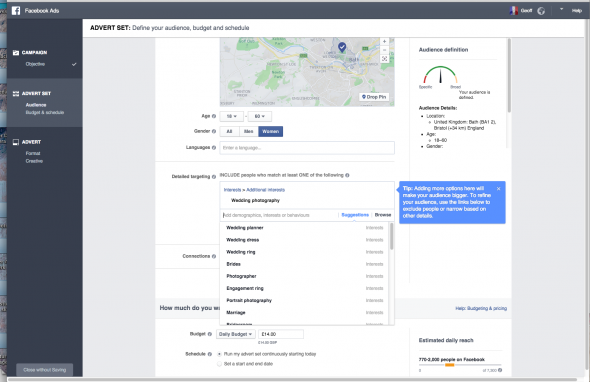 4. Set budget, text and picture
Next, specify how long you want the ad to run for, and how much you want to spend. Be careful here as Facebook ads can get expensive, so a couple of months trial is sensible. Watch when you post the adverts too, and try to make them as seasonal as possible.
When it comes to creating the actual ad, you are limited in how much you can write, so keep the headline and body text punchy and enticing – sell the benefits of what you offer, rather than just describing it. Try to emphasise a unique selling point (eg geographical area) and choose a strong image that will also work on smaller and mobile-device screens.
It is also a good idea to select 'Learn More' as the call-to-action button, to get people to visit your site. The bottom of the advert creation screen also gives you the option to specify exactly where on people's Facebook pages the ad appears – the desktop right column is a sensible option, so your ad doesn't become too obtrusive.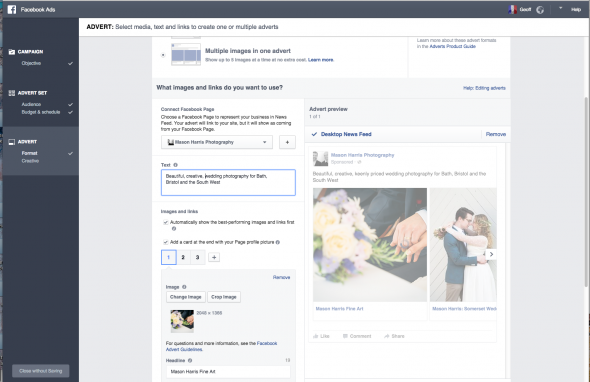 5. Other useful info
Running ad campaigns is big business for Facebook so it has helpfully provided lots of useful resources to help you make your ads as effective as possible. Check out the detailed resources here.
About the Author
Geoff is an experienced photography journalist and recently stepped down as editor of Digital Camera, the UK's best-selling photography magazine. He now writes for a range of publications. Geoff is a keen travel and portrait photographer, and a Licentiate of the Royal Photographic Society.
Related articles