Matt Parry gets away from the British winter and heads to South Africa, camera in hand. Here are his top tips on what to shoot...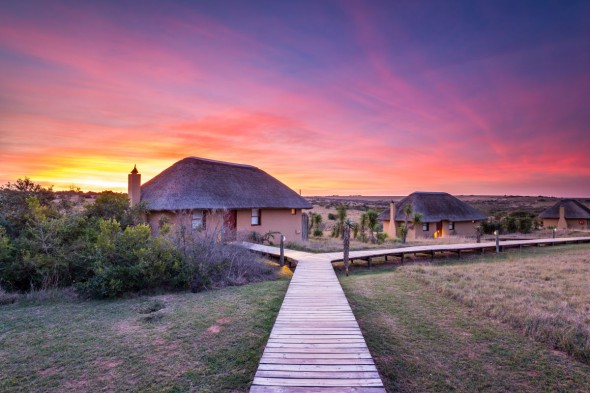 Hlosi Game Lodge, Amakhala Game Reserve. All image by Matt Parry
Winter is the time many of us dream of escaping dreary British weather and heading somewhere warm. If you want to combine some winter warmth with a photographic trip then read on to see why South Africa should be your next destination.
For photographers, this place has it all. Stunning scenery, fantastic people and amazing wildlife. My road trip, which covered more than 2,000 miles, took me east from Cape Town in the Western Cape and along the Garden Route to the Amakhala Game Reserve in the Eastern Cape. For the return journey, I headed inland into the Little Karoo and back through the winelands into Cape Town.
Along the way there is an incredible amount to see and do. Read on for some tips on where to go and what to shoot.
Cape Town & the Cape Peninsula
Cape Town is perfectly nestled between stunning mountains and beautiful beaches and has plenty to offer both tourists and photographers alike. The landscape is dominated by Table Mountain, one of the world's most famous and iconic sights.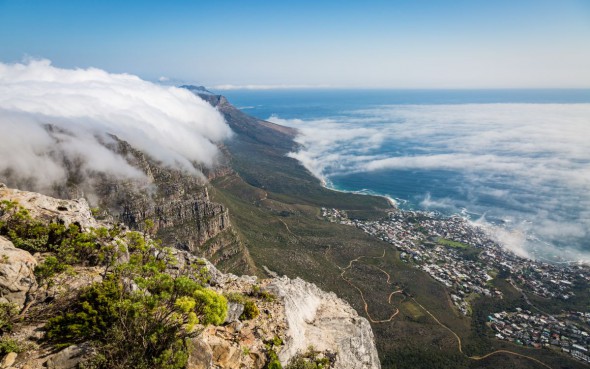 Orographic clouds creating a tablecloth over Table Mountain
My base was in Camps Bay on the Atlantic seaboard. A beautiful white sand beach that sits at the base of Table Mountain a short drive from the cableway and with easy access to anywhere in the city. From the beach, you can look south along the Twelve Apostles mountains which extend from the flat top of Table Mountain towards the Cape Peninsula. This is a safe area with plenty of photographic potential, opportunities ranging from skimboarders practicing on the beach through to long exposures on the rocky outcrops.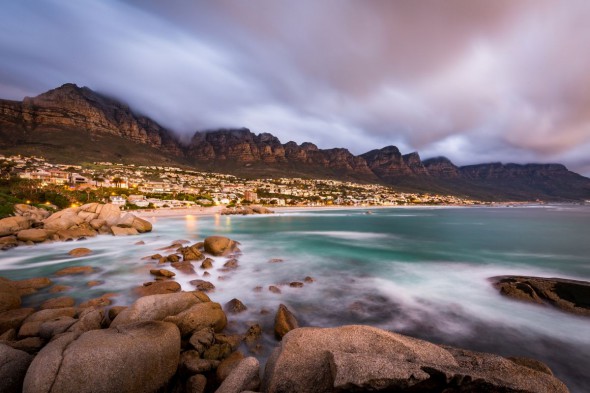 Camps Bay, Table Mountain and the Twelve Apostles
If photographing history and culture is your thing, you can take a boat 7km offshore to Robben Island, the prison that held Nelson Mandela for 18 years of his life. Macro photographers on the other hand might enjoy the impressive Kirstenbosch Botanical Gardens on the eastern side of the mountains. If money is no object, then a helicopter flight over the city on a clear day will offer unparalleled views!
Heading out of the city for a day you can travel south to the Cape Peninsula. A scenic road trip through Hout Bay and along Chapman's Peak Drive heading to the southern tip and Cape Point is a must. There are plenty of highlights along the way but one of the most fun stops is at Simon's Town on the eastern coastline of the Peninsula.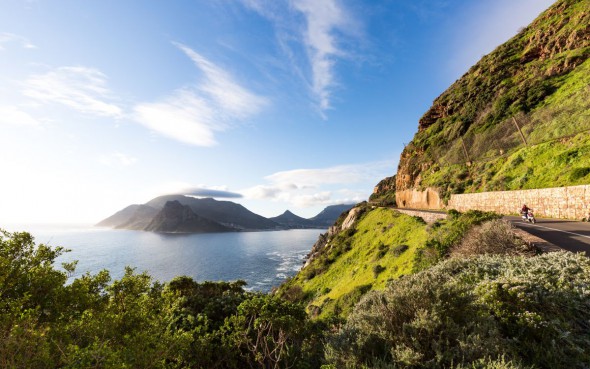 Take a scenic road trip around Hout Bay and along Chapman's Peak Drive
This is where you will find the aptly named Boulders Beach Penguin Colony. Home to a colony of eminently photogenic African penguins, this sheltered bay is protected by large granite boulders and accessible by a series of walkways, which allow you to get up close and personal with the penguins.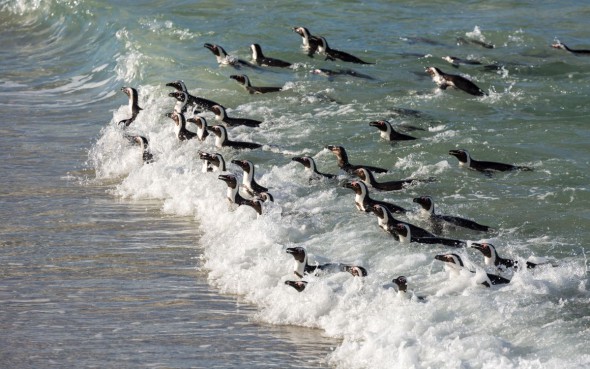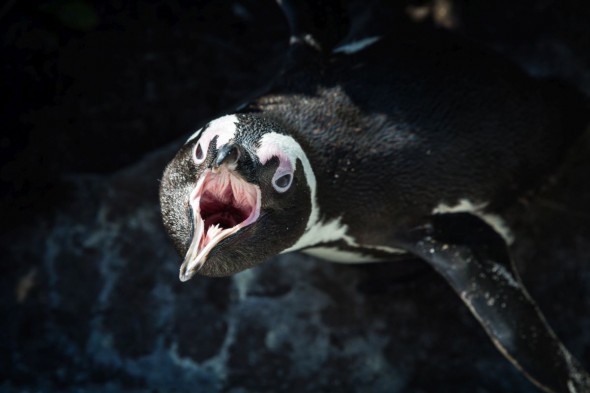 African Penguins at Boulders Beach
Hermanus
Travelling east out of Cape Town along the N2 highway, take the turn-off for Gordon's Bay and the scenic coastal route to the pleasant town of Hermanus. It's known as the whale-watching capital of South Africa, and whales can often be spotted from the cliffs during the South African winter (they have normally moved on by December). The town is a pretty enough place to break up your journey east and has several things to photograph including a very scenic coastline and lovely beaches.
Like Table Mountain in Cape Town, the rocky coast of Hermanus is also home to the rock dassie or rock hyrax, pictured below. Unbelievably, these little animals are the closest living relatives to the elephant!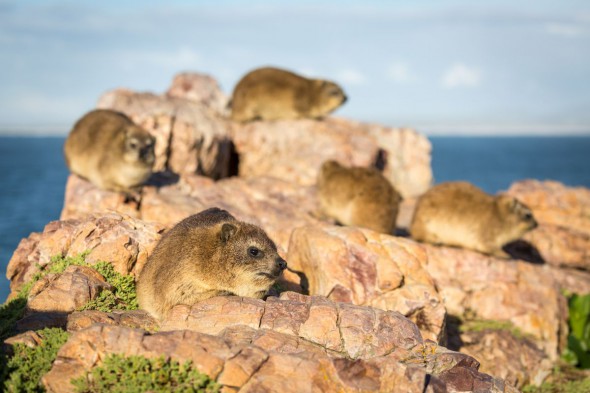 Rock dassies at Hermanus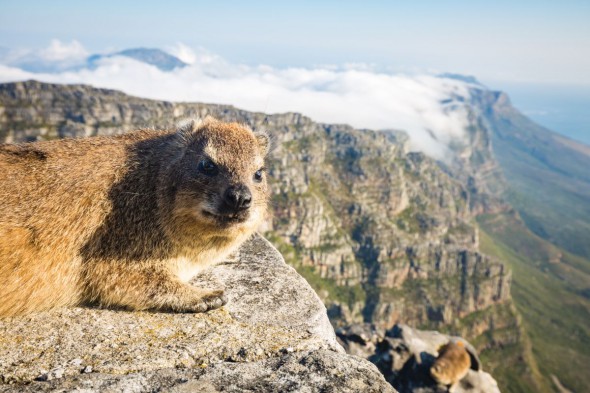 Rock dassies at Table Mountain
Shark Cage Diving
Travel 40km around Walker Bay and you will come to the town of Gansbaai. This fishing town is home to the vast majority of South Africa's Shark Cage Diving operations, though there is another further along the coast in Mossel Bay, where I did my dive.
Shark cage diving is controversial, yet the conservation and awareness efforts of the operators go some way towards educating people about these remarkable creatures. When I went this was something high on my bucket list, and I was not disappointed. The great white shark is the apex predator of the ocean, as well as one of the world's most feared and misunderstood creatures. Coming face to face with them is exhilarating.
You won't be scuba diving, but instead will need to hold your breath and push yourself under the water as the shark gets close. This makes it difficult (but certainly not impossible) to shoot with a DSLR camera and underwater housing. However, with a GoPro you can get some great footage.
Unless you have good underwater visibility, the best vantage point for photos is on the boat. If you can, head to an upper deck where you can track the progress of the shark in readiness for when it breaks the surface in pursuit of the bait!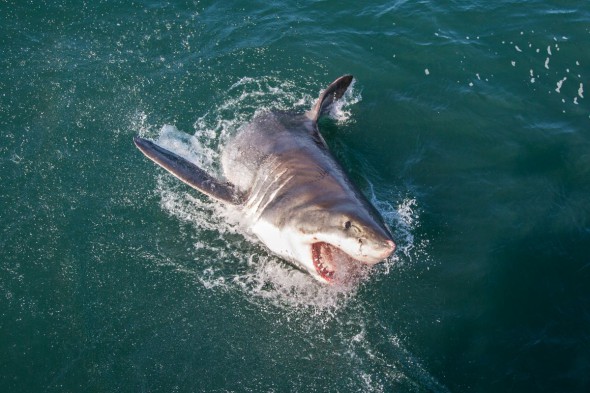 Great White Shark cage diving in Mossel Bay
The Garden Route
South Africa's 'Garden Route' stretches 300km from Mossel Bay to beyond Plettenberg Bay and includes some incredible natural sights along the way. From quiet beaches and dense forests to boat trips and animal encounters, there is plenty to see and do to keep both photographers and non-photographers happy.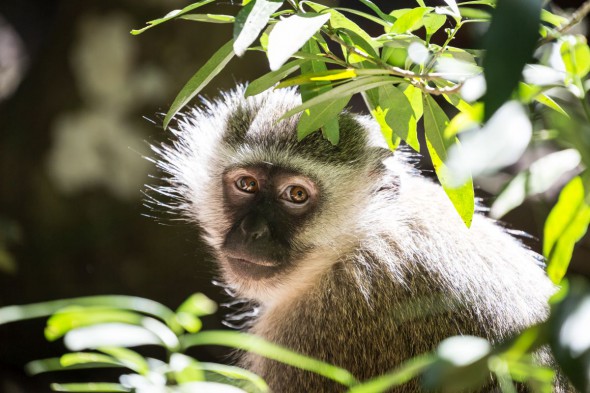 Monkeyland Primate Sanctuary near Plettenberg Bay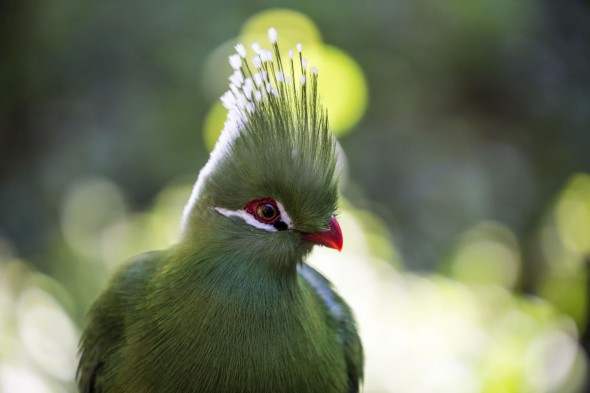 A Buffoni Green Turaco at Birds of Eden near Plettenberg Bay
Two of the main Garden Route towns, Knysna and Plettenberg Bay, are both photographic treats in their own right. Knysna sits on a lagoon with a nice harbour while nearby Knysna Heads, the entrance to the lagoon, has some fantastic views. Plettenberg Bay on the other hand has a more developed town and sits on kilometre after kilometre of stunning white sands including the beautiful Keurboomstrand. It is also the gateway to an area known as the Crags, where natural gorges and forests can be found, in addition to some opportunities to try bungee jumping.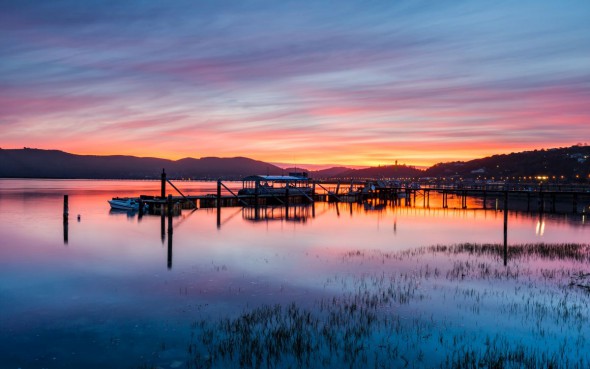 Sunset over Knysna lagoon
Safari on the Eastern Cape
South Africa is well known for its 'Big 5' safaris and soon after Port Elizabeth you will come to popular Eastern Cape game reserves such as Addo and Shamwari. I visited the wonderful Amakhala Game Reserve and while I'm not a wildlife photographer, with a borrowed Canon EF 70-300mm f/4-5.6L IS USM I was able to capture photos of some incredible animals.
Aside from the wildlife the game reserves offer very little light pollution so on a clear day you can get star-filled skies, perfect braai (BBQ) weather and the opportunity for some epic sunsets (complete with the obligatory sundowners).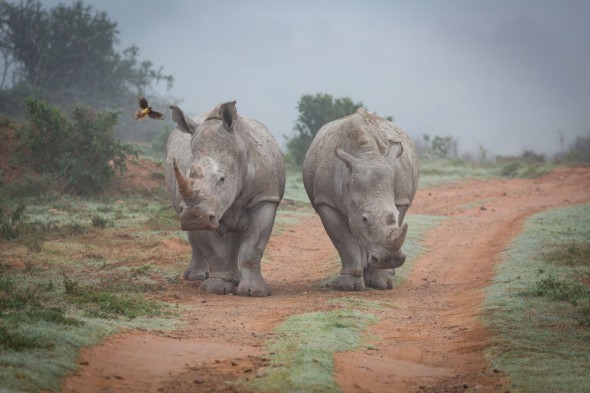 Rhinos in the early morning mist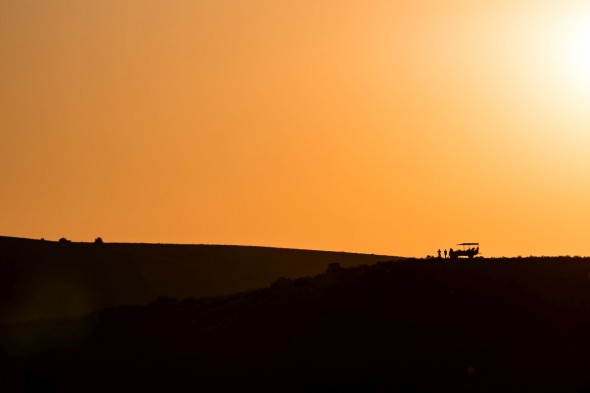 Sundowners at Amakhala Game reserve, Eastern Cape
About the Author
Matt Parry is an award-winning travel photographer whose images and articles have featured in leading travel and photography publications. He has presented videos, led workshops, and given talks on travel and cityscape photography. To date, Matt has visited 60 countries across six continents. Follow his travels by visiting @mattparryphotography on Instagram or mattparryphoto.com.
Related articles