Matty Graham bypasses the tourist traps of Iceland and Norway and finds a rugged paradise for landscape photographers much closer to home.
Spend a few minutes browsing images on 500px or Flickr and you'll be swamped with images of Iceland and Norway. For good reason, too – I visited Norway last year and it was an amazing trip.
But as a landscape photographer, I know people soon get tired of seeing the same locations time and again. So I resolved to seek out a new destination. Eventually, with a map laid out on the desk, I drew a circle around a cluster of land called the Faroe Islands...
Getting there
Many people have never heard of the Faroes, let alone know exactly where to find them, but the truth is, this amazing destination is a lot closer than you may think. The Faroes are essentially halfway between Scotland's northern tip and Iceland – slap bang in the middle of the Atlantic.
The islands are governed by Denmark, and accordingly use the Danish Krone – around 10Kr to one pound last time I checked. Flights leave daily from Copenhagen and twice a week from Edinburgh, which is where I flew from. The flight is just over an hour, but when you land in the Faroes, you're transported into a different world of snow-capped mountains, beautiful lakes and stunning coastline.
Buses provide public transport on arrival, but if you're carrying cameras and tripods, you'll want to hire a car. The company I rented from just left the car unlocked and the keys in the glovebox, ready to pick up at the airport – it's that sort of homely, friendly, safe place, and the Faroes have one of the lowest crime rates on Earth!
Torshavn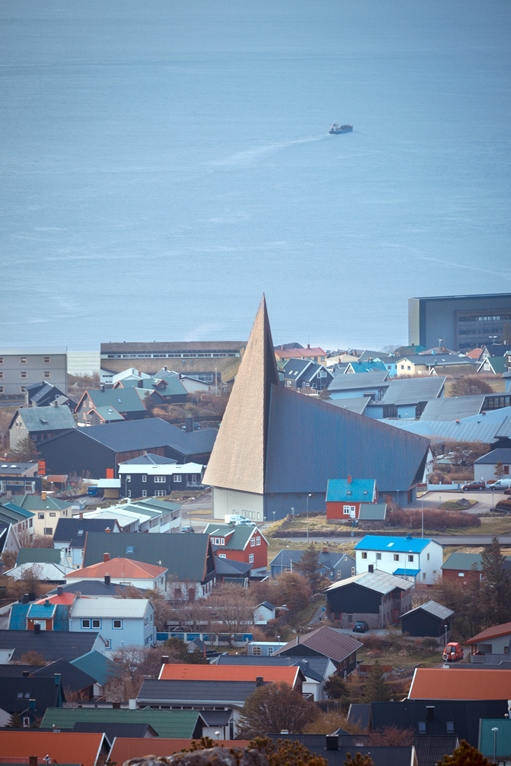 While there are hotels dotted around the islands, it doesn't take that long to drive from one location to another, so many prefer to stay in the capital, Torshavn, where there is more choice and better amenities. One of the smallest capitals in the world, this pretty little city has everything you could need, and in fact one of the best spots for photography is down by the harbour. With a constant stream of fishing boats (big and small) coming in and out, there's plenty to shoot. After getting standard images of the harbour, I found that switching to a telezoom lens and filling the frame with details of nets, ropes and details of the boats, was a successful approach.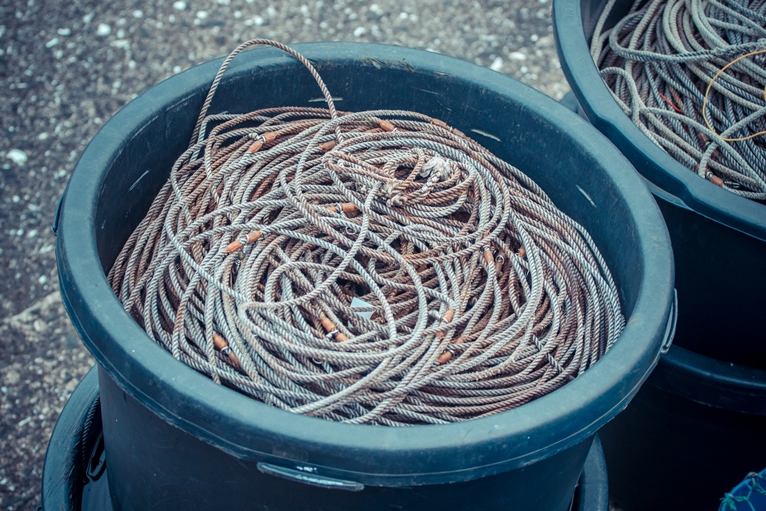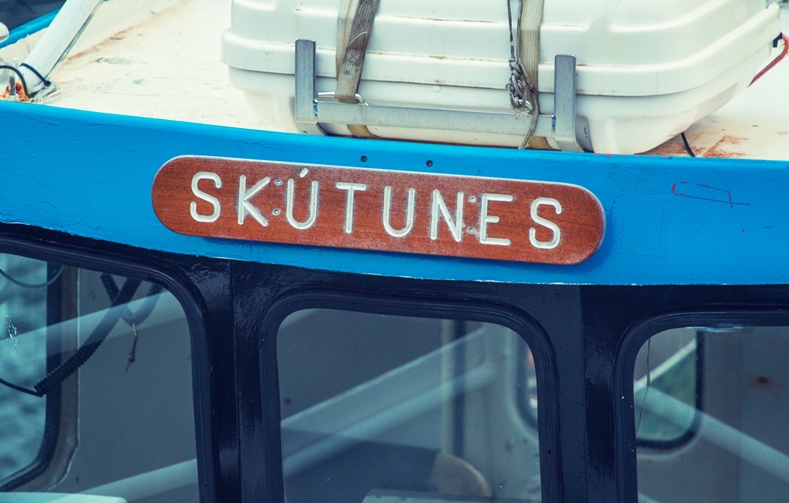 Heading out of the capital, it's a good idea to plan your journeys so you don't double back on yourself too much. This is because some of the sea tunnels that enable you drive from island to island cost around £10 a time to use!
My plan was to cover one of the islands each day, starting early and not returning until after sunset. This approach does mean you can be away from shops for the whole time, so pack food or schedule in stops at the petrol stations, where they serve fast food like hotdogs, which after a day in the cold are very welcome.
Saksun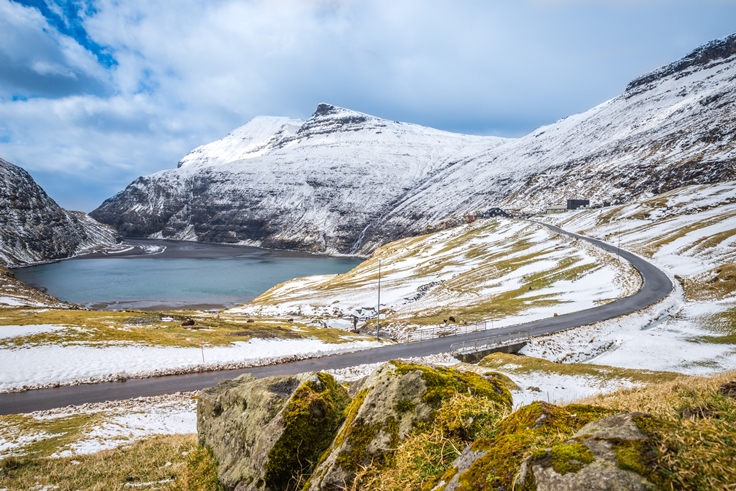 Saksun was a location I had researched before travelling. It's accessed via a small track that stretches through a valley for a good few miles, and when I was there some snowfall (slightly unusual for late April) provided additional challenges. When it's snowy, you have no choice but to drive slow, so factor in additional travel time.
A lonely church stands on top of a hill, flanked by mountains and overlooking an amazing lake. A waterfall runs down the hill and you really could spend all day here and not take the same shot twice. After another blizzard, the sky brightened up and I was able to capture a long-exposure image using my Nisi Filters 10-stop ND filter.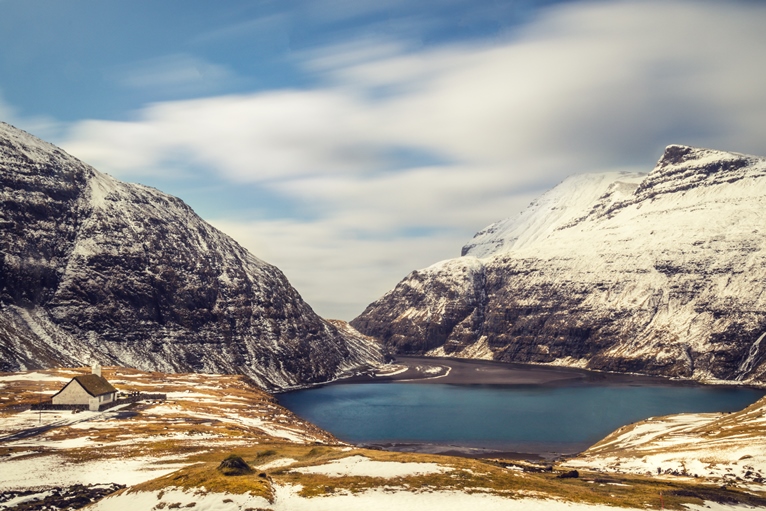 Slættaratindur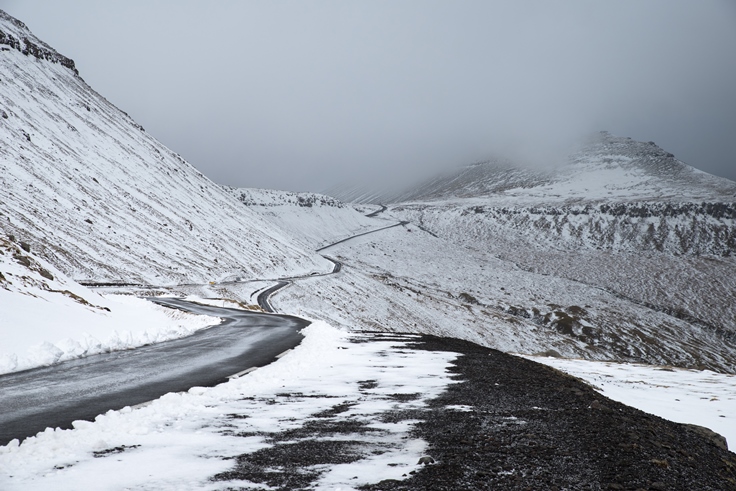 The next destination was Slættaratindur, which at nearly 3,000ft is the highest peak in the Faroes. Again, the snowfall caused problems and made climbing the peak for a picture both dangerous and hard work. In these situations, if you don't have experience of climbing, you should simply move on and head to a safer location. I have done a fair bit of mountaineering, and so was able to get high enough to shoot a multi-image sequence that I stitched together into a panorama in Lightroom.
Getting down the mountain was a lot easier than getting up – thanks to the snowy slopes and my padded ski trousers, I was able to achieve a controlled slide. The climate on the Faroes is always pretty cold – even in summer, it doesn't get above 20° – so pack appropriate clothing and equipment. Extras I made space for in my bag included a first aid kit, a head torch and a mobile phone complete with power pack to keep it charged.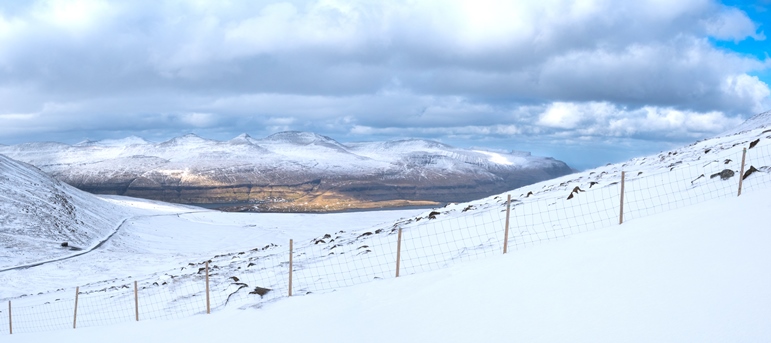 Gjogv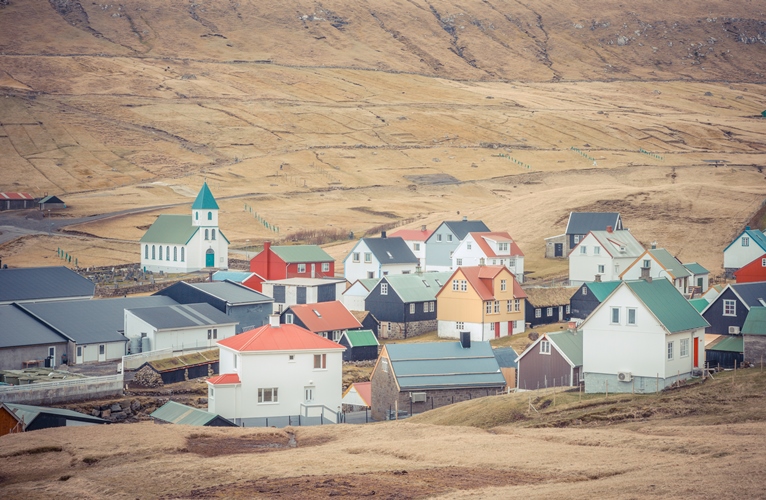 Gjogv was another location I had researched and knew I had to visit during my trip. It's a village packed with history and shaped by nature. Facing into the Atlantic, waves rise at least 20ft high and then crash against the shoreline. I found that by shooting in RAW, I was able to really bring out the colour of the aqua surf in Lightroom.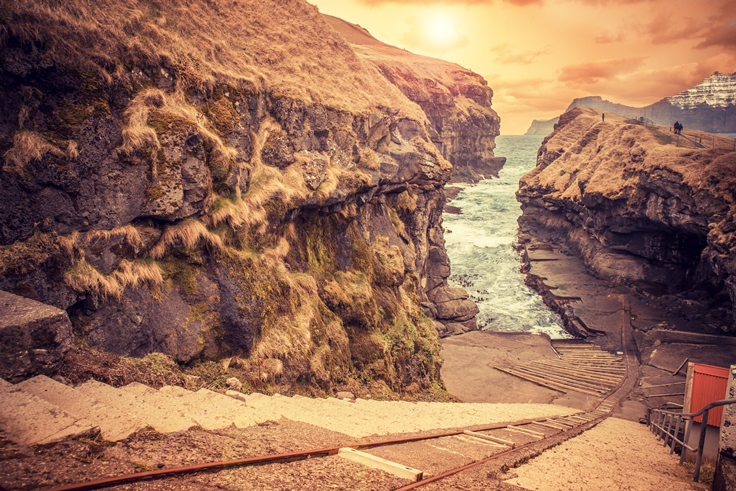 Gjogv is named after the natural gorge that was used by fisherman as a harbour, and it's this spot that's the focal point for images. The steps and little railway line that run down to the harbour act as excellent lead-in lines to guide the viewer through the frame. As a bonus, this village sees a whole host of birds visit to take shelter on the steep cliffs. The Faroes are home to thousands of puffins, but these are usually found on the more remote islands such as Mykines.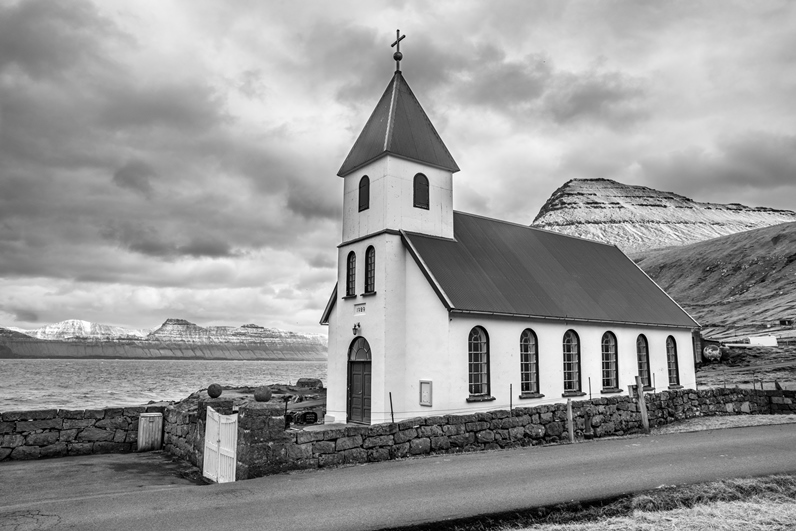 Lake Sorvagstatn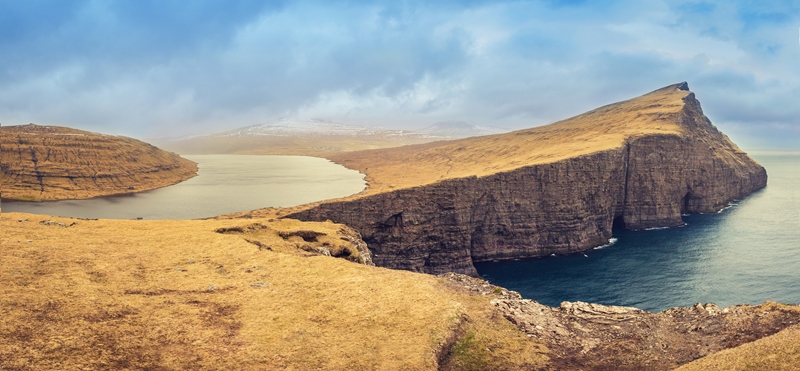 This is the largest lake on the Faroe Islands, and my visit coincided with a very windy and rainy day. Walking to the far side of the lake took more than an hour, but the reward was a view of the high cliffs that drop off into the sea.
Be under no illusions: this is not a trek for those with a fear of heights, and I wouldn't recommend taking children to these areas either. Shooting here can be dangerous, so be safe.
Looking back towards the lake from the peak creates an optical illusion with the scene appearing double-decked, lake on top of sea. On the other side of the peak is where the lake runs into the sea via a waterfall. The wind can literally blow your tripod over, so be wary, and if necessary attach your camera bag to the tripod's centre column to act as extra ballast.
Gasadular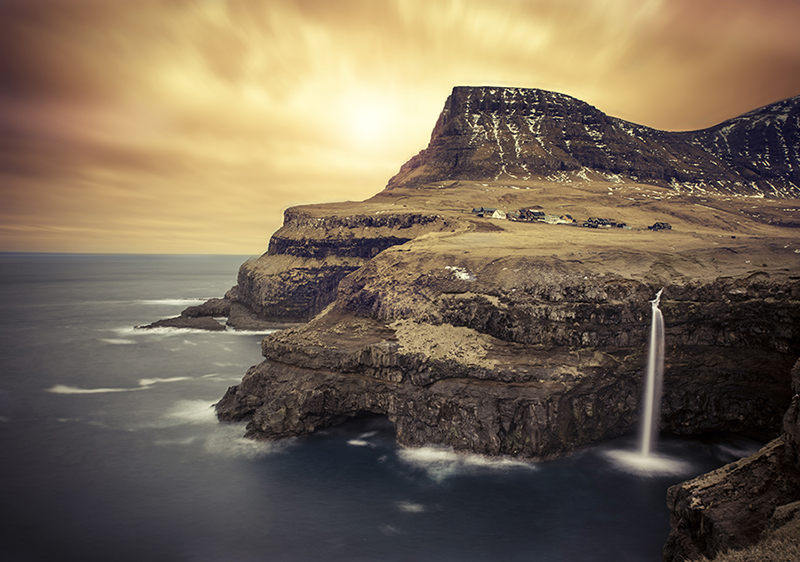 Gasadular was the location at the top of my list, and one I was desperate to photograph. For hundreds of years, the village was cut off from the outside world and was only accessible via boat or over a high mountain pass. All this changed when the government build a road tunnel through the mountain in 2006, and now you can drive into the village and capture the amazing waterfall that plunges down into the sea.
A wide-angle lens is needed to get the waterfall and the tall mountains in the backdrop into one shot. There are a set of steps that lead to the rocky shore, but these are too dangerous to take on, so stay clear no matter how tempted you may be to capture an alternative view of the waterfall!
What kit to take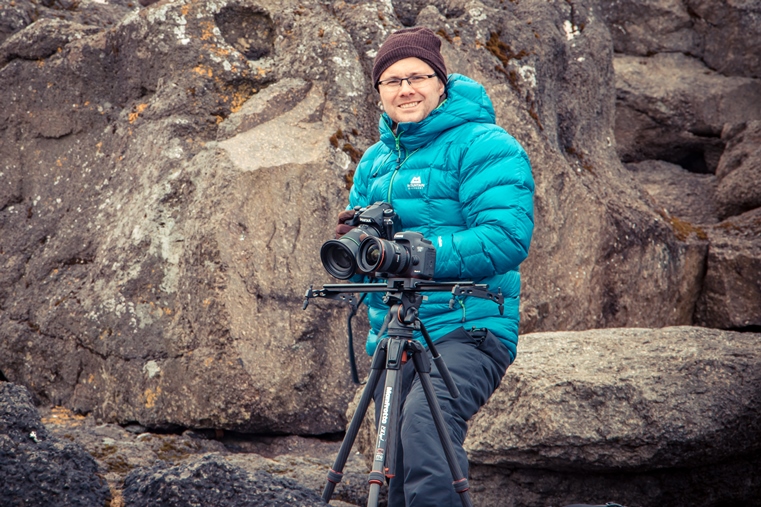 When flying into a location, you always have to plan the equipment you're taking carefully to make sure it doesn't weigh too much. On top of my filming equipment, I chose to take a Pentax K-1 DSLR, which I paired with a 24-70mm f/2.8 lens.
The selection was based on the K-1's double-whammy of a high-megapixel (36MP) full-frame sensor and weather resistant capabilities. The chances are that your gear will get wet when shooting in the Faroes, so having the peace of mind that I'd still be able to shoot when and if the elements turned was important to me.
While some prefer to pack primes, I found a versatile zoom like the 24-70mm enabled me to work quickly. I backed up images every evening after returning to the hotel, making multiple copies in case I encountered problems – the last thing you want is to take amazing travel images and then lose a memory card!
While you can never guarantee the weather, I can assure you that a visit to the Faroe Islands will give you the opportunity to capture some amazing images in incredible locations while stepping off the usual tourist trail. New views, new experiences, all just an hour's flight away. If you would like to find out more and plan a visit, check out www.visitfaroeislands.com.
About the Author
Matty Graham is a photographer and writer based in Lincolnshire. www.mattygraham.com
Related articles