Wet and windy conditions and delicate electronic items are rarely a good combination, but that doesn't mean you need to stop shooting when the weather turns. Giles Babbidge explains how to protect both your gear and yourself in inclement weather.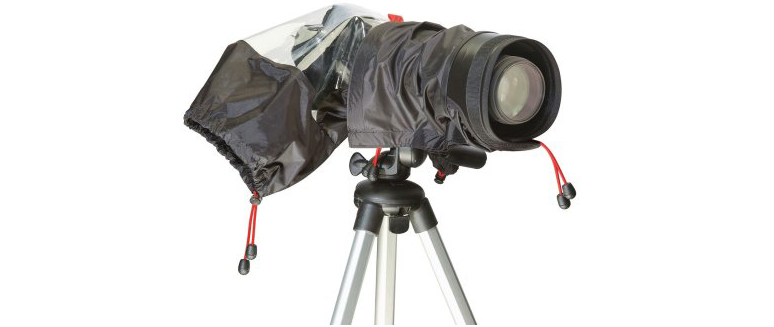 The months of autumn and winter are among my favourites as an outdoor photographer. For one thing, the low, golden light is just perfect for creating striking images, while the crisp snap in the air keeps me on my toes. But let's not forget, this time of year also plays host to far less favourable conditions, with a combination of rain, hail, frost and snow all doing their best to hinder even the most hardy and determined of snappers.
There's an old adage which says that there's no such thing as bad weather, just the wrong choice of clothing. Well, a parallel can also be drawn when it comes to heading out for a day of photography - pictures are there for the taking in all conditions, you just have to know how to protect your kit accordingly.
With such a wealth of protective gear available these days, there really is no reason to admit defeat and pack those cameras away. Given a little forward planning, you'll be able to stay out longer and, therefore, capture a range of striking images which other photographers will have missed by staying indoors or giving up early.
But before you reach for your credit card, it's worth spending a little bit of time considering just what kit you do actually need. After all, there's no point in carrying the extra weight of covers, cases, clothing and accessories if, realistically, there's little chance of them actually being used on a given day.
So, with the light fading and the weather setting in, here are a few things to consider when gearing up for adverse conditions...
Clothing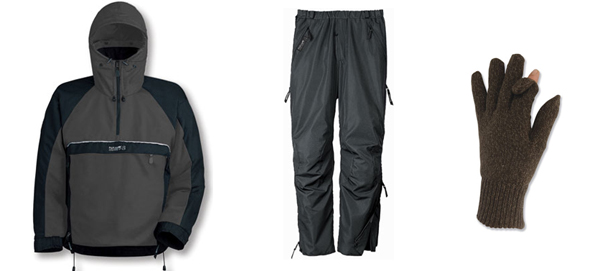 First things first: always consider yourself before your kit. At the end of the day, if you're cold, wet and uncomfortable, any amount of time in the outdoors is most likely going to be miserable. And when you're miserable, your photography (including the ability to concentrate on the creative side of things) will suffer by default.
There's such a diversity of clothing available to suit every pocket that you're bound to find a set of garments which fits the bill. Get the best you can afford and be sensible. As an example, fleece jumpers are great on many levels: they're cheap, dry quickly, low in weight and have fantastic thermal properties. What's more, you can get them in just about every major high street.
Consider the layering system, which means you'll be able to adapt to the conditions as you go. A good base layer, such as a merino wool t-shirt, will add warmth next to the skin, over which a fleece and then waterproof/breathable outer shell should be worn. The latter is really important, especially on cold and wet days; rainwater is kept out, but sweat is allowed to escape and evaporate, keeping you warm and dry.
Don't forget your extremities, though. A suitable set of hat and gloves will do wonders for keeping your comfort levels under control.
Weatherproof cameras and lenses
Ok, so onto the photography equipment, and a very popular category of gear referred to as 'weatherproof'.
When considering weatherproof kit, take some time to understand exactly what is meant by 'weatherproof'. Weatherproof cameras can typically withstand a slight splash of water or light drizzle, not being submerged underwater - for this, you need a 'waterproof' camera, which will typically travel safely down to depths of a couple meters or so.
A great many weatherproof cameras fall within the 'compact' market; easily pocketable, they are designed to be taken just about anywhere. As such, they make excellent backup cameras and are perfect for quick shots on those occasions when you don't want to take out/risk damaging your prized kit. You'll also find that these little machines now come with a host of advanced features, including shock resistance, Wi-Fi and GPS.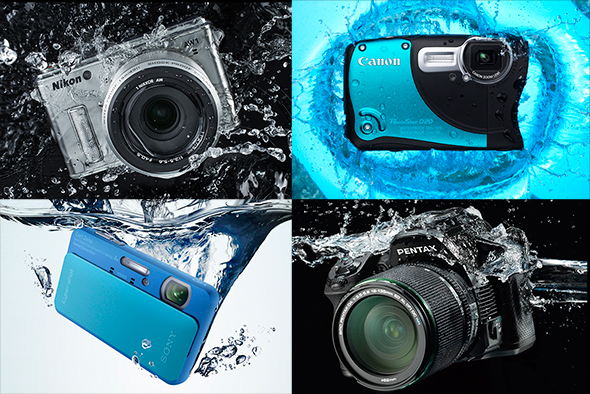 A word of caution: it's very easy to get carried away when heading out with a weatherproof camera, but as with all kit, you should be careful to follow manufacturers' guidelines. Unfortunately, a great many cases of customer complaints can be traced back to user error - for example, even though a memory card compartment is sealed from the elements when properly closed, it can be all too easy to compromise this when trying to change cards in a hurry. Slow down and take your time.
Batteries
Batteries have a tendency to fail as the temperature drops, so be sure to take plenty of spares. I favour the rechargeable variety, but whichever type you use, make sure they're well protected, preferably in a dedicated box which prevents them from touching up against one another. A top tip for very cold weather is to keep batteries inside your fleece or jacket pocket, close to your body, to keep them at a more reasonable temperature.
Memory cards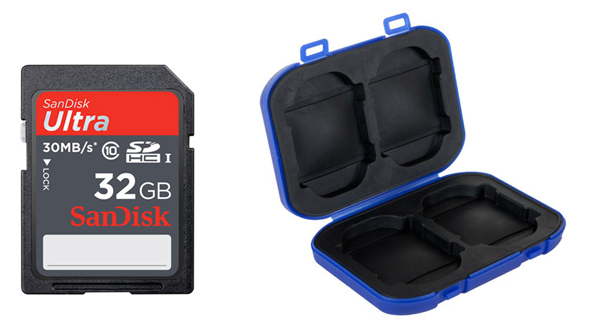 The humble memory card has come a long way. Whereas CompactFlash cards have for a long time been considered the most rugged design, more and more manufacturers are bringing out cameras which take the smaller SDHC and SDXC formats - and so these cards have also developed to offer more rugged options.
Bear in mind that technical specifications such as the quoted write speeds are based on 'ideal' conditions. If you are heading out into adverse weather, these specs clearly aren't going to be 100% reliable. All manner of factors such as file size, ambient temperature, camera battery life/performance have an effect. If in any doubt, be sure to run a few tests before you go; it's a terrible feeling to find yourself in the middle of a great location, with a great subject waiting to be captured, only to find that the surprise limitations of your gear are all set to thwart your efforts.
Equally worth investing in is a decent container for storing your cards. These come in a range of sizes and designs - everything from roll-up material pouches to silicone/waterproof hardshell cases. Personally, I've never had any problem with water seeping in and causing damage when using a basic silicone number, although you could even use something more basic such as sealable freezer bag if you don't have a dedicated case to hand. If you do this, be sure to check for condensation from time to time.
Wet-weather covers and accessories
Professional-level camera bodies and lenses are well equipped to handle the harshest environments (sporting such things as moisture-defeating seals around vulnerable areas), although consumer models are not so fortunate.
For this reason, you might like to consider investing in a waterproof cover which, as the name suggests, is designed to protect your camera/lens setup from the elements. These also do a great job of keeping out dust and dirt, although be aware that some designs are better than others. A handy feature to look out for is one which allows your camera to remain mounted on a tripod whilst creating a seal from the weather (often using Velcro).
Also, give some serious thought to one which allows you to place your arms through sleeves. Assuming you won't need to take your hands out to change lenses or adjust your tripod's legs too frequently, you can be sure that you're getting the best, most weatherproof protection, thanks to elasticated or drawstring cuffs.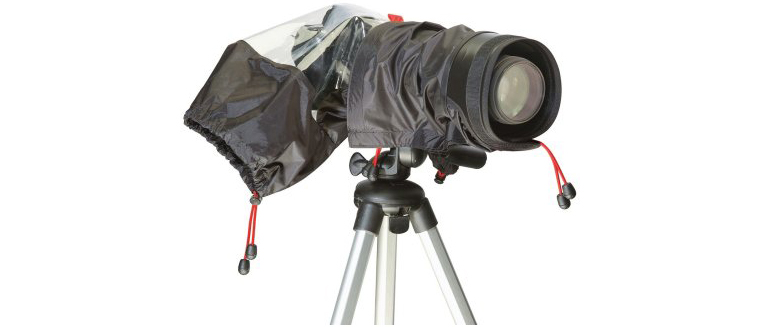 In an emergency, a piece of plastic or a carrier bag can be used as makeshift protection, but it's no real substitute if you're planning on heading out into particularly harsh conditions.
If you decide you want to take your bigger cameras underwater (we're talking about models up to DSLR size here), you have a number of options. You can either invest in a dedicated, solid housing, or pick a watertight case. The latter has the benefit of being lightweight and flexible in its construction.
No matter the size of your camera/lens combination, there's a wide range of configurations available from different manufacturers. As such, it's worth doing a little research before purchasing, to make sure you find the best setup for your kit.
Bags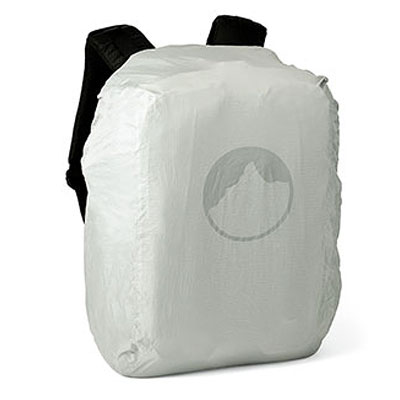 If you read my Camera Bag Buying Guide, you'll know that there is a huge and diverse range of luggage available to suit your needs.
Whichever design you plump for, look out for models which contain rain covers (typically stored within an exterior compartment and attached via a popper or tab of some kind). Also, keep an eye out for exposed zips - these will do you no favours in wet weather, as they are not designed to prevent moisture seeping through. Instead, look for those which have generous, overhanging rain flaps (sometime referred to as storm flaps); on some designs, these are even securable in some way.
When it comes to smaller pouches, again you have a wide choice when taking your pick - and many of these share similar features to their larger cousins, such as pull-out rain covers, Velcro/popper fastenings and accessory pockets.
If you would prefer not to carry around a bag in poor weather, why not consider a photo vest? Even when loaded with all your prized equipment, these can often be accommodated under a jacket (or umbrella, if that's your preference). Advantages include multiple pockets offering quick access and a snug fit (perfect for keeping things secure on windy days).
Preventing condensation
No doubt you will have experienced the front of your lens fogging up when walking through the front door of a building. To avoid this when, for example, quickly nipping back inside to grab something you've forgotten, leave your camera bag out in the cooler temperature in a safe place (preferably with a friend - do not leave it unattended!).
When you do finally head indoors at the end of the day, be sure to strip your camera gear down and let it air out at room temperature; residual moisture can lead to all kinds of technical woes including battery corrosion and lens fungus.
When things go wrong...
Let's face it - for all our best efforts in trying to protect our kit, sometimes the inevitable can't be avoided. A freak wave engulfing your camera bag, a sudden downpour catching you out in the middle of a field, your camera phone slipping out of your hand and into a puddle... the list of unfortunate accidents is endless. So what can you do in order to minimise the damage after the event?
The first thing would be to wipe off any excess moisture with a cloth; Microfibre towels and chamois leathers are perfect for this. Next, strip down your setup - so, with a DSLR, remove the lens, memory card(s) and the battery, along with any other bolt-on accessories such as battery grips, being careful to soak up any remaining moisture as you go.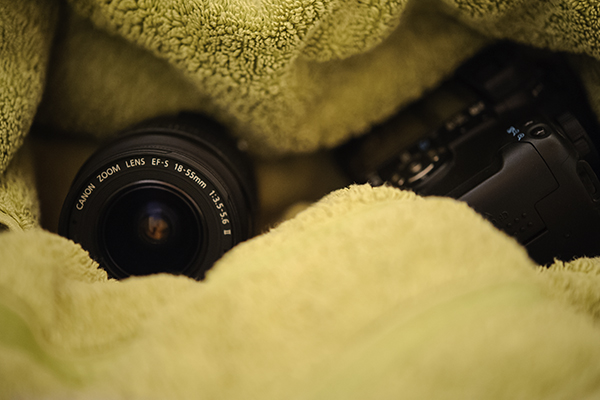 You then have a number of options. Most people pop their kit into an airing cupboard for a few hours, but placing the items near a radiator or on a table in a warm room can be equally effective. Don't be tempted to poke around inside your camera, though - you might actually do more bad than good, pushing dirt and moisture into hard-to reach areas. Frustrating as it might be, the slow airing process is the way to go.
When it comes to phones, strip off the case, remove the back cover, battery, SIM and memory card (unless any of these cannot be removed) and place in a bag or bowl of rice. Yes, you read that correctly - rice! Don't worry about which variety, a handful of the standard white stuff is great at soaking up moisture. I've heard many a tale of this little trick working a treat (and, in so doing, saving the owner a small fortune on replacement handsets).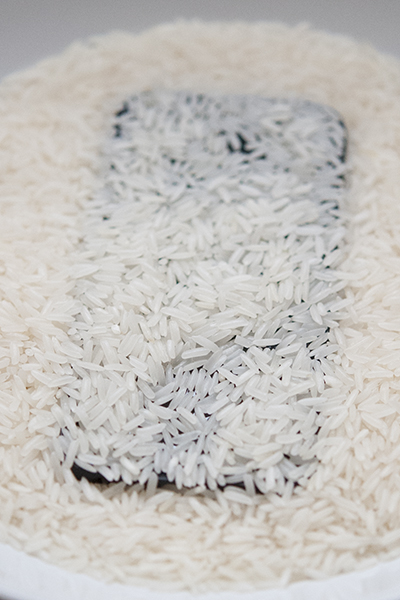 About the Author
Giles Babbidge is a commercial and editorial photographer based in Hampshire. He travels all around the UK and works with a wide range of clients - you can find out more about his day-to-day activities over at his website.
Related articles