Iceland's varied landscape presents a wealth of photographic opportunities. Kirk Norbury lets us in on his favourite photographic locations.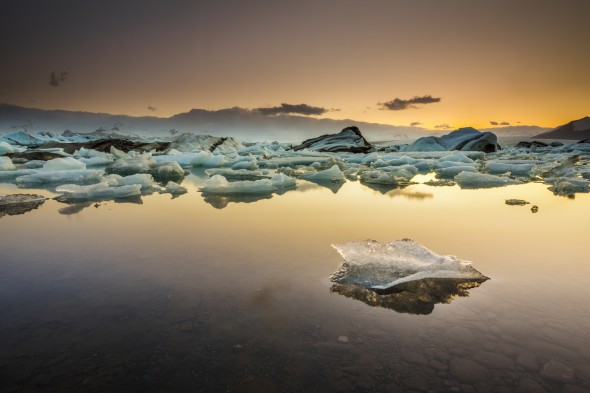 Iceland is a land of isolated beauty and full of natural wonders. Its abundance of glaciers, ice sheets, icebergs and volcanoes gave Iceland the nickname 'Land of Fire and Ice' and it's one of the top countries on most photographers' lists of places to visit. In this article, I will go through my personal favourite locations that I feel that every nature photographer should visit.
Skógafoss waterfall
One thing you quickly notice is the frequency with which the word 'foss' is attached to other words. Foss means waterfall in Icelandic and the country has thousands of them. Located in the south of Iceland, Skógafoss is one of the most popular due to its sheer size (its drop measures 200ft).Although it can attract large crowds, I recommend staying if you can as it can soon go very quiet as the coaches leave. Sometimes you will have the waterfall all to yourself.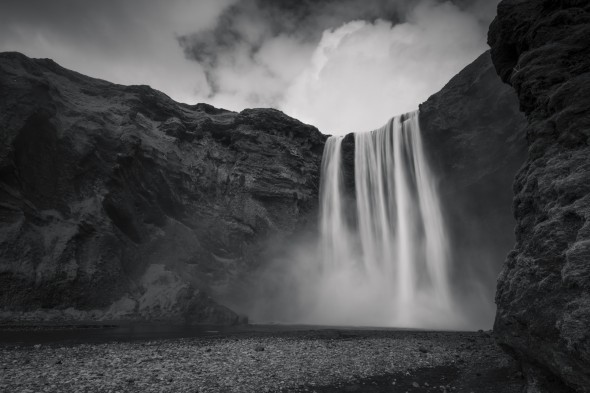 There are many ways to photograph this waterfall. You can start at the bottom next to the Skógá river where, on a sunny day, there is a good chance that a rainbow will form, but be careful getting too close as this waterfall creates a lot of mist and you can quickly get soaked. There's also a trail along the right-hand side of the waterfall that allows you to get a great side-on view, but watch out for the trolls! If you've been to this spot before you will know exactly what I'm talking about.
Jökulsárlón Lagoon
Jökulsárlón is a large glacial lagoon in south-east Iceland, on the borders of Vatnajökull National Park. It evolved into a lagoon after the glacier started receding from the edge of the Atlantic Ocean, and with its never-ending landscape of floating ice your mind gets lost in its splendour.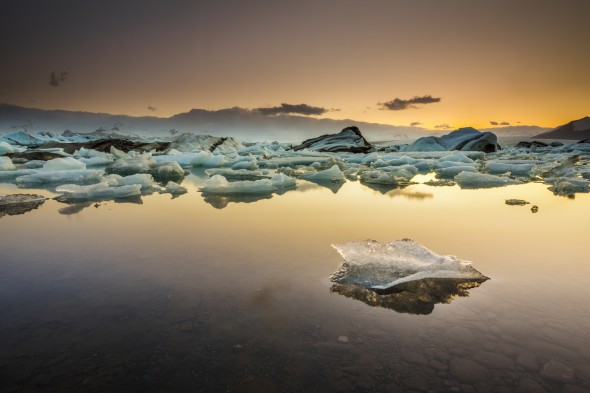 You could spend weeks at this location and never get bored – I know I could. I found the best times to visit were during sunrise and sunset, as the way the light dances though the ice and reflects all colours is just spectacular. Keep an eye on your shutter speed when composing as a lot of the ice slowly moves around as it heads out to sea (just watch the ice while you're setting up the shot to see how fast it's moving). Don't forget to visit the black-sand beach where the lagoon meets the sea, as chunks of ice get washed up onto the black sands.
Vik
Vik is the southernmost village in Iceland and is also a great place for photographers to stop off for food or a good night's sleep. It's also a wonderful place for taking pictures, with a great shoreline that has a cluster of sea stacks known as Reynisdrangar and a beautiful church on the north side of the village. If you plan your trip during the summer months you'll find a large amount of lupins grow around the church and other areas of the village.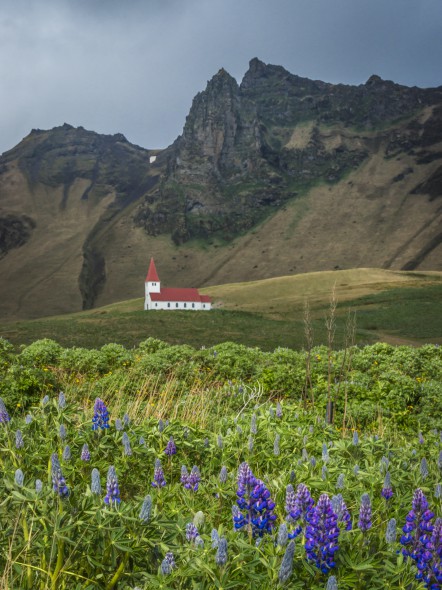 Seljalandsfoss
Located on the south coast, not too far from the Golden Circle ring road, Seljalandsfoss is another of Iceland's popular waterfalls. With a similar height to Skógafoss you can photograph this waterfall at many different angles, but one thing people love to do is go behind the waterfall due to a path that leads you around.
A word of warning: depending on the wind direction and how much water is coming down, it can get very wet. I recommend walking around with either your gear still in your backpack until you get to a dry spot or, alternatively, wrapping your camera in a bag or anything else that stops the water from hitting it. I've heard quite a few photographers learnt this the hard way!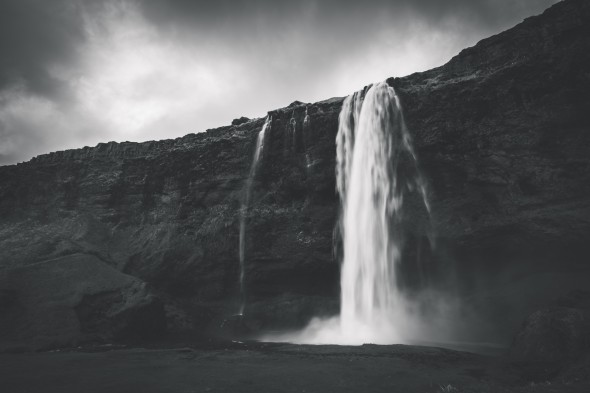 Reykjavik
When flying to Iceland, it's likely you'll land at Keflavik International Airport near Reykjavik and most likely be staying there before you venture on your way. I highly advise you take some time to explore the city; it's really beautiful and there are many photographic opportunities. These include the Hallgrímskirkja Church and Solfar Viking ship sculpture, as well as surrounding harbors, beautiful architecture and, if you enjoy street photography, the people.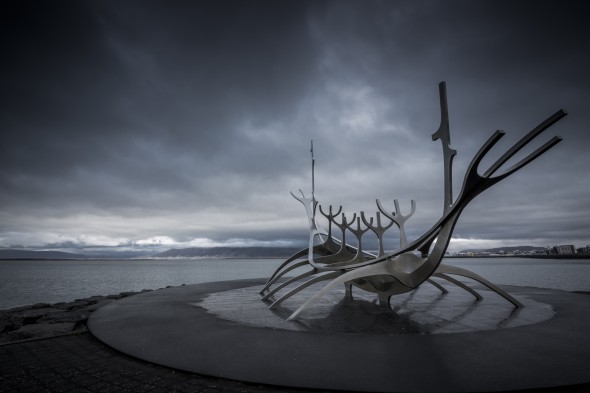 Icelandic horses
The horses of Iceland are something you really need see, and you can find them in roaming the fields wherever you go. The horses can be quite approachable but this varies depending on where you go, so make sure you're not trespassing on somebody's field before you start climbing gates and fences.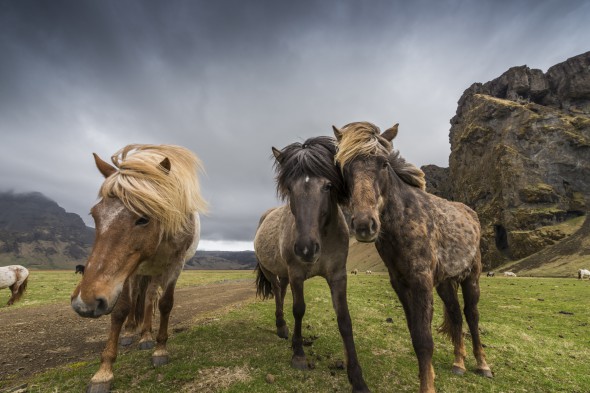 Gullfoss waterfall
Gullfoss is another of the main waterfalls to see along the Golden Circle road. The area consists of a series of waterfalls which fall into a deep crevice and, on a sunny day, there'll be good chances of seeing a rainbow form over the waterfall.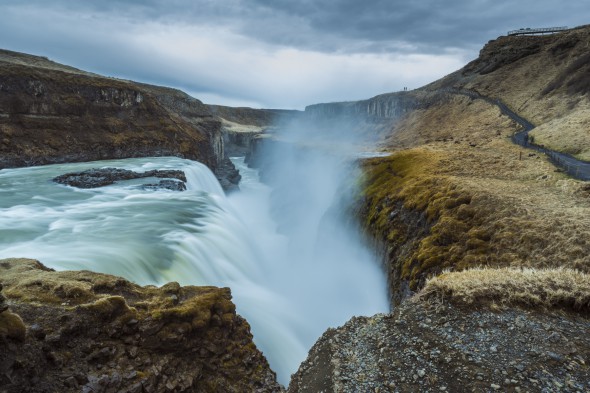 Ingolfshofdi Nature Reserve
Cape Ingolfshofdi is an isolated headland on the coast, halfway between Skaftafell in Vatnajökull National Park and the Jökulsárlón ice lagoon. This historical nature reserve is home to thousands of nesting seabirds, from puffins to great skuas. The headland is named after the first settler of Iceland, Ingolfur Arnarson, who spent his first winter in Iceland there in the year AD874. To get to the headland you have to ride on a trailer on the back of a tractor to get across the 6km of shoreline, as there is no way a car would get across it. You'll need to pick a tour to go on to the headland but I can tell you it really is worth it!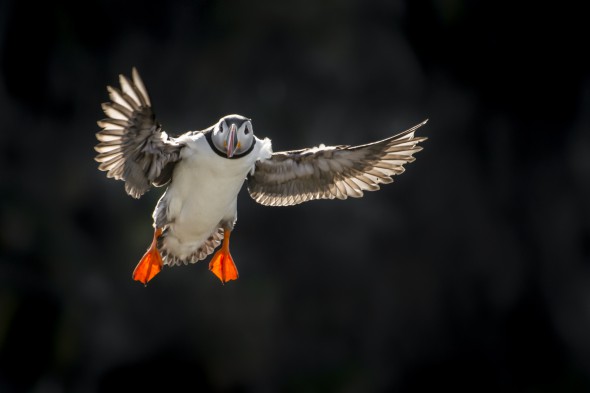 Geysers
If you are sightseeing on the Golden Circle tour, one great natural wonder you must see is the highly active Geysir hot spring area, with boiling mud pits, exploding geysers and the lively Strokkur, which spouts water 30 meters into the air every five to fifteen minutes. Unfortunately, the Great Geysir is less active these days but watching Strokkur erupt is just as enjoyable. The area is a great place to photograph the geothermal activity, as the colours and textures are just fascinating.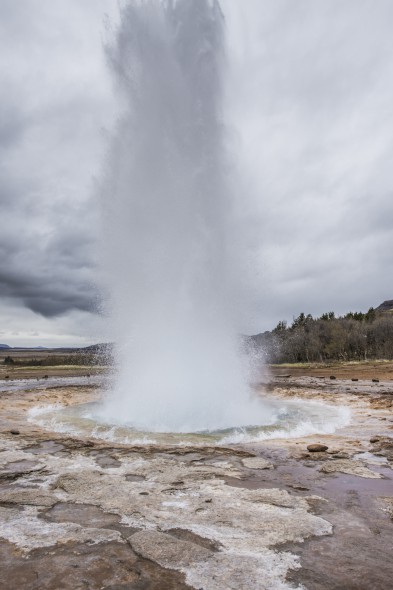 Iceland is known as the land of fire and ice for very good reasons. You could spends years discovering everything it has to offer and still have plenty more to see. For me, nothing compares to Iceland and it's definitely somewhere I'd like to return to sometime soon. What I've covered in this article is just a small slither of what Iceland can offer to photographers; the western fjords and cold north are full of natural wonders too, with places like Snæfellsnes and the Goðafoss waterfall in the north. Of course, you can't forget the Northern Lights during the winter months too.If you're planning a trip to Iceland, don't use this article as a guide but an inspiration. The places I've listed are just a few of my personal favourites but you don't have to go far to be amazed by Iceland's beauty.
About the Author
Kirk Norbury is a nature photographer and cinematographer based in Ayr, Scotland. You can find out about the workshops he runs and view more of his work on his website.
Related articles