Light painting is great for creating fun, Halloween-themed photos. Claire Harper explains how to do it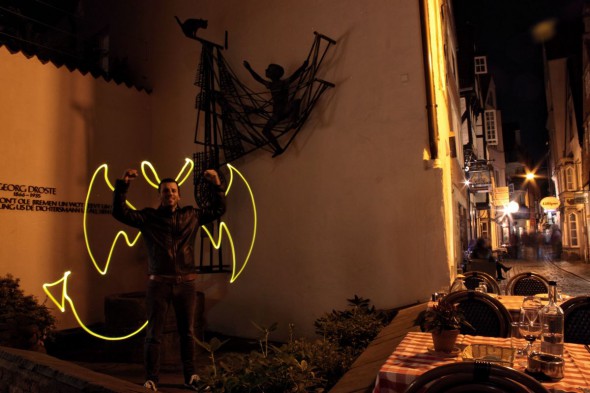 Processed with Snapseed.
Halloween is one of my favourite times of the year: people dressing up, ghost stories, and of course the dark nights. Over the past decade or so, Halloween has really taken off as an evening to get together with friends and family. Halloween isn't just for the kids anymore, it is for us adults too.
Make this Halloween fun by transforming your friends and family into devils, angels and ghosts. It's really simple; you only need a couple of torches and a camera and you're ready to go!
What you need:
Camera capable of taking long exposures (ideally a DSLR)
Tripod
Shutter release
2 x torch (1 small for drawing, 1 bigger for lighting)
Sweet wrappers for filters
For all the following shots you will need your camera on your tripod, in manual, bulb mode and your shutter release to hand. I always start at f/9 and ISO 200 and adjust from there – if you are outside and there is light pollution (from street lights, etc.) I would start at about f/11 and ISO 100.
Devils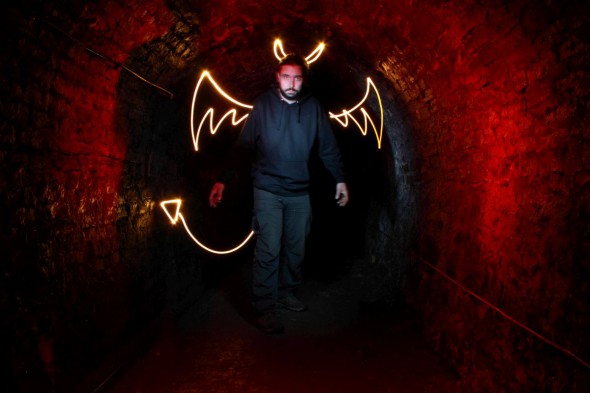 In the above image, I used a small pen torch for the drawing (covered in an orange Quality Street wrapper to serve as a colour filter) and my 4-colour RGB Lenser P7QC for lighting Patrick and the background.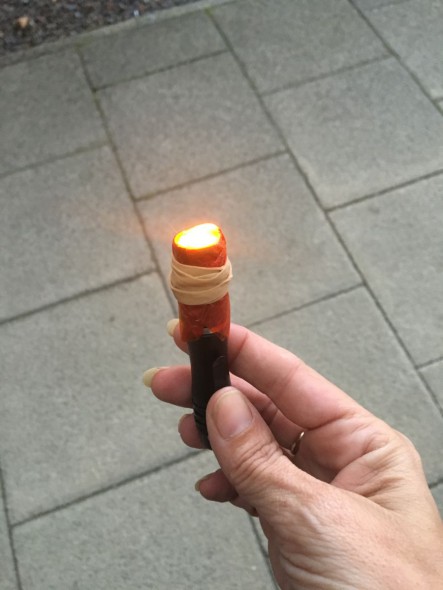 The finished pen torch
Open your camera shutter using the shutter release and move to behind the person or people you are light painting. I started with the wings on this shot but you can start anywhere. Make sure you're always working from behind the person, and carry out your drawing. Keeping it simple works really well; I simply drew the wings starting from the shoulders, then horns, then tail.
With your model keeping the same position, move around to one side, and using your larger torch quickly light up your model's front from head to toe for 1-2 seconds (warn your model you are about to shine your torch straight at them). At this point your model needs to keep as still as possible to avoid going blurry.
At this stage for the example image, I flicked my RGB Lenser to red and lit the background whilst walking backwards towards the camera (when you do this, ensure you move constantly so the camera doesn't pick you up in the photo, and be careful not to knock into your camera).
Close shutter, and you're done.
Angels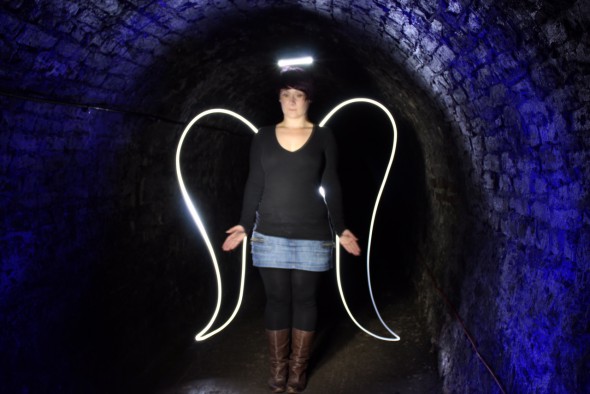 Exactly the same principle as the devil above.
Starting from behind your model, draw wings and a halo, and I like a little flash of light out of the hands. You can create these by simply turning your miniature torch on and off for approximately half a second.
Once again, move to the side your model and light them up briefly from the front with your larger torch. Remember to tell your model when you're going to be turning the torch on, and remind them to keep as still as possible.
Ghostly Figures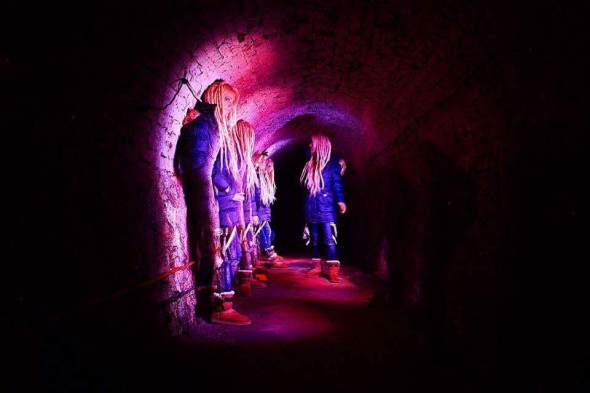 Making ghostly photos is easy. The trick is simply lighting your subject multiple times in different positions using just one torch.
With your camera on the tripod and focused, make a plan of the different positions you want your subject to move to during the shot. Look out for any possible obstacles in the way before you start – there's nothing worse than doing a brilliant shot only to have your subject trip over and ruin it in the final seconds!
With your camera on bulb mode, open your shutter and light up your subject for a few seconds. This done, turn off the torch and instruct them to move to the next position. Once they're there, light them up again. Repeat this as many times as you like, and each time you light your subject up you should get a ghostly figure.
Once you've got all the figures you want, ask your model to move out of the way and quickly light the whole background area for just a second or two. Lighting this whole area will make your ghosts more see-through, though you may need to experiment with timing to get the best results. The more light you put in the shot at the end, the more ghostly your figures will turn out.
Ensure you constantly move during the shot so you don't silhouette yourself into the photo. Emphasise to your subject the importance of staying still; any movement during the lighting process will cause blurring.
Of course there are many other Halloween-themed shots you can do really simply following the same principles and with just a couple of torches.
We'd love to see any light painting you get up to: feel free to send it to us at our Twitter, Facebook or Instagram pages. Many thanks to Kerry Lister-Pattinson, Patrick Fall, Robyn Flemming and Paulo Da Silva Cabrita for kindly modelling.
About the Author
Claire Harper is a photographer, tour guide and light painter. Follow her on Twitter @ClaireHarpz
Related articles