Autofocus is a feature many photographers take for granted, but understanding how it works and its options turns it into a much more powerful tool. Geoff Harris explains what you need to know.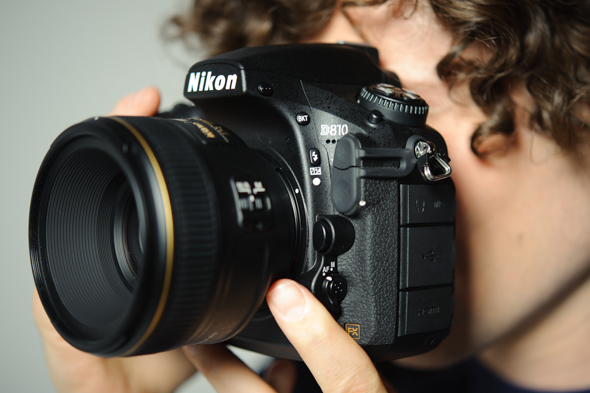 Autofocus (AF) is actually something of a misleading term. While modern cameras do indeed focus automatically straight out of the box, to get the best and most consistent focusing you often need to take some control over it yourself. It sounds counterintuitive, but all you are basically doing is telling the camera exactly where and how you want it to focus.
Modern autofocus systems are indeed very smart, but they can still get it wrong – and poorly focused shots are one photographic headache that's hard to cure with software. Read on to learn how to take control of your autofocus for predictably sharp shots every time.
The default option
By default, your camera will make use of all its autofocus points, which you can see spreading out around the central autofocus point when you half press the shutter-release button. The number of AF points and their exact arrangement depend on your camera, but nine is a typical number for entry-level models.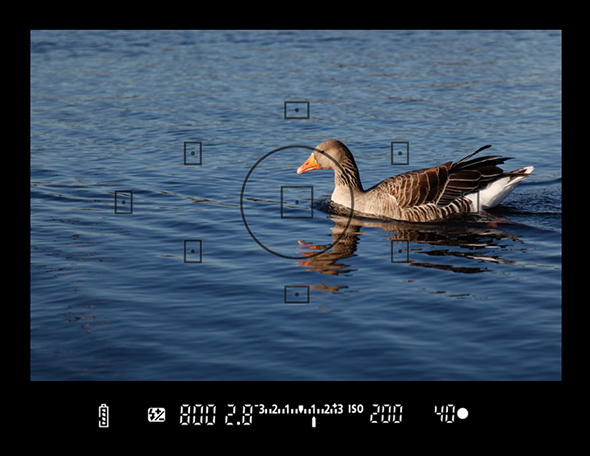 Most entry-level DSLRs have around nine AF points.
If you don't intervene in the process, the camera will take information from all its points and come up with what it thinks is the most accurate focus for the picture you are about to take. Sounds good, but sometimes this translates into it focusing on the nearest object, which isn't always what you want.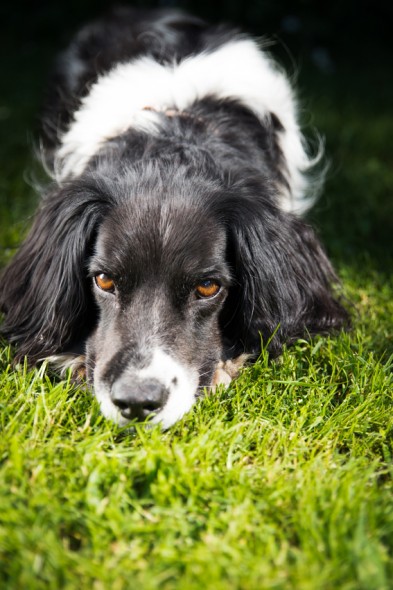 With people or animal shots, it's a good idea to focus on the eyes as sharpness will be a priority here.
A good example is a portrait; with portraits, be they of people or animals, you nearly always want the eyes to be sharp. It follows, therefore, that the safest option is to focus on the eyes.
Selecting points
The next step is to learn how to manually select AF points so you can move them to exactly where you want to focus in an image. Every camera is different, but if you look in your manual it should tell you how to move from the AF Auto mode to Manual-Select option (the terms may differ, but not the idea). Once this is done you should be able select and move the AF points themselves by using the arrow keys or a similar button. Spend some time just getting used to moving the selected point around, then switching back to the central point (it's good to keep going back to this when you are done). If you can't move AF points around, check you haven't locked the AF on the central button.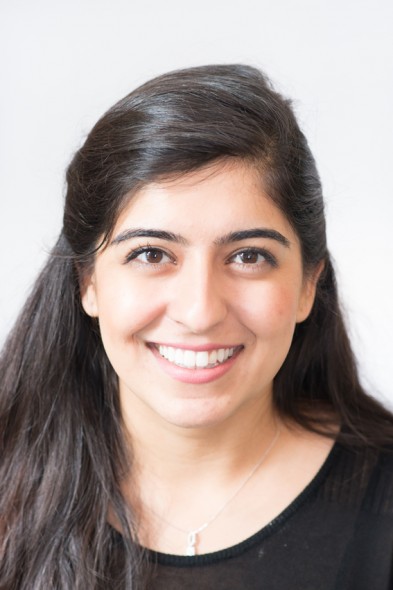 Once you've focused on the eyes and captured your image, you may wish to zoom into the shot to check that the subject's eyes are acceptably sharp.
Now, let's put some of this theory into practice. With your camera set to One Shot AF mode, or AF-S mode, try taking a shot of a portrait of a patient sitter, such as your partner. Depending on how they are sitting, select the nearest AF point to their eyes and half press the shutter-release button to lock the autofocus. When you are happy with this, fully press down the shutter-release button to take the shot. If you look at the eyes closely, they should be in sharp focus. Obviously, this will also depend on other factors, such as your aperture and shutter speed settings, but you should get the idea (if in doubt, switch to Aperture Priority mode, so the camera works out the shutter speed for you, or set a higher ISO to enable a faster shutter speed). If you can't find a sitter, practice shooting a static object, carefully moving the AF point to exactly where you want to focus.
Focus and recompose
Now, here is where it gets interesting. Although you may be able to see a number of AF points which you can move around, it's usually the case that the central point is the most sensitive, especially in poorer light. This is why many photographers prefer to stick with this middle point. Trouble is, it's bang in the centre of the frame, which limits your compositions.
Fortunately, you can lock autofocus to the central point and recompose the shot. Simply focus on the area you want to be sharp and then half press the shutter-release button. The focus is now locked here, and as long as the subject doesn't move – and the distance between yourself and the subject stays the same after you've recomposed the image – you can then move the camera for a nicer composition, before taking a focused shot. This only works, however, if you keep the shutter-release button half depressed.
The risk with this technique is that you can accidentally release the shutter-release button or the subject can move. Of course, you can get around this by sticking with the nearest AF point to where you want to focus, if it feels more natural. Focusing and recomposing can also lock in the exposure reading, which may not remain appropriate when you move the camera for a nicer composition. At the end of the day it doesn't matter whether you manually select AF points or lock focus with the central point and then recompose, so long as the shot is sharp. It's good to get confident with both methods though, as it will increase your autofocus options.
Capturing moving subjects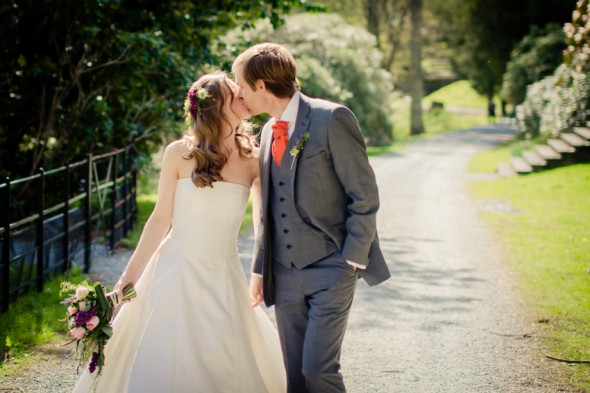 If you're shooting a moving subject, use continuous focus to ensure it remains sharp.
So far we have dealt with autofocus skills for static objects, but what if you want a finer degree of control over moving or jittery objects, such as a child or animal? The answer is to move to continuous AF (known as AI Servo or Continuous Servo, depending on the model). Now, with the shutter-release button half pressed you will see that your camera is still able to focus. The AF keeps refocusing on the subject to try and keep up with it. As with single point AF, you can select the AF point closest to the area that must be in focus – the head of a running athlete for example. While you can certainly select the outlying points as well as the central one, they might struggle in low light, or with low contrast subjects, or with lenses with a maximum aperture narrower than f/5.6.
Back-button focusing
If you watch sports photographers carefully you may notice that many keep a finger hovering over a button on the back of their DSLR. They are using a popular technique for keeping moving objects sharp called 'back-button focusing.' As its name suggests, this enables you to remove the AF function from the shutter-release button (activated by half pressing the button) and reassign it to a button on the back of the camera, usually called "AF On". This may be titled different on your camera, so it's best to check you manual.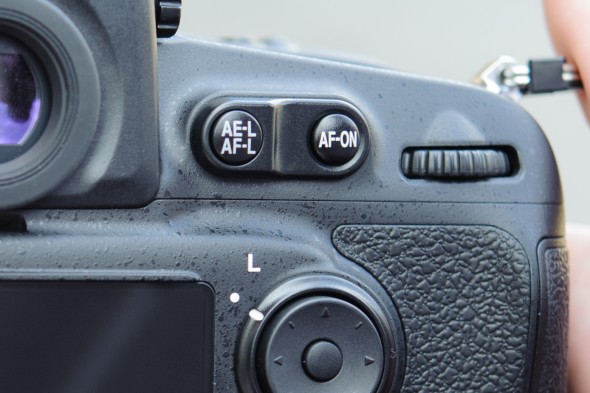 You can activate autofocus with your camera's AF-On control, rather than the shutter-release button.
Simply keep this button pressed down when you are tracking a moving object, such as a bride waking down the aisle, and then press the shutter button in the normal way to take the picture. Back-button focusing feels faster and more natural to many photographers than half pressing the shutter-release button to achieve focus, so give it a try to see if you also feel this way.
How to use autofocus with groups of people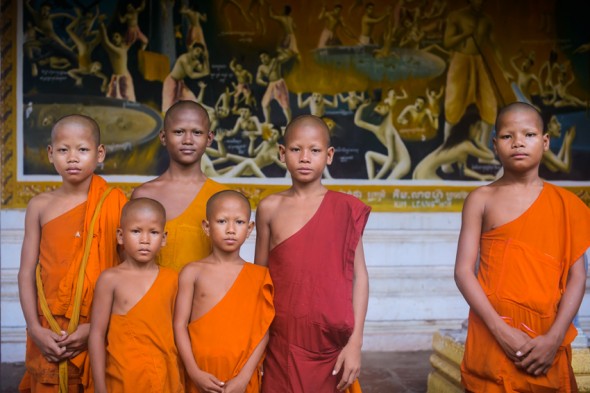 These subjects were all at a similar distance away from the camera, which meant the central point could be used to focus accurately on all of them.
There is a common misconception that selecting a single AF point is unsuitable for images when you need to focus on more than one thing – a group shot at a wedding, for example. This is not the case, so long as your shutter speed is fast enough to capture the image sharply and your focusing distance and aperture provide enough depth of field to cover all relevant subjects. If you are suffering from blurry shots, the chances are that it's not just your autofocusing technique or settings that have gone awry. If you feel happier though, by all means activate all the AF points available on your camera for an important group shot.
AF and Live View
If you activate Live View on the rear screen of your camera, you may notice that the AF seems slower or less accurate than when you are looking through a conventional optical viewfinder. This is because the image is bypassing the mirrors inside a DSLR and going straight (or 'live) from the sensor to the rear screen. A different autofocus system, called 'contrast-detect AF', is being used here, which can be slower as it tries to work out the correct focus. Be aware of this when activating Live View, but don't dismiss contrast-detect AF as it's got better over the last few years. You also have more options for selecting outlying AF points and it also stays active as you are shooting movies. Some more recent DSLRs use a hybrid system for focusing in Live View; this combines the contrast-detect AF system with the phase-detect AF principle used for standard viewfinder focusing, in order to achieve a faster result.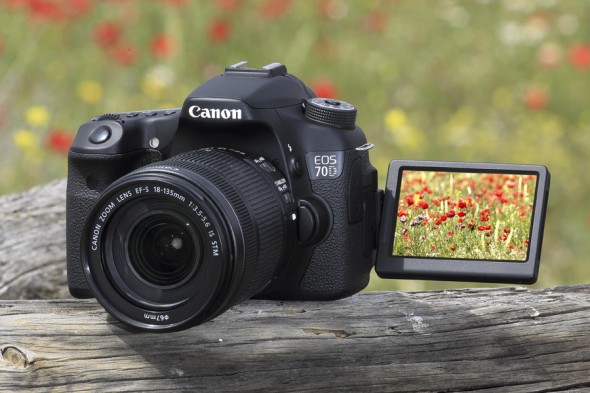 You can use autofocus during Live View
Final thoughts
Ultimately, the most important thing is to get sharp images, so don't become one of those photographers who misses shots as they are too busy fiddling around with AF settings and moving AF points around. If you're in a rush, and the light is good and the subject you want to focus on is near to you, the default automatic autofocus option will probably be fine; worry about fine-tuning AF options when you have more time. There's also a time to turn autofocus off altogether, particularly when photographing landscapes or macro shots, but this is a complex subject that requires a separate tutorial. Hopefully, this article has given you the confidence to take more control over your camera's autofocus system, so you can be sure of great shots every time.
About the Author
Geoff is a highly experienced photography journalist, and recently stepped down as editor of Digital Camera, the UK's best-selling photography magazine. He now writes for a range of publications. Geoff is a keen travel and portrait photographer, and a Licentiate of the Royal Photographic Society.
Related articles