Heading on a photo trip? You'll have a better time if you relax and bring only what you'll need. David Cleland runs through his bare-essentials approach to holiday photography.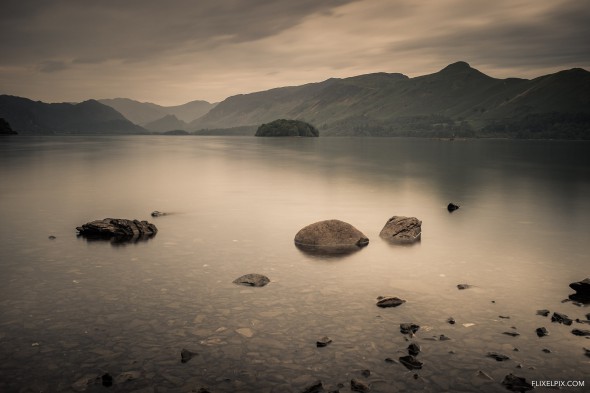 When heading off on any holiday, photographers can find themselves having to put a limit on what they pack. Whether it be due to luggage limits on aeroplanes or your camera bag being the last to squeeze into the back of the car, deciding what to leave behind can prove a frustrating challenge.
Having recently returned from a photography trip to the Lake District, I thought I would look at what I took with me and the benefits of a simplistic approach to photography.
When packing I struggle with two lists: the gear I need and the gear I think I need. The numbers of times I've filled a bag with "just in case" lenses, carried it about all holiday, and then brought it home with the lenses unused is too many to list.
Over the years I have refined my packing list to the bare essentials, and a great benefit has been that less gear means less anxiety when leaving it in a hotel holiday home or car.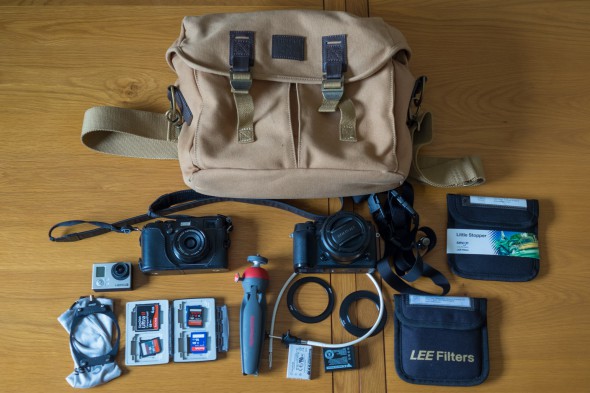 My Millican Christopher bag with all the necessary essentials.
Cameras
Despite never having a camera body die or malfunction, I still pack two cameras with this possibility in mind. Although that sounds silly, I do end up using each camera for different purposes, and one of the major advantages of switching to a mirrorless system is that I can carry two cameras and still be travelling light.
Camera One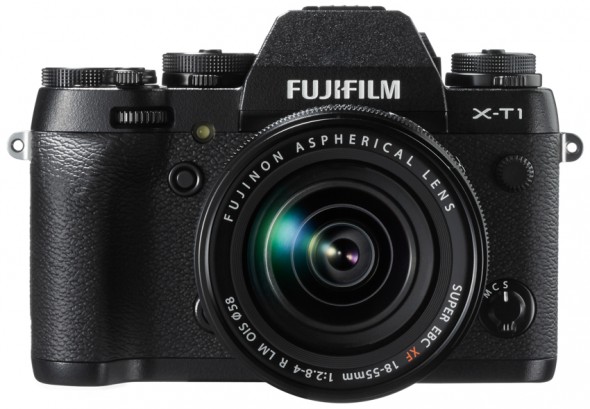 I take my X-T1, combined with both the 14mm and 10-24mm lenses. Although landscapes don't have to be shot at a wide-angle, I do love both these lenses for long exposures and general landscape work. The 14mm is a particular favourite – fast, sharp, and my first port of call for long exposure photography.
For the X-T1 I pack the charger and two batteries.
Camera Two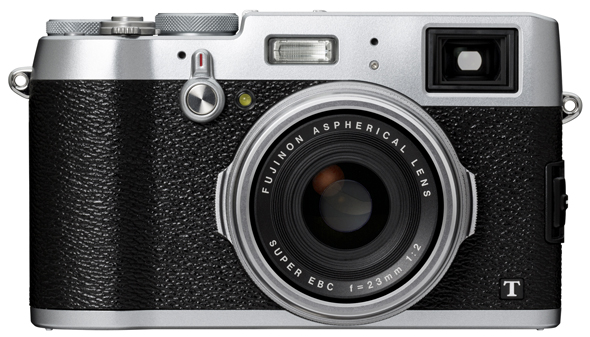 My X100T goes everywhere I do, and is pretty much my go-to everyday camera. Its size and weight make it the perfect camera for travel and even though it has a fixed 23mm (35mm full-frame equivalent) focal length it is massively versatile.
The long-exposure image at the top of this post was shot on the X100T using the Lee Filters Seven5 system. I document all the family adventures with the X100T, and if you feel 35mm isn't apt for landscapes then you can simply activate the brilliant panorama mode.
Most of the Fujifilm models come with this brilliant panoramic feature and it is exceptionally easy to use: stand in a stationary position, depress the shutter release, and slowly sweep around the scene.


The resultant high-resolution JPG files are ideal for printing and we have a number decorating our walls at home. The X100T is a little powerhouse that is often underestimated.
For my trip to the Lake District I knew the X100T would be my main camera and therefore packed three spare batteries. The X100T now offers charging via USB so I decided to the leave the charger at home, which meant one less thing to pack and carry.
Optional extra: GoPro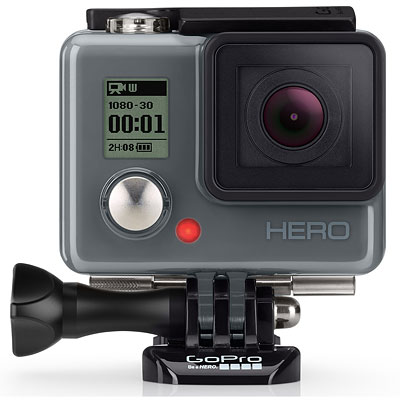 When it comes to holidays that involve any sort of water-based adventures, the GoPro video camera is always packed. The whole family love playing with the camera, above and below water, and the footage is always excellent. We've made a number of mini holiday films of us jumping off harbours or crashing about in the waves. Like the X100T the GoPro charges via USB, so all I need to pack is the underwater housing cable.
Memory Cards & Case
I use SanDisk 16GB Extreme Pro 95MB/Sec SDHC cards for their speed and reliability. If it is a short trip I try my best to use a different card every day. I import the photos at the end of each day but until they are in my main Lightroom catalogue at home rotating memory cards offers a little bit of extra backup protection.
A memory card case is highly recommended; the cards are reasonably fragile and very easy to lose. Most memory card cases support a range of card types and provide a degree of weather protection.
Straps
All cameras come with a strap but in my opinion these don't tend to be favourable for walking or hiking. Having a camera swinging around your neck when you are scrambling up rocks can be dangerous, and even if you are not on a hiking break, the round-your-neck straps can be uncomfortable after a few hours.
My favourite alternative is one of the BlackRapid over-the-shoulder straps. They work like a messenger bag system, with the camera sitting level with your upper hip ready for you to swing it quickly into action.
Mini Tripods
There is a wide range of mini tripods on the market; I currently favour the Manfrotto Pixi and my brilliant little Gorillapod. I tend to actually pack both – the Pixi is a great little tripod if you've also brought the GoPro, as with the legs closed it works perfectly as a handle.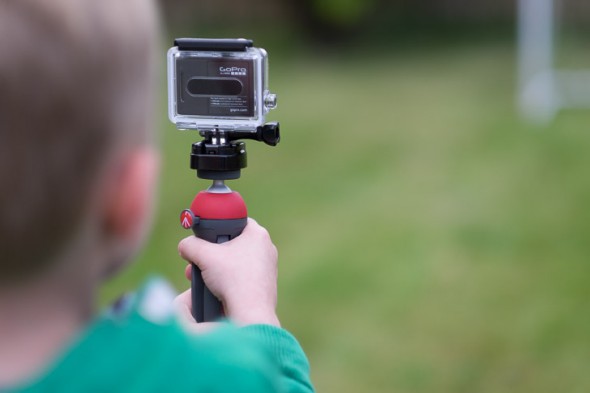 I use the mini tripods in two ways: first to capture landscapes and long-exposure images at the sides of lakes and rivers, and second for the good old 10 second-timer shot. These group shots have become a family tradition, and we have managed to gather up ten years' worth. Put one person into the scene, set up the camera and pre-focus, then everyone has ten seconds to run into the frame. The ten second deadline makes for a lot of fun and the resultant photos tend to offer much more personality than a formally set-up image, or asking a member of the public (who probably won't know how to use your camera) to take the shot.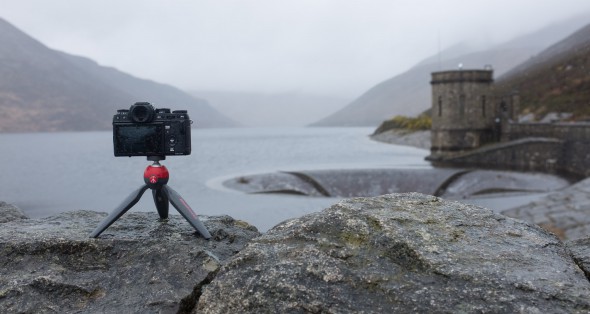 While the kids paddle at the edge of the lake or take on the stone-skimming challenge, I can use the Manfrotto Pixi to capture some long exposure images.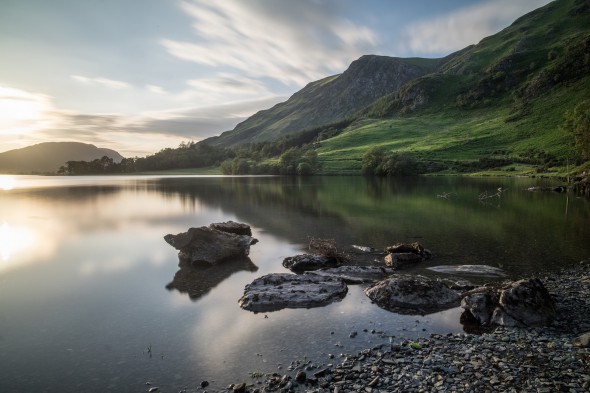 Accessories
There are so many compartments in my camera bag it is easy to carry all the necessary attachments and accessories to offer a wide range of photography opportunities.
When it comes to landscape photography my Lee Filters Seven5 filters (Big Stopper, ND6 Grad Hard, ND9 Grad Soft, Little Stopper) are a key tool, especially in summer when there is a need to tame bright skies right through to the evening.
I obviously pack the filter holder, and I have a filter ring for both the 14mm and X100T. If I am out on a day walk I can leave my camera bag at base, carrying the X100T on the strap and my filters and tripod in a pocket.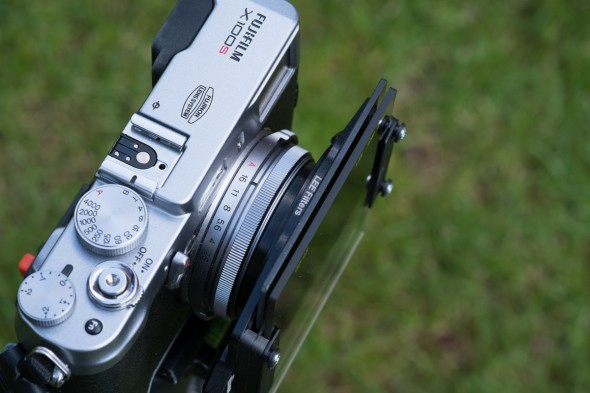 Finally I pack a cable release (for the X100T) and two little lens-cleaning cloths for good measure.
External Hard Drive for Backup
At the end of each day I normally transfer the images over from the memory card to the hard drive in my laptop by importing them into a dedicated "holiday" Lightroom catalogue. I then import this catalogue to my main Lightroom library when I return home.
The nightly review of images allows for some brief editing and an opportunity to reject any photos that don't make the cut. At the end of this editing process I use "CarbonCopyCloner", a great little backup application for Mac, to clone my Lightroom catalogue over to my G-Tech rugged hard drive.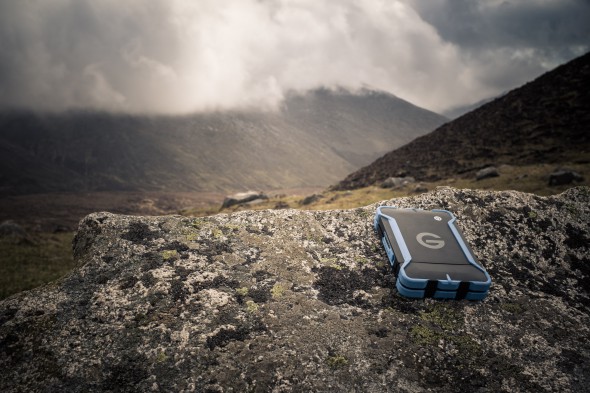 Hard drives are often fragile, but the rugged drives offer a massive level of protection. I don't take my computer out on hikes but the backup drive does go everywhere, with the reassurance that if I drop my bag or at very worst the drive falls in the river, I know my photos are safe.
Conclusion
Holidays and trips are about relaxing so there shouldn't be any stress around your photography gear. Think about three or four key images that you aim to capture when you are out and pack the minimal equipment needed to achieve them. It is liberating to travel light and have the freedom not to have to worry about your gear, whether you are up a mountain or in the hustle and bustle of a big city.
The images you capture on these adventures become more valuable over time. Each year we produce a photo book documenting these adventures, holidays and major events. We have over ten years worth of books and it is great to look back – we value the photos considerably more now than when they were taken, especially the ten second family group shots. Photographs are documented memories; make sure you take plenty on your trip.
About the Author
David is a documentary and landscape photographer covering everything from dramatic long-exposure landscape photography through to live music. David is also an official Fujifilm X photographer. You can see more of his work on his website or follow him on Twitter.
Related articles