This autumn the Lake District will explode with colour, vibrancy and the beauty of nature. Find out how to make the most of it with Drew Buckley's guide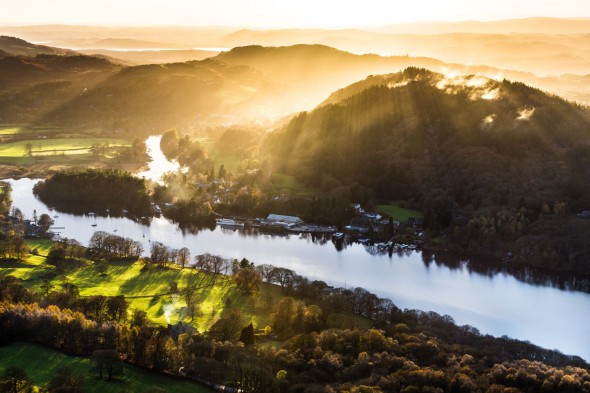 The Lake District in autumn. It's synonymous with scenes of mist filled valleys, waterfalls shrouded with russet tones, serenely mirrored lakes and sometimes a mixture of wild weather, all in one day! Whatever your own vision of this magical area is, autumn is a fabulous time of year to visit with your camera. Whilst there are always the popular 'honey pot' locations that have been shot over and over again, I'd always urge anyone visiting to grab a map and go exploring! Use the well-known locations as a base point, but always try to capture your own take on them.
Below is a brief list of places to springboard you into the feeling of the Lakes. One thing I would say, however, is always keep an eye on the weather and make the most of any sunny breaks. When you're in the Lakes, if it isn't raining, it probably will be soon!
Wastwater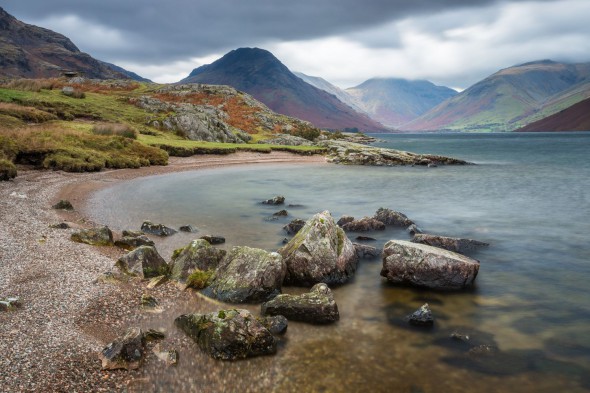 Wast Water in the Lake District National Park, England
A very popular location in the far south western Lakes, this three-mile-long expanse of water has great scope for a range of images. Being accessible from only one road in down the Wasdale valley, Wastwater is always a bit of a drive to get to but definitely worth it!
It's 260 feet deep, the deepest of all the lakes in the region, and has spectacular rocky screes on the far side that plunge down into the water. The screes, entangled by small trees and orange bracken, make a complimentary colour against the slate grey rocks.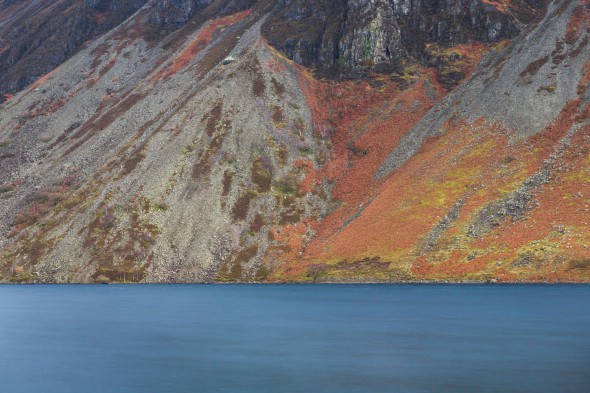 The colourful screes at Wast Water taken on a long exposure to smooth out the water.
The lake's backdrop is a distant collection of the larger peaks containing the summits of the Great Gable and Scafell Pike. There are lay-bys all along here up the valley, making it a great place to spend a day working your way up.
Using a wide-angle lens to encompass the whole vista including some interesting foreground elements would work well here, while a telephoto lens would also be great to zone in on those distant views.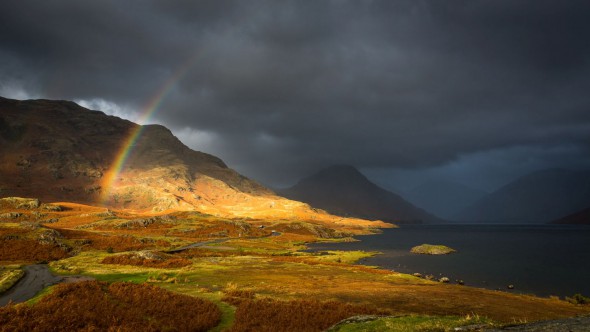 An example of the Lakes' changeable weather
Grasmere & Loughrigg Fell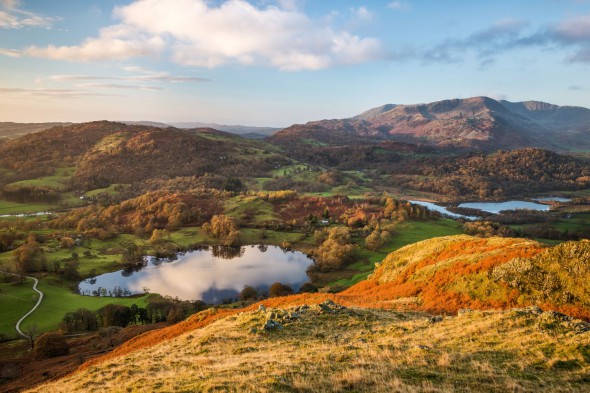 View across Loughrigg Tarn at sunrise from the summit of Loughrigg Fell, looking across Elter Water towards the Tilberthwaite Fells & Wetherlam.
The area around Grasmere is one of my favourites place in the UK and I hope it soon becomes yours too – there's so much to see around here you could easily spend a week just on this part alone! This picturesque lake is centrally located in the national park. Grasmere joins into Rydal Water via a weir and small river through woodland and offers lots of access to all around it via decent paths.
There's a small wooded island on Grasmere, and it's worth keeping an eye out for various boat huts that surround the lakes to use as interest. To the south of both lakes, climbing up high to Loughrigg Fell via the steps can reward you with great views across Grasmere and Rydal, and south down towards Loughrigg tarn, Elter water and Windermere. Early morning here is magic too, as you'll usually have mist hanging in the valleys over still water with the fells turning orange – you'll want to be up on the summit before sunrise to watch the show commence. Lastly, don't forget to take a visit to the little shop in the village that sells Grasmere Gingerbread!

A panoramic view of Grasmere Island
Misty Views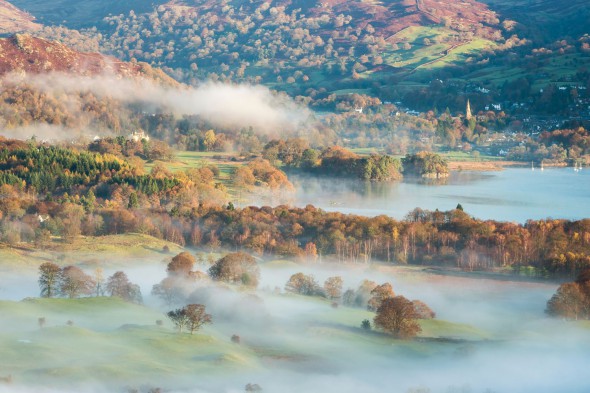 A panoramic view of Grasmere Island
Once we were staying in Hawkshead and I was looking through the maps to find a high elevated point for sunrise. A cold clear morning was forecast – perfect conditions for low lying mist. The summit of Latterbarrow looked like the perfect place for it. It's a pretty strenuous climb to the top, a real lung-buster up the stony steps, but very rewarding. It offers a great view over Lake Windermere and Wray Castle up here and over the small lake of Blelham Tarn towards the lovely town of Ambleside.
A telephoto lens will really help your images up here, giving you the choice of cherry picking the best scenes that the countryside allows. I'd not taken any shots from up here before, so was very happy to come away with something memorable.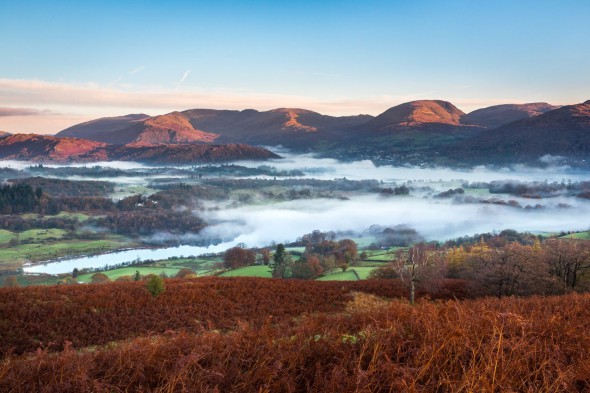 A view of Blelham Tarn
Gummers How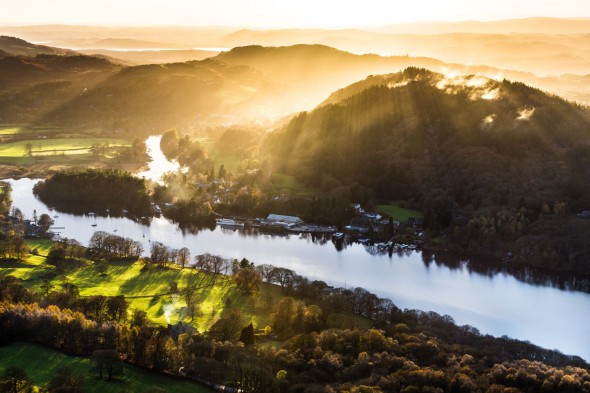 The fading sun casts long shadows and rays through the mists above the southern end of Lake Windermere.
Another fabulously high vantage point which allows you to bask in the beauty of the Lakes, Gummers How is a summit to the southern end of Lake Windermere. Parking is nearby at the base and it's another fair trek upwards via a good path and steps – the last part is over natural stones and grass but easy enough.
Views here are the full 360 degrees – you can look east towards Kendal, see the sea to the south, or look into the heart of the Lakes to the west and north. In my opinion, the best view is looking south onto the end of Lake Windermere and down the River Leven. I got lucky here when the sun popped out of a rainstorm at sunset and backlit the countryside, making it golden with sunlight and misty rays.
Clappersgate Bridge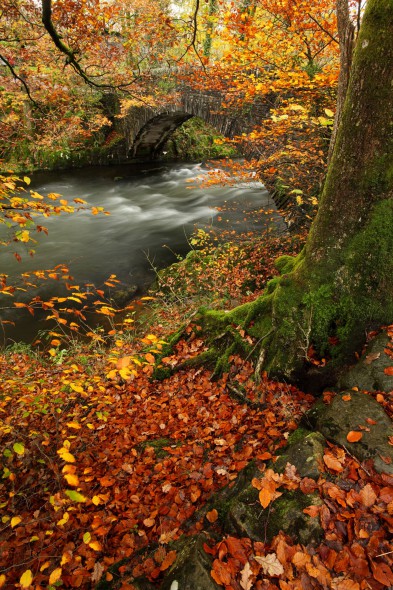 Water passes under the bridge at Clappersgate
A beautiful stretch of river here, banked by vivid orange foliage colours during the autumn. Beech trees are the most prominent along the River Brathay, so make the most of the wash of colour by working up along the river, using natural boulders and moss for foregrounds. Using fallen leaves as directional focal points can also add to the atmosphere of your autumnal images, and farther up there's an old stony bridge which can add a picturesque backdrop to your river images.
A circular polariser will work great here to cut down any surface reflections from foliage or water, deepening the natural colours and boosting the punch of your images. An additional benefit of using a polariser is that it will reduce light intake by a stop or two, allowing you to extend your shutter speed to create blurry water movement. Parking is very close by – use the big lay-bys.
Cat Bells & Newlands Valley

The view from Cat Bells
One of the finest viewpoints in the lakes, Cat Bells is a popular high point near to Keswick in the north west of the national park. There's a few ways up to the top, the easiest in my opinion being from the east side of the summit. It's a decent walk of an hour or so via good paths, but less strenuous than tackling it from the north. As you travel up, don't forget to shoot Derwent Water to your right and the majestic mountain of Skiddaw to the north.
On arriving at the top of Cat Bells it really does feel like you're on top of the world. Full panoramic views abound, with the amazing fells of Newlands Valley to your west being particularly spectacular. Late afternoon can be amazing here, with the falling sun backlighting the haze or mist hanging in the valley, turning distant hills into layered shapes. There's a vibrant tapestry of fields, lined by stone walls, which really does make for an amazing sight.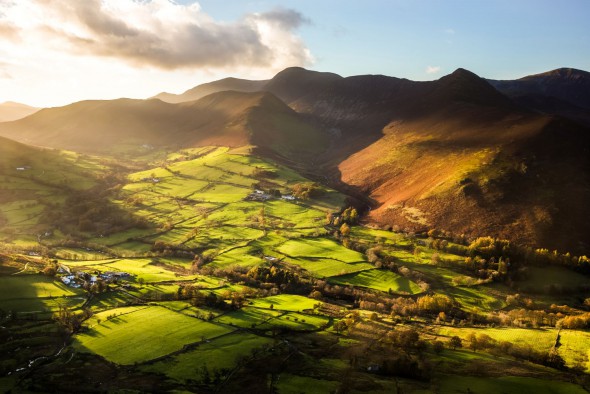 Striking autumnal sunlight illuminates the Newlands Valley viewed from the summit of Cat Bells near Derwent Water.
Again, wide-angles will capture the whole views. You could even shoot a continuous sequence for combining into a panoramic shot later, though definitely take the telephoto lens up here to shoot abstracts of the edges of lakes, tree-lined forests, stone wall patterns and also the distant fells and hills.
Stock Ghyll woods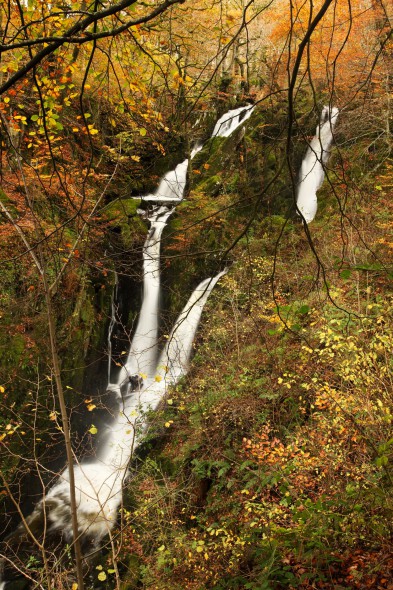 A longer exposure will allow you to make the most of the running water
A beautiful wooded river valley just a stone's throw away from the picturesque town of Ambleside. It's worth spending a good amount of time working up along the paths and river here – babbling rocky falls lead up past a weir to a large falls at the back of the woods. It's a circular walk, so can be done in an afternoon. Try focusing on the changing colours of the trees contrasting against the water, and there's a nice wooded bridge along here too that would make for an interesting focal point. Again, implement your circular polariser to cut down on surface reflections and boost the colours.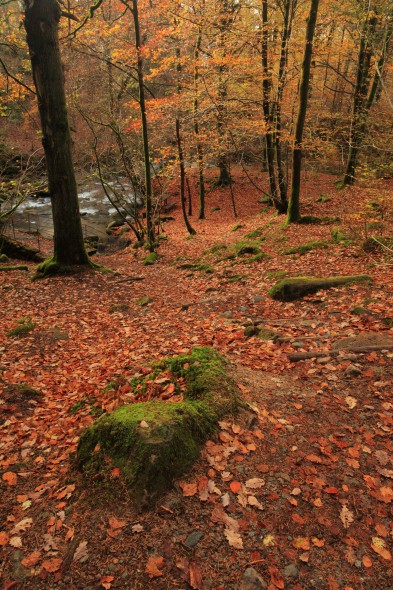 Colours are everything in autumn so make the most of them!
Langdale Valleys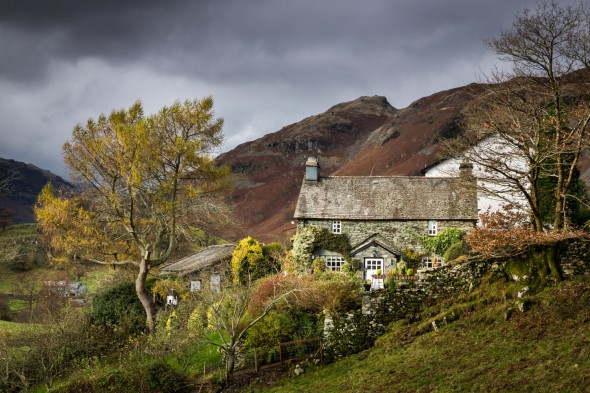 A lakeland Cottage illuminated by a short spell of sunlight in the Langdale fells in the Lake District National Park, England
The 'classic' views of the Lake District can be found around here, with lots of Herdwick sheep, dry stone walls, old cottages and stunning fells and summits. It's easy to lose track of time up here. One good viewpoint can be found if you head up towards Blea Tarn (parking at nearby National Trust car park), so make sure you set aside some time for that.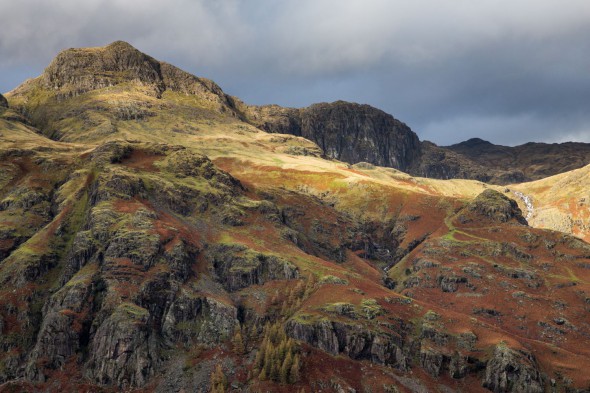 A view at Harrison Stickle and Pavey Ark
Go north past the lake to the cattle grid and park here in the large lay-by, then walk north-east up the nearby summit to Side Pike for elevated views of the Langdale valley below. This is a great place to capture any passing weather and glimmers of sunshine illuminating the fields below. A telephoto lens again is a must for picking out distant compositions and compressing perspective.
Final Thoughts
So as you can see, there's so much to see and photograph in the Lake District. It's a place that has inspired photographers, painters, poets and writers for centuries, and it's not hard to see why. In any kind of weather or season you can create great images here by selectively choosing your foreground elements to match the scene. And I haven't even mentioned everything – there are plenty more places to visit to get your photographic fill such as Buttermere, Blea Tarn, Tarn Hows, Helvellyn, Ullswater, Aira Force, Hallin Fell, Ambleside, Latrigg and many, many more. I would definitely recommend you pick up a copy of the Fotovue Photographer's Guide to the Lake District book for more locations.
About the Author
Drew Buckley is a multi-award winning landscape and wildlife photographer based in Pembrokeshire, Wales. He's a regular contributor to the very best of wildlife, landscape and photography magazines and has his own books and products published. Self-taught, Drew has always had a passion for combining the great outdoors with his love of photography. He also runs his own photographic workshops. Visit his website, find him on Facebook, and follow him on Twitter.
Related articles