Professional sports, fashion and editorial photographer Nick Webster explains how he captured this image of Paralympian Johnny Peacock with the Bowens XMT500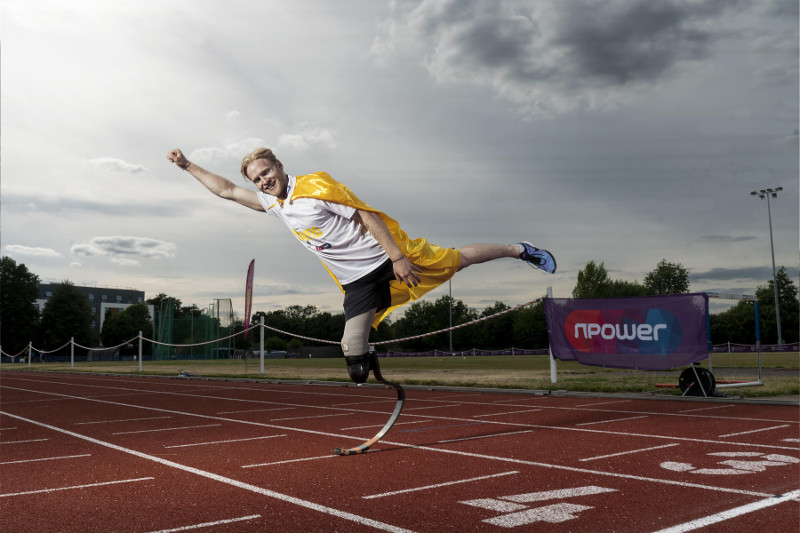 Nick's final shot. Read on for the story.
I have been a Bowens user since 2008, and when Bowens released the XMT500 heads, I was more than excited. Previously, I had to rely on a separate, heavy battery pack and my existing Bowens heads, which did do the job, albeit with slow recharging times and basic functionality.
I work as a sports editorial photographer, and in order to create images with impact, I use my XMT500 as much as possible. It allows me to turn bland skies into a rich, saturated blue on a sunny day, or into something stormy and dramatic when the weather is overcast. 500W is enough power to overpower the sun in the UK and the perfect tool for combining artificial and ambient light.
The story of the image
This shot of paralympic champion and Strictly Come Dancing star Johnny Peacock was taken for Npower, the energy company, to promote the SuperHero Triathlon Series.
I only had a few minutes to capture the image, while a Channel 4 film crew were setting up their next shot, and Johnny had been in his blade for much of the afternoon and couldn't wait to remove it. So I had to work fast. The location was the outdoor running track at Loughborough University and as a result, I had no access to mains electricity. This is the kind of situation where the XMT500 comes into its own.
Kit list:
Sony A7R II
Sony 24-70mm f/4 ZA
Bowens XMT500
Bowens XMTRS Controller
Bowens Softlite Reflector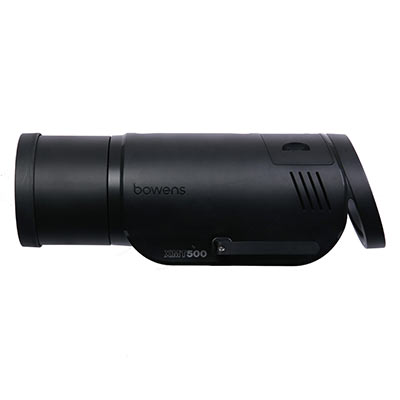 Bowens XMT500 Flash Head
Up to 50% off on selected accessories
Engineered for speed, reliability and cutting edge aesthetics, the Bowens XMT500 Flash Head boasts an enhanced specification, including TTL, high-speed sync (up to 1/8000s) flash durations as short as 1/10,309s and recycle times as rapid as 0.01s. A foldaway stand mount allows portability and easy storage, and an integrated reflector cap allows photographers to shoot straight out of the box.
£699.00 View
I used a Sony A7R II with a 24-70mm f/4 lens. On this body, the maximum flash sync speed is 1/160 sec (when SteadyShot is on), which can be limiting when combining ambient light with flash. The XMT500 has high-speed sync, which allows me to raise the shutter speed to control the amount of ambient light captured and also freeze motion, which is extra-useful when asking somebody to balance unnaturally on their running blade.
I wanted to keep the setup simple, using a single XMT500 head. This would allow me to work quickly and efficiently without any concerns about unnatural shadows falling in several directions. My go-to modifier for location work is the Bowens Softlite reflector. It is a small beauty dish, which can be used close to the subject to create a soft, flattering light, or further away to give a more directional effect.
Camera settings:
Shutter speed: 1/250sec
Aperture: f/11
Sensitivity: ISO 200
Focal length: 24mm
Lighting setup
A Bowens XMT500 was placed to the side of the frame, at approximately 180cm high, aimed directly in line with Johnny, with light falling down to highlight his blade and filling in the shadows created by the backlit sun on the ground. As the sun was behind Johnny, it resulted in harsh shadows falling across the face. The power of the XMT500 was able to deal with these with ease.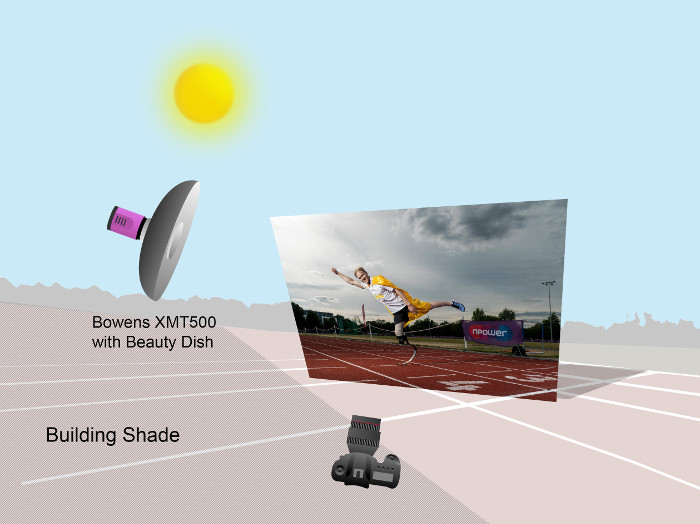 A quick look at the setup
Technique
I crouched in the shadow cast by Loughborough Sports Centre and kept the sun just out of frame to prevent lens flare and ghosting on the sensor. Shooting into the sun had two benefits. It gave definition to the clouds, thereby creating detail in the sky, and also acted as a backlight to lift Johnny from the backdrop and add some light to his raised leg.
Shooting at a low angle made Johnny dominant in the frame and by making the sky two stops underexposed, it added to the illusion that this was a superhero's world.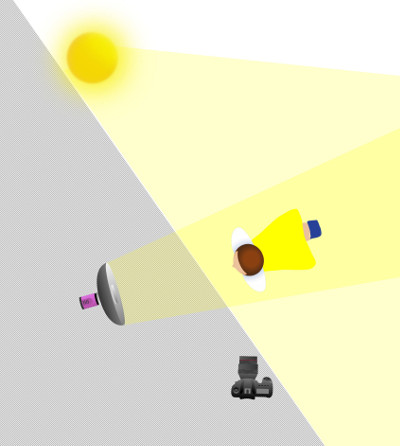 How the lights hit the subject
Results
With a camera crew breathing down my neck and hassling me almost immediately, I managed to shoot off one test frame to ensure everything looked ok, then six further frames with Johnny balancing on his blade to get the shot the client wanted.
Knowing I can trust the system to produce the light I need, recycle quickly and give constant results every time I use it makes choosing the Bowens XMT500 a no-brainer.
There is a small amount of editing in this shot, to remove a crane from the background, and a little styling to give it my trademark look. With this done, it was ready to send to the client.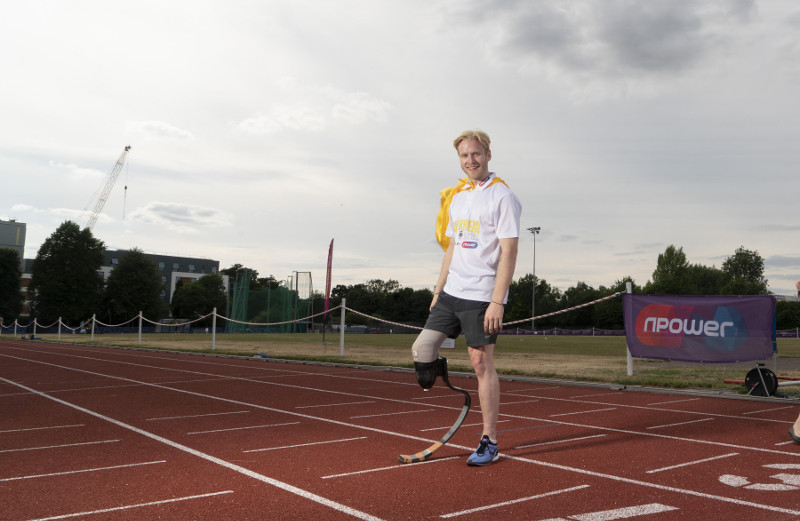 Another angle from the day. A successful shoot!
Top tip
On location I choose a Softlite over an umbrella or softbox for a number of reasons. It is a very versatile modifier and especially good outside, as it is not affected by the wind in the same way an umbrella or soft box is. At best, this can result in the light pointing in the wrong direction. At worst, it can result in the light stand blowing over, even if the light stand is weighted.
Nick Webster is a professional sports, fashion and editorial photographer who specialises in mixing disciplines. See more of his work on his website and on Instagram.
Related articles