What are the best wildlife photography subjects for March? Tom Mason gives you a few expert tips in this month's wildlife calendar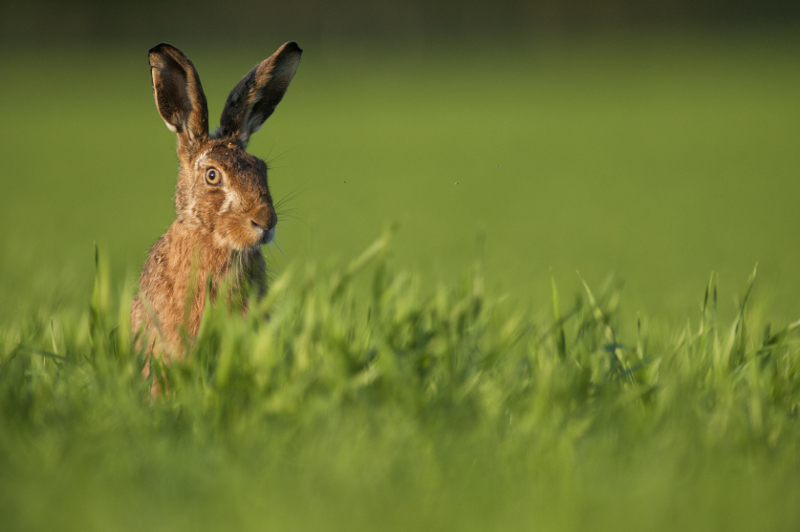 What subject could be better for March than a hare?! All images by Tom Mason
I've always thought of March as an exciting month in the calendar, with the first real signs of spring emerging. It's often the first chance I get to sit out without being wrapped up in coats, a sleeping bag or multiple thermal layers – and traditionally I welcome my first nettle-sting of the year!
In terms of wildlife, March is also one of my favourite times, with action across the country and two subjects in particular that are always a pleasure to work with: brown hares and coastal waders!
Brown hares
Having grown up on a farm in Hertfordshire, I've always adored brown hares. Elegant in form, and a challenge to get close to, privileging those who put the hours in, brown hares are a subject I feel every UK-based wildlife photographer should get out and experience.
Thought to have originally been introduced to the UK in the Roman times, hares are now recognised as naturalised in the UK's ecosystems. Characterised by their long ears with black tips and their fast-paced running (up to 45mph!), they are a characterful subject that are great fun to work with. Of course, in March as the breeding season kicks off, the famous boxing also happens. Mostly it's females fending off males who are giving chase, but the stand-offs give great opportunities for images, as well as distracting the hares and often allowing you to get a little closer!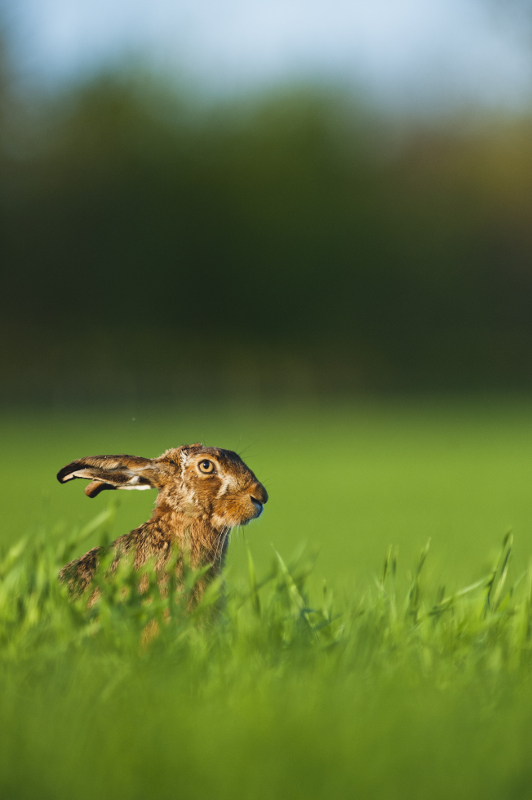 A little knowledge and patience can reward you with fantastic hare images
So where can I find brown hares?
Although brown hares are widespread throughout the UK, finding locations can take a bit of effort, especially for those unfamiliar with their habits. When it comes to wildlife, understanding the landscape is a key part of finding individual creatures, so it's best to assess an area's likelihood with regards to terrain and vegetation to help you track down subjects for photography. Once you've got the "look" of a hare habitat locked in you'll be driving around in no time telling everyone "This looks good for hares," with a sage-like intuition that often results in a sighting!
The habitats I'm often looking for should contain a mixture of three elements – low-lying crops, woodland and hedge line. For hares, the crops provide grazing opportunities, the woodland offers safety and protection, and the hedge lines provide a safer way to move between areas. Bring it all together and you have a pretty perfect location for brown hares. Often a quick scan with binoculars will lock you on to a set of ears or a brown blob (that isn't a clot of mud), and there you have your first hare!
In the UK, most locations for hares will be on private land, so you'll need to work to gain permission or alternatively work from a public footpath or road to get the images you're after. Finding the owners can often be tricky, especially on larger estates, but look out for farmers or estate management when scouting and ask! Being polite, letting people know what you are trying to do, and offering a few images, are great ways to start a conversation with landowners, and many of them love seeing the wildlife on their grounds and are more than open to giving access. If an offer is declined, move on and find a different location. If you're struggling, country lanes can often be the answer, but I'll cover that in a moment!
A few good locations for hares include:
Elmley marshes – Keny
Lyme Park – Cheshire
RSPB Havergate Island – Suffolk
RSPB Otmoor – Oxfordshire
Wimpole – Cambridgeshire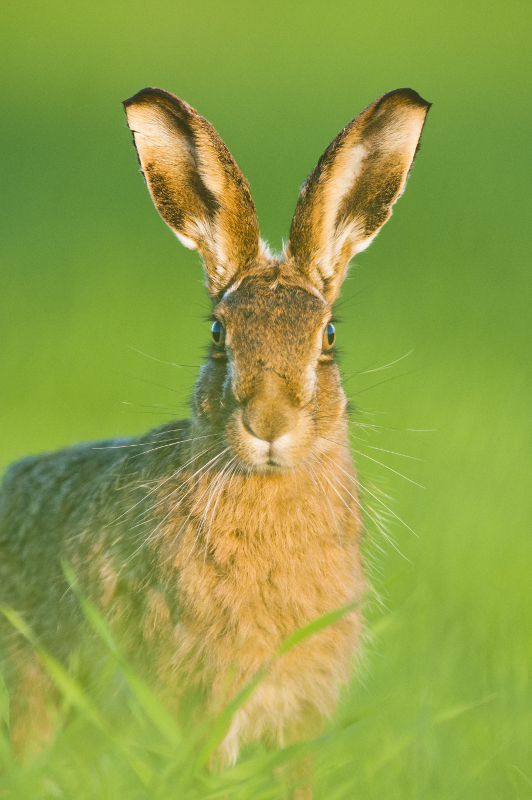 You can't rush hare photography, but it can pay dividends.
Gear
When it comes to gear, it's going to depend on the style of images you're after. However with portraits a starting point for most people, something over 300mm as a minimum on a full-frame camera is essential. Super-telephotos with wide apertures allow for flexibility in regard to early mornings and evenings, especially in the first half of the month; however, with the action happening all day, prosumer zooms are also very capable. A 200-500mm f5.6 lens, for example, could be the perfect all-round performer, giving the focal length and flexibility.
In the past I've found that the most effective way to work is with minimal kit – one camera and a single lens. Lose the camera bag if you are planning on stalking and just carry spare cards and batteries in your pockets. For extra gear, a bum bag (apparently they're cool again now?) is a great way to hold things with you, while also keeping them out of the way when crawling on your front to approach subjects. My go-to has always been my Nikon FX camera, 300mm f2.8 VR ii and a 1.4x tele-converter – the smallest of the super telephotos, the 300mm gives me great reach and a generous aperture while also being light enough to take on long days spent crawling around!
Getting close
So, you've scouted a location, you've geared up, and it's time to get out and make some images. However, getting within photographic range of hares can be tricky. There are few options that work well depending on the situation.
Stalking: The most intensive of the methods, stalking hares takes a lot of time and effort, but can reward the patient photographer with great opportunities and close encounters. Working from ground level, crawling is the most effective way to get close as your low profile reduces your visibility against the skyline, allowing for incremental advances towards your subject. Once you've identified an individual hare, watch and wait for signs of comfort, and when they return to feeding, slowly move forwards, watching for any changes. Pause and repeat until you're close enough; however, remember that once you're at a good distance, it's best to stop and allow the hares to move towards you for the final stage, as this will settle them far better, making them confident that there's no danger, and resulting in much longer photographic sessions. Oh, and a little tip… buy some knee pads. They make long crawls far more comfortable!
Static: For those who find crawling across fields a little problematic, or for those locations where you need to work from a fixed point, a simple tripod-based ground-level hide works brilliantly for hares. Lying flat with a tripod out in front to support a larger lens, throw a camouflage net or scrim across and settle in for the day. The best locations for this sort of setup tend to be along the woodland edge, as hares will venture in and out, crossing your view. The ground can be cold, so a roll mat and bivvy bag make great additions to the kit, allowing for a far more comfortable day's photography!
Cars: As mentioned before, if you're struggling for locations to access, country roads can be the answer. Often lanes can run alongside perfect habitats for hares, where field margins drop to hedge line or go right down to the roadside, giving great visibility and photographic opportunities from the car. Being careful and slowly driving round country lanes can throw up great opportunities, especially in the breeding season when the hares are distracted. Pulling up safely, work from the window using the car as a hide, rest your camera on a beanbag, and shoot. The best fields are often those where the road is sunken slightly, lifting the field height for ground-level images. Working from the car, you can cover a greater range when looking for subjects, not to mention you'll be much more comfortable in poorer weather!

Brown hares are certainly one of my favourite subjects to get out and see, and March is a perfect time to get some images!
Coastal waders
If you're close to the coast, getting out for some wader photography is always fun, and in March there is often a good mix of activity. With wintering birds preparing to head off for the breeding season and migration starting to kick in, the coast provides a good mix of subjects for wildlife photographers.
Isolating your subject is key to a cleaner, more satisfying image
Sanderlings
One of my favourite little birds, sanderlings never provide a dull moment. This small, white wading bird is about 20cm in length and is constantly running up and down the shoreline feeding on crustaceans, insects and fish!
You'll immediately be able to spot them as they scamper around, following the waves on the shoreline. Sanderlings make great subjects as they are often rather tolerant of humans, especially on busier beaches, where sometimes you'll find individual birds seemingly unbothered by people as they weave alongside the water looking for food. A good training ground for working with other wading birds.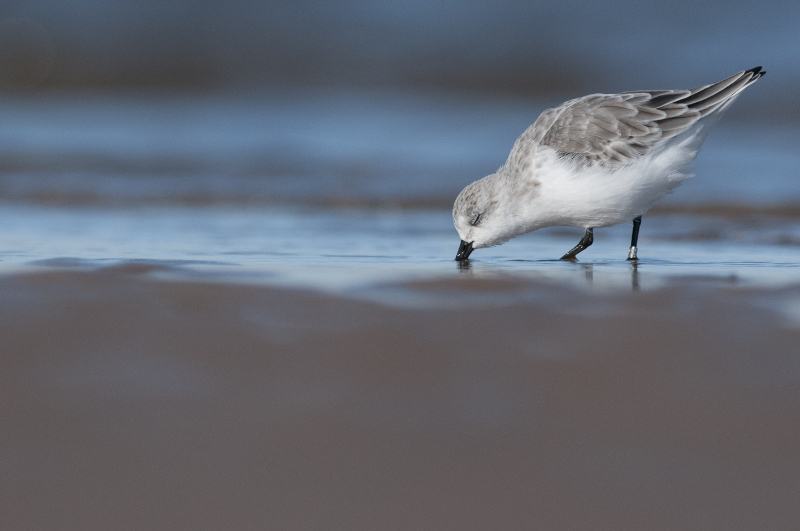 A wader enjoys the shoreline
Where to look: Sandy beaches around the UK. The Lincolnshire and Norfolk coasts are great places, with long beaches and inlets that provide great spots to get close to and photograph sanderlings.
Technique
In order to get close, watch the birds at a distance and look for a trend in the direction of their movement. Often, they will be moving slowly up or down the beach. Once you've determined this, move out and get ahead of them, a good 20 or so metres down the shore. Get in position and get low, lying flat on the ground to wait. As they feed, they will often slowly come towards you. Keep movements to a minimum and look for simple compositions, with your aperture as wide as possible for gorgeous shallow depth of field.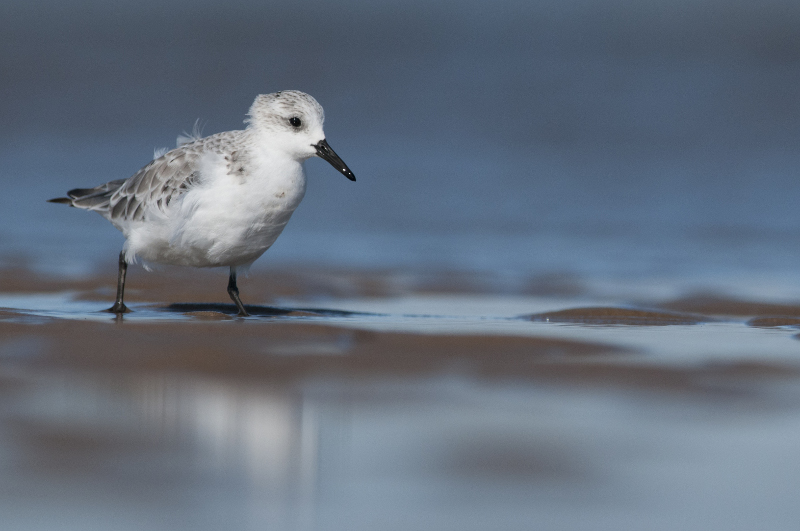 Using a wide aperture allows you to create characterful portraits with a shallow depth of field
Pro tip – a beanbag placed onto an upside-down frisbee is a great and simple method of mobile support (the beanbag for keeps the lens stable, whilst the frisbee helps keep it out of the wet sand, making it easy to slide around).
Sometimes, sanderlings will even come too close to focus – a really enjoyable moment when it happens – so just stay still to let them pass, and edge around to shoot again as they move off. Once they are 20m away, move back out and leapfrog them again, repeating for more photographic opportunities. Be sure to keep an eye out for more waders moving in, as once in position sanderlings are often joined by turnstones, knots and other birds. Holding position on the tideline is often the most effective way of getting close.
Wild card – High-tide spectaculars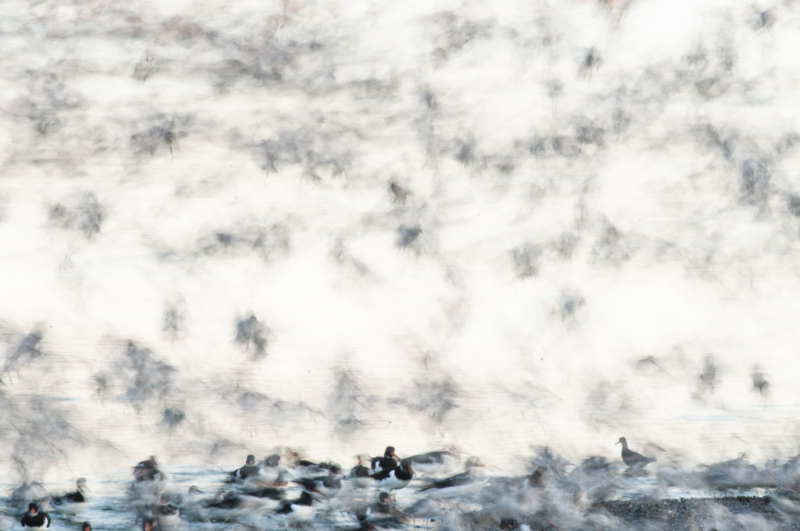 Images like these require patience, but can make for sublime photographic moments
The Norfolk coast is brilliant for bird photography, especially for the huge flocks of knots and other wading birds at Snettisham. Very high tides are key for success, and often will result in the most spectacular of sightings and photographic opportunities.
If the tide is right, you'll be treated to incredible views of waders as they fly off the wash and onto the higher ground on the Snettisham reserve, as the high-tide water covers their feeding grounds. Tens of thousands of birds can be seen in single flocks, making for some amazing visuals. From the hides, often you'll see the birds settling on the islands of the reserve, allowing for opportunities to fill the frame with birds from edge to edge.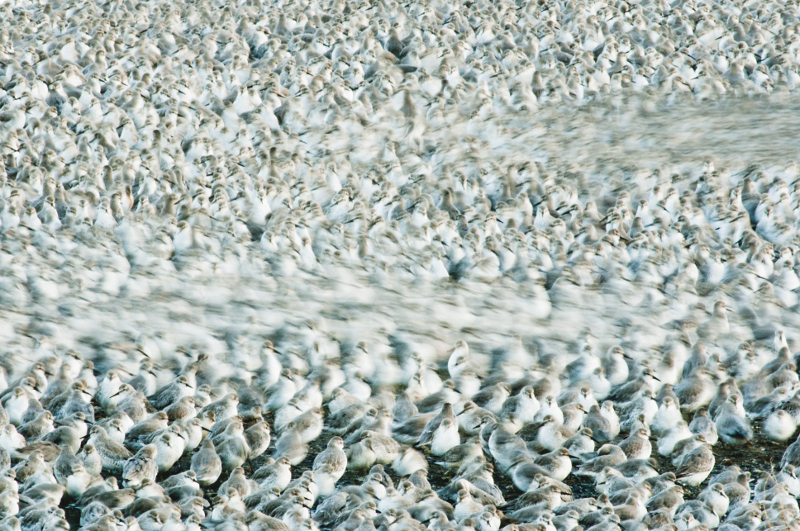 Introduce movement with slower shutter speeds
For the frame-filling shots you'll often need 500mm or more in terms of focal length, and a tripod is also recommended as you may want to stop down for a wide depth of field that shows off the vast number of birds, or work with slower shutter speeds to capture some of the movement.
The high-tide dates can be found online – with the birder's timetable from the RSPB giving the best dates for the highest spring tides. The walk out to the hides is a fair way, so be sure to arrive in plenty of time to get in position, and a headlamp is handy for navigating the trails down to the main hides in the early mornings.
I've put this as a wild card because although the tides can be predicted, the action is never certain. To get the shots I was after it took me more than ten attempts over three years before I was finally treated to half an hour's photographic bliss! So, don't be disheartened if you don't get the images on the first try!
About the Author
Tom Mason is a wildlife photographer and journalist, and is also the host of our Life in the Wild series. Keep up with him on Twitter, @TomMasonPhoto, or visit his website for more.
Related articles