We may be stuck close to home for this month, but there are loads of photographic opportunities to be found, says Tom Mason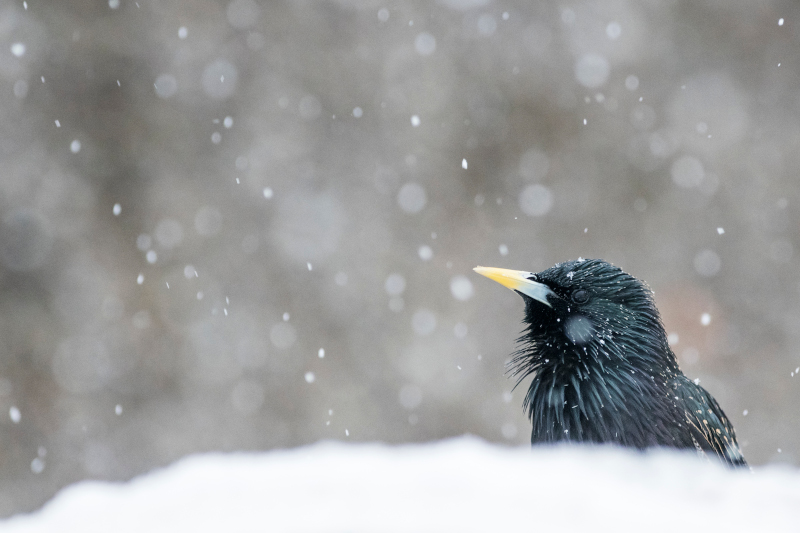 All images by Tom Mason
Lockdown 2.0. It's here. And so, for us wildlife photographers this November, once again we're going to be restricted to what's at home, in the garden, or within a walkable local area.
But that doesn't mean you can't make some cracking images! As anyone who's ever been to any of my workshops or talks will know, I'm constantly telling people that if you want to develop your own wildlife shooting, the three-kilometre radius around your home is probably the best place for it. It's often full of wildlife, especially once you start looking closely. Having the ability to work consistently on local projects massively develops your shooting skills, and I guarantee it is one of the best things you can do to develop your images. So, let's embrace the lockdown!
Spiders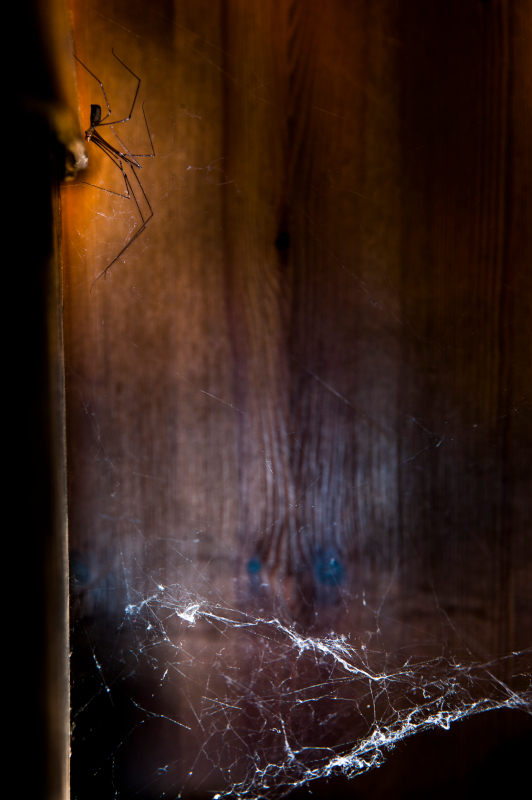 A daddy long-legs spider
Spiders are cool. There is no denying that. With their eight legs, ability to walk on walls upside down and in-built abseil rope, it's hard to believe people can't see the awesomeness of spiders. As the winter sets in, spiders are one of those subjects that can be a great macro project at home or in your local area, with many finding their way inside or hanging about in the garden.
The daddy long-legs spider is a great one with which to get started. Often high up in kitchen corners or under beds, these guys are just living their spidery life, making some impressive webs and great subjects for an indoors photo project. You might have to head into the loft or crawl around to find them, but once they're tracked down, they don't run off, meaning you'll have a chance to think about compositions and move in close.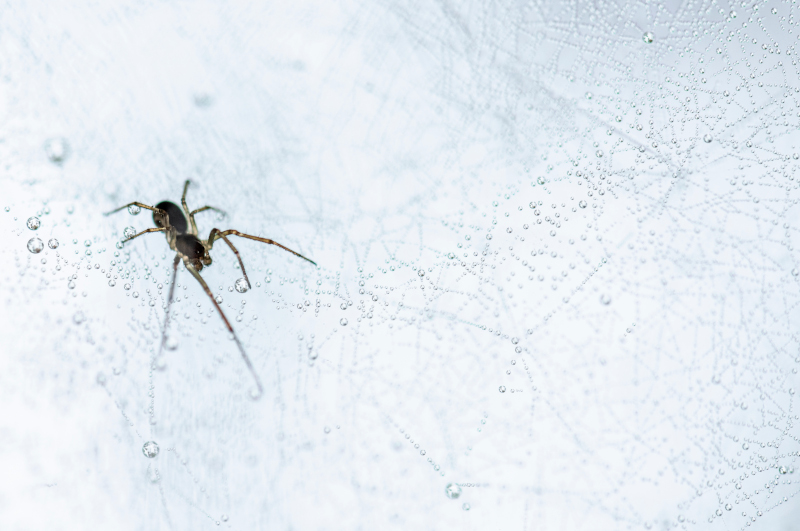 A spider explores the morning dew
You may need a little light to aid you photographically, so a flash can be a great tool. Positioning-wise, try and get some light coming from behind your spidery subjects, as the slight rim lighting on the outside can highlight the small hairs and form of the spider, giving a more powerful image. Experiment with gels as well here; blue hues can certainly add a touch of spookiness to an image, not that these guys should give you anything to be scared of!
In the garden, orb-weaver spiders can be found making webs across plants, while the zebra jumping spider can be seen on old brickwork. On dewy winter mornings, the webs also make for great photographic opportunities, with the beading of water caught on the strands lending itself to an interesting pattern or detail shot!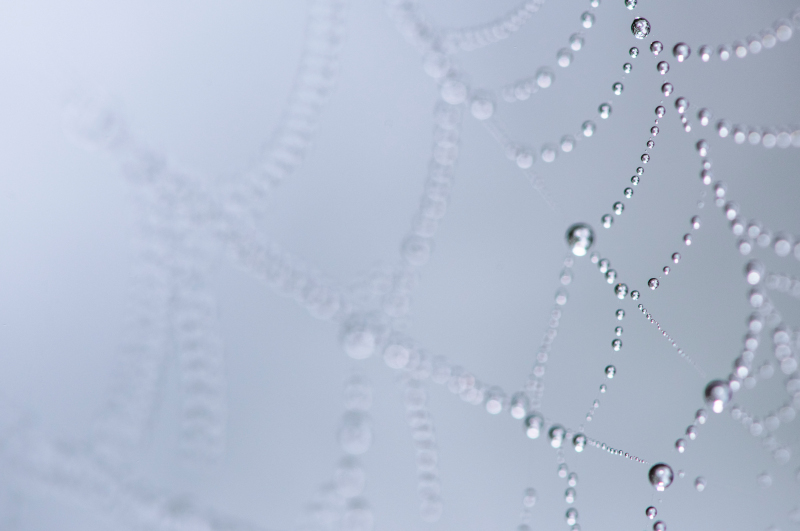 Look out for webs, and don't be afraid to get in close
With many spiders around at this time of year, that inevitable scream from another room can be the start of a photoshoot right there at home!
Winter wildlife
Pray for snow. It's been a few years now since we've had a really good snowy season. The Beast from the East was the last time it really settled, but as we go into this winter, it's best to get prepared for snow, not just in terms of buying a few more soups, but also planning your photography! Of course, snow can be predicted, but often it's only the night before when we really know if the ground is going to be white or a duller shade of slush. However, leaving your preparations too late will inevitably mean you'll be panicking trying to think of photographic subjects!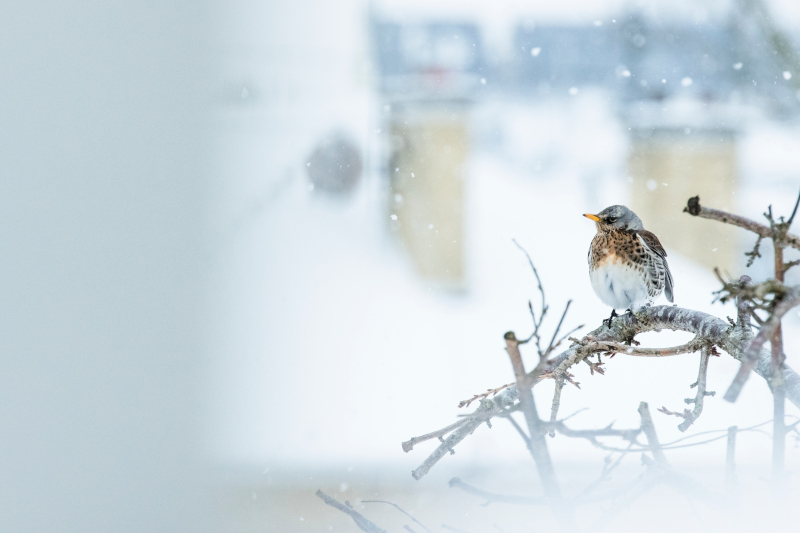 Garden birds + snow = rich photographic opportunities!
A good option is to start feeding the birds in the garden early and build up a nice solid stream of subjects coming in. The colder weather will mean smaller birds are more desperate for food, so the added support will be largely appreciated. Images on feeders aren't the best, so when siting your feeding station, think about adding some additional perches. A few feet either side of the feeders, putting a couple of branches cable tied to some stakes will make for a perfect spot for the birds to land on before they hop onto the feeders. If you don't have a hide, place the feeders so they're visible from your back door or window, and spend time getting the location right using your telephoto lens as a guide to ensure the compositions will look good from your chosen position. This means you won't have to disturb the birds once they're active, and you can then just concentrate on making images. One little bit of advice is to pick perches that are roughly the size of the birds' feet when they're gripping. Many photographers pick larger branches that may look cool with the knotted wood and moss, but these are often less natural looking as smaller birds tend not to perch on them when left to their own devices in the wild, meaning the images can come across more contrived.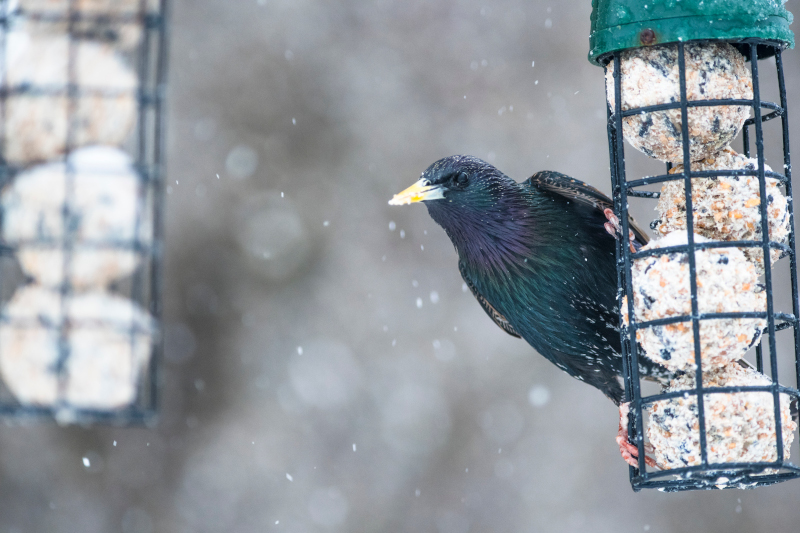 Though it's often best to go for something more naturalistic, feeders can make for exciting images
If the weather does provide, be sure to get out early and top the feeders up before retreating to your photographic position. When shooting in snowy conditions, adjust your exposure to compensate. Often +2/3 of a stop overexposure ensures that snow looks white, but check your highlights to ensure you're not clipping. If snow is falling and you want to make it truly visible, try dropping your shutter speed a little, to somewhere between 1/100sec and 1/60sec. The slower speed will enable a little motion to be visible in the falling snow, giving it more depth and weight. However, make sure you support your camera with a tripod or beanbag to compensate for any camera-shake.
A good telephoto is certainly your friend for this kind of work. As subjects can be tempted close, a 200mm lens can be effective, but you'll certainly have more options moving up to 300mm-600mm. Luckily, with the latest camera announcements from multiple manufacturers, we have a good range of mid-budget telephotos to choose from, which is excellent news for anyone looking to upgrade their kit!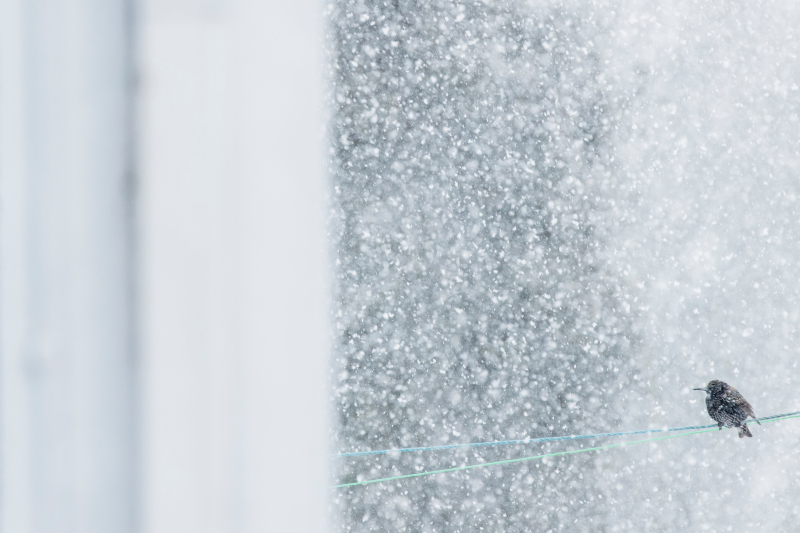 Heavy snow can be a great way to add drama!
Experiment with different perches and images over the coming months. Being so close to home, you can keep moving the perches and feeders in order to try out different possibilities with backgrounds, and lighting, making for a great little project to do right on the back doorstep. With easy access to the kettle and that work you're supposed to be doing, it certainly helps pass the time when stuck inside!
Go abstract
Line, shape, form and colour. The natural world is full of elements, so explore. As nature photographers often we see the same styles and images repeated – great images that are sharp in focus, well exposed and feature a nice background and foreground – but sometimes we don't need things to be so obvious in order for them to work. A great little project for this month is to look for natural abstracts. Explore nature close to home, and look for compositions that stray from the obvious.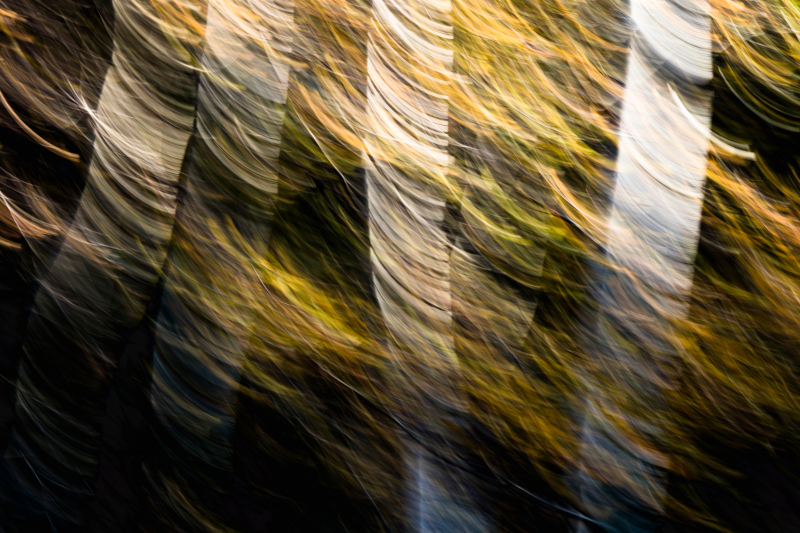 Camera movement is a great way to explore abstract imagery
Finding layered patterns can be a great way to get started, be they some of the last autumn leaves, or bare trees with sticks overlapping in a patterned form. It can take a decent amount of time to separate abstract from the obvious, so try changing position or focal length, or think about what should and shouldn't be included. The emphasis is on creating images that contain interest without overloading them. Remember it's not about the actual subject as such, more the way the positioning and framing forms geometric or interesting compositions within the natural elements you've found.
Water can also provide a great source of abstract opportunity; reflected colours and forms immediately offerchances for images that focus on line, colour and shape, as the reflected light moves with fluidity. Whether on coasts, in ponds or across rivers, I simply love photographing patterns in water, and November is an ideal time for it, as the light is often favourable throughout the day. It's a good time to experiment! Taking things a little further, don't forget to mix up your styles. Composing a more abstract frame and then waiting for a subject to prominently emerge can lead to some really powerful wildlife images. The practice of looking for abstracts is certainly something worth indulging in, enabling you to strengthen your compositional skills this lockdown.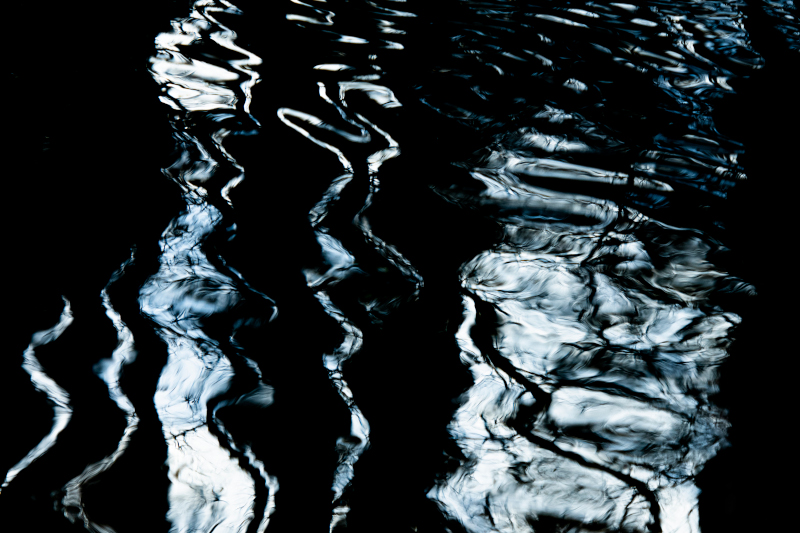 Use reflections on the water to your advantage
So, there we have it. It might be another four weeks largely spent inside and close to home, but we can certainly make the most of them with local nature photography opportunities. I've already been prepping my local projects to visit over the next few weeks, and with any luck we will get some solid wintry weather to help bring it all together!
About the Author
Tom Mason is a wildlife photographer and journalist, and is also the host of our Life in the Wild series. Keep up with him on Twitter, @TomMasonPhoto, or visit his website for more.
Related articles