From hidden fungi to the majesty of rutting deer, here's the best of what October has to offer, and how to shoot it
All images by Tom Mason
Finally, it's getting colder. I know that might be a shame for many, with the final heat of the year slipping away, and the wind picking up its biting chill. Personally, I can't wait to pull on my thermals, layer up for the cold, and feel the elements in all their glory. October really is the gateway to winter and opens the door for so many great photographic opportunities. As the colours explode and wildlife is active across the country, it's a perfect time to be behind the camera!
Fungi
Autumn really is one of the best times to get out for some fungi photography, with the damper conditions stimulating a flourishing host of species that can be found throughout the country. With fungi being so adaptable, they can be found throughout a whole range of habitats, from the back garden through to woodland and open areas, meaning just about everyone in the UK can find some local subjects.
Look for creative angles when shooting fungi
Even though they are not the fastest of subjects (I mean, they won't get up and run away!) often you do have to act quite fast to shoot fungi in the season, as they can be out and "over" in a relatively fast timeframe. If you spot some good subjects on a walk or in the local area, don't leave it too long before you get out with the camera, as you'll miss the key times when mushrooms and growths are looking their best.
When it comes to working on location, you can really take your time, ensuring you get the best out of your images, developing lighting, removing distractions and honing compositions. A slow walk through a small woodland can often prove fruitful in finding a number of species, and once you spot the first mushroom or patch of fungi, be sure to look carefully around the area, scouring thoroughly in order to track down the best specimens for images.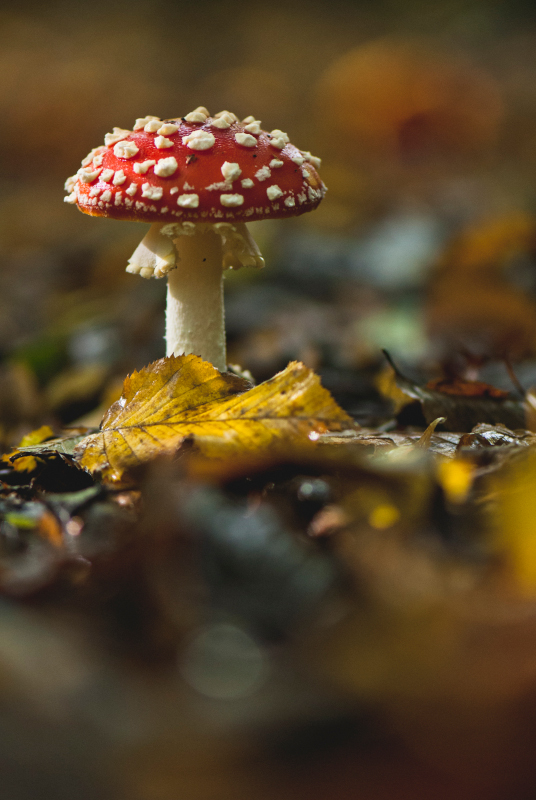 Don't be afraid to get to ground level!
Once happy with your selection, take your time to get close and look around your subject. Think about the best background and foreground elements, the angle you want to shoot from, and how the lighting can be enhanced before you start setting up. Sometimes subjects can have some mess or dirt on them and so you'll want to do a little housework before shooting. Fingers can be clumsy, and it's not advisable to touch fungi as some can be harmful or cause irritations if you accidentally touch your mouth or eyes, so think about bringing along a paintbrush in order to remove any debris. These are far easier to use for precise cleaning.
Working from a tripod is often the way to go, especially in wooded areas where light can be restricted. Using a flat-based tripod like my Gitzo Systematic, or removing the central column to get you as low as possible, will give you more creative options while still offering a rock-solid support for those pin-sharp images.
Fascinating fungi can be found in your back garden!
Working with Live View can really help with ensuring perfect focus; use peaking and zoom to precisely manually focus on your subjects, before removing your hands and firing with a remote release to ensure no movement ruins the final frame. The use of a reflector can provide a straightforward way to enhance simple macro images, throwing some extra bounced light onto your subject to lift it from the background. I always have a Lastolite white/gold reflector in the bag for macro work, and although it's unwieldy in the wind, it's perfect for shaping light for macro images.
Of course, flash can also work well, especially if you are handholding in tricky positions, as it enables you to freeze the subject. If working with an off-camera cord, you can also make some creative backlighting or rim-lighting for subjects, or you may choose to use a small softbox for simple studio-style images in the field.
Try shooting wide open for dramatic results
I haven't mentioned much about lenses, because when it comes to fungi you don't always need a specialist lens for shooting. A macro lens with close focus and 1:1 reproduction is great if you have it, especially for exploring smaller details and subjects, but larger toadstools or clusters of fungi can certainly be photographed with everything, from the kit lens that comes with most DSLRs and mirrorless cameras to super long lenses and fisheyes. Each will give a unique style and look. Long lenses can be used to isolate subjects and give clean, simple portraits, while wide-angles can put your fungi in its environment for more "storytelling" styles of image.
Fungi photography can be quite addictive and fun, and every year I look forward to crawling around in damp woodlands looking for images!
Red deer
The roar of a stag. The unearthly grunts that have filled so many of my memories of autumn certainly provide a backing track to what is a great subject to get out and shoot this month: the rut. Up and down the country, with change in the air, red deer are massing as the stags battle it out to win dominance for mating. The abundance of action offers a spectacular time to get out and make some images.
Keep your distance and try some environmental images
The obvious places to start when looking for deer are the Royal Parks. There is also a great selection of local deer parks around the UK, all of which offer great opportunities to work up close with the rut. A quick Google will help you find your nearest park that has public access; however, as someone who grew up in the south, the London parks of Richmond and Bushy have always been my favourites.
Often it pays to do a little scouting at an earlier time in order to give yourself a prior knowledge of locations. Gaining a rough idea of where you're going and some of the regular locations of deer will make things far easier when you're battling the clock and trudging through the undergrowth in the dark in order to be looking at something worth photographing when the sun breaks at dawn. Trust me, you'll be grateful you took the time to scout things out!
Slower shutter speeds can add motion and drama
When it comes to working with wildlife, an ethical approach is always key, and during the breeding season it's paramount you take care to minimise disturbance of natural behaviour. For this reason, you'll always want to be working at a respectful distance from your subjects, ideally using a long telephoto lens of at least 300mm. At popular spots it's also key to be wary of overcrowding the subjects, as certain locations can get busy with people watching and encircling deer, which of course can be detrimental for all. Be sure to stay aware of your surroundings and watch the behaviour of any deer you are photographing, as well as moving and giving space to ensure you are never between rival stags or separating one from his hinds. If you see an area is busy, it's almost always better to move on and give space to others who are out enjoying the spectacle.
It's not just about the stags!
With regards to making images, there are so many great opportunities when it comes to deer. Misty mornings provide wonderful opportunities to create moody, ethereal images, and the trees and woodland can give you the chance to spotlight subjects with harsh side light, or to work with the shape and form of deer for interesting silhouettes. Play around with your shutter speed to add motion into images, and try panning with males as they give chase, or follow them fighting with rivals, which can lead to fantastic and different images that are far more interesting than the standard portraits. If the light isn't breathtaking but you have solid overcast weather, make the most of it for simple portraits in longer foliage, especially when the stags are dressing themselves with foliage crowns.
Looking good, sir!
I often find that when working with deer, it pays to be mobile. Ditching the heavy camera bags and trying to only carry what I need, I often just choose a long lens on my main camera body, attached to the tripod or monopod, with then maybe a second shorter telephoto or wide angle by my side. With spare batteries, memory cards and rain covers in my pockets, I find using an ultra-fashionable "bum bag" for any of those slightly bigger items tends to work well. I think a good set of wellies are often the most practical footwear for standing around in long wet grass and foliage, and that these also offer the chance for some shallow wading in pursuit of some unique angles. A neoprene-lined set are perfect for those truly cold mornings, to keep your feet nice and toasty!
It's a terrific time for autumnal images
The rut rarely disappoints, and even on the dullest of days you can come away with some great images. I always think the true challenge is to try and make something a little different each year, so spend a little time ahead of shooting to look through images online or from your own past collections, to think of some new creative ideas to work on this season. My aim each year is to make three or four images that add to my portfolio, building on what I've done before, so I too can't wait to get back out on those first frosty mornings for some red deer action. If you see me out there, be sure to come and say hello!
As always, get out there and enjoy some cracking wildlife photography this month. Be sure to share some images with myself and the Wex team over on Twitter or Instagram, @wextweets and @TomMasonPhoto.
About the Author
Tom Mason is a wildlife photographer and journalist, and is also the host of our Life in the Wild series. Keep up with him on Twitter, @TomMasonPhoto, or visit his website for more.
Related articles