Expert photographer Matty Graham examines your images, offering constructive feedback and tips to improve your technique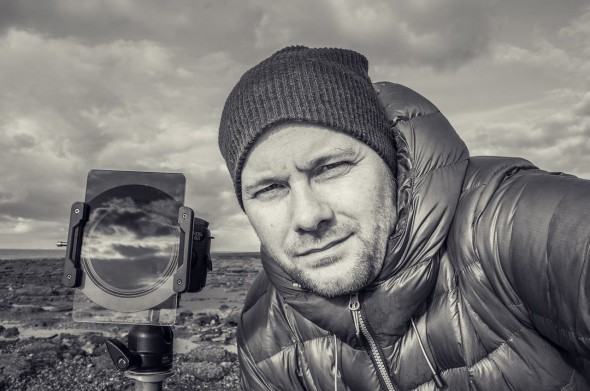 Our expert image appraiser, Matty Graham
After the huge response to our first offering of photo critique, we knew we had to give a few more of you a chance to get some feedback on your images.
We put out a call on Facebook and once again received a torrent of submissions from photographers eager to improve their craft. Manning the tiller again is Matty Graham, former editor of Digital Photo magazine and judge for 2017's National Geographic Traveller Photography Competition.
Without further ado, let's hand over to Matty for this round of Wex Photo Critique!
Mikey Doc McManus – Easdale Island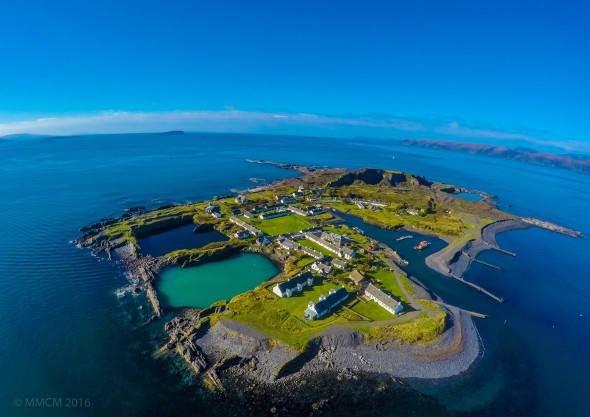 Matty says: "There's no doubt drone photography has, if you'll pardon the pun, taken off in recent years. A drone affords its user access to scenes that would only normally been possible to see by helicopter or plane. With drones, aerial photography is now in the reach of every photographer."
"I love Mikey's image because the aerial shot shows me the whole scale and layout of the beautiful Scottish island, including the various harbours and the higher ground in the rear of the frame."
"If I were to offer Mikey a suggestion to improve this image, it would be to try and shoot during the golden hours at sunrise and sunset. I can just imagine the sun about to dip below the horizon in the upper third of this frame."
"What's more, I always encourage photographers using drones to try and capture photos shooting straight down at the ground. This is the fast track to capturing frames with more of an abstract quality, and one can imagine how the different the coloured waters in Mikey's frame would have looked from this extreme angle."
"All in all though, this is impressive, and Mikey should be proud of his effort."
Chris Wright – USAF MC130J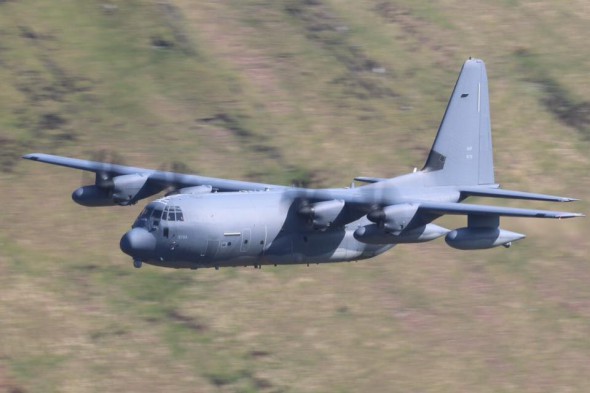 Matty says: "Chris said he captured this image of a US Air Force MC130J as it completed a low-level pass through the Welsh mountains and I have to say, as something of an aviation fan, I find a lot to like about this image showing a majestic aircraft us Brits call the mighty 'Hercules'!"
"Capturing these images isn't easy, and photographers often have very little time to get their camera ready before the plane has made its pass and has gone. Chris has been clever with his shutter speed selection, ensuring the body of the plane is sharp, but the propellers are moving – this adds a sense of motion to the scene."
"Composition is a personal choice, but instead of filling the frame with the plane, I would have zoomed out a little and placed the Hercules on the right hand side. This would have created space for the plane to be moving into, thus adding a little more context to the scene."
"That said, Chris has created a fantastic memory of a great day in the Welsh mountains."
Stew Campbell – Working dog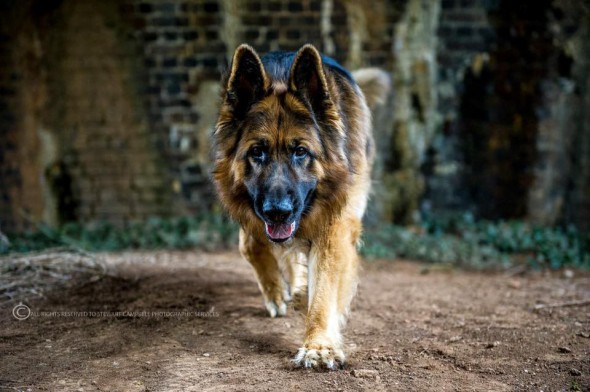 Matty says: "Environmental portraits aren't restricted to just humans, as proven by this impressive frame. Stew told us that his day job is working with dogs, and his pooch portrait is a refreshing alternative to snaps of dogs lined up in the back garden."
"Three elements are critical to the success of this image. First is the environment – you can just image this big dog sniffing out drugs or chasing down a bad guy in this urban tunnel, complete with graffiti background."
"Second is the shooting height – I always recommend photographers avoid capturing a dog from head height as it produces lacklustre results. Get down to the dog's level, even if it means getting dirty, as you will be rewarded with a more natural-looking portrait."
"Lastly, Stew restricted his lighting to natural light, which I think was exactly the right thing to do. The tunnel has shielded Stew's furry subject from any harsh rays from the sun, and the result is nice, even tones."
"One last comment: I think that given the important connection between handler and dog, the fact that Stew has achieved eye-contact between the dog and the lens is very important. Of course, there is a time and a place for capturing subjects staring out into distance, but I think having the dog look to the viewer was the right choice here."
Graham Sutchbury – Boat at sunset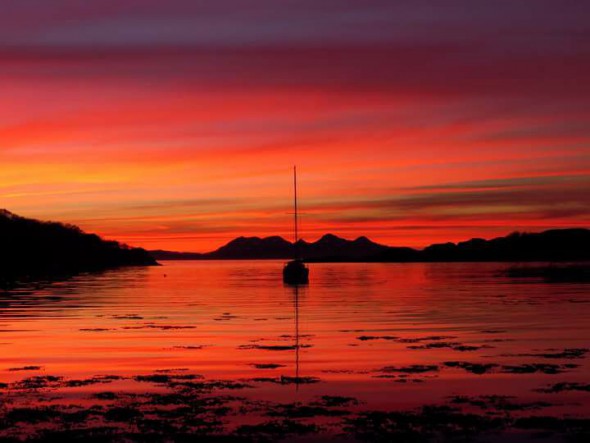 Matty says: "Landscape photographers live for sunsets like the one Graham captured in this image and I found myself just staring in wonder at the texture in the sky and on the water in this scene."
"Graham's choice to cast the surrounding area and the boat on the water into silhouette shows he has a keen creative eye, and is exactly what I would have done had I been on location with him. This is because silhouetting the rest of the scene frees up the viewer to focus on the subject and enjoy those super-saturated colours without additional distractions."
"The only improvement I would suggest to Graham would be to think about the height he captured this image at. Maybe he was restricted as to where he could take his camera, but shooting from this position and height has resulted in the boat being a little too close to the horizon. Going lower or higher would have changed this, and made the sailboat work harder in the frame."
"One further point: I think Graham should be complimented for his considered processing. When greeted with such a sunset, it's easy to be tempted into dragging the Saturation slider too far to the right. This can affect image quality and give the image an over-processed look. Graham has avoided this pitfall and achieved a truly stunning frame."
James Dalby – Peak District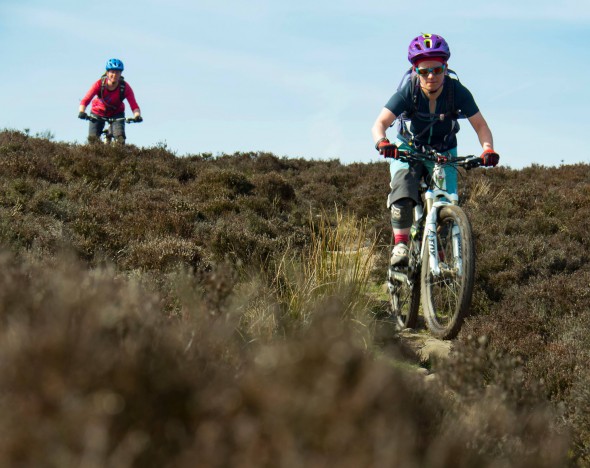 Matty says: "When photographing areas like the Peak District, the Lakes, the Yorkshire Dales and more, it's worth remembering that the people who use these locations can be just as interesting as the landscapes. I really like how James has captured these adrenaline-seeking bikers making use of the land, but examining the technique James has used makes this image even more impressive."
"James has defocused some of the foreground interest, which places the viewer's focus solely on the rider, placed perfectly to the right of the frame. What's more, by including the second rider at the top of the hill, James is showing the viewer the path the main rider has taken, thereby telling more of a story. All these subtle but clever uses of technique stack up to make a great picture."
"This image is hard to fault, but one niggle is the shadow on the main rider. If I were shooting this scene, I would have considered setting up a flashgun on a stand to the far right, out of view of the camera. Powering in some low-level flash would have illuminated the rider, without freezing the action."
"Flashguns are very affordable now, so if James is looking to shoot more images like this, I would encourage him to take the plunge and pick one up."
Paul Adams – Milky Way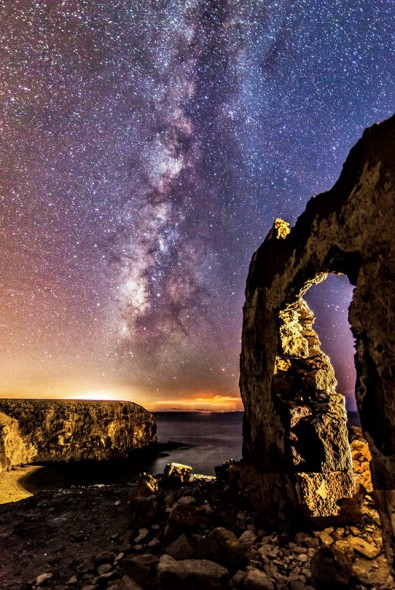 Matty says: "Paul tells us that this was his first attempt at capturing the Milky Way and I have to say he's done a decent job."
"Capturing this celestial wonder is essentially an exposure balancing act. The aim is to reveal the Milky Way to the camera's sensor without using too long a shutter speed and without raising the ISO too far. Why? Well, thanks to the Earth's rotation, any shutter speed longer than 25 seconds will cause the stars to blur – remember the stars are still, but the earth is constantly moving. Meanwhile, a high ISO will introduce more digital noise in the form of grain and speckles into the scene."
"A good starting exposure is to shoot for 20 seconds at f/3.5 and ISO 1200, then adjust the settings from there. Paul seems to have cracked this exposure conundrum and the Milky Way looks great without a huge amount of noise – although it's worth remembering that noise can be reduced using RAW software like Lightroom."
"Where I'd like to see improvement is in the foreground. Much like when photographers shoot the Northern Lights, the foreground can often become an afterthought, and here the rocks are too dark. My approach would have been to capture the Milky Way in one image and then shoot (and correctly expose) the rocks in another frame. Merge the two together in Photoshop and you'll have a much more complete photo."
"That said, for a first attempt, you've done a great job, Paul."
Will Harold – Midday portrait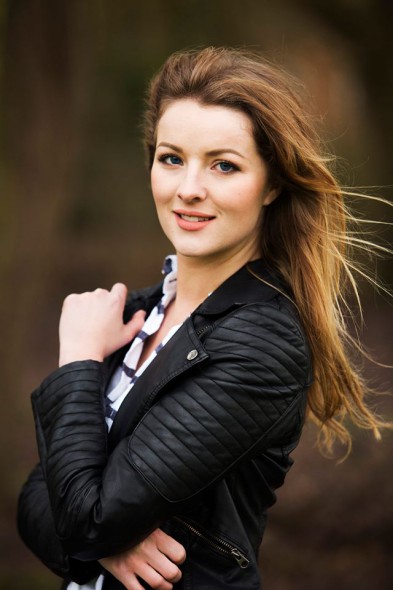 Matty says: "Will has produced a really nice, editorial-style portrait that you could imagine gracing the pages of a Sunday supplement. The model has taken up a natural pose, the smile doesn't look forced, and wind in her hair adds that special something. What's more, the lighting is nice and even and helps the subject stand out further from the dark woodland backdrop."
"There are a couple of elements that could be improved. The framing is a little off; I would have zoomed out (or taken a step back if using a prime lens) to give the subject more space. That way the subject's hand wouldn't have been cut off at the bottom, and the hair wouldn't be starting to run out of frame as well."
"More important, however, is the point of focus in this subject. Will has obviously used a very large aperture, probably f/2.8 I would assume, and this creates a shallow depth of field in the frame. While this aperture selection can be used creatively to throw the background out of focus, photographers must make sure that the subject's nearest eye is the point of focus. Maybe the model moved slightly before Will had the chance to press the shutter, but the arm looks more in focus than the eye and that's where this image falls down."
"Will shouldn't worry though, as he obviously has the skills to produce great portraits. One trick he could use next time is to activate the Focus Point mode on his camera. This can be incredibly useful when you review images on the back of the camera, as it shows precisely where the camera has focused by overlaying a red square over the point of focus. Using this tool, Will would simply need to ensure he placed the red square over the subject's eye. If your camera doesn't have this feature, simply review the image and zoom in for a better view."
Sam Webb – Macro
Matty says: "Sam informed us that this image was one of his first attempts shooting macro and that he paired a 100mm macro lens with an extension tube, which enabled him to get incredibly close to his subject."
"Technically, this is an impressive feat – the ladybird is super sharp and that red and black shell stands out against the blue/green hues of the peacock feather. I wonder though if Sam has included too much in this scene? The water droplets look amazing, but compete against the ladybird for attention. Perhaps it would have been better to shoot two different frames – one of the ladybird and the other of the droplets."
"What's more, while following the rule of thirds (which suggests placing points of interest on intersecting thirds within the frame) can work well, this is one of those situations where I would have broken with convention and placed the frame-filling subject slap bang in the middle."
"Fair play though, Sam – for a first attempt, you should be very happy with the technical elements of this image."
Marc Clack – Mjeldevika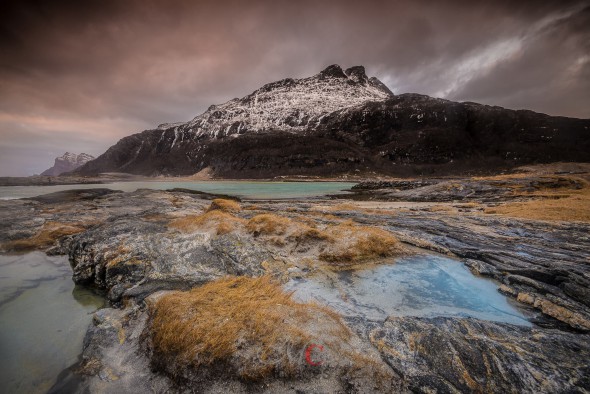 Matty says: "Marc's image was captured at Mjeldevika, which is a cove near the Norwegian town of Boda. Well inside the Arctic Circle, this area is famed for its natural beauty, and I confess to having a soft spot for the place after visiting myself last year."
"I can see exactly what Marc has tried to achieve here, mixing the foreground of the beautiful beach, with backdrop of the impressive mountains. Beaches and mountains are what this area is all about!"
"The composition is fine, but I know this area has more to offer and I think the foreground is more impressive than the rest of the frame. A different approach to the shutter speed could have spiced up the top of the frame. An ultra-long exposure would have turned the cloud intro streaks, providing more interest."
"While I often preach about being considerate with the saturation in an image, I think Marc's frame needs more punch. A faux HDR effect could have been created by ramping up the Clarity and Saturation sliders in Lightroom or Adobe Camera Raw. Alternatively, if the colours don't seem to work, you could try converting to black and white."
Want to submit your images for critique? Follow us on Facebook so you don't miss the next opportunity