A professional photography portfolio to show off your work is a vital step to take. Matt Higgs looks at the best portfolio website builders for photographers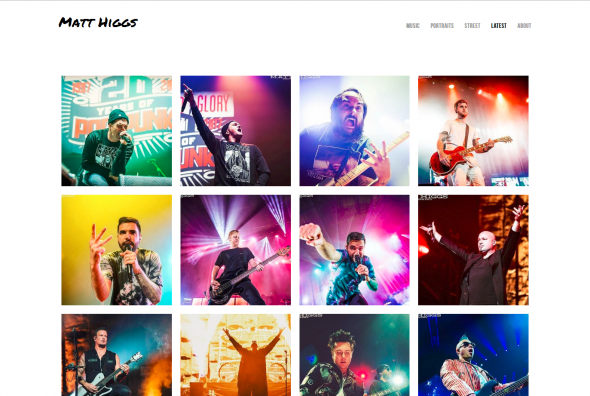 If you don't have your own portfolio website as a photographer, then you're missing out. The internet is a highly visual space and the perfect place to showcase your work to prospective fans and clients.
While maintaining presence on social media sites like Facebook, Twitter and Instagram is a step in the right direction, none of these free platforms are a replacement for a dedicated site. Acting as a home for your best creations, as well as a hub for your social media, a professional-looking website can help to give you credibility as well as provide a point of contact for potential clients.
Thankfully, long gone are the days when you had to be some kind of coding geek or spend a fortune on designers to produce something great. Website building services provide intuitive and customisable page design options that are simple to use, as well a place to host your website in one package.
Subscriptions to these services are available from just a few pounds a month, meaning that just one commission could easily pay for several years of your site's existence.
We take a brief look at four of the most popular site-building platforms below, all of which offer a free trial period!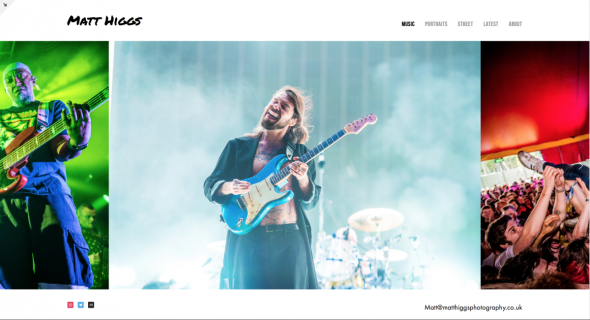 My own website was developed using Squarespace – www.matthiggsphotography.co.uk
Offering 59 modern-looking templates on which to base designs, all of which provide hundreds of customisation options, Squarespace has long been one of the most popular site builders for photographers.
Image galleries on the platform can be in full-screen, lightbox or slideshow formats, allowing you to show off your photos in creative, easily navigable ways. After you've uploaded your high-resolution files, Squarespace will take the legwork out of optimising your site for different devices, automatically producing perfect crops for a wide roster of display resolutions. Ordering galleries is as straightforward as dragging and dropping photos in place to move them around.
Thanks to seamless integration with all of the major social networks (Twitter, Facebook, Instagram, Flickr, etc.), you can embed automatically updating feeds that will display your latest posts. There's even a Squarespace Portfolio app for iPad and iPhone so that you can take you site anywhere and show it off even when you don't have online access.
Other nice touches are a free logo-creation tool, the ability to build your own online store, and the fact that there's no mandatory Squarespace branding.
For $12 a month (billed annually), a Squarespace 'Personal' account enables you to build a site with up to 20 pages, lets you set up a blog and shop, provides hosting with unlimited bandwidth for visitors and includes a free custom URL domain.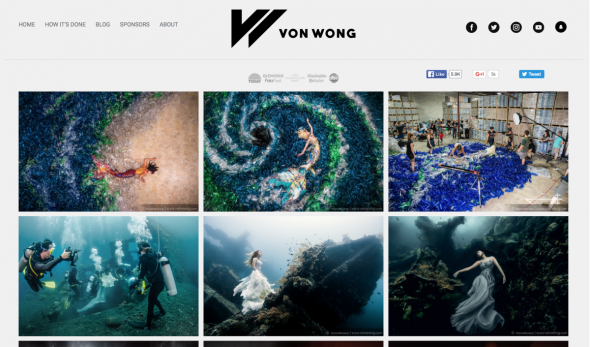 Smugmug was used to build the site of photography superstar Benjamin Von Wong – www.vonwong.com
Combining a refined site-builder with cloud storage and e-commerce features, SmugMug has been providing a home for photography online since 2002. This service offers 24 design templates from which to begin your site's construction, and once one's been selected, it can be extensively tailored to suit your personal tastes and requirements. Six image gallery layouts are available for showing off your work, including slideshows and collages.
One of the strongest points in favour of SmugMug is the unlimited image storage that it provides for subscribers. This not only means that users can back up their archives securely, but also that they can share entire albums of files with clients via sections of the site with password-protected access.
Those looking to sell their images will also be impressed with the all-encompassing sales platform SmugMug incorporates in its 'Portfolio' and 'Business' subscription packages. From taking payment to the dispatch of products from a selected range of high quality print manufacturers (including Loxley in the UK), the platform handles the entire order process.
Other features we like include an Adobe Lightroom plugin for the upload of images, a great-looking app for smart devices and 24/7 real-human technical support.
'Basic' subscriptions are available from $3.34 month (billed annually), allowing users to create a fully-hosted multi-device optimised site, while 'Portfolio' subscriptions with extra e-commerce options are priced at $12.50 a month (billed annually).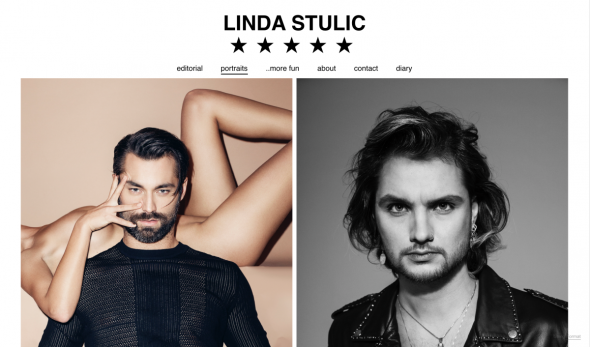 Linda Stulic's stylish website was created using Format – lindastulic.com
Clean and elegant, Format's 16 templates can easily form the core of a professional site, with extensive customisation not only possible but easy and intuitive. All of the themes on offer by Format are dynamic, resizing your images so that they load quickly and display crisply, irrespective of the device that the site's being viewed on.
Format also enables the creation of a proofing area with password protected galleries, allowing you to make images viewable online for clients without making them public.
With social media connectivity, you can pull images directly from your Instagram account to your portfolio, and there's also a Lightroom plugin for direct uploads. While store options are more limited than some of the competition, this feature is free to use (and there's no commission taken on sales) irrelevant of the package that you subscribe to. Alongside standard gallery pages, an image-based blog can also be incorporated into your site's design.
A 'Personal' subscription to Format is $6 a month (billed annually); this allows you to produce a site with a maximum of 100 images and 3 products in a store, but with unlimited pages, traffic-handling tools and the ability to create dedicated site areas for client proofing. There are then various higher-level subscriptions available; the top 'Unlimited' package, priced at $44 a month (billed annually), enables unlimited image uploads and unlimited store products.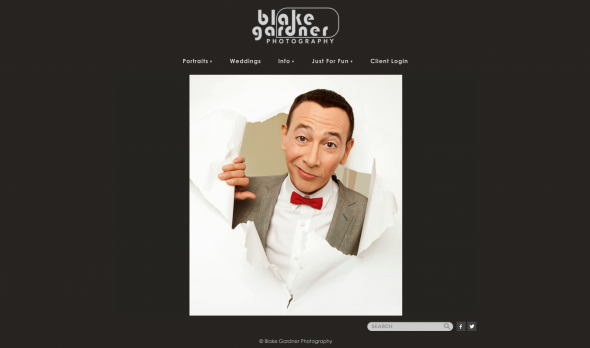 Celebrity portrait and wedding photographer Blake Gardner opted for Zenfolio when designing his website – blakegardner.net
With unlimited storage on all plans, Zenfolio's subscriptions are not only great for building and hosting websites, but for file archiving as well. Want to back up your images while abroad in order to free up storage space? Upload your shots to a Zenfolio account, and they'll be ready for download and processing when you return home.
In terms of design, the company offer 14 layout presets to which a wide selection of colour themes can be applied, as well as the option to create an entirely customised layout. While navigation of the platform is a little less straightforward then some of the others we've recommended, modifying pages remains a breeze.
Zenfolio allows you to set up site areas for client proofing, an integrated photo blog and an online shop. This selling platform can be set up so that print orders are filled in the UK through Photobox or One Vision Imaging, and there's also the option to make instant digital sales for those looking to license their work.
The basic 'Starter' subscription service offered by Zenfolio is priced at £5 a month (billed annually), while more expensive premium options are also available, enabling additional features such as mini-sites for events and live chat support.
Related articles