GoPro's small, tough and versatile Hero cameras are so useful that no photographer should be without one. Tom Mason explains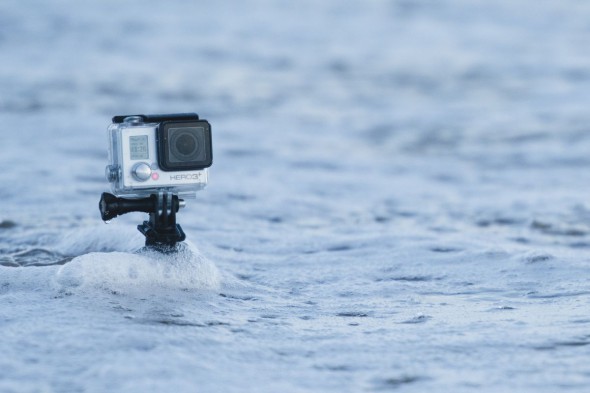 GoPro Hero cameras boast features that make them ideal for challenging assignments. All images by Tom Mason
Over the last few years, GoPro has revolutionised the camera world. With each iteration GoPro Hero cameras have become smaller, more powerful and more feature-rich, offering professional performance at a very affordable price.
Originally adopted by adventure and action junkies thanks to their rugged build and underwater housings, GoPros have become more and more mainstream. The latest versions – able to shoot Raw files and 4K videos – really have made the transition to becoming professional tools, and are certainly far more than just holiday selfie cameras!
In this article I'm going to be covering some of the ways to up your GoPro game to make the most of these top little cameras and explaining why they deserve a place in any photographer's kit bag.
So, to begin, why exactly are GoPros awesome?
Size
First up, the size of the GoPro is simply wonderful – light and small enough to come with you everywhere and fit into the tightest of camera bags. They can always be on hand when you need them and can be placed in all manner of situations, whether rigged to the side of a helmet or nestled in a small hole in a tree. They really are versatile.
Quality
Despite their small size, GoPro cameras produce images and videos of impressive quality. I personally only own a Hero 3+ but I'm still blown away by what it captures, including high-resolution 4K footage and slow-motion at high FPS.
The latest models with improved low light capabilities and Raw shooting take the quality up another notch further.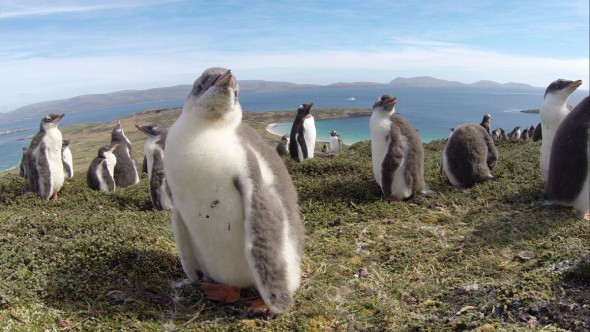 The close focus allows you to get right in the action
Features
With each iteration, GoPro cameras come packed with more and more features. Of course the high-quality videos and stills will always be the main headline feature, but the ability to create time-lapses in-camera (or even while filming) is a great advantage.
Wireless connectivity frequently comes in handy, not only for sharing images and clips to social media but also for controlling the camera remotely via your phone, something that can be handy in many shooting scenarios. Additionally the new stabilisation on later models is a great new feature that enhances quality and usability.
How to shoot
Of course, just buying a GoPro (or any piece of camera gear, for that matter) won't guarantee perfect films and images. The GoPro is only as adventurous as you are!
However, once you get started in imagining the possibilities of what they can be used for, you'll soon be hooked and discovering infinite new ways of working with these awesome little cams! Here are a few ideas to get you started...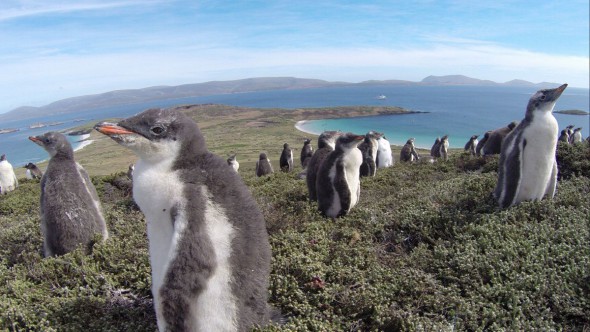 Working with the super-wide angle makes for immersive images
On your person
First up, you can simply mount them on your person. The chest mounts or head mounts can be great for creating POV images, and the fact that a GoPro will keep on rolling and shooting images without needing any input from you means it's possible to capture great action images without disrupting your activity. If you like cycling, hiking, climbing and similar activities, a GoPro is a great way to capture your memories.
The not-so-selfie stick
Now, yes, you can mount a GoPro on a selfie stick and get images of yourself in front of various monuments and other points of interest on your travels. Or, alternatively, you could be less dull, and work with a pole such as the Manfrotto action series to elevate your shooting position or lower your angle for some interesting shots!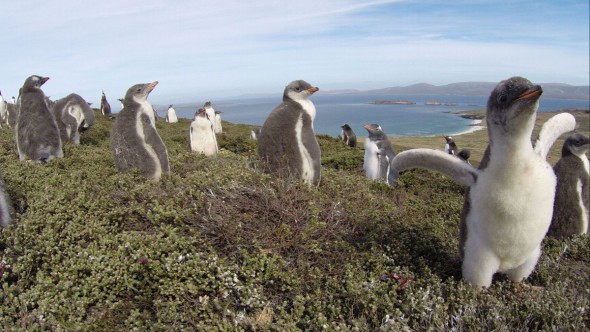 Working with the Manfrotto Stunt Pole to get close to the action without disturbing these young penguins
Personally, as a wildlife photographer, I find the extendable pole extremely useful for positioning my camera closer to creatures in order to reduce disturbance. I have worked with water voles on my local nature reserve using this technique, slowly sneaking my GoPro into position on a long pole, allowing me to get low, wide-angle images of them munching away!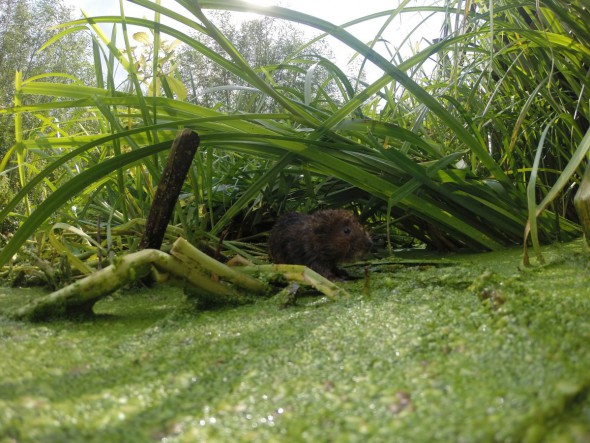 GoPro used on top of a three-metre-long pole to position down low in the water with water voles
Similarly I have used the pole to film underwater when I don't want to get wet. I can use the pole to film off the side of a boat or jetty to get underwater images of subjects such as seals without ever getting in. This is really handy for getting underwater shots with a different perspective, without needing to tote around a wetsuit and extensive underwater kit bag.
When working with the extended pole, I will often set the GoPro onto time-lapse mode (shooting every second or half-second) before moving it into position. This does result in a number of images with nothing in the frame of course, but it also means I get a lot more captures when my subject is in the right place. Bear in mind that when shooting underwater, it isn't possible to use the Wi-Fi or Bluetooth remotes to trigger a shot at the perfect second – more on this below.
Extension poles, arms, selfie sticks, whatever you want to call them – all of them are a fantastic addition to shooting with a GoPro, giving you more scope to place your camera in new positions and capture interesting new angles.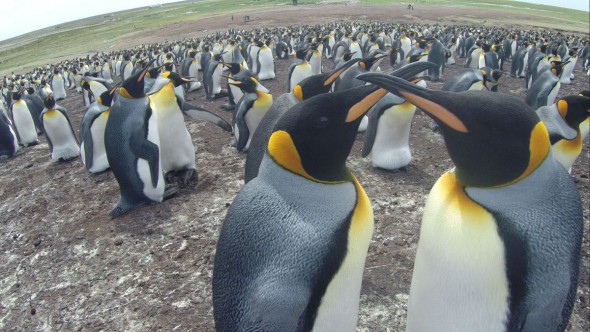 King Penguin close-up. Manfrotto Stunt Pole used to position camera close to the action
Remote trigger
Being small and compact, GoPros are excellent for remote trigger work. The use of the GoPro Mobile app and Bluetooth means you can link to a smartphone to monitor what's in the frame and trigger the shot at the right time. This can be useful in all manner of situations.
There are a few issues to be aware of with this. The Wi-Fi of course has a limited range, and constant use of Bluetooth and Wi-Fi will quickly drain the battery. If you are placing a camera out for an extended period, perhaps aiming to capture some elusive form of wildlife, constant connectivity will very soon see your battery die and the camera rendered useless – and of course this always seems to happen just before your subject turns up. Highly annoying.
I'd been looking for ways to overcome this for quite a while, and while I had seen many videos detailing how to hack a GoPro to add a wired connection, I didn't want to cut up my camera just yet. Luckily, I stumbled across the excellent people at CamDo.
The team designs all kinds of GoPro accessories for long term time-lapse and triggering, but I was especially interested in the Bullet, with its 2.5mm input jack for the GoPro. As with many of the fun things in photography, it needed a bit of a home hack, but after fixing together a cable that would turn the 3.5 jack from my PocketWizard trigger into a 2.5mm input I was set to go.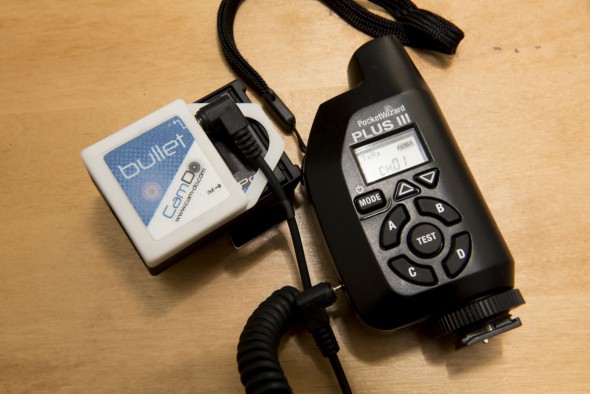 CamDo Bullet and PocketWizard for remote firing of a GoPro Hero 3
Working with the CamDo and the GoPro, I am now able to remotely turn on, fire and then turn off my GoPro from a distance of more than 300m! This means I can trigger it at the perfect moments for wildlife photography. It's hugely useful for those creatures I can't get close to, or situations when I know the camera will be in position for a number of days or months before use.
Underwater
GoPros are known for their rugged and waterproof construction, and this is excellent news for photographers looking to capture some images under the waves. There are of course many other solutions for underwater photography out there, but in order to rig up a compact or DSLR, the bill runs into the hundreds just for an underwater housing. The GoPro Hero 5 can function at depths of up to 10m, while various housings for each GoPro camera can extend this significantly, giving you some great scope for capturing life under the waves on a budget.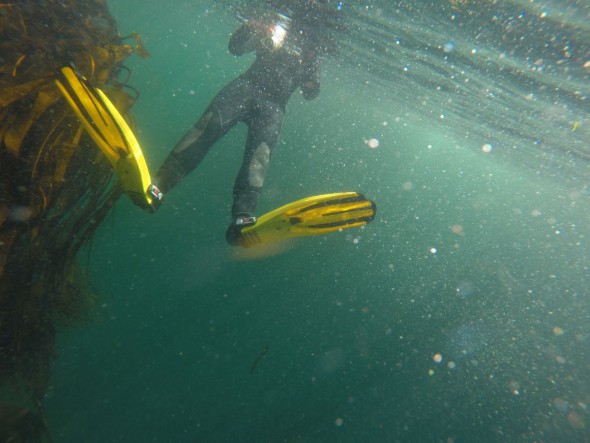 Diving with the GoPro
I've been working on a project photographing seals, and have wanted to capture a few images underwater for a long time. The year before last I had the opportunity to go snorkelling with grey seals off of the Farne Islands. Spending two hours in the freezing North Sea, we were treated to some fantastic views, and I used my GoPro within its housing to produce a few decent images and video clips. This is something I simply wouldn't have been able to do without this epic little camera in my kit bag.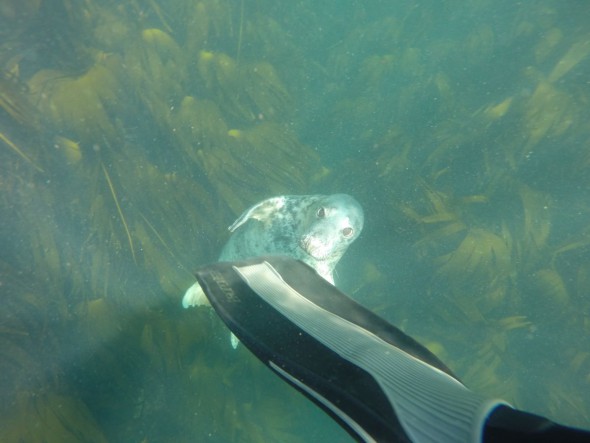 GoPro Hero cameras boast features that make them ideal for challenging assignments. All images by Tom Mason
Gimbals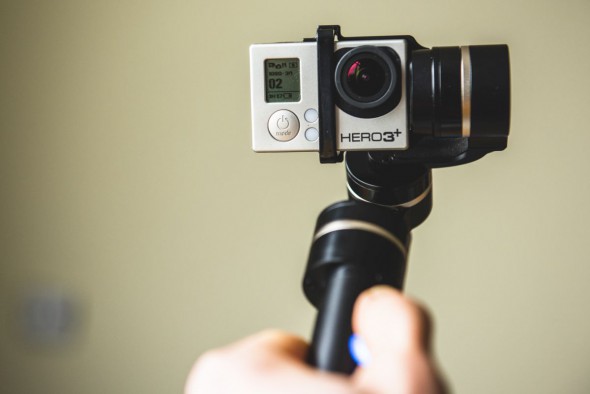 Working with a gimbal allows for smooth movement during video shooting
Over the past few years, in addition to the improvements made to the GoPro cameras themselves, an impressive number of accessories have been developed to complement them. One area that has seen huge advancement is gimbals.
In the past gimbals were firmly in the realm of ultra-expensive film shoots, but now they have come down to an affordable price and manageable size.
This new technology opens up shooting situations for ultra-smooth footage, whether you're following action, making sweeping pans or just maintaining smooth filming in tricky conditions. You can easily pair a gimbal with other mounts, allowing for smooth videos shot from cars or bikes. You could even combine a gimbal with an extendable pole (i.e. selfie stick) for crane images on a budget!
I worked with my gimbal in the Falklands to create smooth close-up images of various species of penguins. At £200 for a gimbal, you really can get some excellent results without spending a fortune. See some of my footage below:
Disadvantages
The GoPro does have some disadvantages due to the nature of its design. It's only got the single lens, you can't really zoom, and you only have the choice of very wide, wide and slightly wide. So beautiful creamy bokeh isn't going to come out of these things any time soon.
Additionally, the small sensor means the low-light capability is nothing in comparison to many higher-end compacts that are around the same price, and especially not a DSLR. Though it's worth noting that the small sensor does ensure everything is in focus from 20cm to infinity.
On the subject of focusing distance, it could stand to be a lot closer – 20cm for a wide still is quite far away, with anything small getting lost in the frame. Online you can find some hacks to make it closer (involving cutting the lens ring and twisting), but that's done at your own risk!
Battery life has improved since the original GoPro Hero, but it is still not amazing. However, with the abundance of USB power banks now available, you can easily keep topping up the batteries even when away from a power socket.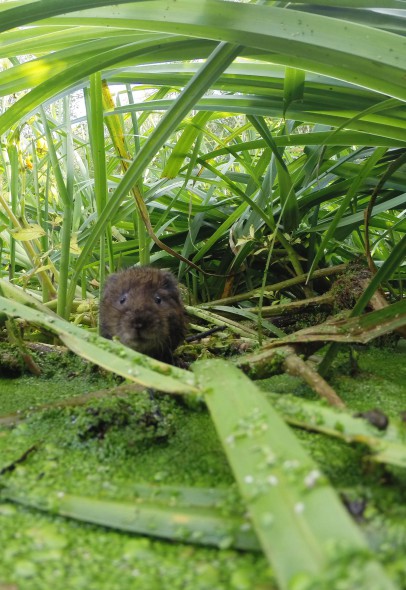 One disadvantage is that the focus isn't always as close as you need it!
Overall GoPros are honesty a fantastic addition to any photographer's camera bag. Small and light, they occupy basically no space, yet allow you to capture unique and different views. Once you get used to their drawbacks you can work around them, and soon you'll be finding all sorts of situations where they come in handy. Of course the GoPro is never going to replace a "real" camera, but in the modern age where we are always trying to get unique images, they are a very useful addition to the camera bag that can certainly pull their weight!
About the Author
Tom Mason is a wildlife photographer and journalist, and is also the host of our Life in the Wild series. Keep up with him on Twitter, @TomMasonPhoto, or visit his website for more.
Related articles